The Bachelor's Zach Shallcross is one of the most talked-about men in reality television right now. The 26-year-old's time on the hit ABC series may be coming to an end soon, but fans are still very curious about his life, including who his family is. Get to know his parents, siblings and yes, his famous uncle, below including their names, occupations and more.
---
Who are Zach Shallcross' Parents? Meet The Bachelor's Mom, Dad, Siblings & Uncle
Zach Shallcross is the bachelor on ABC's ever-popular reality television dating show. While he's gotten to visit the contestant's hometowns, fans haven't seen as much of his family lately on The Bachelor. But, we have info on his parents, siblings, and famous relative now.
His mother is Megan Warburton Shallcross, and his father's name is Chapman Shallcross. According to her LinkedIn, Megan works in the Orange Unified School District in Orange, California. Chapman was a Fire Chief with the City of Orange Fire Department; he retired in 2020. The Los Angeles Times reported in 2022 that Chapman has since dabbled in the world of cryptocurrency.
You can see mom Megan on the far left and dad Chapman on the far right in the family photo below.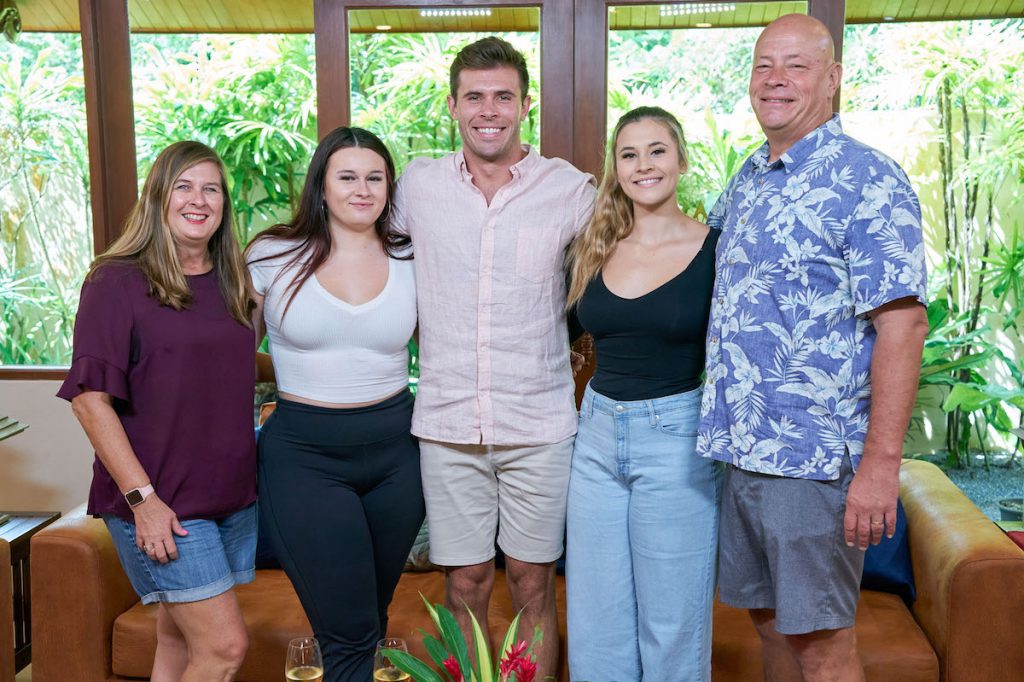 Zach has two siblings, specifically two sisters named Payton and Sammy. Payton is 22 but will be 23 in November, if you go off her Instagram profile. Her LinkedIn shows she will graduate from California Polytechnic State University, San Luis Obispo in 2023. Meanwhile, Sammy graduated in 2021 from California State University, Fullerton, which would make her at least 23, if not 24 now. Currently, she works as a Customer Success Manager at Wellable. With Zach being 26, there's roughly two years between each of the siblings.
"Proud of you graduating, Payton!" Zach captioned this 2019 photo with his sisters Payton and Samantha.
Zach's Uncle
As for Zach's uncle, you may know him from various voiceover roles and TV because his name is Patrick Warburton. So, yes, Zach's mom Megan is Patrick's sister. Patrick is known for Family Guy, The Emperor's New Groove and Rules of Engagement, just to name a few titles. Fans even saw him appear on an episode of The Bachelorette when Zach was on season 19.
"My handsome nephew #thebatchelor @zachshallcross came out to help raise money for the kids of st jude #stjude #stjudechildrensresearchhospital," Patrick wrote.
It's 100% his favorite show and he's definitely addicted. 😌 https://t.co/nDPWsDdvdj

— The Bachelorette (@BacheloretteABC) August 19, 2022
---
Be sure to follow Zach Shallcross on Instagram to see more of his everyday life and Bachelor posts. Episodes of The Bachelor air on Monday nights at 8 PM ET/PT on ABC, and stream on demand or on Hulu the next day.
---
Related: Who are Kaity Biggar's Parents? Get to Know The Bachelor Stars' Family Inside!
MORE THE BACHELOR NEWS
Who are Ariel Frenkel's Parents? Meet The Bachelor Contestants' Family Inside!
The Bachelor Finale: Kaity Gets Emotional Meeting Zach's Mom in Sneak Peek – Will Love Prevail?
Getting to Know Zach Shallcross: 5 Rare Facts About the Bachelor Star
Zach Shallcross Reveals What He Finds Special in the Remaining Women on 'The Bachelor'
If you purchase an independently reviewed product or service through a link on our website, Feeling the Vibe may receive an affiliate commission.
Kari Highman is a Beauty and Fashion Blogger at Feeling the Vibe Magazine. Otterbein Alum (2017) – English & Psychology. Always learning & creating. Avid fan of mid 2000's TV & pop music. Comments or tips, email [email protected]