The Bachelor has captured the hearts of millions of fans around the world. After the fantasy suites week, Ariel Frenkel was eliminated, leaving Kaity and Gabi holding the final two roses. However, a social media backlash erupted when Kaity, the nurse from Austin, Texas made a comment on screen that some fans felt was a dig at Gabi. Kaity said, "I know you were the only one," referring to Gabi being the only one who was intimate with Zach during that past week even though Zach had previously decided to avoid physical intimacy.
Despite the social media backlash, Kaity softly clapped back by posting a video of herself and Gabi behind the scenes on The Bachelor set having fun with bubbles in the tub. Kaity wrote a heartfelt message about her friendship with Gabi, saying, "Beyond grateful for this incredible woman and our friendship. Thank you for always lighting up a room with your beautiful, quirky personality! You exude the best energy that is so contagious to be around! Thank you for always being YOU! Truly, one of the most beautiful humans inside and out. Keep sprinkling sunshine ;)"
Gabi acknowledged and commented on Kaity's sweet post. She said, "Love you so much my Kaity girl! Forever grateful for our friendship and that you are in my life. A true forever friend 🤍 #teamgaity." We have a feeling Team Gaity is definitely going to catch on!
Bachelor co-star, Jess Girod (known for her body sparkles), showed support for both Kaity and Gabi, saying, "You'll never find 2 girls that are stronger, kinder and braver. Brave to be true to themselves on national television. Kind despite not being in control of what/how anything is being aired. Strong, because through it all, they still carry themselves with grace. Love you both so much!! Forever ya'll's number 1 fan."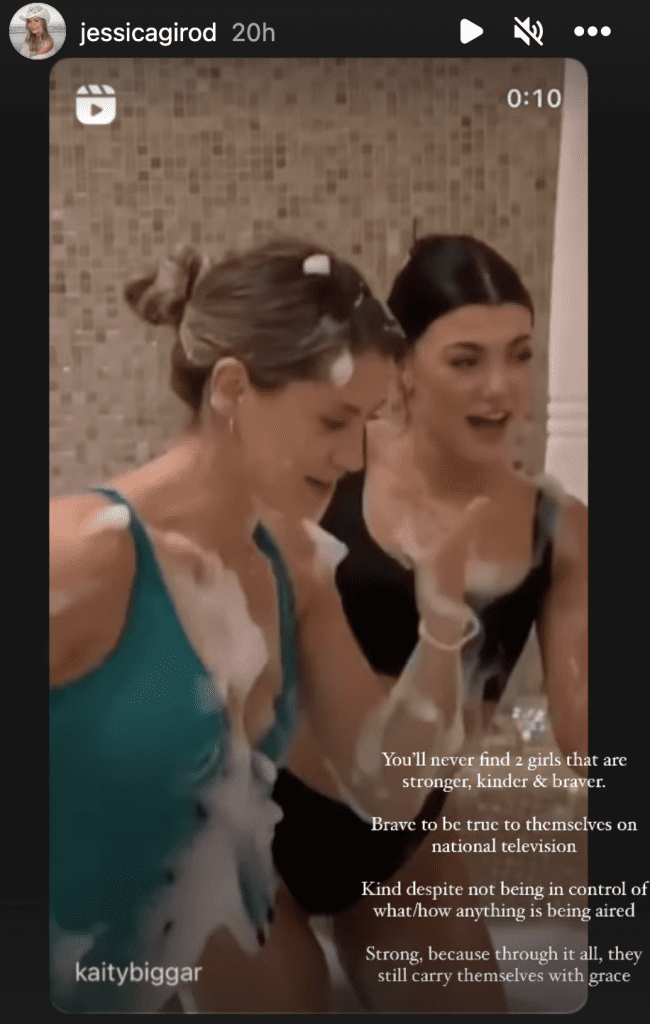 Ariel also praised her two friends from The Bachelor with a simple, "love my girls."
This isn't the first time the girls have come to each other's defense. When fan favorite, Ariel Frenkel posted stunning photos of herself on Instagram, she received praise and support from her Bachelor co-stars including Kaity and Gabi.
In the end, Kaity's heartfelt message about her friendship with Gabi and the support from their co-star Jess Girod showed that the bonds formed on The Bachelor can be strong and enduring. As Jess said, "You'll never find 2 girls that are stronger, kinder and braver." The show may be about finding love, but it's also about forming strong friendships and supporting each other through difficult times.
---
Related
Meet Zach Shallcross' Family: Parents, Siblings & Famous Uncle
'Bachelor' Contestant Ariel Frenkel Receives Supportive Messages from Co-Stars After Elimination
The Bachelor Recap: Fantasy Suites Week Brings Drama and Surprises – Who Did Zach Get Intimate With? Courtney Rose is an Entertainment Writer at Feeling the Vibe Magazine based in New York. Pop culture and rom-com obsessed. Studied Journalism and is up to date on all the latest entertainment news. For tips or comments, email me at Courtney@feelingthevibe.com