Kaity Biggar is a front runner on the popular reality television show, The Bachelor, where she is one of the final three ladies vying for the heart of Zach Shallcross. As the competition heats up, fans are eagerly speculating about who Zach will choose to be his partner.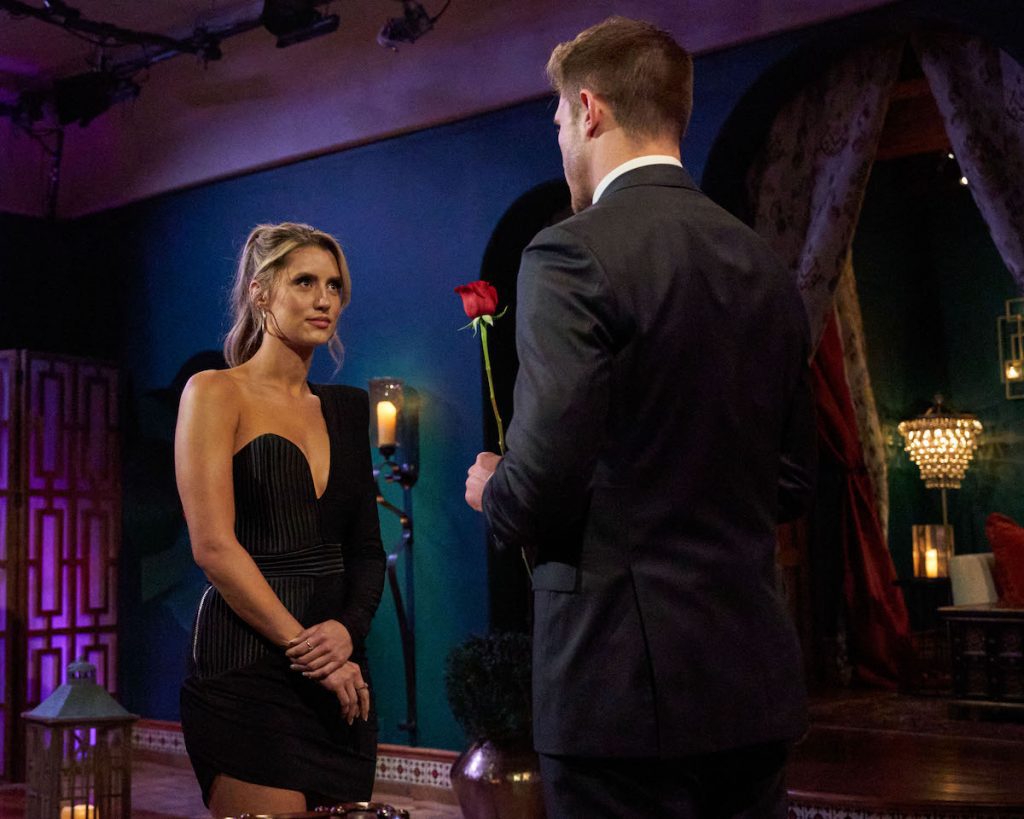 ---
In recent days, Kaity has sparked the interest of fans after posting a photo of herself looking all fancy alongside friends out at a restaurant. Fans noticed that she appeared to be hiding her left hand in the photo, leading many to wonder if she is trying to conceal an engagement ring from Zach.
The speculation surrounding Kaity's potential engagement has only heightened in anticipation of the upcoming fantasy suites episode tonight, which is always one of the most highly anticipated events of the season. Fans of the show are eager to see which ladies will make it to this stage of the competition and what will happen behind closed doors. With rumors already circulating that Kaity is the winner of the season and engaged to Zach, viewers are on the edge of their seats waiting to see what unfolds.
---
[Related: Who are Kaity Biggar's Parents? Get to Know The Bachelor Stars' Family Inside!]
Zach Confesses
"I think to a lot of people, this week is viewed as sex week," Zach states. He continues, "What feels right to me, is not having sex." "Zach is looking delicious tonight," you hear one of the final three women say along with another saying, "this is such a magical moment." We see the couples go into their fantasy suites, ready for an unforgettable time with their potential future husband.
"It feels so right with him," Kaity Biggar is heard saying. "Something really special happened," Zach confesses on camera. "I feel like I let myself down and I let the women down," he says. According to the edit of the clip, it appears that Zach is telling Gabi that he has been intimate with someone else. You see Gabi walk away from Zach while sitting out on the beach in shock and upset.
Get a sneak peek of the fantasy suites episode airing tonight:
Despite the speculation surrounding her engagement status, Kaity has remained tight-lipped about her relationship with Zach and the outcome of the show. She has been careful not to give away any spoilers or hints about what's to come, leaving fans to draw their own conclusions based on the limited information available. As the season finale approaches, fans will no doubt be glued to their screens, eager to find out if Kaity really is the lucky lady who captured Zach's heart.
While it appears that Kaity's hiding her left hand, it most likely isn't for that intention as the show is said to hold the ring until the public announcement of the engagement is revealed.
In the end, only time will tell whether Kaity is truly engaged to Zach and if she is indeed the winner of The Bachelor. As the season draws to a close, fans will be eagerly tuning in to see how it all plays out. Whether she ends up with Zach or not, Kaity has certainly made an impression on fans and has shown that she has what it takes to compete on one of the most popular reality shows on television.
[Related: Meet Zach Shallcross' Family: Parents, Siblings & Famous Uncle]
---
Related
Who are Kaity Biggar's Parents? Get to Know The Bachelor Stars' Family Inside!
'Bachelor' Contestant Ariel Frenkel Receives Supportive Messages from Co-Stars After Elimination
Get the Looks from Jess Girod of The Bachelor – Clothing Inside!
Zach Shallcross Approaches Fantasy Suites Week with Caution and Sensitivity on 'The Bachelor' Courtney Rose is an Entertainment Writer at Feeling the Vibe Magazine based in New York. Pop culture and rom-com obsessed. Studied Journalism and is up to date on all the latest entertainment news. For tips or comments, email me at Courtney@feelingthevibe.com