David from 'Paradise Hotel' who coupled up with fellow Southern California resident, Kendall was definitely one of the good guys in the cast. One of the most emotional eliminations occurred when he and Kendall were voted off Paradise Hotel by his fellow castmates.
We were first introduced to David Barta as "Mr. California" on 'Paradise Hotel.' Yes, it's true. David was asked to represent the United States in the upcoming 2020 Mr. International Pageant. But we can reassure you, he's far from just a handsome face.
He comes from a Christian background. His father is a baptist minister, which means "no partying, no drinking, and no staying out late." We also saw him treat his Paradise Hotel partner with care and love. Feeling the Vibe spoke to David one on one to learn more about the man behind the "Mr. California" title and who the other half of the Kendall/David combo is. Did you know he is a former baseball player? Find out about his sports days, how important his faith is to him, and of course some never-before-heard stories from his experience on 'Paradise Hotel.'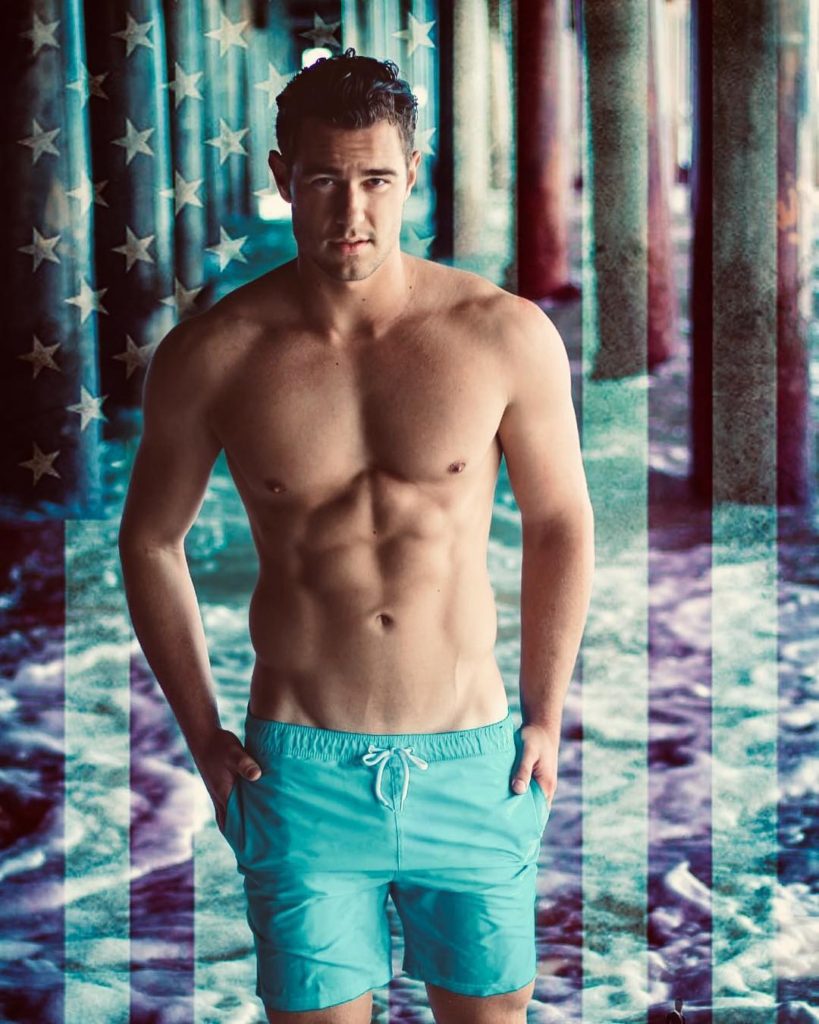 ---
Q&A with David Barta
We are telling you, this guy is definitely a fan favorite. He was put up in our poll against the other male contestants of the FOX dating show, asking "who would you want to partner with most on 'Paradise Hotel?' David won!
How did it feel to win Top Guy of Paradise in the Feeling the Vibe Poll?
D: It was definitely a huge compliment to be voted the Top Guy of Paradise! During my time in Paradise, I did my best to portray my values as an honorable and respectful man which seemed to be appreciated by the voters from Feeling the Vibe!
Are you a born again Christian?
D: As of January of 2016, I have been a born again Christian. In the past two years of my life, it is safe to say that I have wrestled with my faith as I have experienced trespasses in my professional and personal lives which caused me to question the validity of my faith. Nonetheless, faith and a relationship with God is a lifelong journey that includes times of doubt that allow us to learn more about the attributes of God and how He functions in our lives.
Can you tell us about your relationship with God?
D: My current relationship with God can be described as a period of recovery. Little known to the public due to how I was portrayed on Paradise Hotel, I was a baseball player up until April of 2018 when I suffered a career ending injury that changed my life. I had battled numerous injuries and underwent two surgeries since 2015, praying that God would allow me to return to my peak performance level although I never did. After my injury in 2018, I had completely disregarded my faith and began to turn away from my Christian views to "figure out things on my own" so to speak. After a year of struggling with a bitter heart, I have come to see that God took away a love of mine, to introduce me to so much more. Without my injury, I would have never started modelling or personal training, as well as gone to Paradise Hotel to find Kendall, who is quickly becoming an important part of my life.
In his very first interview for PH, David confessed that he's, "looking for my soulmate, my partner…someone I can bring home to mom and dad." It appears he did find someone very special to him while on the show. When he left Paradise, he told Kendall that he won the prize because he had her. Girls swooned across America. How are they doing now? Are they still dating?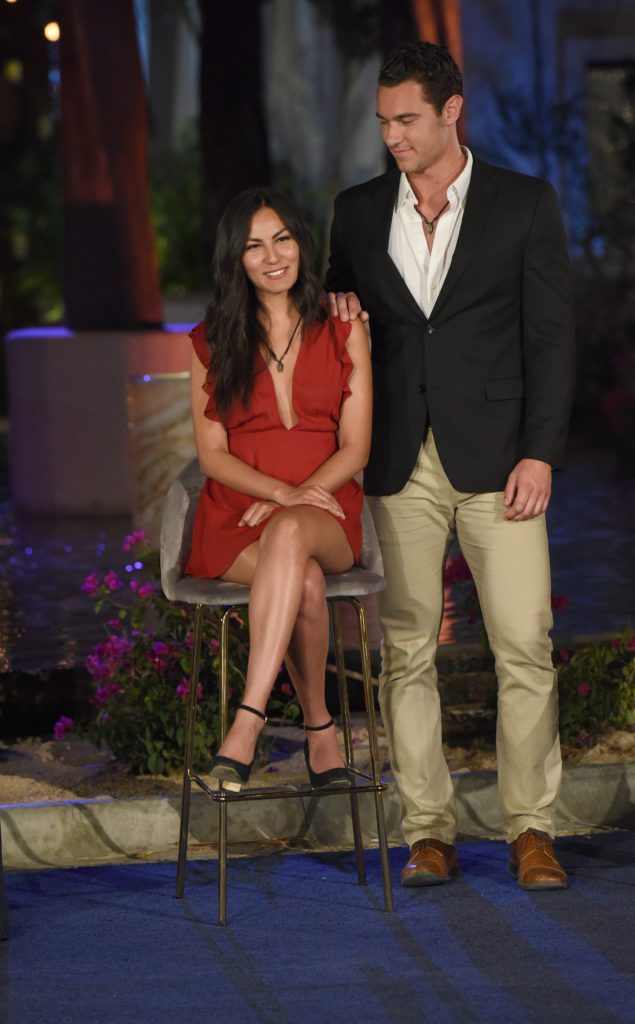 ---
So many people want to know. Are you and Kendall still hanging out and getting to know each other?
D: Yes we are! Kendall and I live fairly close by to each other and have been seeing each other and talking on a regular basis. It has been a challenging transition moving from Paradise back home to Burbank, as well as taking Kendall and my relationship back to "reality." It has been difficult transitioning to seeing each other only several days per week after spending 24 hours a day with each other in Paradise, but Kendall and I understand that we are both very ambitious individuals in our perspective careers.
Kendall also spoke about her relationship with David in a Q&A full of popular fan questions. See what she had to say.
Were you surprised to find out you and Kendall live so close together?
D: I was surprised to find out that Kendall and I lived so close together! On Day 1 of Paradise before the first roommate ceremony, Kendall and I exchanged very few words so naturally I was surprised that she picked me. I was so excited when she did of course, she had been the one girl I had my eye on since I had walked in the door. Kendall and I quickly got to know each other and seemed to vibe well as we discovered that we share several different similarities such as both being Southern California residents, professional models, and BIG fans of The Office.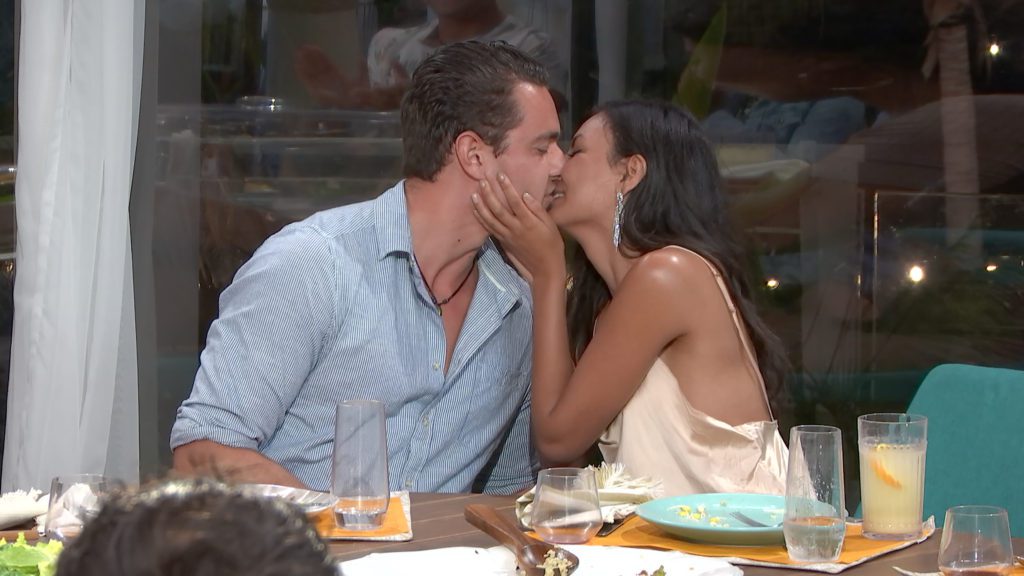 ---
What was it about Kendall that really captured your attention?
D: The very first thing I noticed about Kendall was her height and her sweet demeanor. I was hooked. I came into Paradise Hotel with the intention of winning the cash prize to make a better life for my family back home, while keeping in mind that I would be meeting some beautiful women as well. In the first week of Paradise, I was unsure if Kendall and I would be able to break past the surface level of a relationship or even work well as a team in a competition, but she put all of my concerns to the side as we were able to open up to each other as well as devise a strategy. From that day on, I was so excited and blessed with the opportunity to wake up next to such a mature and giving woman every day as she blessed me in return with kindness and understanding every day. About halfway through the competition, I realized that amongst the strategies and drama occurring, I had lost myself in finding parts of myself in Kendall that I thought I had lost forever after experiencing trauma in my personal life the past several years.
Watch Kendall & David's Relationship Unfold on Paradise Hotel
If Kendall wasn't part of the show, and you were to choose, who would you pick for your roommate?
D: If Kendall wasn't part of the show and I had to choose a different roommate, I would have chosen Tatum. Tatum and I were good friends throughout our time in Paradise together, and she played the game well. Even though she did scheme and get caught several times, I feel as if Tatum would have won the competition no matter who she was with. I am not sure how much of a romantic relationship her and I would have had, but I feel as if we could have won Paradise Hotel together and split the money in the end.
In an "Extended Stay" Bonus clip of 'Paradise Hotel' that never aired, you see Tatum confiding in David after an intense moment between she and her partner Bobby Ray.
Tatum may have been hurt by her partner Bobby, but he ended up getting burned when she kissed the other guest in the "hotel," Carlos. Carlos recently revealed why he kissed Tatum in our exclusive interview.
What are the top qualities you look for in a woman?
D: The top qualities I look for in a woman are: respect, empathy, wisdom, and patience. Aside all physical beauty, in my dating experiences I have come to see that these are the qualities of someone who I wish to spend the rest of my life with. As a whole, I have come to the conclusion of these qualities based on my subjective dating experience.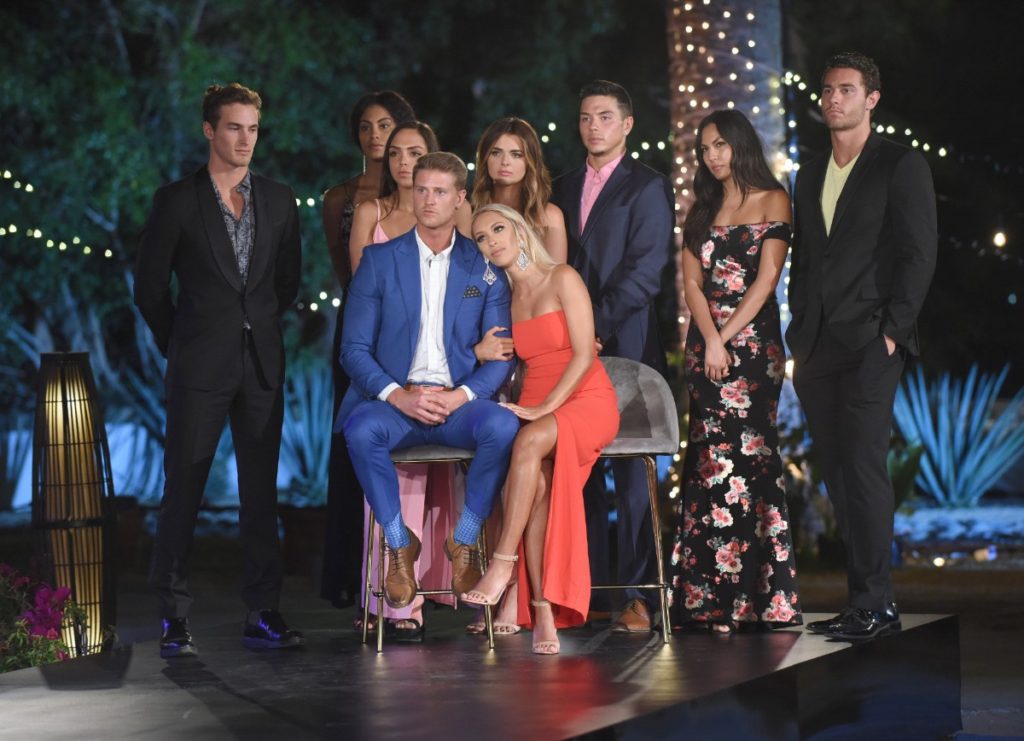 ---
Were there any parts of 'Paradise Hotel' that weren't shown that you felt should have been?
D: In Paradise Hotel, many scenes of Kendall and I having great talks were cut out. When I watched the episodes, it seemed as if Kendall and I merely drifted by without saying much and were in the final four couples by chance. Kendall and I played the game well as we functioned very quietly and were simply never caught. During Paradise Hotel Kendall and I remained on good terms with both of the "Power 4" couples that emerged. Also, it seemed in the episodes that Kendall and my relationship was very much so one-sided. This was not true, as Kendall expressed to me on numerous occasions the reality of her feelings towards me, which were supported by her loving actions towards me.
Were you able to use mobile devices or tablets while you were there? If not, was that hard to deal with?
D: During our time in Paradise, we did not have access to mobile devices or the Internet at all. This was honestly a blessing as none of us were pressured to check emails or make work calls and we were simply able to enjoy the genuinity of each others' company.
What's your fitness routine like?
D: In training for the upcoming Mr. International pageant in November, my fitness routine is 6 days a week of weight lifting and functional exercises, including a strict diet plan to achieve my goal of being at 7% body fat by November.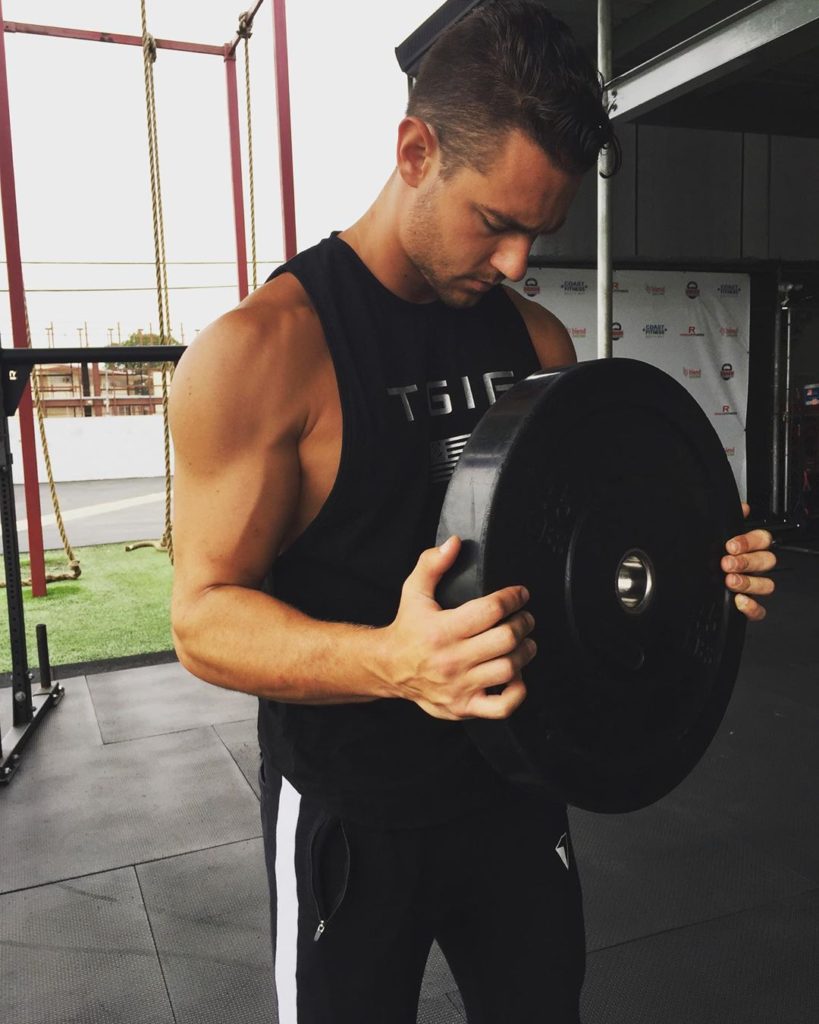 ---
What advice would you give people wanting to get fit?
D: To those who are wanting to get fit, I would say to hire me as your trainer! I have recently launched my online personal training business and am accepting new clients daily. I have been training people for a year now and am certified through the American Council on Exercise and PTA Global. In my life I have been on many sides of the fitness coin at certain points in my life including being: an NCAA Division 1 athlete, pre-diabetic, and lacking in muscle.
At the end of the show, it looked like you and Carlos didn't get along. Was that resolved?
D: At the end of the show it was apparent that I was pissed off at Carlos. It was ultimately him lying to me after being my friend since Day 1, which swayed my vote to get me out. I was most upset in the fact that he is a self-proclaimed "competitor" but was too scared to compete against Kendall and I in the final ceremony, and lied his way to the end. Since the finale. Carlos and I shook hands and are on good terms understanding that we cannot judge each others' characters based on our performance in such a ruthless environment.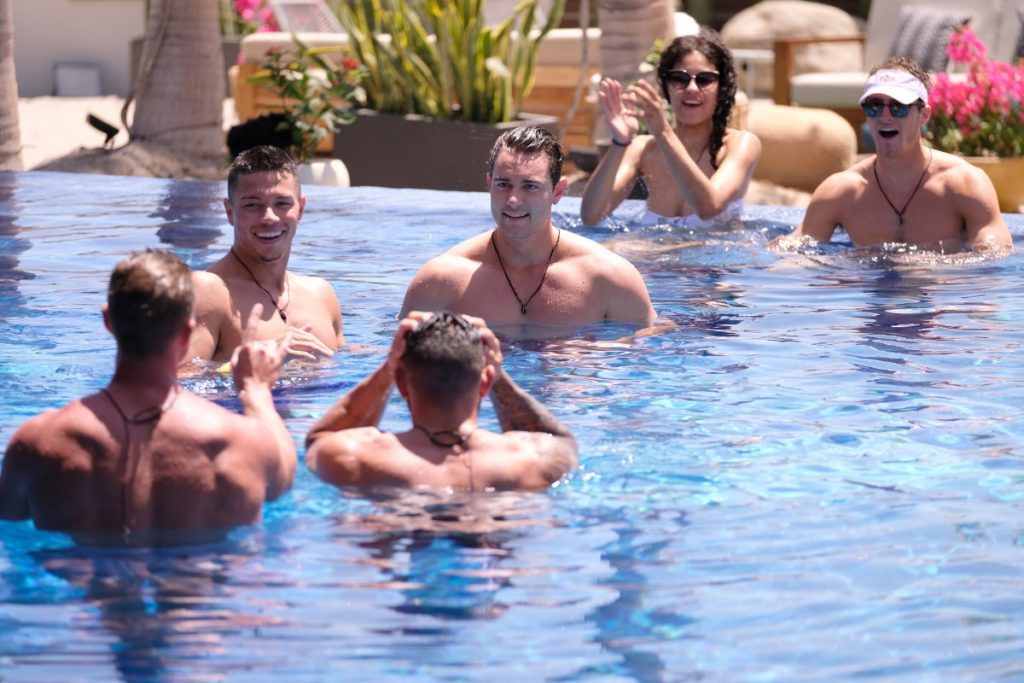 ---
When it comes to his Paradise co-stars, David is spilling his thoughts on a few. Do you agree?
Choose 3 Words to Describe:
Carlos – ruthless, rash, impulsive
Kendall – understanding, compassionate, sociable
Tyler – honest, caring, mature
Rosanna – opinionated, loud, fearless
Bobby– witty, likable, SAVAGE
David and Kendall may still be hanging out and getting to know each other, but how are Tyler and Shailee doing? She recently updated us with their current relationship status. Also, are Tatum and Bobby on speaking terms after the explosive season finale?
MORE ON PARADISE HOTEL
Kendall from 'Paradise Hotel' Answers Fan Questions on Her Relationship with David, How She Dealt with Drama, & More!
Everything You Need to Know About Tyler & Shailee from 'Paradise Hotel' – Exclusive!
Carlos "Papi Sazon" Confesses Why He Kissed Tatum on 'Paradise Hotel' – Exclusive
Kaitlin and Tyler Already Knew Each Other Before Entering 'Paradise Hotel?' Courtney Rose is an Entertainment Writer at Feeling the Vibe Magazine based in New York. Pop culture and rom-com obsessed. Studied Journalism and is up to date on all the latest entertainment news. For tips or comments, email me at Courtney@feelingthevibe.com