We are almost at the season finale of FOX's 'Paradise Hotel.' After the sexy dating show was cut short from 13 episodes down to 7, the cast and crew had to start working quickly.
Throughout the season so far, the power couples have been David & Kendall, Tyler & Rosanna, and Tatum & Bobby Ray. We saw Tyler and Rosanna get split apart when his ex-girlfriend joined the group two episodes ago. No one saw it coming on the shocking elimination ceremony when Rosanna stood behind Carlos, who ultimately sent her packing her bags to go home, choosing new girl Kaitlin instead.
David & Kendall have been the luckiest couple thus far, being able to fly under the radar and not get too caught up in the drama of the competition. However, in last week's episode the focus shifted to Tatum & Bobby Ray, the other strongest couple in the group.
Is Bobby Ray Getting Played?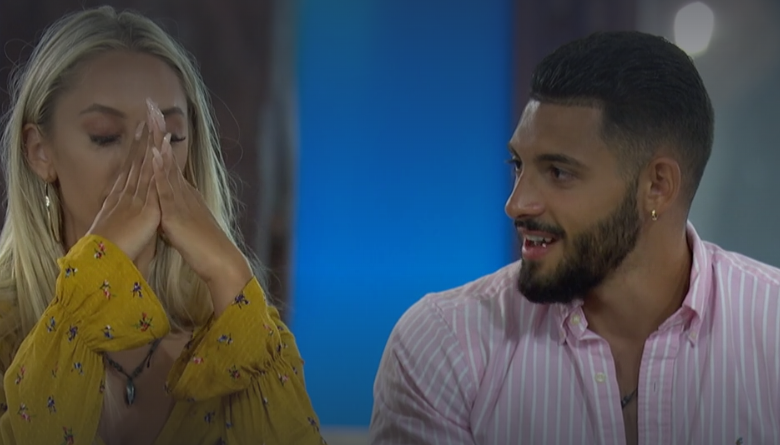 When Tatum started feeling ignored and neglected by her partner, she went on the search for someone who would "treat her like a queen." She started having secret rendezvous with Carlos (who was by the way rooming with Kaitlin). Bobby Ray was completely unaware that all this was happening right there behind his back. You even see Carlos and Tatum making out behind closed doors. "What happens in the bathroom, stays in the bathroom," Tatum rebuffed.
Tatum started urging Carlos to pick her at the elimination ceremony so she could eliminate Bobby. She thought her secret was safe, but in typical Carlos fashion, nothing is quite real. This guy is there to be strategic and play the game. He ended up confiding in Kaitlin, telling her that Tatum came into his room while he was sleeping and kissed him. A little shocked, Kaitlin now wasn't sure who to believe. Who was really telling the truth?
Brittany Gets the Shaft
Since it's getting down to almost the end of the competition, Tatum will do anything it takes to get to the end, even if that means being strategic against her girlfriends. She is self proclaimed to not "like being friends with girls." We saw this come to life in last week's episode when three new men entered Paradise. Desperate to finally find her love connection on the island, Brittany was chatting with all of them to see who she vibed with best.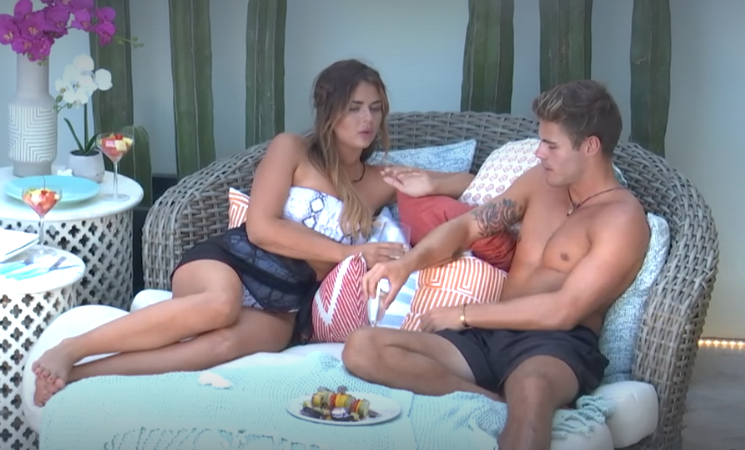 As Brittany was getting to know these men, Tatum was scheming behind her back to the other girls, in hopes to eliminate her. She was concerned that if Brittany found her connection, she could become a threat. Her plan? Whoever Brittany says she wants to check into Paradise Hotel, must be going home. Even though Kaitlin tried to warn Brittany about Tatum's ultimate plan, she decided against it, calling Tatum her "friend." When she said she wanted to pick Zakk, who was her real choice, Tatum rallied behind new guy Jared instead.
Now that Jared was checking in, she was hoping Brittany would ultimately be checking out.
Rosanna & Tatum Frenemies?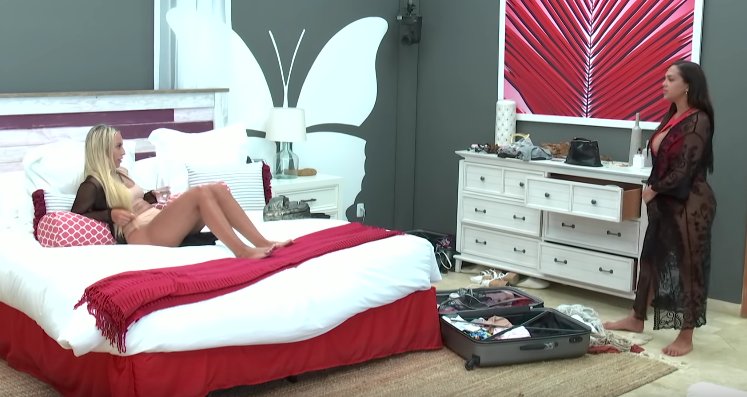 Three strikes you're out? Throughout the competition, we saw Tatum and Rosanna striking up a friendship. But was it real? In a never before seen clip from the show titled Gossip Girls, she is seen playing both sides.
When Tyler's ex-girlfriend Shailee came to town, she confided in Tatum that she felt "safe" that Tyler wouldn't be sending her home. Tatum ran to tell her BFF Rosanna, asking her "do you feel insecure or secure?" Ro pretty confidently said she felt secure that Tyler would indeed choose her over Shailee at the elimination ceremony. "He would totally pick you," Tatum says.
However, she is also seen talking to Kaitlin outside about the incident that happened two nights ago when Kaitlin tried chatting Tyler up at the pool when Rosanna went off on her! Tatum said, "Ro is my friend but I genuinely feel bad for Tyler." Kaitlin agrees, "thank God you do because I'm sad."
Though, when Rosanna was eliminated by Carlos you do see Tatum getting teary eyed. So maybe her friendly feelings towards Ro were real? Sound off by tweeting us @feelingthevibe.
The 'Paradise Hotel' season finale will air on FOX Thursday, June 6th at 8pm EST.
MORE ON 'PARADISE HOTEL'
Tyler and Shailee Get Split Apart Again on FOX's 'Paradise Hotel' Plus New People, Another Party, and Popsicles?
Rosanna Tells Tyler "I Guess This is Goodbye" on 'Paradise Hotel' Spoiler
Kristin Cavallari Explains Why She Would Want Tyler & Shailee Out of 'Paradise Hotel'
Fans of FOX'S "Paradise Hotel" React to Show's Cancellation
20 Fun Facts about David, Mariaelena, Deiondra, Rosanna & Tatum from 'Paradise Hotel' Courtney Rose is an Entertainment Writer at Feeling the Vibe Magazine based in New York. Pop culture and rom-com obsessed. Studied Journalism and is up to date on all the latest entertainment news. For tips or comments, email me at Courtney@feelingthevibe.com