Spoiler Alert! If you haven't already watched Episode 5 of FOX's 'Paradise Hotel,' you may want to take a look because A LOT went down and we are going to break it down for you right here.
Tyler and Rosanna's relationship may have been the strongest of all the couples thus far, but it was definitely tested during the May 23rd episode of 'Paradise Hotel.'
New Girl Kaitlin Checks into Paradise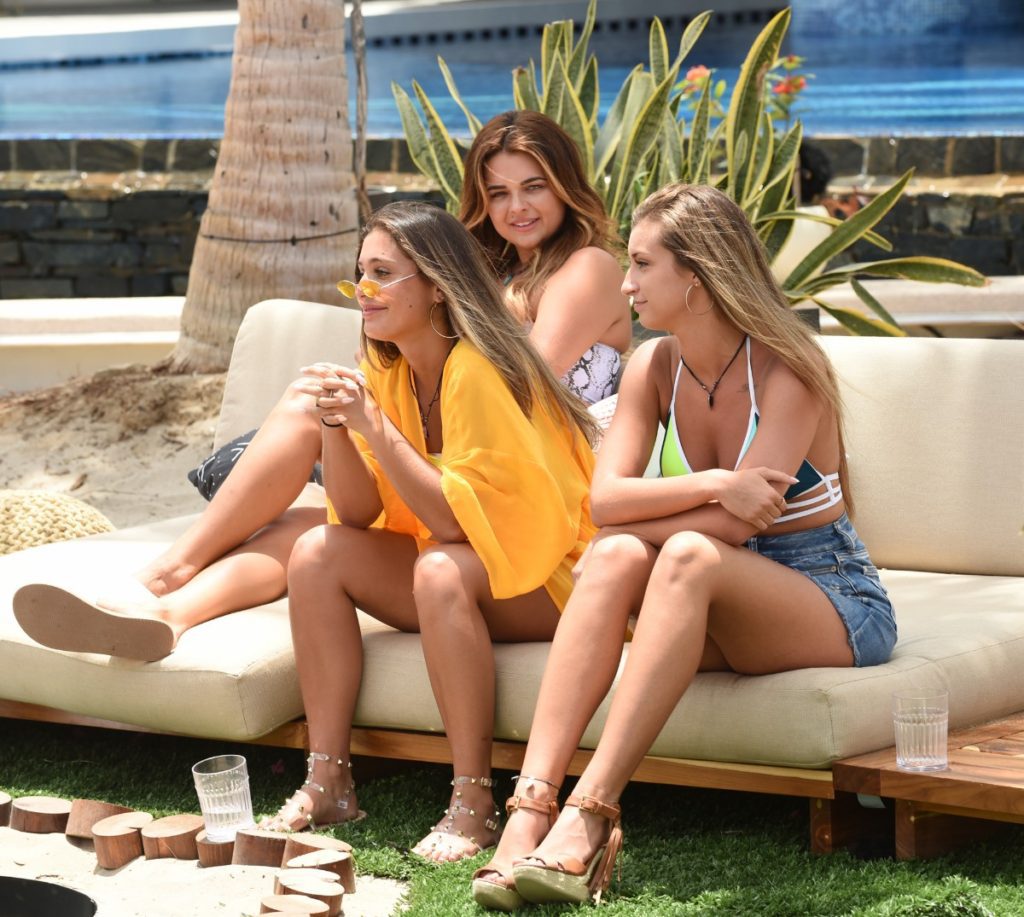 At the end of the May 16th episode, all the guys decided on one girl to check in and join the rest of them in Paradise. That girl was Kaitlin. Things got off to a pretty rocky start when Rosanna got involved in the drama. When she encouraged Tyler to engage and talk with the new girl, she went off on him when she saw him actually talk to her out on the lounge chairs one night. Don't these guys know what we mean when we say it by now?! But anyway…
Check out this clip below of Kaitlin and Tyler:
It wasn't Kaitlin's fault. She was just trying to get to know her new roommates, even questioning if Tyler was "whipped" by Rosanna at one point. She even tried inviting Tyler's love interest over to join their conversation but she was having none of it and stormed off back to their room.
After a lot of talking and coaxing by Tyler, Ty-Ro was back in a better spot…for now.
Nicole and Rosanna Have It Out
Did we mention two new girls joined the show at the end of episode 4? In addition to Kaitlin, another girl Nicole who promised to "spice things up" was voted in by America. Her presence was definitely felt when she dared to get near Tyler too.
When Rosanna overheard them talking about her, drink in hand…all claws came out. The two had it out with Nicole screaming that Rosanna is "insecure."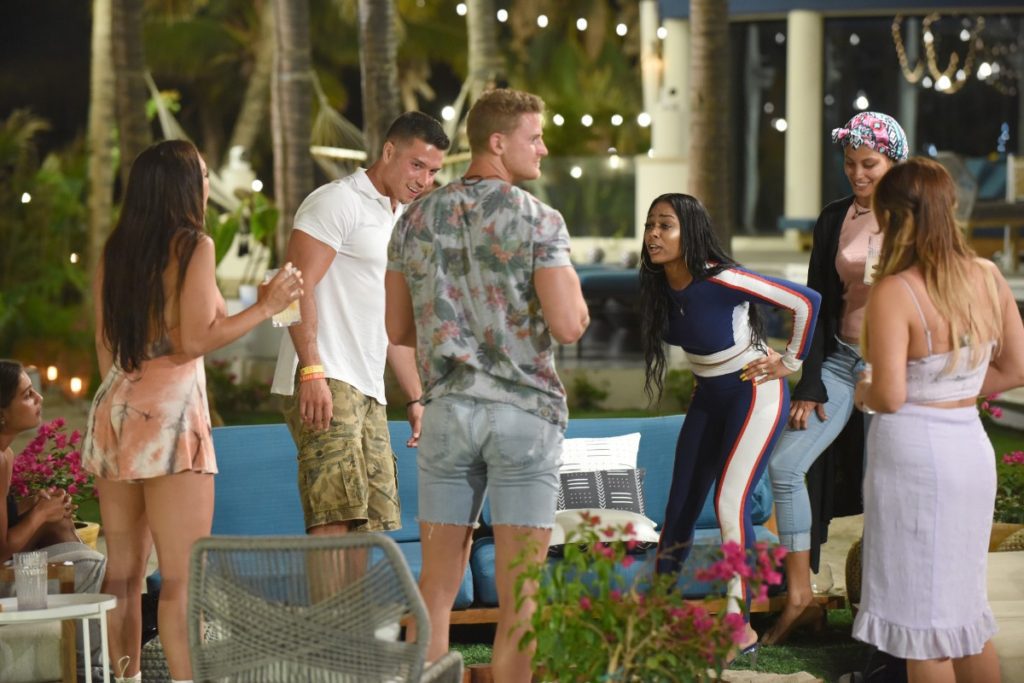 Fast forwarding a bit…when the guys got a chance to vote one lady out of the house, they all talked and decided that was ultimately Nicole. Rosanna stayed.
Three Strikes You're Out
Let's just say this was not Rosanna's day! Not only was her relationship tested by new girl Kaitlin, and then a screaming match with Nicole, but now another big threat was about to enter the house.
The whole cast knows when host Kristin Cavallari walks in, she is going to drop a bomb. Well, no one saw this one coming (except for the audience at home of course!), when they brought in someone extremely close to…you guessed it, Tyler!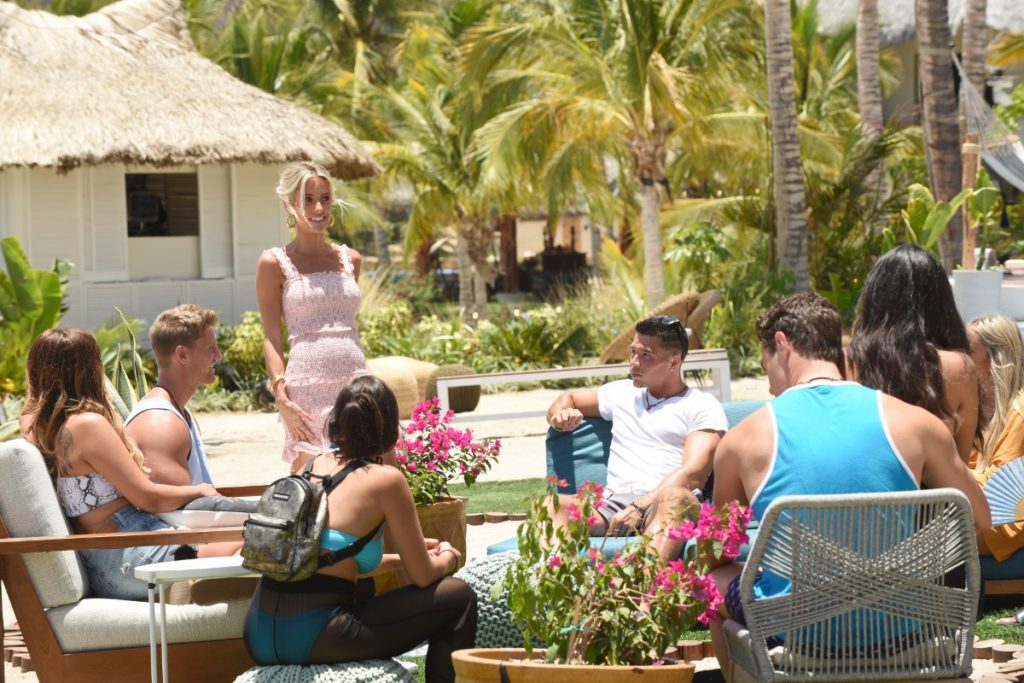 Kristin said another new girl will be joining. The cast watches as a girl starts to walk in towards everyone sitting on the beach. Tyler's face turns red as he looks on to see who it is. Rosanna quickly asked him, "what's that look?"
"What look?" he responded, trying to act coy. "Hi Tyler," the girl said.
Shailee Joins Paradise Hotel!
The roommates all flip out when they are told who Shailee is. Tyler admits that was his "ex – girlfriend."
However, Shailee doesn't think she is so much an ex-girlfriend. She spills that the two spent the night together the day before he left for the show and that he told her he would "miss her so much" and that he "loves her."
After seeing how hot and heavy Tyler and Rosanna have been since day 1 in Paradise, this shook everyone.
When Shailee and Tyler are sent on their private date on the beach, they have a heart to heart resulting in tears from his "ex" when she learns just how close he and Rosanna have gotten so quickly.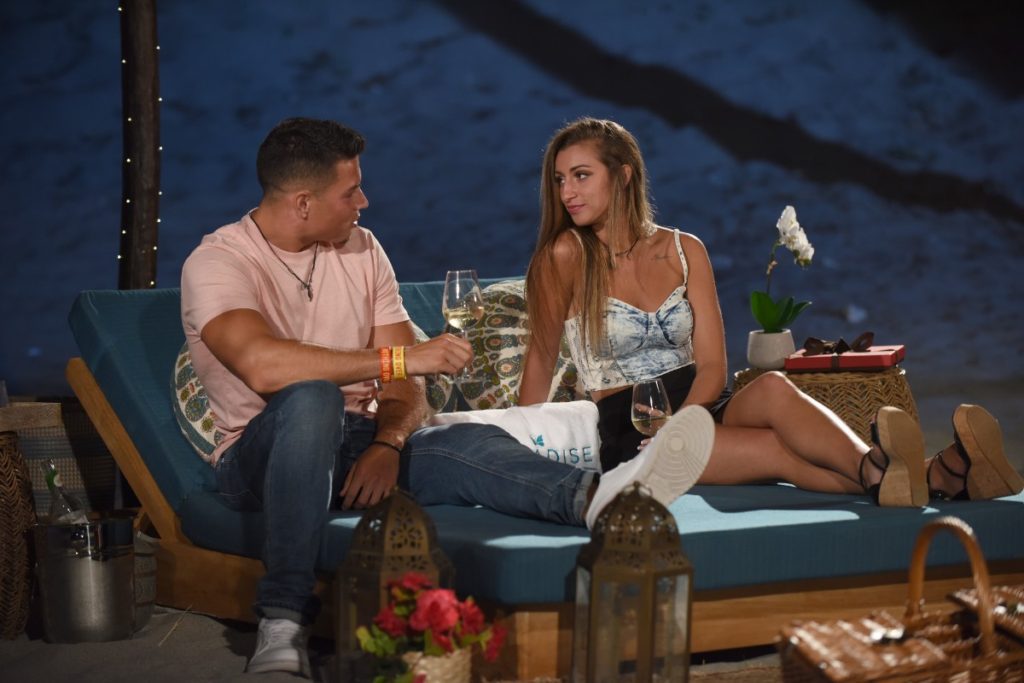 After questioning her whole relationship of one year where they talked about eventually having children together and learning that Tyler went all the way with Rosanna, Shailee got up and walked towards the water crying.
"I Never Want To Talk To You Again"
When the couple returned from their talk on the beach, PH contestant Bobby Ray met Tyler. "How did it go?" he asked. "Not good at all," said Tyler.
Mariaelena, Kendall, and Kaitlin rushed to console new girl Shailee as she went back into her room and started packing her clothes. In a completely emotional state of mind, she wanted nothing to do with Tyler or the show and was set on wanting to get out of there as quickly as possible.
After some encouraging from Bobby Ray, Tyler went knocking on the door to try to talk to Shailee "one last time." He asked the ladies to leave so he could talk to his ex.
Check out the clip from the show below just to see how it went down:
Even though Shailee wanted to leave Paradise, Bronx native Mariaelena encouraged her to sleep on it and stay. Since Tyler, 24, did admit that he has been in love once in his life and that was with Shailee, his new love interest Rosanna started feeling pretty threatened about her spot on Paradise Hotel.
She quickly hatched a plan to go talk to Carlos who has been rooming with Mariaelena. Knowing how their relationship was going south, this was the best guy to get involved with. "We have a connection," she told him "but I haven't been able to do anything with it since I've been with Tyler."
Being quite savvy, Rosanna knew that if she and Shailee were to stand behind Tyler's chair at the elimination ceremony, it was pretty likely she would be sent home. To secure her spot in Paradise, she made a pact with Carlos to stand behind his chair and start rooming with him.
Elimination Ceremony was Intense
When the roommates were getting ready for the big night, the cameras zoned in on Tyler and Rosanna's room. Everyone could see that Tyler had a big decision ahead, as he was being unusually quiet. He asked Rosanna to talk which she just refused.
When everyone met host, Kristin for the ceremony that night, it got pretty intense.
Kendall picked her "from day 1" roommate David, Tatum went with her safe choice Bobby Ray and Brittany went with her roommate Jair.
When it was Shailee's time to choose, we all knew she would be standing behind Tyler as that is the only guy she knew in Paradise plus of course their longstanding history together.
RELATED: Kristin Cavallari Explains Why She Would Want Tyler & Shailee Out of 'Paradise Hotel'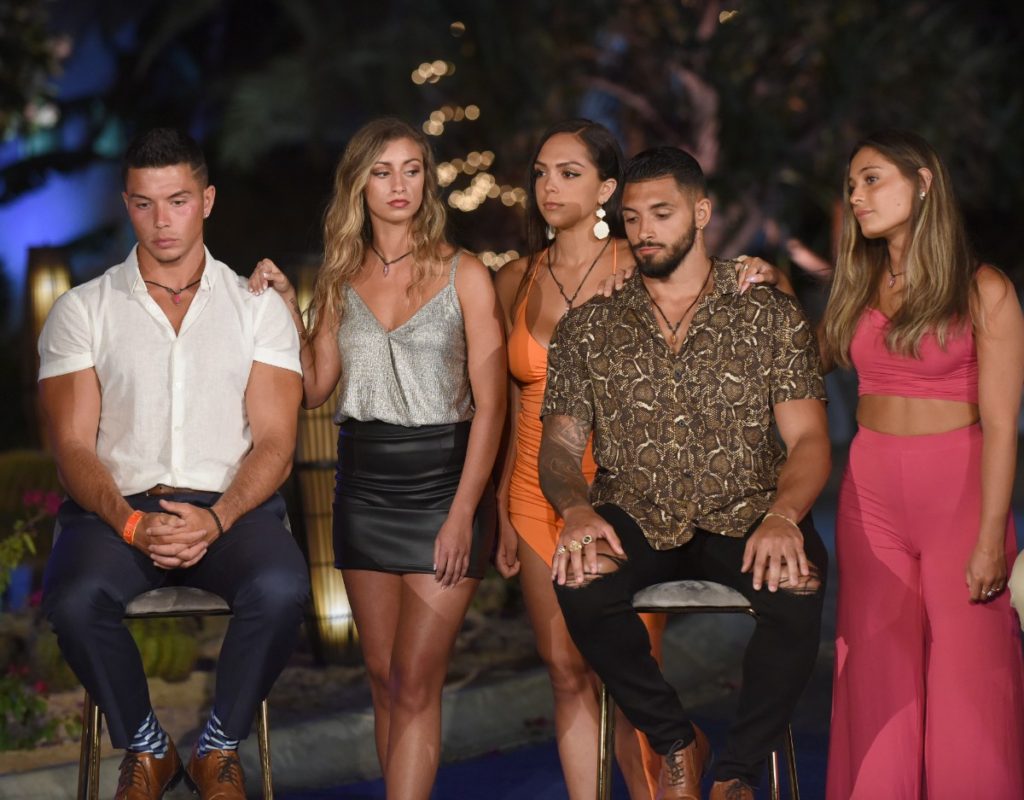 When it came down to Rosanna though, being the loose cannon that she is, you never know what she is going to do. She slowly walked down the line, passing Bobby Ray, Tyler, and ultimately choosing Carlos. However, there is one issue. Carlos already had the new girl, Kaitlin standing behind him.
The show cuts out at that point and we have to wait until next week to find out who was sent home and who stays in Paradise.
'Paradise Hotel' airs on FOX at 8pm EST (only for the next 3 weeks upon news of the show's cancellation.)
MORE ON PARADISE HOTEL
Tyler and Shailee Get Split Apart Again on FOX's 'Paradise Hotel' Plus New People, Another Party, and Popsicles?
Rosanna Tells Tyler "I Guess This is Goodbye" on 'Paradise Hotel' Spoiler
Tyler's Ex-Girlfriend Shailee Checks Into "Paradise Hotel" Tonight on FOX
Fans of FOX's 'Paradise Hotel' React to Show's Cancellation Courtney Rose is an Entertainment Writer at Feeling the Vibe Magazine based in New York. Pop culture and rom-com obsessed. Studied Journalism and is up to date on all the latest entertainment news. For tips or comments, email me at Courtney@feelingthevibe.com