The official 'Paradise Hotel' just released a brand new extended stay video with some never before scenes!
Last week was extremely action packed. We saw one of the strongest couples on the island get torn apart. When Tyler's ex-girlfriend Shailee checked in, it looked like Rosanna was getting pushed to check out..of Tyler's room at least.
Tyler and Rosanna were the show's power couple. These two had an instant connection and were "making out" everywhere and anywhere all over the resort. When Tyler's ex came into the picture, his strong feelings for Shailee who he was with "unofficially" for over one year came flooding back.
As all the guests were getting ready to attend one of the most intense elimination ceremonies yet, we see Tyler and Ro getting dressed..in silence.
Rosanna is Feeling the Sting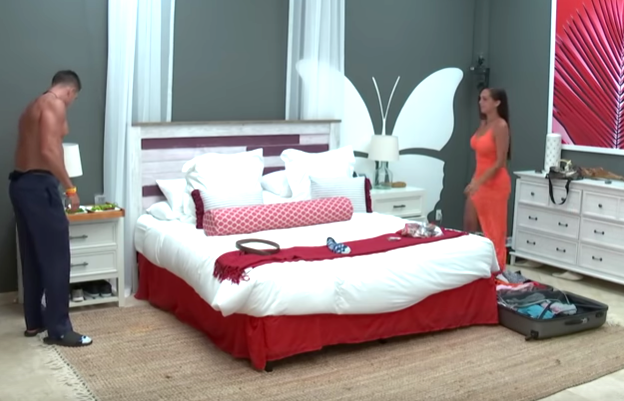 Rosanna can feel that something is wrong with Tyler. They aren't talking. "I guess I just have a bad feeling, but I wish I didn't" she confesses. Things get a little more tense as Tyler looks at her and walks over to sip a drink of water.
"It also doesn't help that you're not giving me reassurance," says Rosanna. Tyler reluctantly responds, "yeah I need to talk to you about that."
Rosanna looking a bit stunned says, 'are you serious?' before she walks away. We can feel her pain. The guy that she started making a real connection with is telling you that he is ultimately ready to choose another girl. Crushing!
Tyler Has to Make a Big Decision
After Shailee spilled her feelings and gave ultimatums to Tyler, he had a lot of thinking to do. "I obviously was ping ponging it all day today," he tells Ro.
Feeling hurt, Rosanna says, "I don't need to have this conversation with you." With a good heart, Tyler wants to reassure his 'Paradise Hotel' connection that it was real. "Everything we had for the 14 days was real, 100% real," he starts before Ro closed the bathroom door on him.
Will Carlos Save Rosanna?
After some eagle eyed fans spotted clues that Rosanna might have been sent home, there was a plan put in place so that didn't happen.
Tyler told her that he already spoke to the other contestant, Carlos. Carlos reassured Tyler that if Rosanna stood behind him, he would pick her. "I can't believe you, but ok," she said walking past her once hot and heavy romantic partner.
Watch the whole clip of the pre-elimination ceremony discussion below:
There are only two more episodes left to 'Paradise Hotel' after cancellation news broke just a few weeks ago. Tune into FOX on Thursdays at 8pm EST.
MORE ON PARADISE HOTEL
What Will Happen on the "Paradise Hotel" Girls and Guys Mixer Tonight – Spoiler!
Kristin Cavallari Explains Why She Would Want Tyler & Shailee Out of 'Paradise Hotel'
Is Rosanna Sent Home on 'Paradise Hotel?' Fans React to Clues..
What Exactly Went Down Between Tyler and Rosanna When Ex Shailee Joined 'Paradise Hotel'
Fans of FOX's 'Paradise Hotel' React to Show's Cancellation Courtney Rose is an Entertainment Writer at Feeling the Vibe Magazine based in New York. Pop culture and rom-com obsessed. Studied Journalism and is up to date on all the latest entertainment news. For tips or comments, email me at Courtney@feelingthevibe.com