New guys and girls, an interesting challenge, and a shocking elimination? All that and more happened on the latest episode of FOX's Paradise Hotel! Keep reading below for the full recap: from who's hooking up, to who's going home. Read with caution: there are spoilers in case you didn't watch the episode yet.
Recap of Paradise Hotel Season 1, Episode 6 for 5/30/19
Not even 5 minutes into tonight's episode and there's already two shocking twists at the most recent check-out. Jair decided to keep Brittany, but he seemed really heartbroken over having Marielena leave. Now Carlos, meanwhile, has to choose between Kaitlin and Rosanna. It was especially tense between these two ladies, with Brittany stating that they could "go to war" over this. Carlos said he isn't here to make friends, and therefore chose Kaitlin over Rosanna.
Tyler, on the other hand, is ready to get his relationship back on track with Shailee. They had a heart-to-heart, sharing their pasts and how they are both ready to move forward. As the night ends, the couples stand as: Kendall & David, Tyler & Shailee, Tatum & Bobby Ray, Jair & Brittany, and Carlos & Kaitlin.
What's Going on with Tyler and Shailee?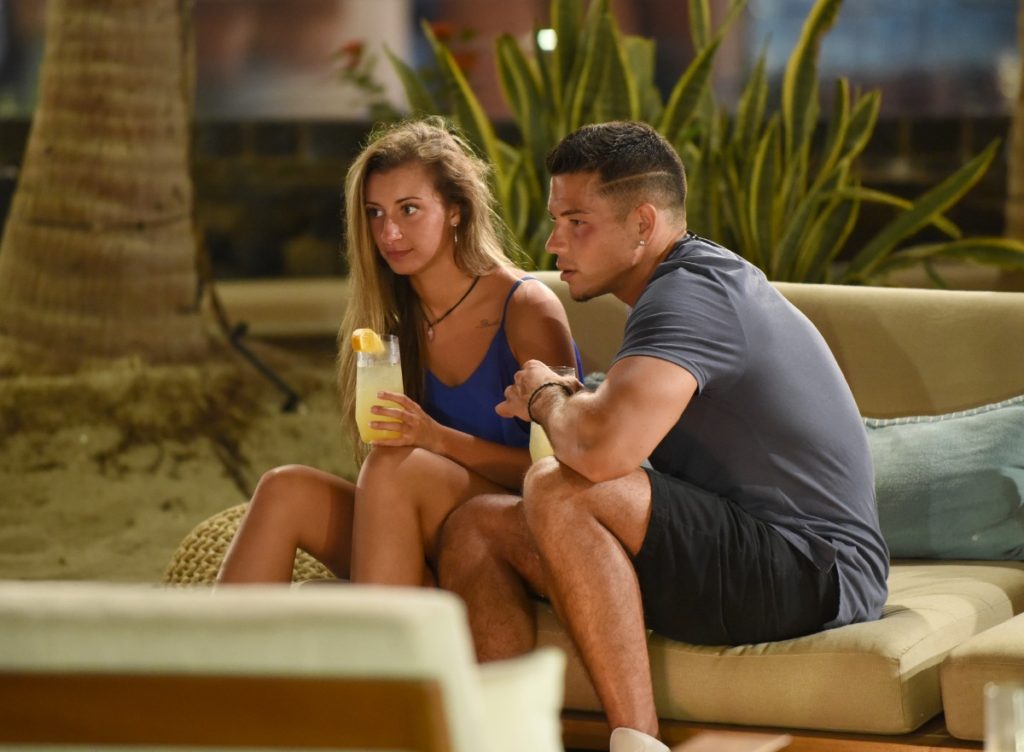 By day 2, tensions are rising as Bobby Ray and Tatum drift apart after hooking up. And who does she turn to for a shoulder to lean on? Carlos! Speaking of surprises, Shailee dropped a bombshell on Tyler by admitting that she too slept with someone else, as did he. Tyler said it best: "Two wrongs don't make a right" – but he said that he'd be lying if he said the news didn't hurt him. As Tyler and Shailee try to work on their issues, it seems as though Tatum is creating problems – she ended up kissing Carlos behind Bobby Ray's back! Tatum doesn't tell anyone about their rendezvous, but that doesn't mean the secret will stay safe for long!
Time for Some New Contestants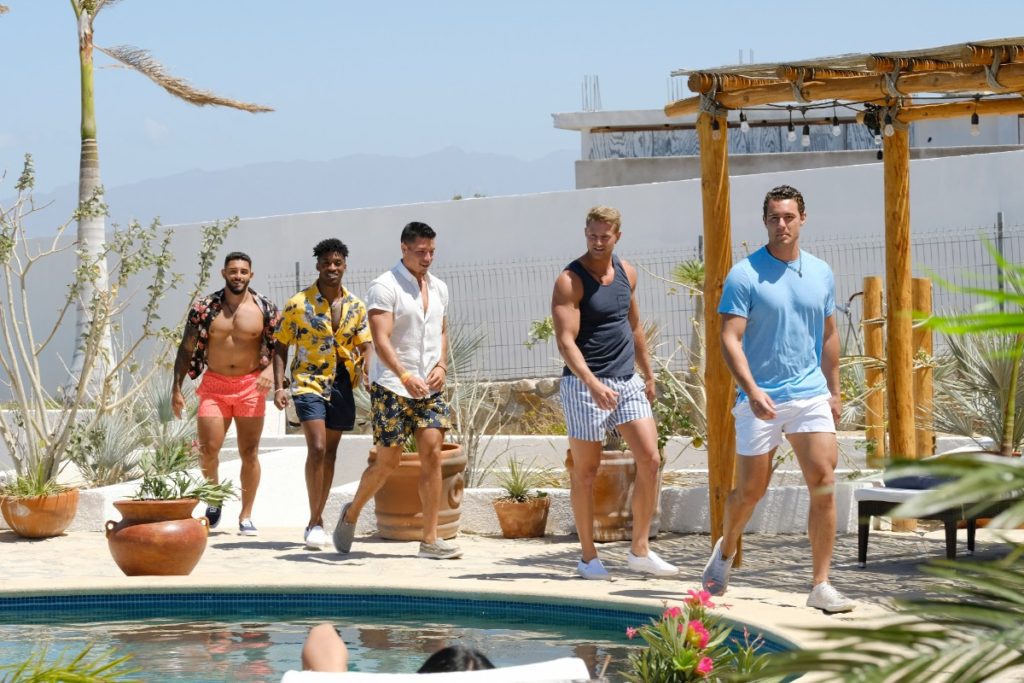 Before they know it, it's party time as the guys and girls both throw mixers to meet the new contestants. Tatum talks with new boy Jared, while Brad and Brittany strike up conversation over champagne. Too bad Tatum's feeling threatened by Brittany making connections with both Zakk and Brad. Tatum decides to scheme a little, deciding to pick the boys opposite of who Brittany connects with, so that way her chances of going home increase. Off at the other party, Jair is hitting it off with new girl Jamie, and a few sparks are flying. As for Tatum's master plan? It's exposed by Kaitlin, who tells Brittany everything. While Brittany tried to fight to get Zakk to stay, Tatum overruled her and got Jared to be the one to check into the hotel. At the end of the night, Jair and Jamie were newly coupled up; as were Brittany and Jared.
Ice Pop Challenge Time
The couples' next challenge is to melt an ice pop to secure a hotel key – using only their bodies! Amazingly enough, new couple Brittany and Jared won the challenge, having gotten their key in only 13 minutes!
Unfortunately, Tyler and Shailee came in last place, leaving one of them as the person to be eliminated in the next check-out. Brittany and Jared discussed the options, weighed the pros and cons, and came to the conclusion that Shailee would be the one to go home. Breaking up this genuine couple was not an easy decision, Shailee did tell Tyler that he should do whatever it takes to win this thing.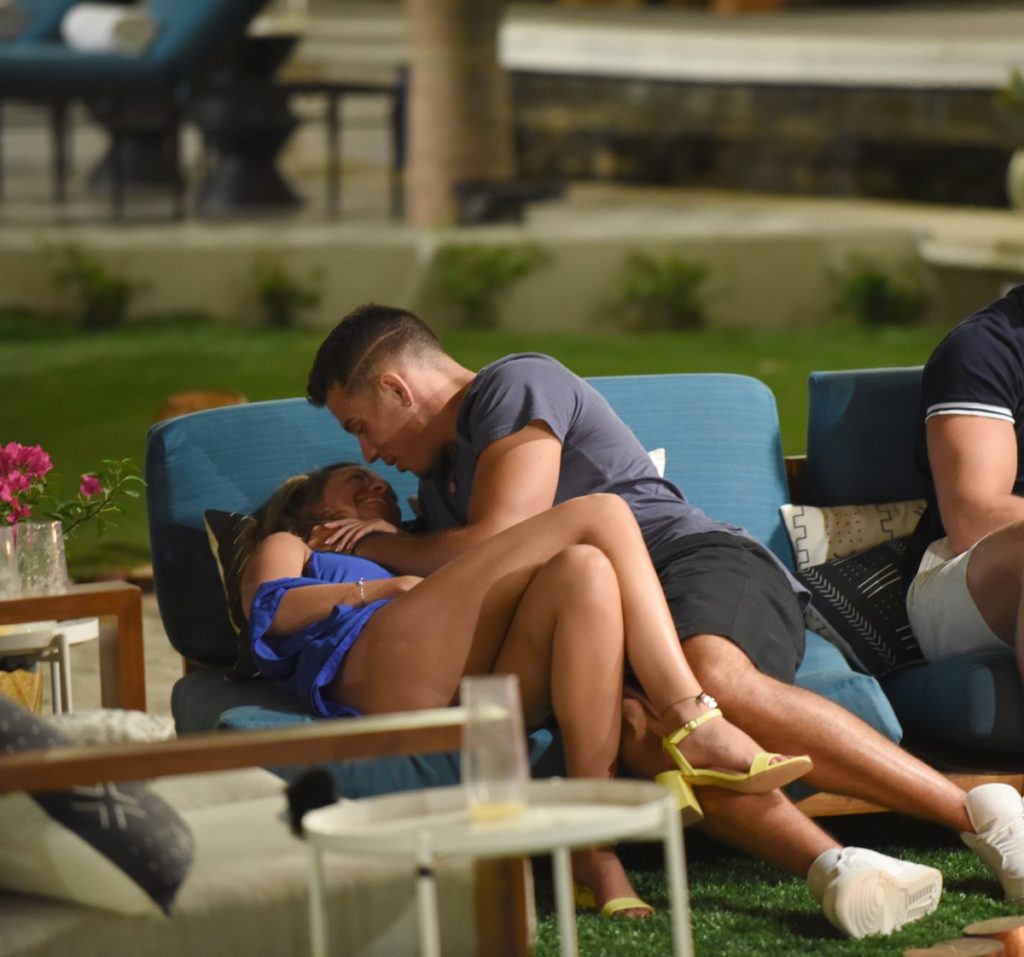 Tyler then takes it upon himself to try and make a move on Kaitlin; while Tatum sneaks off again to see Carlos. She's desperate for him to make her the other half of his team (instead of Kaitlin). Tatum's not the only one wanting to switch partners: Brittany's been chatting up Tyler to see if they can make a connection to get one step closer to that 250K.
The Spoiler!
At the end of the episode, we're back full circle to the next check-out round. Newbie Jared was the one to be eliminated. The shocker? Not only is he gone, but he gets to pick a couple to go home too! That means 3 people will be eliminated from the show. You'll have to wait until next week's season finale to find out which couple Jared chose to check out of Paradise Hotel!
Check out some photos from the episode in the gallery below!
---
MORE ON PARADISE HOTEL
Rosanna Feels She Was Betrayed by Tyler and Carlos on 'Paradise Hotel'
All the Times Tatum from 'Paradise Hotel' Schemed Against the Other Contestants
What Exactly Went Down Between Tyler & Rosanna When Ex Shailee Joined Paradise Hotel
What Will Happen on Paradise Hotel Girl & Guy Mixer Tonight – Spoiler!
Kari Highman is a Beauty and Fashion Blogger at Feeling the Vibe Magazine. Otterbein Alum (2017) – English & Psychology. Always learning & creating. Avid fan of mid 2000's TV & pop music. Comments or tips, email kari@feelingthevibe.com