There's always more to the story in Siesta Key. Season 4B is going to dive deeper into the cast's relationships, and see what drama lies beneath the surface. From new romances to possible rekindled friendships, there's a lot that's gone down within the group since fans last saw them. So, what can be expected from Siesta Key's second half of season 4? Take a look below.
---
Juliette Porter Makes Waves: Breakup with Sam Logan & New Relationship with Clark Drum
The first thing to discuss is who's at the center of the drama in season 4B. The last time we saw Juliette Porter onscreen, she and Sam Logan were taking major steps forward in their relationship. But now? They're over, and Juliette went on to date a new guy named Clark Drum. In the trailer, there's tweets floating around with accusations of both Juliette and Sam being unfaithful. But, are there any truth to those rumors?
In the trailer, Sam tells Juliette: "I'm here trying to make this work." She responds with: "Just shut up for like five seconds." Yikes. Trouble in paradise for the once King and Queen of Siesta Key.
Now that Juliette's with Clark, it seems Sam moved on too. He was posting a lot on social media, which stirred the pot. Even Brandon Gomes asked: "Have you seen what Sam's been posting?" Co-star Amanda Marie Miller is seen confronting Sam's new girl about being a "rebound."
So, will Sam be able to make things last with his new girlfriend? And what about he and Juliette? Will they be able to make a clean break? It seems like it'll take a while, but Juliette makes a big decision to move out. She's seen packing up some boxes too, so where will she go next?
Paris is the answer – at least for a while, as Juliette explores France in the promo. It's assumed she goes there after her breakup with Sam to clear her head. Sam's overheard telling his friends: "she was doing exactly what I was doing, just hiding it and lying about it." It's cut with a quick clip of Juliette and Clark at Madisson Hausburg's wedding, alluding to the fact that maybe neither Sam or Juliette has been honest with each other.
The last thing we hear Juliette say is: "I'm sorry that I hurt you. But, am I sorry for doing what I need to do for myself? No." She's standing her ground, and seems to be taking the high road while doing so. That's a big change from last year when she was using hurtful actions instead of words.
---
Kelsey Owens & Juliette Porter: Friends Again?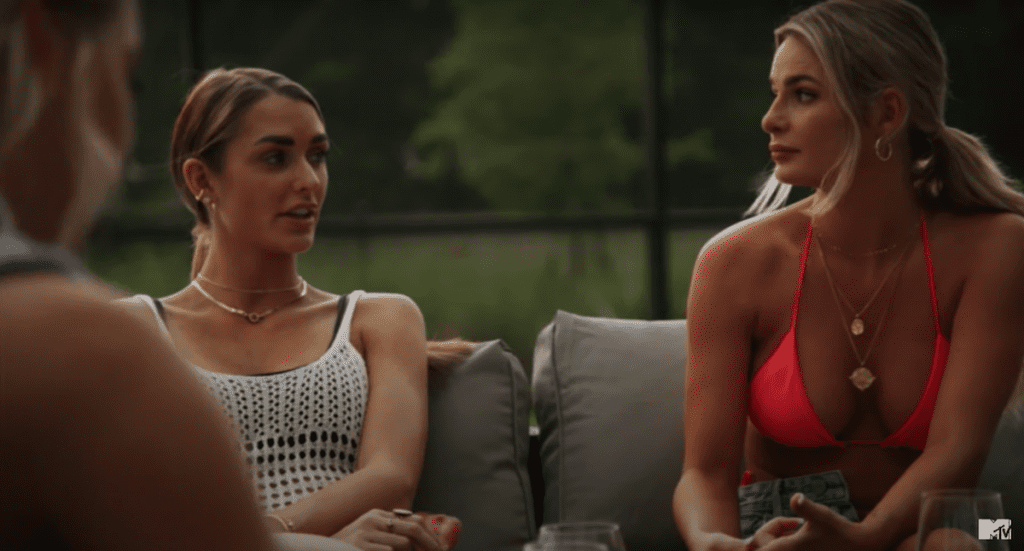 Interestingly enough, Juliette's relationship drama may bring she and former BFF Kelsey Owens closer again. The two are talking in the promo, with Kelsey asking Juliette if "it's really over" – about she and Sam's relationship. Juliette "doesn't want to hate" Sam, so maybe they do try to make a go of it and fix things before it gets messy. Meanwhile, Kelsey tries to balance her business and her relationship with boyfriend Max Strong.
Kelsey's not the only one trying to make a relationship work in Siesta Key. According to TV Insider, "Also lucky in love this season is Amanda, but a family issue may influence her ability to commit to her new relationship. Garrett faces a similar issue, as his closest friend expresses disapproval of 'the love of his life' Kenna." That could explain Makenna Quesenberry's bewildered expression after Garrett Miller says he's "trying to figure this out right now."
---
Chloe Trautman & Chris Long: The New Siesta Key Couple
Chloe Trautman is saying out with the old, in with the new. She's been with Chris Long since May 2021, and the duo are seen in the trailer trying to keep things calm amid the chaos that is Siesta Key. They appear to be doing a meditation together, where Chris says: "Breath of life, calms us down…" but Chloe quickly replies: "It's not always easy to be like that."
It cuts over to Cara Geswelli's comment of "they're both on a journey" to which Jordana Barnes chuckles. Cara and Chloe haven't seen eye to eye on anything, but is this a step too far? Something they can't take back? Chloe confronts Cara, calling her vindictive; later on, she shares an emotional moment with Jordana.
While things may be rocky for Chloe, things are looking up for Madisson Hausburg. At the time, the bride-to-be is planning her wedding to fiancé Ismael Soto. Cameras were rolling for their big day, which was documented on social media in October.
Also taking strides is Brandon Gomes, who's "so tired of lying" and will step up to the plate for his son, Quincy, all while trying to pursue his dreams.
---
Siesta Key Season 4B Trailer – Watch Now
Watch the full trailer below to see the drama unfold:
It's a time of change, self-discovery, and finding what's yours to keep – or lose – on all-new episodes of Siesta Key. Where that leads everyone is up in the air until season 4B premieres on Thursday, March 10 at 9/8c, only on MTV.
---
MORE SIESTA KEY NEWS
Siesta Key's Chloe Trautman is Married – Details + Meet Husband Chris Long!
Siesta Key's Juliette Porter Dating Clark Drum
Garrett & Makenna from Siesta Key are Engaged – See Photos & Video Inside!
Kari Highman is a Beauty and Fashion Blogger at Feeling the Vibe Magazine. Otterbein Alum (2017) – English & Psychology. Always learning & creating. Avid fan of mid 2000's TV & pop music. Comments or tips, email kari@feelingthevibe.com