Siesta Key may not be back for the second half of season 4 just yet, but there's plenty of news happening for fan-favorite couples. Love is in the air, and no one knows that better than Garrett Miller and Makenna Quesenberry. The duo celebrated their 1 year anniversary on November 4, but now, they've taken a bigger step in their relationship: they're engaged! They aren't the only ones who have put a ring on it though – Chloe Trautman announced her engagement to her boyfriend Chris a few weeks ago. Keep reading for details on their engagements below, including photos and video.
---
Garrett & Makenna of Siesta Key: Happily Ever After
Garrett and Makenna quickly became a fan-favorite couple over the first half of Siesta Key season 4. Their genuine relationship played out onscreen, and Garrett even gave Kenna a promise ring in an episode. You can see the (foreshadowed) tweet below:
So did you guys think it was gonna be a proposal because…. I did. #SiestaKey pic.twitter.com/MZ7sfPG1U3

— Siesta Key (@SiestaKey) June 24, 2021
Feeling the Vibe reported on other milestones in their relationship, from when they met to making it to six months. Their one year anniversary posts were just as memorable. Kenna wrote: "Got to celebrate one year spent with my best friend yesterday 🙂 You are the most incredible person I've ever met, and I am so lucky to love you. I can't wait to keep falling for you forever."
Garrett posted a lovely tribute video which captured their year together. He captioned it: "One year down, forever to go."
Now, they can add engagement to their list of milestones and memories, because it was a beautiful moment for them. Garrett surprised Makenna by taking her to Gatlinburg, Tennessee with their closest friends and family. It was there he proposed to her with a ring from Kay Jewelers, the setup complete with rose petals and a "marry me" sign.
He wrote on Instagram: "Dear my love, I promised you that I'd be with you & only you till the day I ask you to marry me. Well today is that day where I asked you to be my forever n ever. I truly love every single thing about you & never could imagine life without you. You make me a better person every single day bringing out the best version of myself. I thank you for that Kenna."
Kenna captioned a similar Instagram with: "Falling in love with you was the best thing I ever did." The photo shows Garrett down on one knee as she accepts his proposal and ring. They got engaged the day before Thanksgiving, and spent the holiday together.
Later on, Garrett posted a video about he and Kenna's engagement, writing: "When you know, you know <3." Their engagement took place on November 24 at Skybridge in Gatlinburg. The proposal video showed Kenna's excitement with her resounding double yes answer to Garrett's question of marriage, and how the ring was "perfect."
In addition to the video, Garrett recently posted more photos from their special day. It was "the perfect moment" and an unforgettable time for the now-fiancés. Check out the pictures below:
Related: Who is Makenna from Siesta Key?
---
Garrett & Makenna Engagement Captured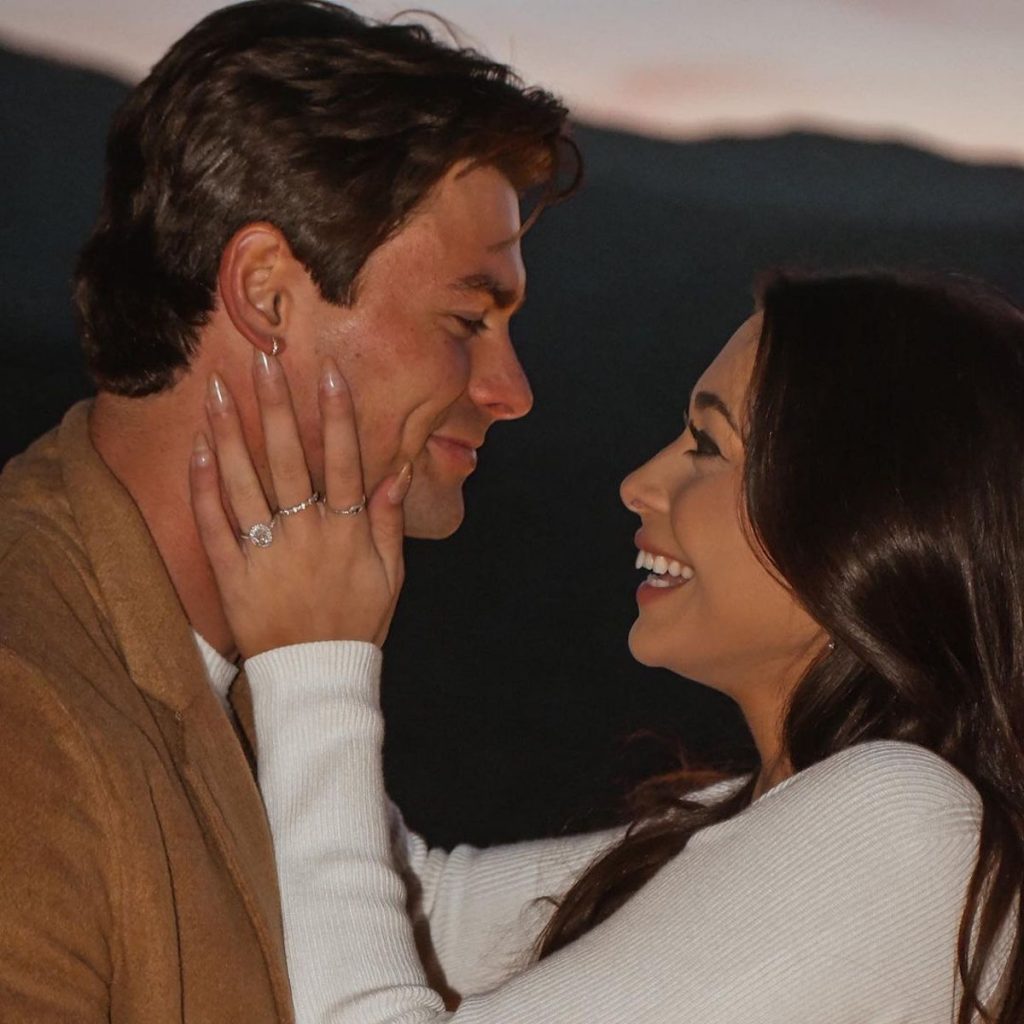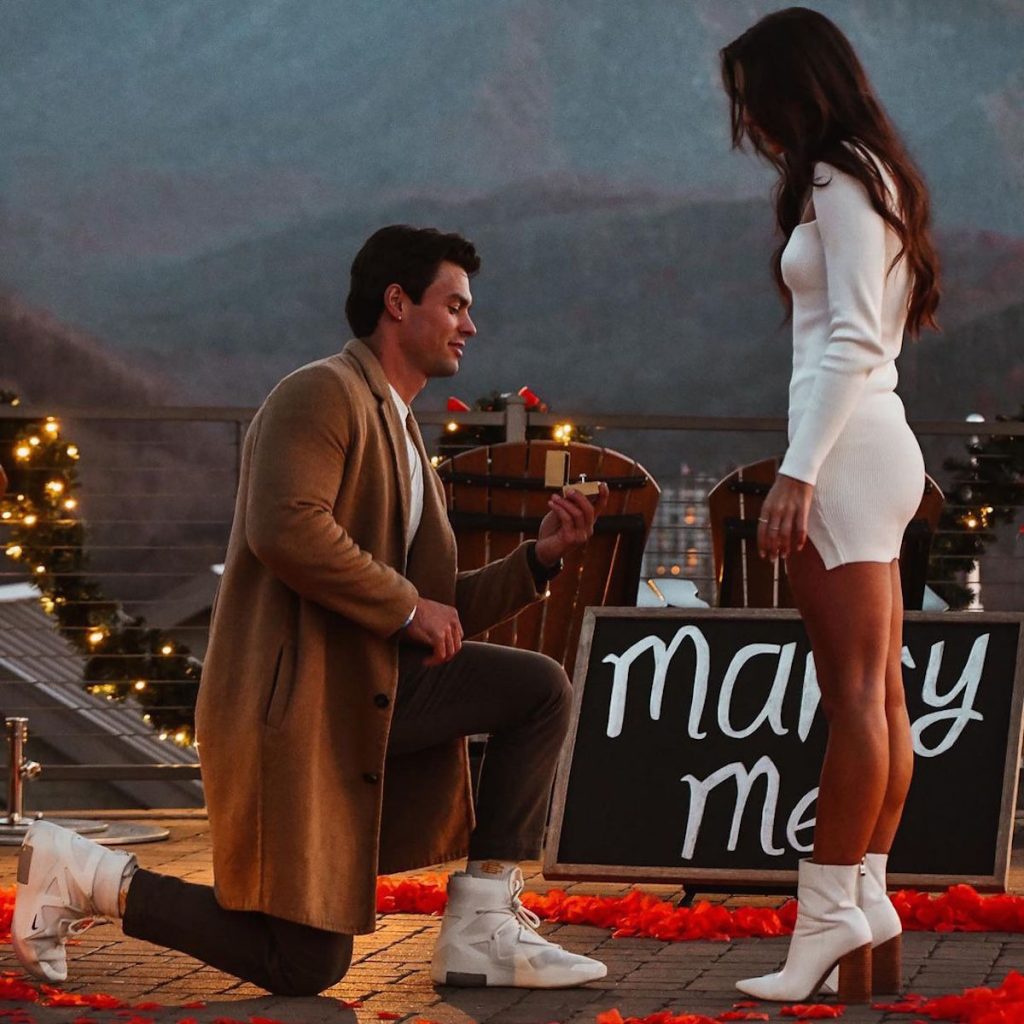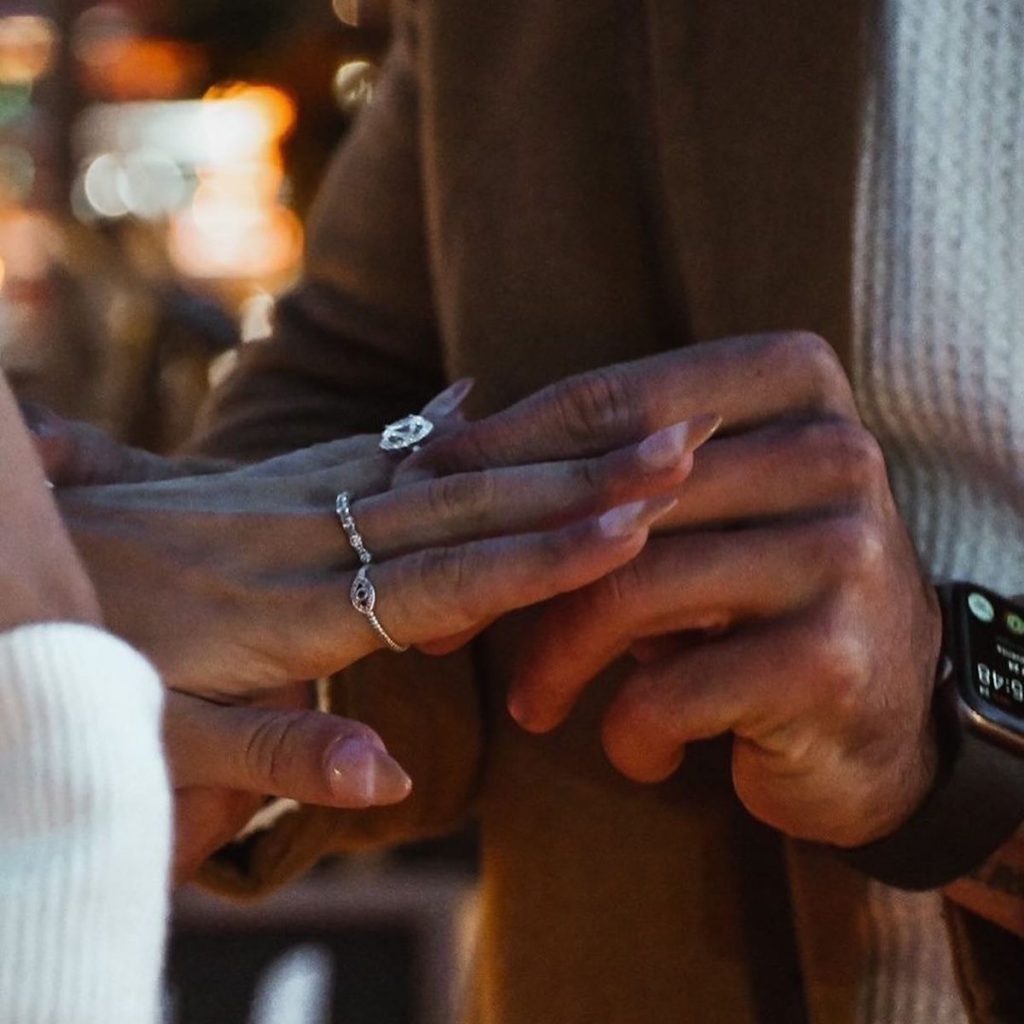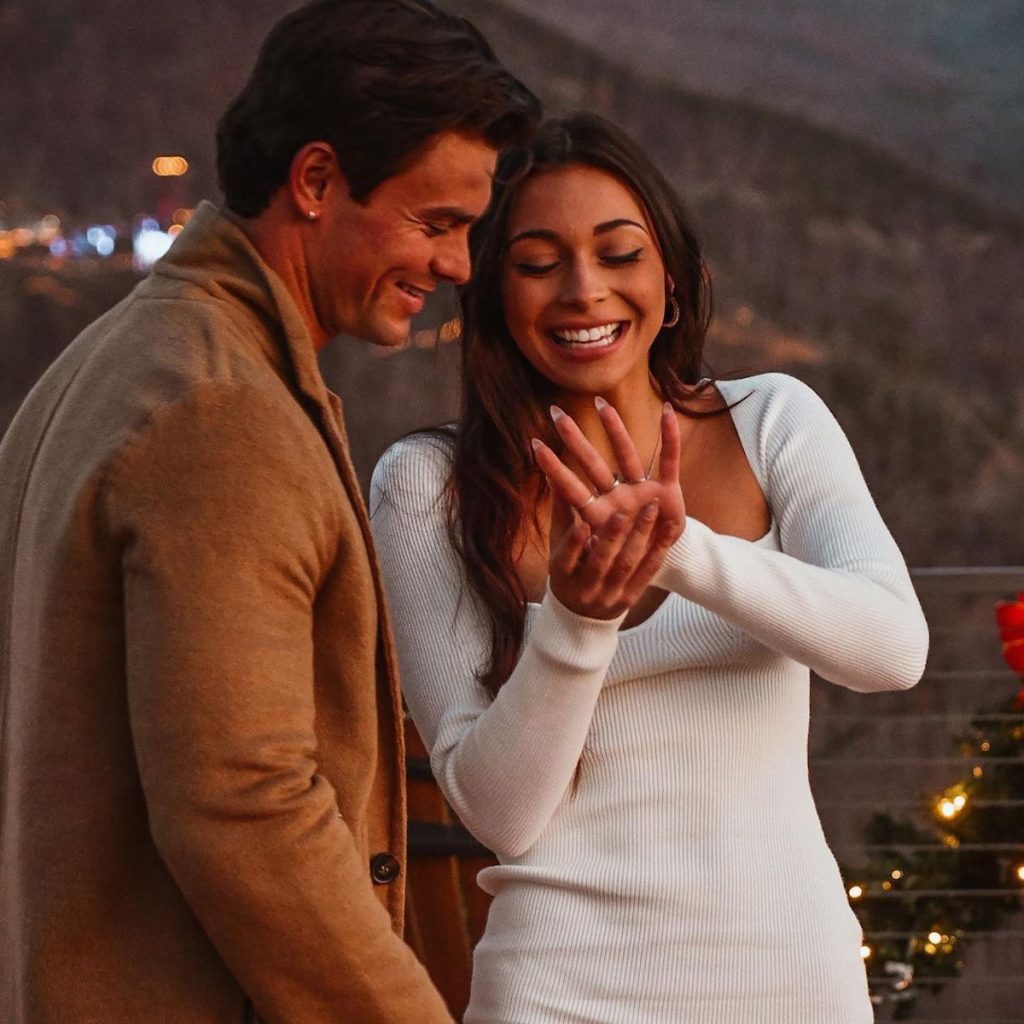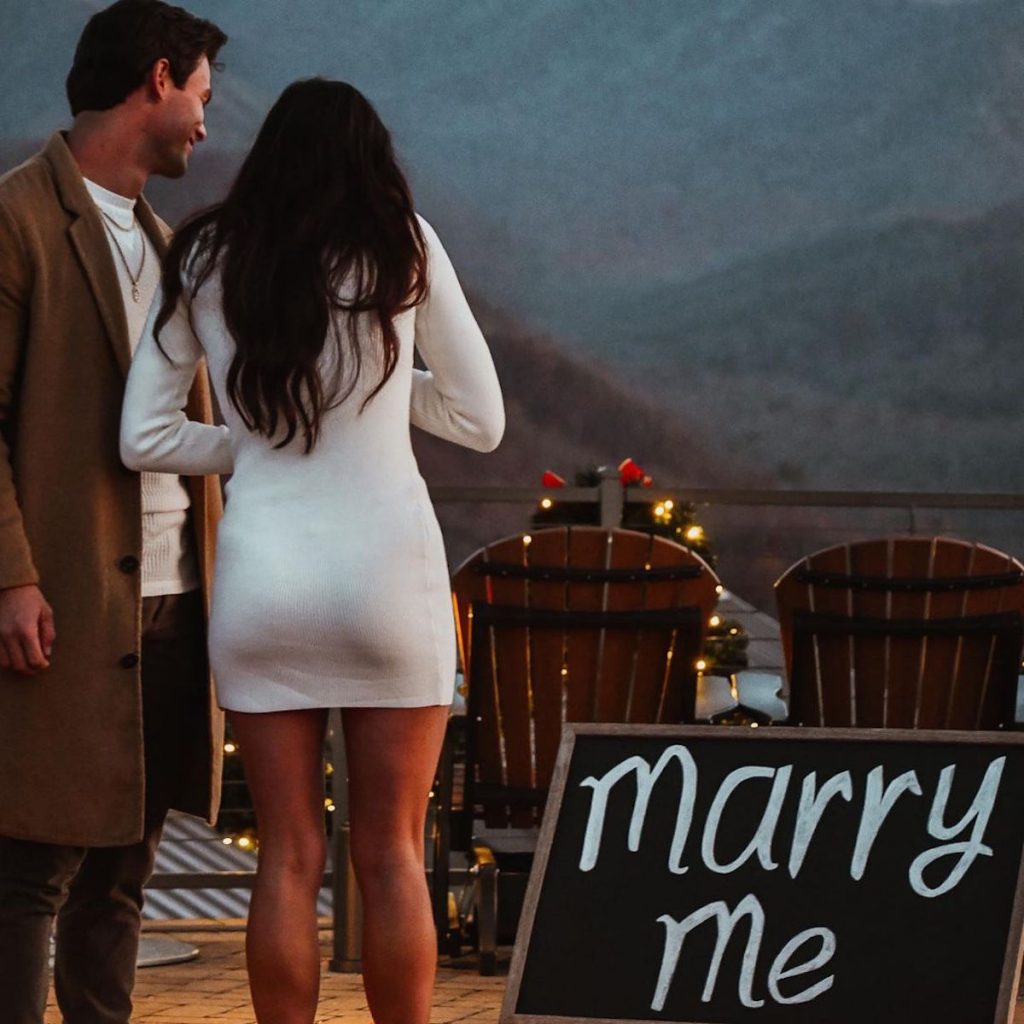 ---
Chloe & Chris: Another Siesta Key Engagement
Feeling the Vibe first reported on Chloe's new relationship with Chris Long in May 2021. The duo's relationship grew serious before long, and they were taking amazing trips together, bringing out the best in each other, etc. Working in the personal development arena, Chris totally understands the introspective journey Chloe's been on over the last year and a half.
Their true connection is reflected in the many photos Chloe's shared to her social media too. From Mexico to the Great Smoky Mountains, Chris and Chloe have traveled everywhere together, and have forged a bond that's special in its own unique way. Chloe captioned one of their many trip Instagrams with: "Nothing better."
It's easy to see why they took the next big step in their relationship and got engaged on November 3 in Bryce Canyon, Utah. Chris took her on an 8.2 mile hike on Fairyland Trail, where he got down on one knee and asked her to marry him.
Chloe wrote a heartfelt Instagram, saying: "From the moment I met Chris I knew he was the one. I am in a state of pure bliss and I can't believe I get to spend my life with my best friend!!! […] LOVE is the most powerful force on the planet! When you lead with love anything is possible." Her engagement ring has an emerald stone in it because "Emeralds are associated with the heart chakra and hold many metaphysical properties some which include compassion, balance, wisdom, patience and universal love. And those who are close to me know I have been obsessed with emeralds for quite sometime now."
Of course her Siesta Key co-stars commented on the post. Juliette Porter said: "Ahhhhhhhh!!!!!!!!!😍😍😍😍😍" and Kelsey Owens had a similar sentiment (with the same emojis) writing: "AHHH!!!😍😍😍 congrats to you both lovie. So happy for you." Makenna commented with a sweet message: "You two are so perfect for each other and you're so deserving of all of this happiness I love you guys so much congratulations"
Emojis continued to be abundant in the flurry of co-star support Chloe received on her news. Madisson Hausburg wrote: "CHLO CHLO!!!!!!!! AHHHHHHHHHHHHH OMG IM FREAKING OUT!!! 😍😍😍😍😍"; Camilla Cattaneo left a "Congrats 🎈🎊♥️" as did her ex, Brandon Gomes.
About a week after the proposal, Chloe shared a reel of their Utah trip, saying "All your love keeps me safe."
Congratulations to the happy couples of Siesta Key on their engagements! Chloe and Chris, Garrett and Kenna deserve nothing but happiness on these new chapters in their relationships. If you're not already following them on Instagram, you definitely should so you can keep up with their everyday lives to see if they announce any future wedding details. Chris doesn't have any social media, but Chloe, Garrett, and Makenna do. Their handles are linked in their names above.
Madisson & Ish Soto are Officially Married!
We are catching you up on all Siesta Key relationship happenings! Madisson and her new husband, Ish Soto have been married for over a month! Madisson shared pictures from her magical day to Instagram, celebrating one month of marriage. "Our first dance 🤍 Happy one month of marriage to the love of my life!"
Jason Wahler's wife, Ashley from Laguna Beach commented, "This is so beautiful! So happy for you!" Kelsey Owens, one of Madisson's BFFs exclaimed, "Please spam my whole feed!😍 I'm so ready!" Her co-star, Chloe wrote, "So much LOVE."
The day after Madisson married Ish, she shared a solo photo of herself in a beautiful white wedding gown with the caption, "Last night feels like a dream."
Her Siesta Key co-star and ex-boyfriend, Brandon Gomes commented with a simple heart, "❤️."
Ish also shared photos from the beautiful day on his Instagram profile. "My wife and our baby ❤️ Thank you to everyone who came out to celebrate with us and to the team who made this the most beautiful wedding in the world!!!" he wrote. The couple married at the Mision Lago Estate in Thonotosassa, Florida.
Congrats to these couples; they certainly have something to celebrate in Siesta Key!
---
MORE SIESTA KEY NEWS
Siesta Key's Camilla Cattaneo Launches Loungewear Line — See Clothes Inside!
See Garrett Miller from Siesta Key's Relationship Timeline with Girlfriend Makenna
Siesta Key's Madisson Hausburg Engaged to Boyfriend Ismael Soto
Kari Highman is a Beauty and Fashion Blogger at Feeling the Vibe Magazine. Otterbein Alum (2017) – English & Psychology. Always learning & creating. Avid fan of mid 2000's TV & pop music. Comments or tips, email kari@feelingthevibe.com