Brandon Gomes has done a lot of growing up in the past year. He revealed that he's a father back in August during the Siesta Key aftershow, shocking both fans and his fellow castmates. This revelation led to his breakup with Camilla Cattaneo, and left fans wondering what would happen for Brandon post season 3. Now, ahead of the season 4 premiere, MTV has dropped an exclusive sneak peek, which not only shows Brandon's baby boy, Quincy, but Quincy's mother, Delainey as well. Get to know more about them below.
Who is the girl Brandon Gomes had a baby with?
Quincy's mother's name is Delainey Shae. She graduated from Florida Gulf Coast University in May 2020, and is working on her occupational therapy graduate program. While her Instagram is private, you can see Quincy is featured in her profile picture.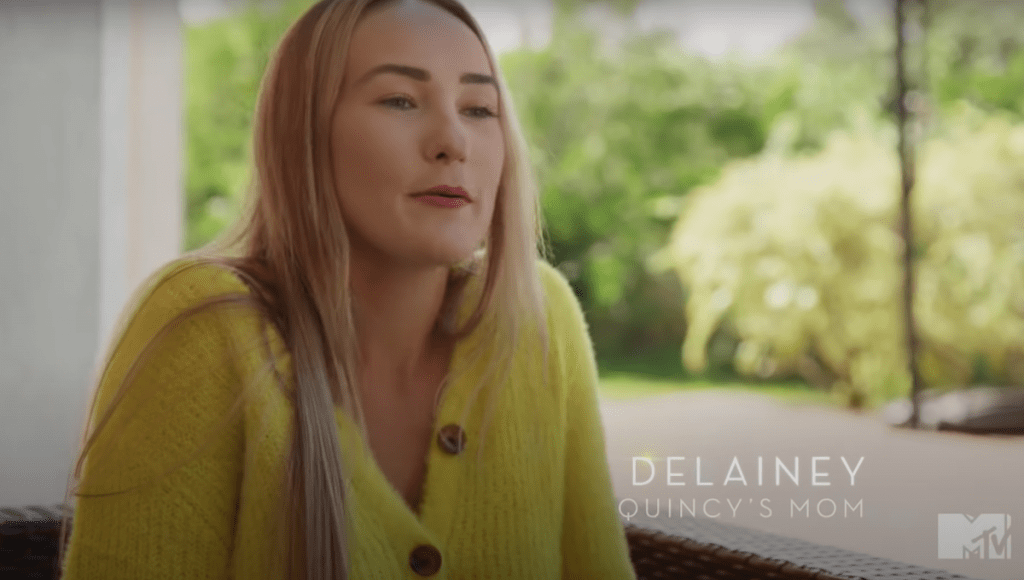 Brandon first introduced Quincy to fans via Instagram in August 2020. He captioned the photo with: "Meet Quincy."
View this post on Instagram

If you go based off of nine months prior to the August debut of their baby boy, then that would put them at November 2019. Delainey's a Florida resident, and Brandon's in Siesta Key most of the time, so it's not a far jump for how they'd meet. According to Brandon's ex-girlfriend Camilla, they were still together when Brandon and Delainey hooked up, which was during summer 2019. Apparently Camilla was in Italy, or hanging out with her co-star Amanda Miller at the time.

The bombshell of Brandon being a father was dropped on the whole cast during their season 3 reunion special. Camilla was only told the news via phone a couple days prior to shooting the special episode. That was the first time she saw Brandon too. She actually direct messaged Delainey about everything too, which was an awkward conversation.

What will Siesta Key season 4 look like for Brandon Gomes?

Fast forward to season 4, and everyone will get to see Quincy and Delainey onscreen. They started filming in fall 2020, so it's not long after Brandon first debuted Quincy to fans on Instagram. In the sneak peek below, Brandon apologizes for not being there for the pregnancy and Quincy's first couple of months.

Delainey accepts the apology, acknowledging that she helped him catch up. She's "proud of how far [Brandon's] come in Quincy's life" and thinks him "stepping up and seeing [Quincy] is really important."

Credit: YouTube / MTV.

Brandon wants that too, he wants to be a part of his son's life despite being new to fatherhood. Another thing he wants to be able to do is "have conversations" with Delainey, even if they are about his past, because it's all tied together. See their full conversation in the sneak peek below!

After news of Brandon being a father came to light, the Siesta Key star did start posting more photos or Instagram stories with his son. In one post, he wrote: "Love you Q. Daddys out here going crazy for you. For us." His co-stars Kelsey Owens and Madisson Hausburg left comments on the photo. "It's the arm rolls for me😍😍😍," Kelsey wrote. Madisson commented "OH. MY. GOSH. 😍😍😍😍"; both liked the photo too.

To see more of Brandon's everyday life, be sure to follow him on Instagram. To see more of Brandon Gomes as he navigates being a dad, tune in to Siesta Key on Wednesday, May 12 at 8 PM ET, only on MTV.

---

MORE SIESTA KEY NEWS

See Garrett Miller from Siesta Key's Relationship Timeline with Girlfriend Makenna

Get Her Look: Juliette Porter's Favorite Hair, Skin, and Makeup Products

Siesta Key Season 4 Gets May 2021 Premiere Date & Things "Will Never Be the Same"

Kari Highman is a Beauty and Fashion Blogger at Feeling the Vibe Magazine. Otterbein Alum (2017) – English & Psychology. Always learning & creating. Avid fan of mid 2000's TV & pop music. Comments or tips, email kari@feelingthevibe.com