It's wedding season in Siesta Key! Chloe Trautman got married to Chris Long on February 20, surrounded by her friends, family, and of course, her MTV castmates. Get details on the lovely wedding below, plus get to know more about her husband, Chris.
---
Chloe Trautman becomes Chloe Long: the Siesta Key star is married!
Chloe Trautman is now Chloe Long! The Siesta Key star wed Chris Long on February 20 at Zota Beach Resort in Longboat Key, Florida. A ton of her Siesta Key castmates were in attendance, including: Juliette Porter, Amanda Marie Miller, Camilla Cattaneo, Brandon Gomes, Makenna Quesenberry, and Madisson Hausburg. Madisson was the first Siesta Key cast member to walk down the aisle: she married Ismael Soto on October 21.
Juliette and Amanda were part of the bridal party; Kenzie Lautenschlager was Chloe's Matron of Honor. See some photos of the special day below, from castmates, friends, and even Chloe herself.
Feeling the Vibe reported on their engagement back in the fall, and now after the 4-month engagement, they're husband and wife. Fun fact: on their first date, they went jet skiing, and now they're doing it for the first time as husband and wife on February 23. Chloe posted a couple photos of their "pre-honeymoon" – Juliette's there too! Check out the photos from Chloe's IG Story below.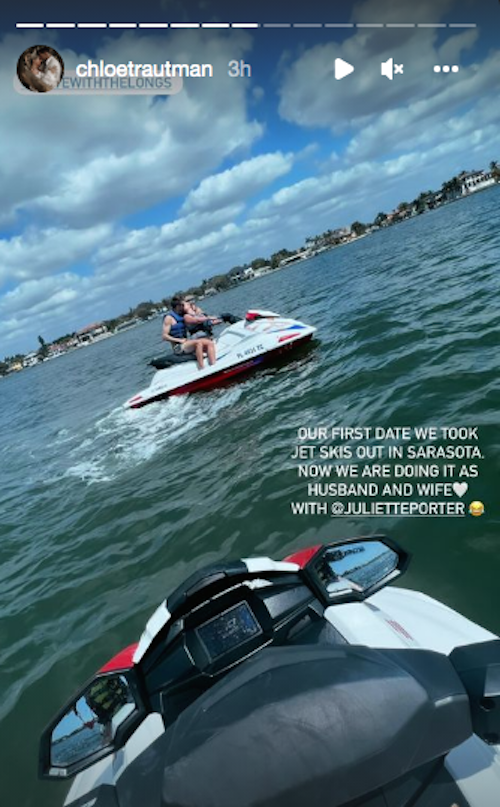 Prior to the wedding, Chloe's friends threw her a "bride to be" wedding shower. Amanda, Juliette, and Kenzie were in attendance of course, and Chloe thanked them all for their help. She wrote: "Had the most magical day celebrating with all my favorite ladies! Thank you to my best friend and matron of honor @kenzielautenschlager for helping throw the most incredible shower filled with so much love. I love you💖 Shoutout to the glam squad: @cheyanne_hair @tsunoorlater Also nothing is possible without my incredible wedding and event planner @oroeventco ✨I LOVE YOU ALL THANK YOU FOR EVERYTHING!✨"
Chloe's wedding dress and veil were hand painted and custom made by Ema Savahl. The intricate detailing made it super special for Chloe's wedding day, and she praised the designer on Instagram, writing: "Mrs. Long💍 Dress & veil custom made and hand painted by the incredible @emasavahl. Ema, thank you for making magic come to life. Your vision and talent is absolutely unmatched, and on top of it all your soul is just as beautiful as everything you make. I love you so much. Thanks for all the laughs, cries, and pure bliss during the entire process of starting from a drawing on a piece of paper to THIS. You out did yourself Queen."
Who is Chloe Trautman's Husband Chris Long?
Feeling the Vibe first reported on Chris Long getting together with Chloe Trautman back in May 2021. The duo connected on a deep level, since they both work in the personal development arena. Chloe's been focusing on her inner self over this last year or so, and Chris really understands that. They both resonate with the mission of spirituality and the transformation that comes through love. They really are the perfect match for each other.
Chris reemerged on social media to post a tribute to his new wife, writing: "ALIVE WITH THE LONGS 💍 I'm a married man now. Words don't do this feeling justice. I'm just so grateful for LOVE. I want to say a special thank you to all my family and friends who attended this magical weekend. Chloe and I are so happy we got to spend our most precious day with you all. ❤️"
Be sure to keep up with Chloe on Instagram @chloetrautman, and you can follow her husband Chris on his new Instagram @alivewiththelongs.
---
MORE NEWS ON CHLOE TRAUTMAN
Chloe & Chris; Garrett & Makenna from Siesta Key are Engaged – See Photos & Video Inside!
Does Chloe Trautman Have a New Boyfriend? Mystery Man Revealed + Co-Stars React to Her Siesta Key Departure
Siesta Key's Chloe Trautman Shows Off Transformation + See Co-Stars Reactions
If you purchase an independently reviewed product or service through a link on our website, Feeling the Vibe may receive an affiliate commission.
Kari Highman is a Beauty and Fashion Blogger at Feeling the Vibe Magazine. Otterbein Alum (2017) – English & Psychology. Always learning & creating. Avid fan of mid 2000's TV & pop music. Comments or tips, email [email protected]