Siesta Key is heating things up with an all-new season. The hit reality show is making big moves to Miami, Florida for season 5. Get details, including who's in and who's out from the cast, what storylines to expect, why they moved to Miami, and everything else to know about Siesta Key: Miami Moves below.
---
Siesta Key Cast: Who's returning and who's new?
Siesta Key has had some major cast shakeups since last season. In season 5, there's some new faces, along with returning original cast members.
Returning cast members include:
Juliette Porter
Brandon Gomes
Chloe Long (Trautman)
Madisson Hausburg
Amanda Miller
Cara Geswelli, Jordana Barnes and Sam Logan are also featured on the season 5 poster. They were heavily featured in season 4, but haven't been considered "main cast members" in terms of promotions. See the poster for Siesta Key season 5 below: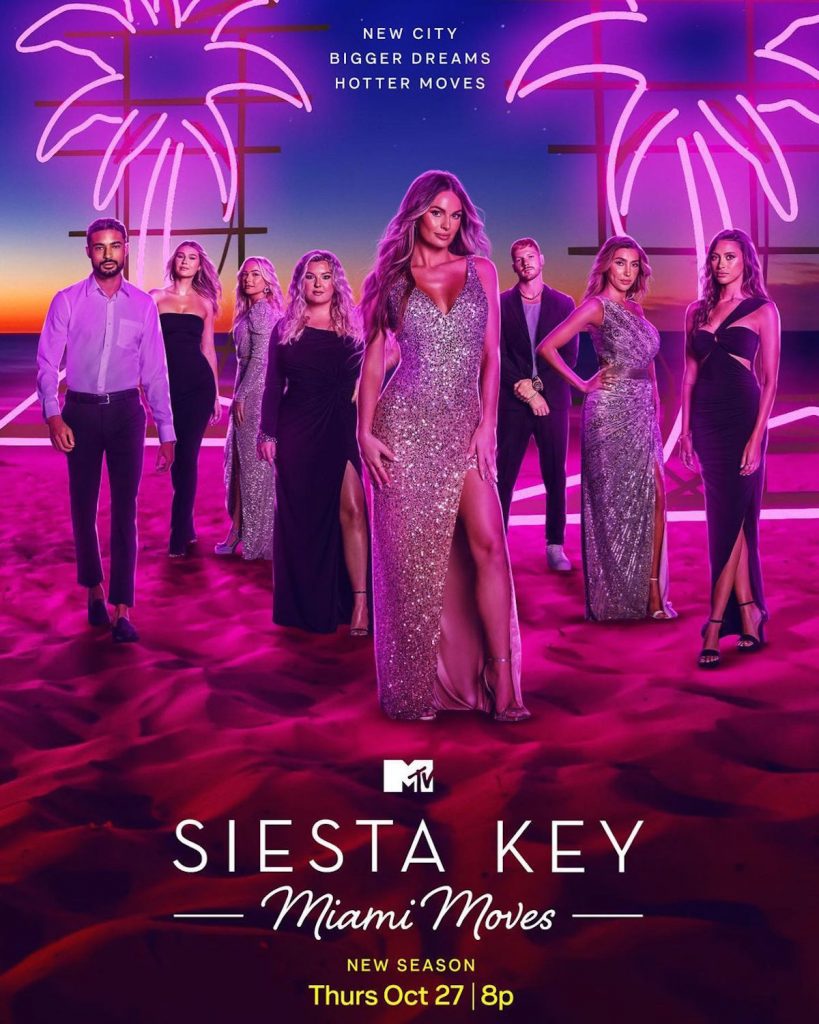 New cast members for season 5 are: Teenear Renee, a talented singer and Brandon's newest music collaborator; plus fans will see more of Sam's former flame Meghan Bischoff, Lexie Salameh's boyfriend Mike Vazquez and Juliette's boyfriend Clark Drum.
Related: Who is Meghan Bischoff, Sam Logan's New Girlfriend?
Not returning in season 5 are Garrett Miller and Makenna Quesenberry. Kelsey Owens will be seen in a few episodes of Siesta Key, but won't be featured in the whole season.
---
Why did Kelsey Owens leave Siesta Key?
Kelsey Owens won't be featured in all season 5 episodes of Siesta Key because she was let go from the show without warning in the middle of filming. The former MTV star posted a lengthy statement to Instagram, saying: "I cried my eyes out then wiped those tears and filmed my last scene the best I could with my head held high. Despite the way things were handled I am so grateful for the friends I've made, once in a lifetime opportunities I've been given, and most of all the fans."
Related: Kelsey Owens Cut from Siesta Key Season 5 "With No Warning"
She had posted a selfie prior to exiting the series, implying that she was doing a photoshoot for the show. But, sadly, her look did not make the final cut of the poster.
Recently, Kelsey posted an Instagram with her boyfriend Max Strong, along with a caption that seemed to shade the MTV series. "When you realize you get to spend your days laughing with the guy you love instead of creating fake relationship drama," she wrote.
It's unclear if that's what started a bit of an online rift between her and former co-star Chloe Long or not, but the two went back and forth via Instagram Stories on October 6.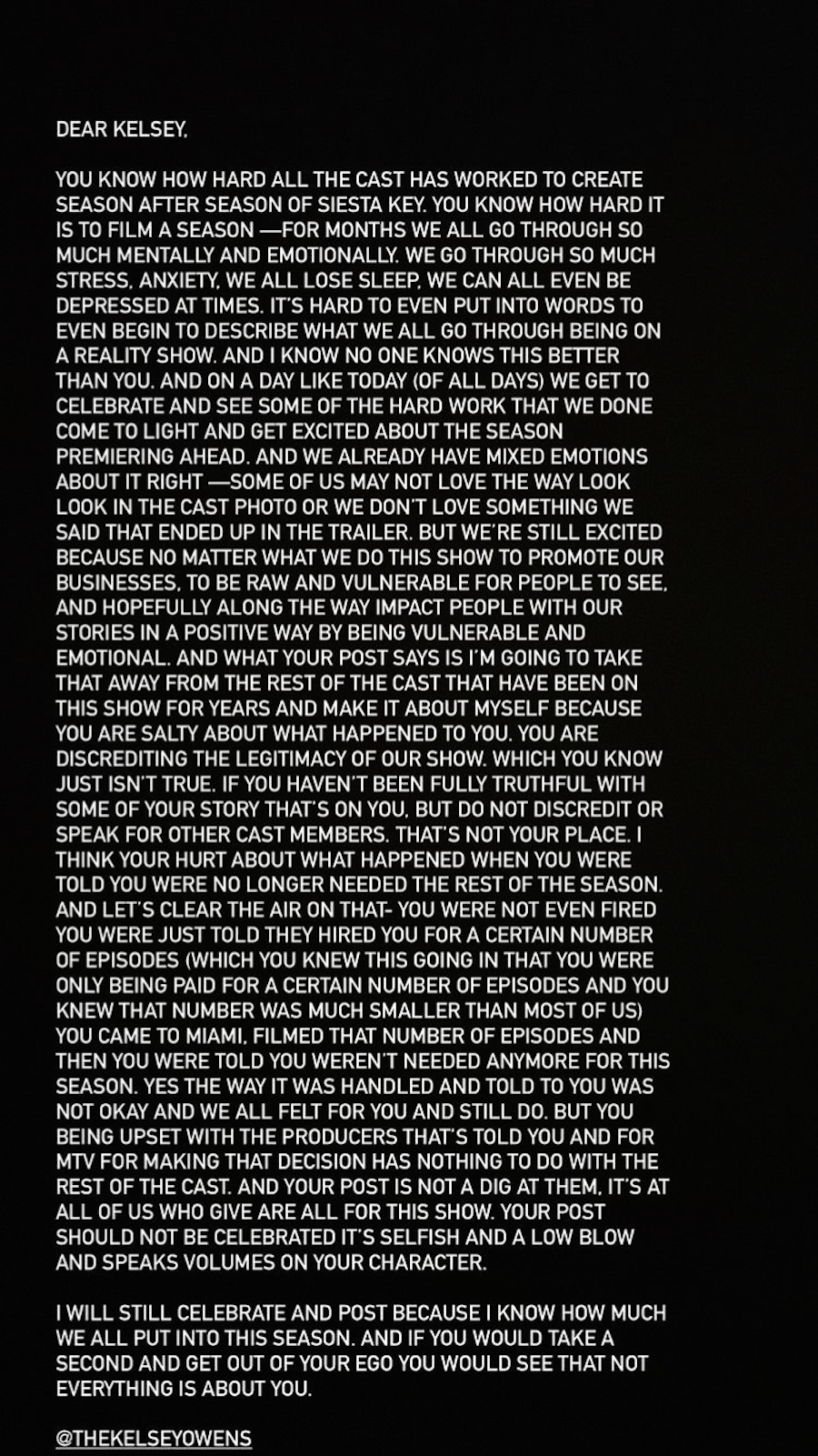 ---
Why did the show move to Miami? When did they start filming?
Siesta Key moved to Miami because some of the cast had already hinted at making the move there for new opportunities. For example, Juliette Porter considered moving there to further her swimwear line, JMP The Label. It worked out, because her line was modeled at Miami Fashion Week!
Plus, it looks like Brandon Gomes' music is taking off in Miami, Florida too. The musician will be focused on collaborating with Teenear Renee, putting out new solo tracks and parenting his son, Quincy.
Madisson Hausburg and husband Ish have been splitting their time between Florida and California. But, since the trailer shows her meeting up with Chloe to announce that she met with a publisher, safe to say Madisson was back in the Sunshine State for filming.
Amanda Miller's film career is just getting started. Since graduating from Ringling College of Art and Design in May, she's gotten serious about filmmaking. With a camera in hand, the sky's the limit! Maybe she'll help with filming ads or taking promotional photos for Chloe Long's latest endeavor – Emerald Ray Botanicals, a line of natural skin care products.
As for when they all started filming? Well, that depends on who you follow. Juliette was in Miami as early as June 2022, but the rest of the cast (Madisson, Kelsey, Chloe, etc.) didn't start up filming again until July 2022. The cast was in attendance for Juliette's feature at Miami Swim Week, which took place July 12-17.
---
What other storylines can we expect from the cast this season?
As mentioned above, a lot of it will focus on how they move forward in their careers. Juliette Porter has her swimwear line, Brandon Gomes has his music, Amanda Miller has her filmmaking, Chloe Long has her botanicals line and Madisson Hausburg may leap into the publishing world. It's assumed that Jordana Barnes will be continuing her artistic pursuits; recently, Cara Geswelli started a jewelry line with her sister, Mia called The Same Circle. Cara's also in nursing school.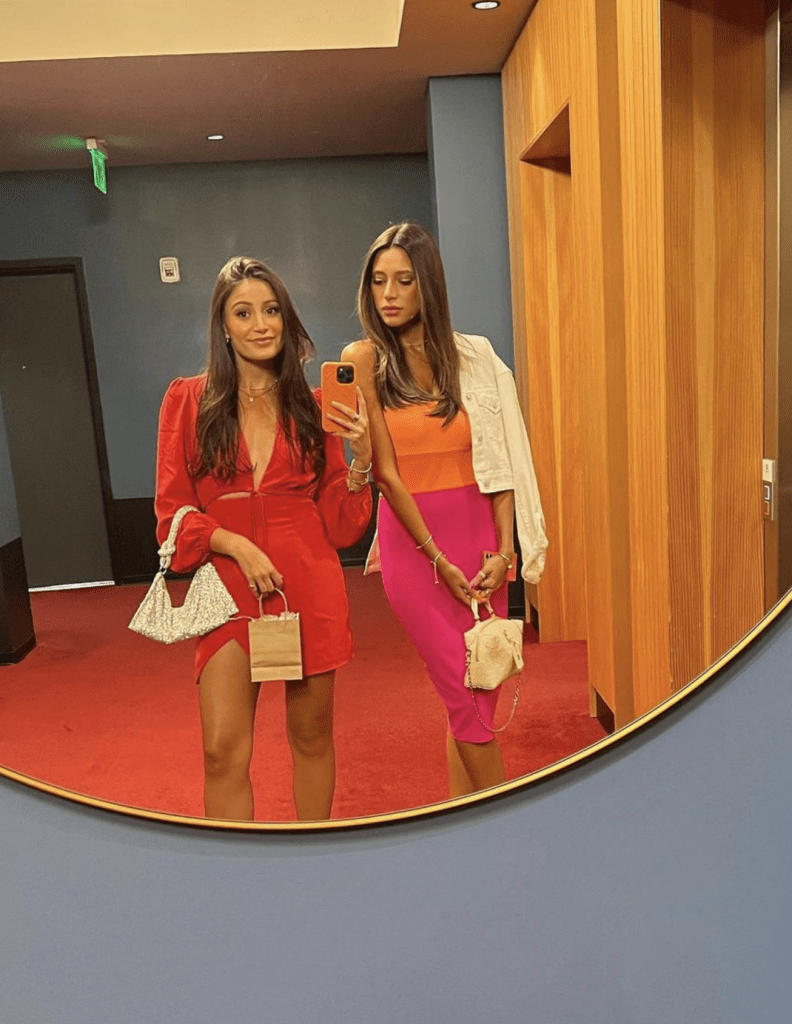 ---
Outside of professional goals, the cast will obviously deal with relationships, whether that be married life or boyfriend drama. Madisson and Ish, as well as Chloe and Chris are the married couples of the show. Juliette and Clark will be a mainstay, but so will a potential love triangle between Jordana, Sam and Meghan.
Jordana and Sam are living together, and have hooked up, but will Meghan be okay with all of that? And then there's Meghan's history with Juliette too. Even though Juliette's moved on, it'll be interesting to see how she deals with Sam…who's either with Jordana or Meghan.
Then there's questions of: is Brandon's working relationship with Teenear more than that? And what about Cara? Will we get to see an update on her and Michael?
---
When does season 5 premiere?
Watch the full trailer below for the all-new season of Siesta Key:
Siesta Key: Miami Moves season 5 will premiere on Thursday Oct 27 at 8/7c on MTV. Be sure you're following the show and the cast on Instagram for updates and to keep up with their everyday lives.
---
MORE SIESTA KEY NEWS
Kelsey Owens Cut from Siesta Key Season 5 "With No Warning" – Full Statement Inside
Camilla Cattaneo Reveals One Scene Cut from 'Siesta Key'
What to Expect on 'Siesta Key' Season 4B + Watch Trailer!
Kari Highman is a Beauty and Fashion Blogger at Feeling the Vibe Magazine. Otterbein Alum (2017) – English & Psychology. Always learning & creating. Avid fan of mid 2000's TV & pop music. Comments or tips, email kari@feelingthevibe.com