Updated* June 2, 2019
She's Kristin Cavallari's best friend, a stylist to all of Nashville's biggest stars, but who has been in Kelly Henderson's personal life? The Very Cavallari star opened up on Sunday's new episode about her dating history, and got some great advice from Kristin and her squad. Keep reading below for all the details!
Who is Kelly Henderson?
Kelly Henderson is Kristin's BFF, and has been for a long time. Kelly is a stylist for country music's biggest stars, and works as a lifestyle influencer with her website Velvet's Edge.
Kelly and Kristin actually originally began hanging out at Vanderbilt, because Kristin was dating Jay who played football there, and Kelly's fiancé at the time also played there.
Who has Kelly dated?
While she didn't name names, Kelly's now ex-fiancé was a friend and teammate of Jay Cutler's (Kristin's husband). They were engaged to be married, but the relationship ended about 3 months prior to the wedding. The reason? He had been cheating on Kelly during their relationship. Since then, Kelly hasn't been as open or trusting with guys, because it's very difficult to put yourself out there again after it's been blown to pieces. She confided this sentiment to Kristin and the rest of her friends during their trip to Palm Springs, which was aired on this week's episode of Very Cavallari.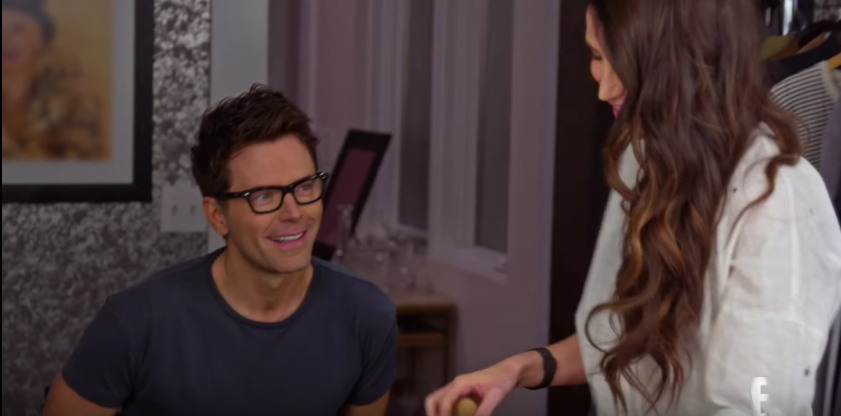 It was revealed in an episode on 'Very Cavallari' Season 2 that she went out with a guy who has recently been rising to fame. You may have seen him win the mirror ball trophy in the latest season of 'Dancing with the Stars,' his name is Bobby Bones. He is also a correspondent for American Idol. He made an appearance on the E! Reality Show since Kelly works with him, styling him for his photo shoots and television jobs. They once had a spark but are no longer dating.
What does Kelly's dating life look like now?
Last season on Very Cavallari, we saw Kelly go out with a guy she met from Canada. Dubbed "The Canadian", the guy ended up staying with Kelly for a long weekend after numerous phone calls and text exchanges. Things fizzled out rather quickly, but there was no major love lost for both parties involved. Since then, Kelly hasn't posted about any new relationships – only her amazing style, podcast, and of course, everything Very Cavallari related. Did you see her hilarious and raw podcast interview with Kristin's husband Jay?
What has she learned from love?
In the previous episode of Very Cavallari, we saw Kelly talk about how she needs a guy who "has their sh*t together" – and Kelly gave some very good advice during her confessional. She told the cameras: "I'm not going to make myself small" and Kristin wholeheartedly supported this statement. Kristin added that Kelly's super-busy lifestyle can be kind of scary for guys, which can make them feel a little intimidated. But Kelly is so right – she should not let someone make her feel like she's not worth it. You can check out the full clip below:
Kelly's Blind Date
In 'Very Cavallari' Season 2, we even saw Kelly agree to go on a blind date. With some hesitation, she went out to a local hotspot to meet a young man named Brandon. It was a nice enough time but sparks weren't flying for a romantic spark. Get the recap on that right here.
---
Be sure to follow Kelly on Instagram @velvetsedge, plus you can see her, Kristin, and all their friends on Very Cavallari when new episodes air Sunday nights on E!
MORE ON KELLY & VERY CAVALLARI
Kelly Henderson Digs Into Jay Cutler's Life on 'Very Cavallari' Tonight for Her Podcast
Kelly Henderson Goes on Blind Date in Nashville with Brandon on 'Very Cavallari'
"Very Cavallari's" Kelly Henderson Dishes on Ex Boyfriend Bobby Bones
Jay Cutler Gives Kelly Henderson Dating Advice on 'Very Cavallari'
Kari Highman is a Beauty and Fashion Blogger at Feeling the Vibe Magazine. Otterbein Alum (2017) – English & Psychology. Always learning & creating. Avid fan of mid 2000's TV & pop music. Comments or tips, email kari@feelingthevibe.com