If you've been watching Siesta Key, or follow Kelsey Owens on social media, then you might already know about her swimsuit pursuits. She – much like her co-star Juliette Porter – has wanted to launch a swimwear line for a while. Now, it's become a reality! On May 19, her swimsuit collection for by Kelsey Owens will debut. We have all the details on her new venture below. So, keep reading for information on her line, including what pieces to expect, plus where you can buy it, and more.
By Kelsey Owens: from Siesta Key to Swimwear
Kelsey Owens is best known for her years on MTV's hit reality show, Siesta Key. In season 3, fans first saw her discuss her swimwear aspirations, and now, she's announced the release of her line for May 2021. Kelsey's business – by Kelsey Owens – has been a major success already. She launched hats, towels, totes, hoodies, and tops, all of which have been selling like crazy. Her swimwear line is just as lovely – all with bright colors, simplistic details, and of course, signature names.
Kelsey first debuted a few pieces online in January for preorder. The four swimsuits are: a bright red one piece, an ocean blue bikini, a beige metallic bikini, and a bright red cutout suit. The red one piece is called "The Camilla," and has criss-cross straps in the back. The blue bikini is called "The Amanda," and features cutout sides. The metallic bikini is called "The Kelsey," and is a classic style, complete with tied sides. Last, but not least, the red cutout suit is called "The Madisson," and features two separate cutouts on the right hand side, along with a squared neckline.
You can a close up of the materials in each of these swimsuits below:
Kelsey also shared an image of herself, her Siesta Key co-stars Camilla Cattaneo, Madisson Hausburg, and Amanda Miller rocking their signature suits. If you didn't know, yes, the suits are named after each girl! Check them out below!
Kelsey really thought of everything when it came to putting her swimwear line together. The sizes range from small to extra large, and depending on your body type, the swimsuits will look a little different on everyone. But, that's the beauty of her line: you don't have to look a certain way to rock her swimwear! Notice when Kelsey wears "The Amanda," it looks just as stunning on her as it does on Amanda Miller.
Plus, the difference in coverage is nice. For example, one day, you may want to be more demure. Maybe the next day, you want to be sassier. It's all about your comfort level, and your personal style.
Kelsey also shared a sneak peek at "part 2" of her collection. She reminded fans to follow her company account on Instagram @bykelseyowens, insinuating she may post more behind the scenes looks soon. The only new item she's shown is a red bikini that's similar in design to "The Amanda," seen above. We can't wait to see what else she comes up with!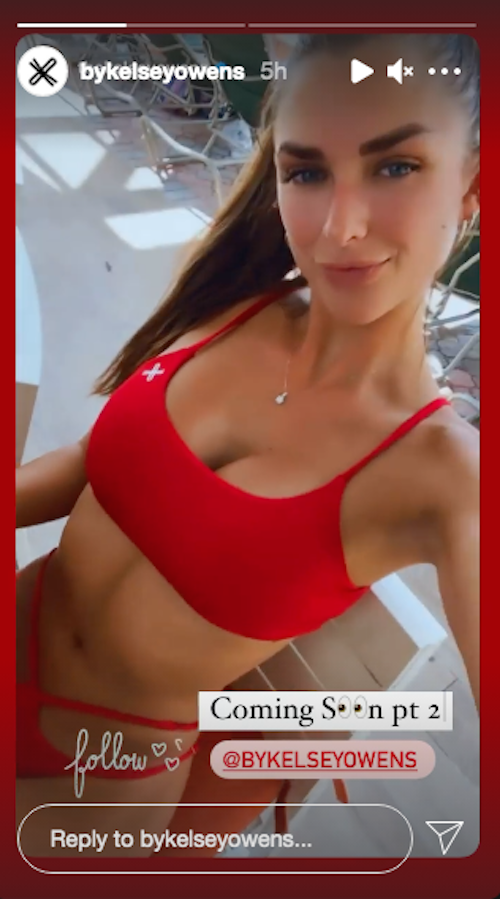 While they may not be on the best of terms in the show, Juliette Porter still follows Kelsey Owens' company (and Kelsey's personal account) on Instagram. Not only that, but her Siesta Key co-stars have shown their support for her new venture too! Madisson Hausburg commented on Kelsey's IG with "Oh hell yessssss!!! I'll take one of each please 🔥🔥🔥." New cast member Makenna Quesenberry wrote: "Omg I NEED this one😍 I'll be ordering!!"
It'll be a busy week for Kelsey: a week before her swimsuit collection is released, the season 4 premiere of Siesta Key airs. So, tune in to the all-new season of Siesta Key on May 12, then be sure to mark your calendars for May 19 when Kelsey's new line drops!
---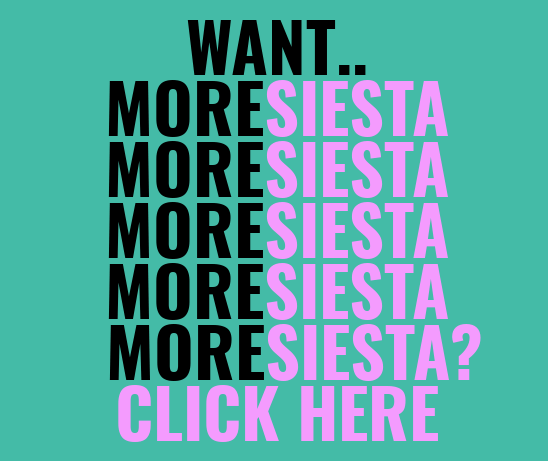 MORE SIESTA KEY NEWS
Does Chloe Trautman Have a New Boyfriend? Mystery Man Revealed + Co-Stars React to Her Siesta Key Departure
Juliette Porter Says Quarantine Inspired Her to Start Swimwear Line
Meet Delainey, Mom of Quincy, Brandon Gomes' Baby on Siesta Key
Kari Highman is a Beauty and Fashion Blogger at Feeling the Vibe Magazine. Otterbein Alum (2017) – English & Psychology. Always learning & creating. Avid fan of mid 2000's TV & pop music. Comments or tips, email kari@feelingthevibe.com