While there's no news on when new episodes of Siesta Key will be airing, there is news about the swimwear line by Juliette Porter. The MTV star finally shared a sneak peek into the designs of JMP: The Label. Feeling the Vibe first reported on the initial announcement of her launch (and collaboration with Blonde Addiction), but now we've got even more details as to what Juliette's been working on! So, if you're curious to learn more – including a behind the scenes look at their first photoshoot – keep reading below.
JMP: The Label – See Photos & Video
Juliette Porter, along with a couple of her Siesta Key cast mates, participated in the first photoshoot for JMP's swimsuit line this past weekend. Juliette was busy sharing updates on her Instagram Stories, but it was Chloe Trautman who posted on her IG profile, giving fans a look at the designs.
In the first video below, you'll see Chloe, Juliette, and Siesta Key's Amanda Miller each rocking a piece from JMP: The Label. Chloe's wearing a stunning one piece; Juliette's sporting an intricate woven bikini; Amanda's donning a marine blue two-piece. The second post features Brandon Gomes in JMP's men's swim trunks, which match the design of the one piece Chloe is wearing. You'll also see Juliette in the shot alongside Brandon, wearing the bikini version of Chloe's suit.
That's one of the lovely things about Juliette's line: she's got an option for everyone! If you're not into wearing bikinis, try a one piece. Or, if you'd rather have a more unique look, she's got one shouldered, cut-outs, plus the most gorgeous of colors and textures.
The pale blue suit seen on Amanda is called Marine. As stated above, there will be one pieces, and two piece versions of each swimsuit so far. The woven-like style seen on Juliette is called Cabo. The bronze pattern on Chloe is called Tortuga. If you're into white, she has a style called Ibiza. See it below in a photoshoot sneak peek: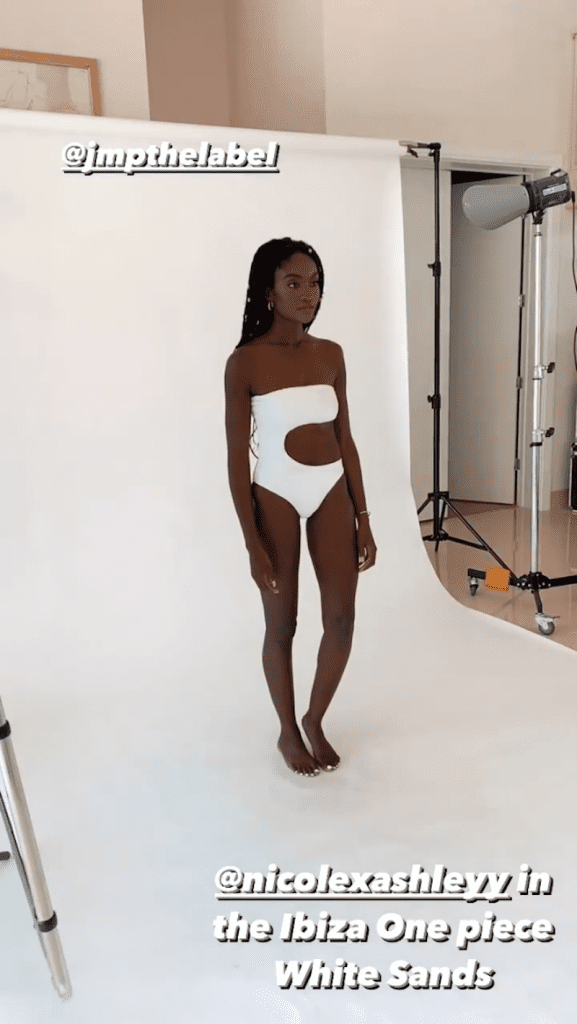 Juliette was more than likely inspired by her various trips around the world. While there is a Tortuga Bay in Punta Cana, maybe she was thinking of her home state's hotel called Tortuga Beach Resort. Regardless, the names evoke summertime bliss – who wouldn't want to travel to Cabo or Ibiza, you know?
Any other details about JMP by Juliette Porter?
Eri Vincent, who's responsible for the girls' makeup on Siesta Key, was also on set of JMP: The Label's photoshoot. She gave fans an exclusive behind the scenes look with two videos. Not only do you get a look at the pretty makeup looks she created for the swimwear shoot, but you can see a bit more detail of the suits. Take a look:
The gorgeous beach waves were created by Cheyanne Clark, who also works with the girls of Siesta Key. She too shared a bit about the photoshoot, showing people how to get the hairstyles. If you look closely, you can see the Marine bathing suit in the second video:
One of the models, Ally Mason, shared a quick clip of her portion of the photoshoot on Instagram. You'll see she's wearing the Marine one piece.
Also on set was Juliette's boyfriend Sam Logan. He was there to support his girlfriend, but he jumped in a few campaign shots too! Of course, he rocked the men's swimwear, which matched Juliette's Tortuga bikini. So yes, if you and your guy want to match at the beach this summer, definitely keep that in mind! For a bit more detail on the fierce pattern, check out this IG photo from JMP's official account:
There's another textured swimsuit that will be launching with the rest of the collection. JMP: The Label posted it on their Instagram with the cute caption: "When life gives you lemons…you buy bikinis." Pay close attention to that IG post though, because it also says that Juliette's line is launching very soon!
While their bio says launching in Spring 2021, if you subscribe to Juliette's clothing site (JMP: The Label), you'll be notified as soon as any major updates are announced. It's free; all you have to do is enter your name and email.
It seems like only yesterday Juliette was talking to Siesta Key co-star Kelsey Owens about her swimwear goals; now, it's a reality! A major congratulations to Juliette Porter on this new endeavor; soon everyone can "feel carefree in JMP."
---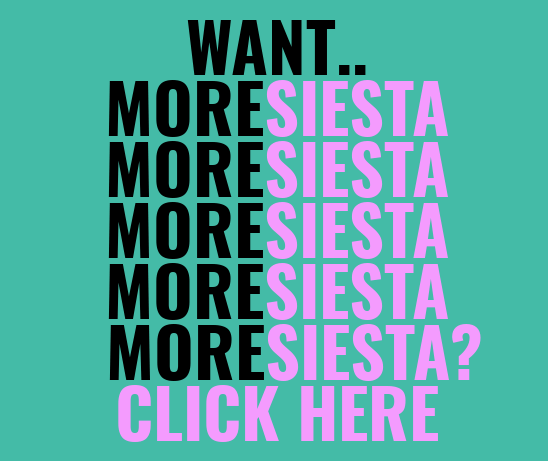 MORE JULIETTE PORTER NEWS
Siesta Key's Juliette Porter Launches Swimwear Line – Details Inside!
Siesta Key Season 4: Everything We Know So Far About the Cast, Drama, & More
MTV's Siesta Key Returning for Season 4 – Get Details!
If you purchase an independently reviewed product or service through a link on our website, Feeling the Vibe may receive an affiliate commission.
Kari Highman is a Beauty and Fashion Blogger at Feeling the Vibe Magazine. Otterbein Alum (2017) – English & Psychology. Always learning & creating. Avid fan of mid 2000's TV & pop music. Comments or tips, email [email protected]