Meet Jordan Knight. You know him from the wildly popular boy band, the New Kids on the Block. He quickly became a fan favorite with girls all over the world swooning over his MJ-style dance moves and beautiful falsetto voice, not to mention his full head of wavy black hair.
Whether you're a big fan or you're a newbie, keep reading below to find out 6 fun facts you may not know about the lead singer of NKOTB.
1. He Trades Stocks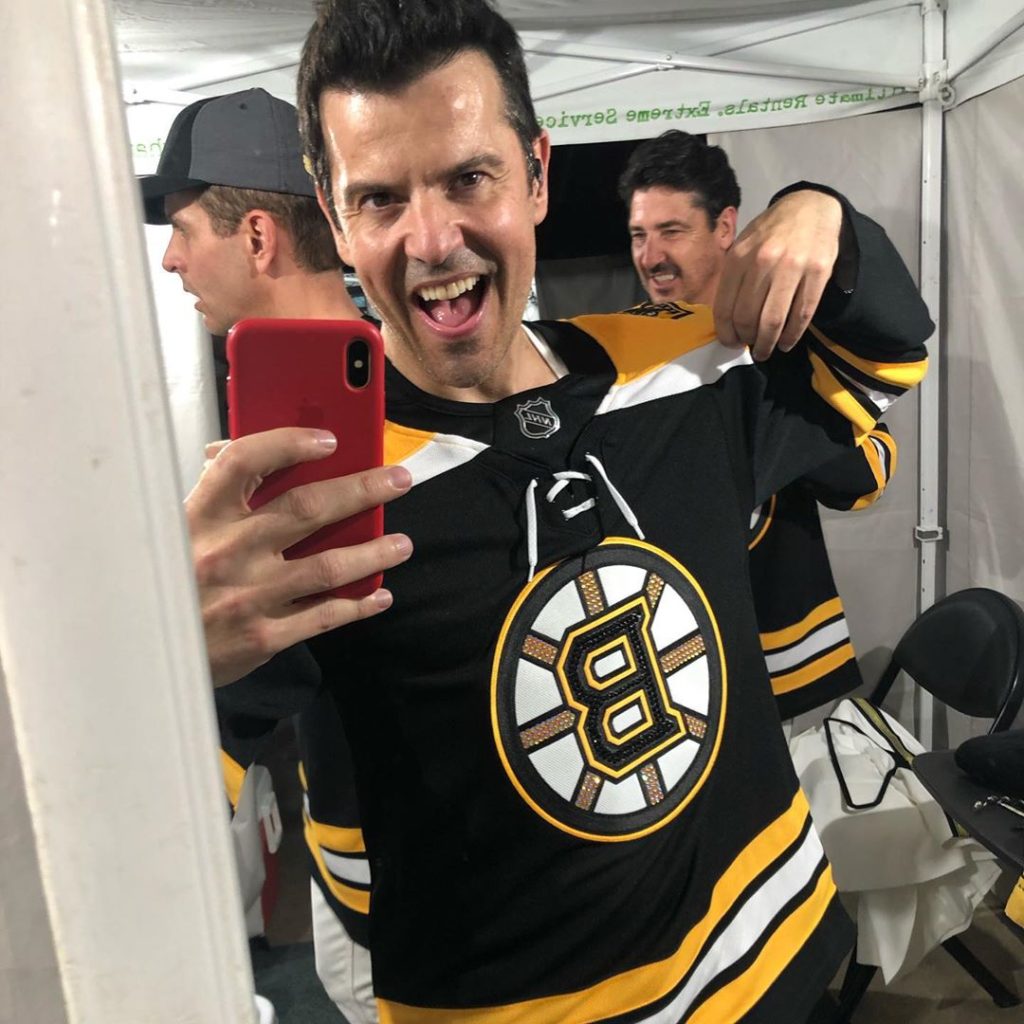 ---
While singing and dancing may be his main gig, this New Kid is dabbling into the wide world of stocks. You see Jordan walking through his tour bus as he passes a setup of wires and computers in an Instagram Live video. "That's my day trading setup," he says. When fans inquired about how he got into it, he explains that he learned about trading from YouTube videos as well as a book he purchased on Amazon.com. What does he like to invest in? He is keeping a watch on video game companies. He said his sons and their friends love playing these games and he believes the industry is only going to get bigger.
2. His Kids Don't Love Social Media
Jordan is all grown up with two sons of his own, Dante and Eric. One is in his second year of college and the other is just hitting his teenage years. While we might see JK showing up on Instagram Live often while on tour, he admitted he is not as active on social media when he's home. (Scroll to 13:20 on the video to see it) "When I'm home, I'm a homebody. It's very plain living," Jordan said. You also won't see much of a presence from his sons as he said they don't really like social media. "I don't put my family on social media. They're not into it," he said. "Even if I wanted to, they wouldn't let me," he revealed.
3. He Loves This One Drink
No, it's not any alcohol. Have you ever heard of Le Croix? It's a carbonated flavored sparkling water. "There isn't any artificial sweetner in it," he said. While he was sipping on one in the tour bus, he claimed he has "about 8 of these a day" when he's home. The drink comes in a variety of flavors like lime, berry, coconut, tangerine and more.
4. Once Sang with His Idols
Growing up, when people asked him who his inspirations were he said the likes of Smokey Robinson, Michael Jackson, the Stylistics. When Jordan and the rest of NKOTB got the opportunity to share the stage and sing with the Stylistics, Jordan's brother Jonathan had to capture the moment. Watch below as he gets his solo on "You Make Me Feel Brand New."
5. Jordan's Favorite Foods are the American Classics
---
This guy is "low maintenance" as he says. When a fan asked him what he likes to eat, Jordan mentioned the American classics. "I love pizza and a good burger," he said. And what does he like most for dessert? Chocolate ice cream of course!
6. He is a Restaurant Owner
Trying to plan the next menu with #cheftony is pretty tough with these damn masks on😷 oh well.. gotta stay safe! #besafe #stayhealthy #seeyaontheotherside pic.twitter.com/VjnBeWQFOQ

— Jordan Knight (@jordanknight) May 19, 2020
---
Since Jordan grew up in Dorchester and currently lives in Massachusetts with his family, it's only natural he's going to invest in that area. In 2016, he became one of the owners of Novara, an Italian restaurant in Milton. When asked what he recommends off the menu, Jordan told Boston Magazine, "The pizza is amazing. The tortellini was really good, the calamari was really good." He continued by saying, "[Chef Tony DeRienzo] is an Italian guy and he grew up learning to cook from his grandmother," so how could you really go wrong?
---
There you have it! Are you on Twitter? If you want more fun facts about Jordan, tweet us "Yes, I want more Jordan Knight" @feelingthevibe!
MORE ON NKOTB
35 Surprising Facts About Jordan Knight from NKOTB – You Won't Believe #28
Who is Joey McIntyre? 6 Fun Facts You Didn't Know About the NKOTB Singer
Will There Be a NKOTB Cruise in 2020?
Joey McIntyre from NKOTB Goes on a Romantic Getaway With Wife Following Mixtape Tour
Andrea Barber Gets 'NKOTB' Birthday Surprise from 'Fuller House' Co-Star Candace Cameron Bure Courtney Rose is an Entertainment Writer at Feeling the Vibe Magazine based in New York. Pop culture and rom-com obsessed. Studied Journalism and is up to date on all the latest entertainment news. For tips or comments, email me at Courtney@feelingthevibe.com