In a sneak peek for the all – new 'Very Cavallari' episode airing on Sunday, March 10th, Kristin recalls a funny moment.
While in her closet packing up to head off to Palm Springs, California for an Uncommon James photo shoot, her husband Jay walks in.
When she tells him he's not invited on the trip, he responds with a poker face, "shocker."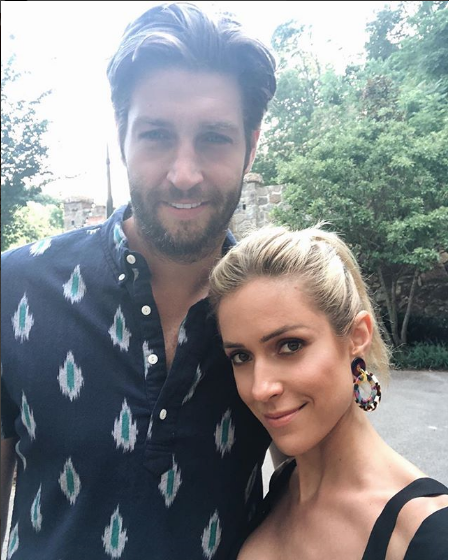 Why Kristin is Going to Palm Springs
Since Uncommon James has been growing so rapidly, Kristin said she has to do "two photo shoots per year, and as the company keeps growing, these shoots get bigger and bigger."
Kristin asked her BFF Kelly to be in the shoot too because let's face it, it's more fun to work with friends. "It's better to have friends in it than models, because you can hang out with them afterwards," the mother of three said.
While Kristin is away, Jay is in full charge of the couple's three small children. Just because they're small doesn't mean they're easy though. According to Jay, "They're full grown, have their own opinion, and ready to listen to nobody."
"I will say thank God for FaceTime though," Cavallari says. It helps lessen the blow of being 3,000 miles away. "I couldn't go to LA and do this stuff without being able to see you and the kids every day," she continues.
Kristin and Jay's "Skype Date" Story Time
"It's a lot better than the old Skype days," Jay tells Kristin.
Triggering her memory to the early dating days when they would video chat with each other, Kristin shared a funny story.
"Remember when we first started dating, we Skyped?" she revealed, "you were my first Skype ever."
"You were at your place in Vernon Hills and your sister was over doing your laundry," Kristin says as she lets out a big laugh, though her husband does not look amused.
"I don't know why that's so funny, just people helping people," he said with his classic poker face. Check out the full video from this week's episode below!
Diana is the co-editor-in-chief of Feeling the Vibe. She loves pop culture and is always up to date on the latest news. If you have any tips or comments, email diana@feelingthevibe.com.