As if there hasn't been enough drama surrounding Jay Cutler and Kristin Cavallari since their separation, an Instagram video has fueled more rumors about who they've been hanging out with. Jay posted a video to his Instagram page that featured one of the last people fans would expect to see. Get more details on the hangout below.
Who did Jay Cutler hang out with?
Jay posted an Instagram video with one of his good friends, Mark "Chuy" Block, and former Uncommon James employee Shannon Ford! He captioned the video with: "oysters and wine," and it was taken at the seafood restaurant 167 Raw in Charleston, South Carolina. He also tagged Shannon, Mark, and the restaurant. You can see the video below:
Fans immediately took to the comments, most of which had the same consensus: this post was going to cause some major drama. One fan commented: "Alexa, play Savage by Megan Thee Stallion" while another wrote that "Petty Jay is the best Jay," which is potentially a dig at his ex-wife, Kristin Cavallari.
Even Twitter users had something to say about it. Take the comment below for example:
Me normally: doesn't like drama

Me when Jay Cutler posts his dinner with Shannon Ford on insta: 🍵👀🍵👀🍵👀🍵👀👀👀👀

— baby spice 🎀 (@Twerk_Nowitzki) November 29, 2020
Safe to say everyone likes a good bit of drama, even if they don't admit it at first. If you've been following Shannon Ford for a while, then you most likely know that she rose to fame on the first season of Very Cavallari. She and Kristin had a falling out in the season 2 premiere, which ended with Ford being fired from Uncommon James.
Since then, she's been considered an Instagram influencer, posting fashion photos, vacation pictures, and even doing a few brand partnerships.
As for Jay Cutler? His Instagram has actually been booming too. He's been posting a lot more about his hobbies, including the famous deer watching – Very Cavallari fans will remember that well. He even spent Thanksgiving with another famous friend: Carrie Underwood! The legendary country singer and her husband, Mike Fisher, had Jay over for Thanksgiving dinner. She gave him a shout out on her profile, thanking him for the turkey.
What about Kristin Cavallari?
If you're wondering where Kristin Cavallari falls in the midst of all this, you're not alone. Fans have been curious to see what the Uncommon James CEO has been up to, or if she would respond to the video. Kristin didn't publicly comment, and no one from her team has said anything, but, she did post an Instagram story the day after Jay posted that video. Her story was a quote by Mandy Hale, which read: "Happiness is an inside job. Don't assign anyone else that much power over your life." Coincidence or not? You decide.
She too spent Thanksgiving with a friend: longtime hairstylist Justin Anderson. Justin ended up taking over Kristin's IG Stories for that night and she answered some fun questions. One question she managed to avoid? If she and comedian Jeff Dye were an item. Kristin joked that she's still "taking applications" for a new man in her life; a couple days later, Jeff commented a heart eyes emoji on Kristin's Cyber Monday post.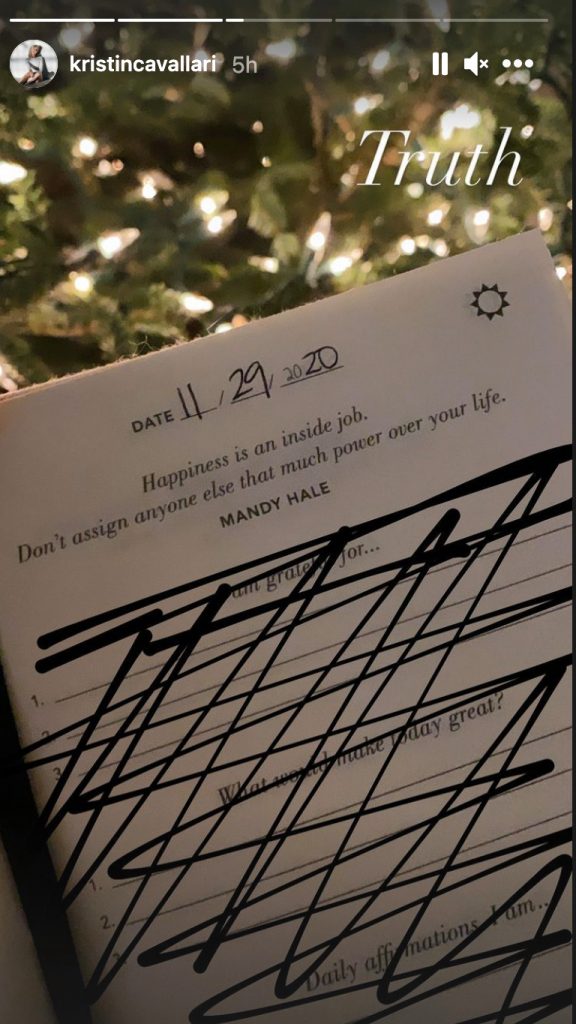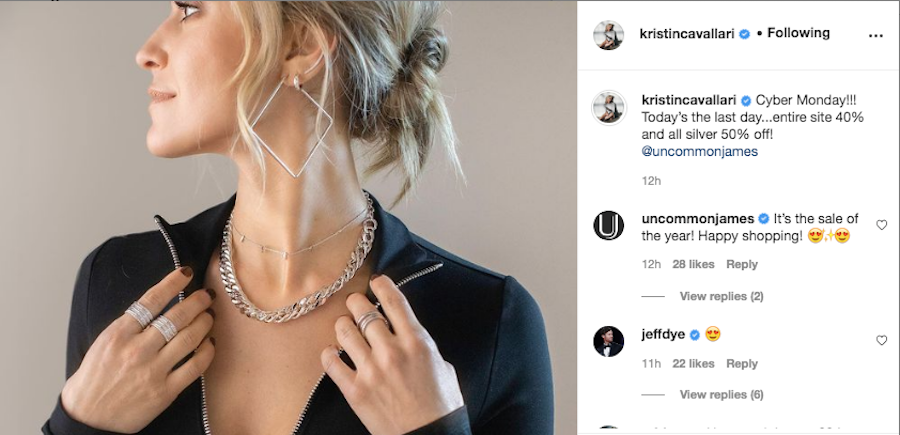 Looks like Kristin's still living her best life, and we're glad she's still going strong as the last month of 2020 comes up. Be sure you're following Kristin on Instagram to keep up with her day to day life. Jay's account can be found here; Shannon's here.
---
RELATED ENTERTAINMENT NEWS
Who is Jeff Dye from I Can See Your Voice?
Kristin Cavallari's Divorce from Jay Cutler Impacted Decision to End Very Cavallari
7 Facts on Jay Cutler's Rumored Girlfriend, Tomi Lahren
Kari Highman is a Beauty and Fashion Blogger at Feeling the Vibe Magazine. Otterbein Alum (2017) – English & Psychology. Always learning & creating. Avid fan of mid 2000's TV & pop music. Comments or tips, email kari@feelingthevibe.com