Iconic pop group New Kids on the Block certainly have the right stuff going on: 30+ years of friendship to celebrate, not to mention the anniversary of their album Hangin' Tough. Keep reading below to find out how Donnie Wahlberg, Joey McIntyre, Danny Wood, Jordan and Jonathan Knight have stayed close over the last 3 decades!
How are Donnie, Joey, Danny, Jordan, and Jonathan still going strong after 30+ years?
While they may not be new or kids anymore – the guys still got it! Donnie, Joey, Danny, and brothers Jordan and Jonathan have all kept in touch over the years, which has helped strengthen their bond. It doesn't hurt that the majority of the men are married with children, which gives them something newer to bond over.
Donnie said it best in an AOL Build interview last year when talking about the lasting popularity of NKOTB: "With maturity and growth and appreciation that we've all had to stick together for all these years, I'm so honored to be a part of a boy band."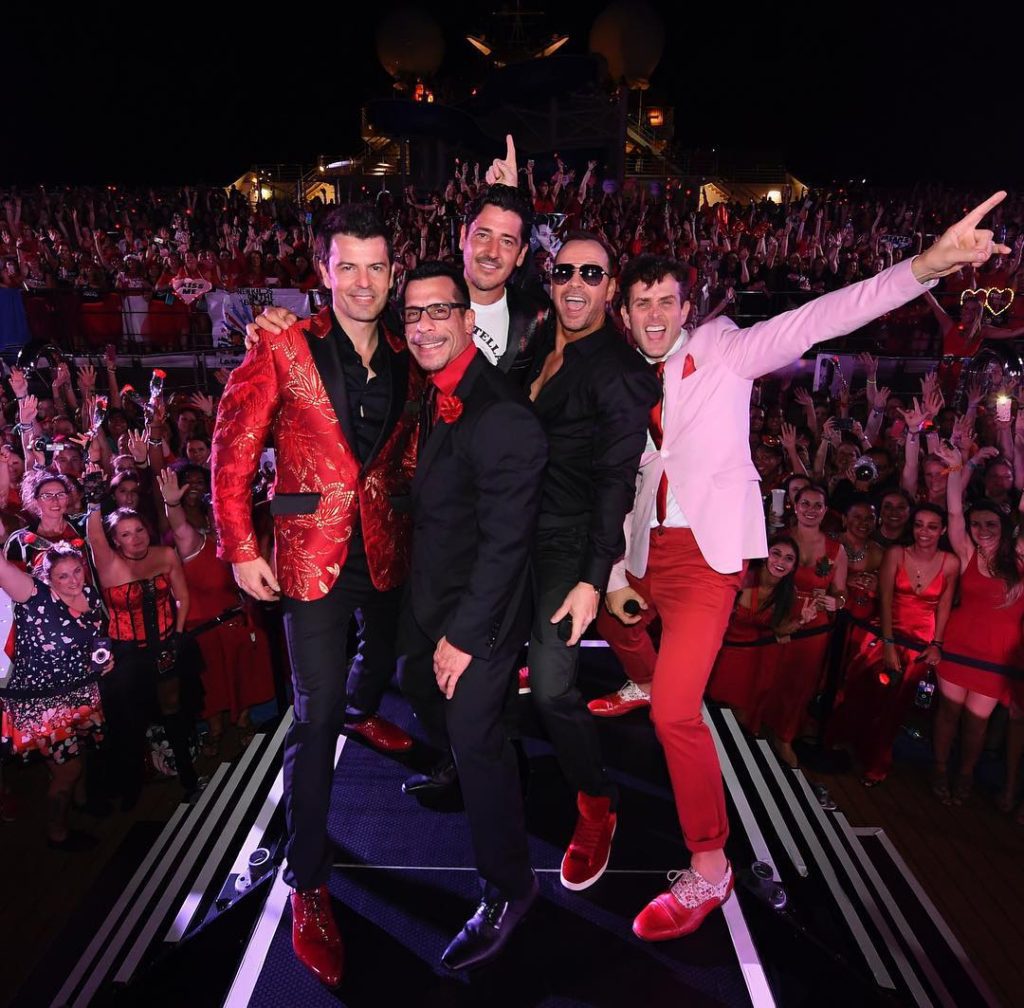 ---
It's very true that most things get better with time, and New Kids on the Block have proven that they're better than ever within these last few years. The band just finished out their Mixtape Tour with pop idols Tiffany and Debbie Gibson; plus they've kept up the tradition of hosting a cruise, performing their hits every year for fans.
And what about their album Hangin' Tough?
NKOTB actually reissued their 1988 album Hangin' Tough last year in celebration of its 30th anniversary. This year, they've one upped themselves by performing those hits like "Please Don't Go Girl", "The Right Stuff", "My Favorite Girl" and "Cover Girl" on their Mixtape Tour. You can check out a few of their performances below!
Joey McIntyre Leading "Please Don't Go Girl"
NKOTB Performing "The Right Stuff" in El Paso, Texas:
New Kids on the Block Performing "My Favorite Girl" on their 2018 Fan Cruise:
Donnie Wahlberg Performing "Cover Girl" in London:
A huge congrats to Donnie, Joey, Danny, Jordan, and Jonathan of New Kids on the Block on all their continued success! Be sure to follow @NKOTB for more nostalgia and behind the scenes photos from their tour! Their tour merch is currently on sale at: nkotb.com, so if you want a piece of fun history, check it out!
---
MORE NEW KIDS ON THE BLOCK NEWS
New Kids on the Block Game Central
Donnie Wahlberg Meets Celtics Player Enes Kanter While Filming Blue Bloods
Will There Be a NKOTB Cruise in 2020?
New Kids on the Block Fan Encounters – Stories Inside!
35 Surprising Facts About Jordan Knight from NKOTB – You Won't Believe #28
If you purchase an independently reviewed product or service through a link on our website, Feeling the Vibe may receive an affiliate commission.
Kari Highman is a Beauty and Fashion Blogger at Feeling the Vibe Magazine. Otterbein Alum (2017) – English & Psychology. Always learning & creating. Avid fan of mid 2000's TV & pop music. Comments or tips, email [email protected]