David and Kendall. They were one of the most loved couples of FOX's reality show, 'Paradise Hotel.'
Their sweet and strong bond won America's hearts as they watched them get closer week after week in the tropics of Mexico. Straight after the reality show came to an end, we caught up with David to find out if there was love after paradise.
The pair took the chance and tried getting to know each other outside of the fantasy island world. They happened to live in a similar area in California so they got together, trying to build that connection. They hosted a few joint Instagram Lives for the fans.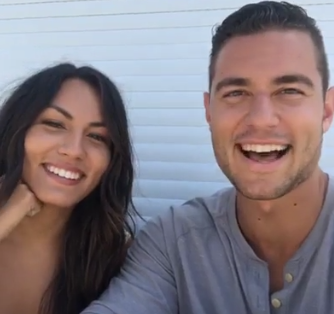 ---
However, in our first exclusive interview with David he said that they were both busy focusing on their careers. Kendall is a model traveling all over the world while David is focused on building his personal fitness training business.
Fast forward almost two months since 'Paradise Hotel' ended and Feeling the Vibe caught up with David again to get the lowdown on his relationship status.
Are Kendall and David Dating Again?
---
David gave us the update on his Paradise flame. "No, we are just friends right now," he revealed. When asked if they keep in touch via text or FaceTime he responded that they "hardly" do that. It sounds like these two are going their separate ways, for now anyways.
"I'm seeing other people from other shows," he said. One could wonder which shows exactly, MTV's "Siesta Key?" or possibly the 'Paradise Hotel' sister show "Love Island?"
David + Kendall lovers, don't worry. They still see each other though. "I was hosting a charity event last night and Kendall showed up," David spilled. Could the spark reignite? We'll have to wait and see!
MORE ON PARADISE HOTEL
The 'Paradise Hotel' Cast is Dishing Advice to the New Cast of 'Love Island' on CBS
The Side of Tyler Berta You Didn't Get to See On 'Paradise Hotel' – Exclusive
David Barta from 'Paradise Hotel' Gives Update on Kendall and Life After Reality TV
David Barta Says He Could Be Related to One of His 'Paradise Hotel' Co-Stars Courtney Rose is an Entertainment Writer at Feeling the Vibe Magazine based in New York. Pop culture and rom-com obsessed. Studied Journalism and is up to date on all the latest entertainment news. For tips or comments, email me at Courtney@feelingthevibe.com