Chloe Trautman is no longer a reality star. The former Siesta Key cast member drew tons of speculation when she wasn't seen on the group trip to Palm Island Grenadines this past month. Fans have wondered if she'd been let go from the show, or if there was drama that made her leave. Chloe took to her Instagram Stories to clear up the confusion, but there's still lots to know about her exit. We've got those details below.
So, what's been going on with Chloe?
Chloe Trautman had been a part of MTV's Siesta Key since the show premiered back in summer 2017. Over the last 3 seasons, fans saw her highs and lows as she navigated life as a 20-something with cameras following her every move.
If you've been watching since the show's inception, then you know how Chloe tended to be "on the outs" with her friend group thanks to partaking in gossip. A couple of the more recent issues that alienated her were: her friendship with former co-star Alex Kompothecras, as well as an argument with current cast member Madisson Hausburg.
Chloe managed to end season 3 on somewhat of a high note, and was excited to begin filming season 4 in the fall of 2020. At the time, she had recently gone through a breakup, and she had a message of inspiration for her followers. She wrote: "Remember, it's your story. So feel free to hit 'em with a plot twist whenever you want. YOU are in control of your own life."
Why did Chloe leave Siesta Key?
Even though she started to film some scenes for Siesta Key a few months ago, something changed for Chloe. When she wasn't on the cast beach trip for the month of January, fans started to wonder if she was fired from the show. It was a mixed bag of reactions, a few of which you can see below: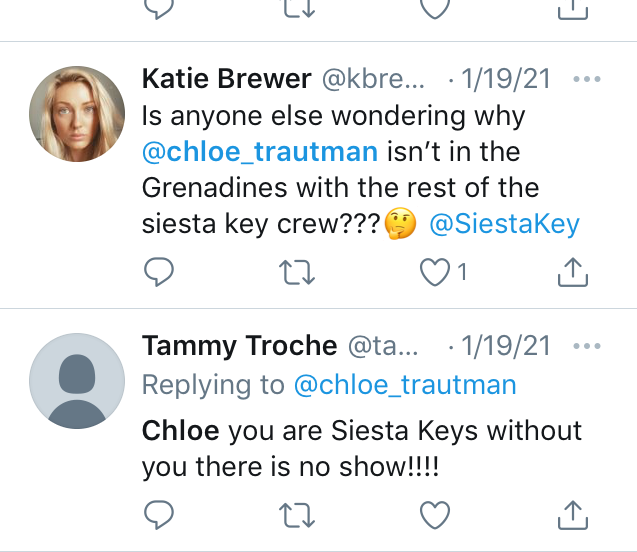 Recently, she took to social media to clear up that rumor: no she wasn't fired, she chose to leave. Apparently, filming became too much for her, and she said that it was toxic. She did not want to sacrifice her wellbeing for the sake of the show. She asked for people to stop spreading lies and that they'll see what happens on the show.
Meanwhile, the rest of the cast has been filming for Siesta Key's season 4. The air date has yet to be announced, but more than likely will be sometime this year.
---
MORE SIESTA KEY NEWS
MTV's Siesta Key Returning for Season 4 — Details Inside!
Did Juliette & Sam from Siesta Key Break Up?
Siesta Key's Madisson Hausburg Engaged to Boyfriend Ismael Soto
Kari Highman is a Beauty and Fashion Blogger at Feeling the Vibe Magazine. Otterbein Alum (2017) – English & Psychology. Always learning & creating. Avid fan of mid 2000's TV & pop music. Comments or tips, email kari@feelingthevibe.com