'Paradise Hotel' is full of sexy singles who you can tell are living in the tropics of Mexico with their dark tans and beachy wet hair that looks so effortless.
Hair stylist and makeup artist Emma Willis is on hand to make sure everyone is looking their best including host Kristin Cavallari.
Do you want to sport the beachy look this summer? Emma Willis is breaking down just what you need.
Top 3 Products You Need!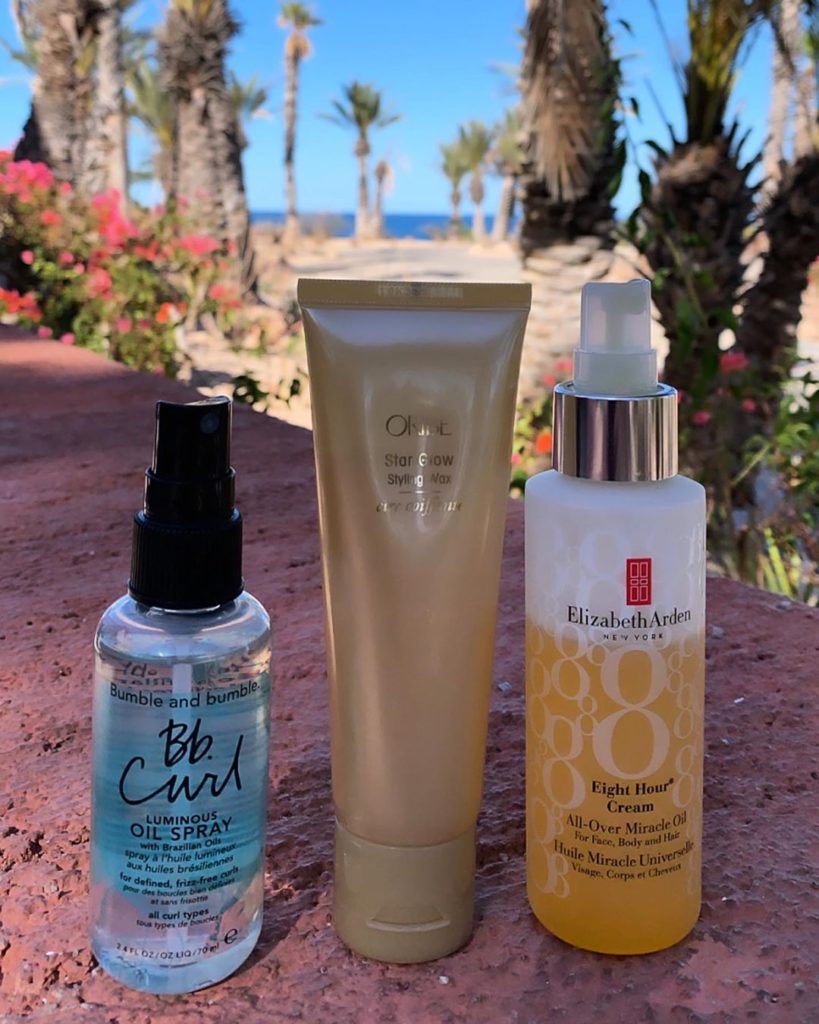 Emma suggests these three products you see above in the photo.
. Bumble and Bumble Luminous Oil Spray
. Oribe Star Glow Styling Wax
. Elizabeth Arden All-Over Miracle Oil

Willis said, "These products are also great if you want to create that "wet" look too."
In the very first episode of 'Paradise Hotel,' Kristin Cavallari was styling in a pink two piece outfit and wavy blonde hair. Emma who created the look broke down exactly how she obtained it.
How to Get Kristin Cavallari's Beachy Waves from Paradise Hotel
You can get it too with the instructions below for the hair breakdown:
. PREP – Using Bumble and Bumble Invisible Oil x Go Big Treatment x brush through with The Wet Brush / Finger blow dry
. CURL – Using Hidden Crown Hair 14inch clip in's with Amika Chameleon 1/4 and 1/2 inch barrel's from top to an inch to inch and half from the bottom in very small sections and in alternate directions -set aside
. DUST – into the roots Schwarzkopfusa OSIS + Dust It Mattifying Volume Powder
. CURL the rest of the hair in very small sections in alternate directions from root to an inch to inch and half from the bottom as above
. SPRITZ in Amika UN.DONE Volume & Matte Texture Spray
. SECTION HAIR and add in Hidden Crown Hair Extensions
. PIECE out sections using Oribe Star ⭐️ Glow Styling Wax TIP: rub a little into your fingertips press and smooth over alternate pieces of hair —avoid using too much ????
. FINISHERS – run Bumble and Bumble Luminous Oil Spray and Elizabeth Arden All-Over Miracle Oil over the surface pieces mainly with fingers very lightly
. COMPLETE – with a spritz of R & Co Trophy Shine + Texture Spray
. HAIR COLOUR ? Justin Anderson's DP Hue
Behind the Scenes Photos at Paradise Hotel
As a little extra bonus, Emma shared a behind the scenes look at the Paradise Hotel set when they were shooting a scene at night with Kristin and the cast. Who couldn't fall in love under these huge palm trees on the beach?
Do you spy Tatum and Bobby Ray with David and Kendall? It looks like Carlos is sitting alone. Hmm, we wonder why.
Check out the photos!
The cast may look gorgeous thanks to Emma Willis but that doesn't mean the drama has exploded in the last few episodes. The couple that nobody thought could be split apart, Tyler and Rosanna have been divided. When Tyler's ex – girlfriend Shailee entered the picture, things took a turn for the once power couple.
Last week, Rosanna was at risk of going home. Her fate is in Carlos's hands. Who will he choose? Fans were speculating if she was sent home because of a telling photo posted to the Paradise Hotel official Instagram.
Follow Emma Willis to get more behind the scenes look at Paradise Hotel and awesome beauty/hair tips!
Keep up with the love and drama on FOX's 'Paradise Hotel' Thursdays at 8pm EST.
MORE ON PARADISE HOTEL & KRISTIN CAVALLARI
IS ROSANNA SENT HOME ON 'PARADISE HOTEL?' FANS REACT TO CLUES..
WHAT EXACTLY WENT DOWN BETWEEN TYLER AND ROSANNA WHEN EX SHAILEE JOINED 'PARADISE HOTEL'
GET KRISTIN CAVALLARI'S STYLE FROM 'VERY CAVALLARI'
KRISTIN CAVALLARI'S BEAUTY REGIMEN: SKINCARE, MAKEUP, & WHAT'S IN HER BAG!
Diana is the co-editor-in-chief of Feeling the Vibe.  She loves pop culture and is always up to date on the latest news.  If you have any tips or comments, email diana@feelingthevibe.com.