Candace Cameron Bure is going to be a mother-in-law – or as she so eloquently puts it: a "mama-in-love" – as her son Lev, is engaged! The 20 year old son of the Fuller House star proposed to his girlfriend Taylor Hutchison over the weekend. Keep reading below for 10 fun facts on Lev's fiancée Taylor, as well as see more photos from the engagement announcement!
*Update on December 28, 2021 – Lev Bure and his fiancee Taylor Hutchison called off their engagement this past April.
---
Who is Taylor Hutchison?
1. Taylor and Lev began hanging out around New Years Eve 2018, but she posted their first couples photo from a park later that spring of 2019. She even captioned the aforementioned photo with: "Me & my fav."
2. According to Taylor's Instagram, their official anniversary is May 8, 2019, as she posted a different photo of Lev with the caption: "1 year of loving you."
3. Taylor would often travel back to Malibu and LA to visit Lev, as she lived near the Sacramento area.
4. She often volunteered at Bayside Church, participating in their Breakaway program, which centers around fun activities that kids can do as a sort of summer day camp.
5. Taylor's a fan of country music, and has even gotten Lev into it. They've gone to a couple concerts, including Florida Georgia Line last year.
6. She's an avid foodie, having everything from matcha lattes to New York style pizza. She usually sticks to healthful things, but she loves desserts. You can catch her with a brownie or Jeni's Salted Peanut Butter ice cream with chocolate flecks. It's her favorite!
7. Taylor credits her gorgeous smile to having braces when she was younger.
8. Her mom Christy is in the real estate business, and Taylor has a sister named Marissa. The trio even got to visit the set of Fuller House back in October 2019. You can see a photo from that day below:
9. Candace's daughter, Natasha filmed the epic engagement for her YouTube channel, to which her mom was very grateful, as she could have those memories on film. According to Natasha's video description, she, along with her brother Maskim, drove up from LA to Northern California for the engagement, as did Taylor's family. Natasha even congratulated her brother on Monday, reiterating her excitement for the happy couple.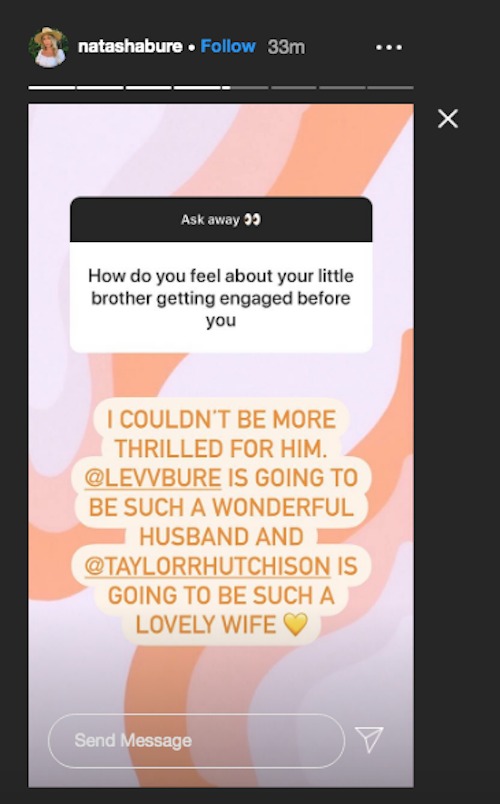 10. Even cooler? Candace posted her congratulations to the happy couple, and said she can't wait to be a "mama-in-love." The Fuller House star also said she "can't wait" for all things wedding! See her full post below:
A huge congratulations to Lev and Taylor – it's obvious that so many people are excited for this next step! Be sure you're following Lev, Taylor – and yes, even Candace! – to keep up with any wedding related details.
---
MORE NEWS ON CANDACE CAMERON BURE'S FAMILY
Who is Candace Cameron Married To?
Candace Cameron Bure's Daughter Natasha Stars in Faith, Hope, & Love
10 Fun Facts About Natasha Bure, Daughter of Candace Cameron
Kari Highman is a Beauty and Fashion Blogger at Feeling the Vibe Magazine. Otterbein Alum (2017) – English & Psychology. Always learning & creating. Avid fan of mid 2000's TV & pop music. Comments or tips, email kari@feelingthevibe.com