Chloe Trautman has been making a lot of changes recently. First, the MTV star opted to take a step back from her hit show Siesta Key; now, she's opening up about her yearlong transformation. She's bettered herself physically, mentally, and emotionally, and she shared her journey with fans on Instagram. Her co-stars even showed their support in the likes and comments of her post. We've got all the details, so keep reading below.
Chloe Trautman: a Mind/Body/Soul Transformation
Siesta Key's Chloe Trautman has been working on herself for a year now. During the quarantine period of the pandemic, she told US Weekly that her co-star Garrett Miller was helping with her workouts and eating plans. She mainly cut out junk food, and tries to do something active 5-6 days a week. That routine led her to lose almost 30 pounds!
She's also shed a lot of negativity from her lifestyle. From people to toxic environments, if it's not positive, Chloe doesn't want it in her space. That aspect of her transformation became abundantly clear earlier this year when she announced she was leaving Siesta Key. She reassured fans that her story would be shared during season 4. Filming simply became too much for her, and that toxicity was something she didn't want to sacrifice her well-being for.
Chloe's been putting herself first, and the results have been astounding. Just check out her Instagram side-by-side for proof!
Chloe wrote that "when you silence the negative thoughts and listen to what your true heart is telling you; absolutely nothing can hold you back." She's so proud of the physical, mental, and spiritual growth she's had over the last year. She added that if you can't attend her Metamorphosis Retreat on March 27, she and Alexis Fraser have made it available virtually. Chloe teased that she "can't wait" to share her whole entire journey with fans: "The good, the bad, the ugly, and the beautiful."
Any other details?
Her Siesta Key co-stars left lovely comments for Chloe too, from encouraging words to uplifting emojis. As you'll see in the photo below, Brandon Gomes left a heart emoji; Madisson Hausburg liked the post. Juliette Porter went for a lengthy message, saying how happy she was for Chloe. "You cut off things that weren't benefitting you, including people," she wrote on Chloe's IG post. "You are an inspiration."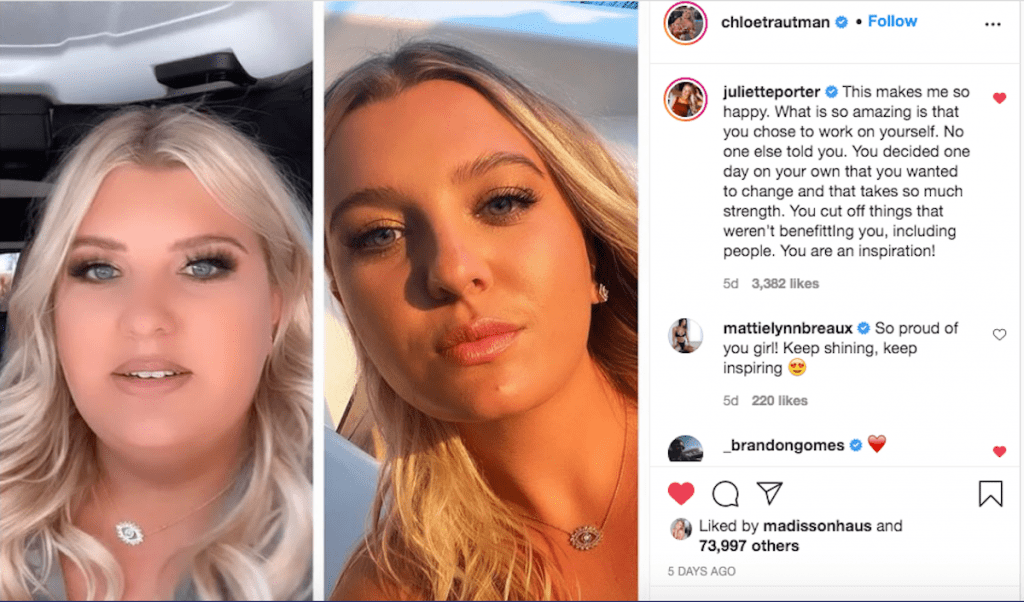 While she's not on Siesta Key, MTV The Challenge and Floribama Shore star Mattie Lynn Breaux told Chloe to "keep shining, keep inspiring." Other comments include a "beautiful" from Camila Cattaneo; a "so proud" from Mike Vazquez; and a "so beautiful inside and out" from Makenna Quesenberry.
The consensus is obvious: everyone's happy that Chloe's happier. You can see it in her more recent photos, she's positively ethereal. Seems like she's putting her IG bio to good use – she's definitely leading with love and shining with light.
While there's no premiere date set for Siesta Key season 4, you can still purchase tickets to Chloe's retreat, which will be held in person/virtually March 27. Be sure you're following Chloe on Instagram for the most up-to-date look at her life.
---
MORE SIESTA KEY RELATED NEWS
First Look: Siesta Key's Juliette Porter Previews Swimwear Line
Chloe from Siesta Key Launches Retreat – Get Details
Meet the New Cast Members of Siesta Key Season 4
Kari Highman is a Beauty and Fashion Blogger at Feeling the Vibe Magazine. Otterbein Alum (2017) – English & Psychology. Always learning & creating. Avid fan of mid 2000's TV & pop music. Comments or tips, email kari@feelingthevibe.com