Shark Tank is back with an all-new episode this week. Four new companies led by hopeful entrepreneurs will take their chance and dive into the tank on the hit ABC show. Find out more about Big Bee Little Bee, Pretty Rugged, Plufl and Bridal Babes below, including their founders and where to buy.
---
Big Bee Little Bee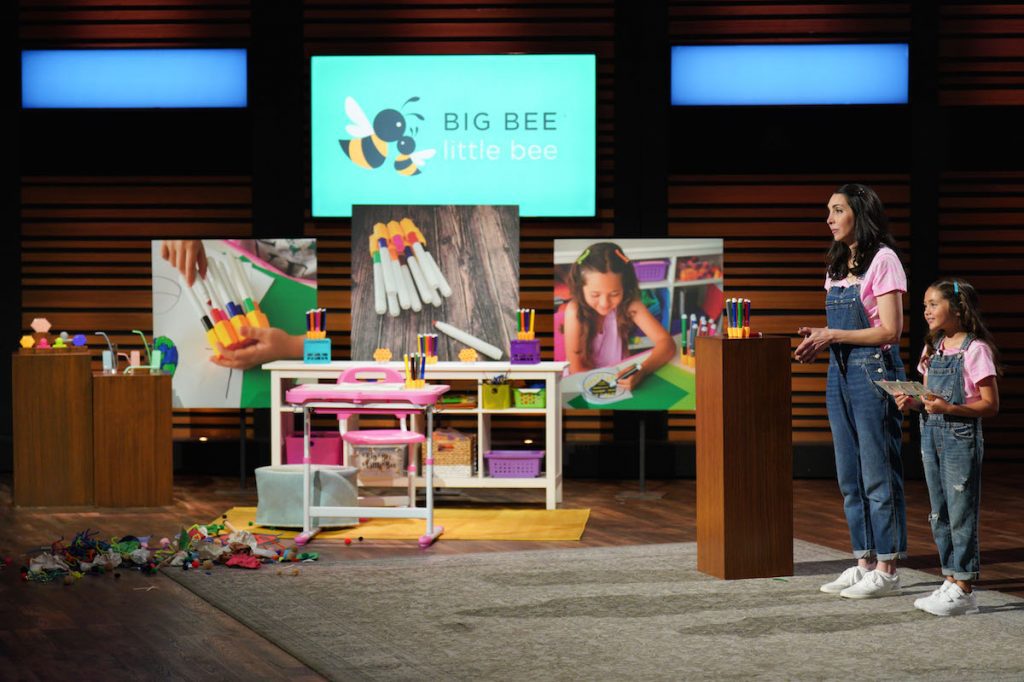 Big Bee Little Bee was founded by Amy and Marlo Leinbach. They are a mother/daughter duo who are on a mission to reduce single-use plastics with innovative products for kids and adults. Products include: Marker Parker, ScrubBEE and Build-a-Straw. Since launching in 2016, these reusable goods really took off in 2020 when they were featured on Good Morning America and The View. Now, their products are in retailers such as buybuyBABY. With sales averaging $250,000/year, is that enough to capture a shark's attention?
Where to buy: Amazon and/or bigbeelittlebee.com
Where to follow: @bigbee_lilbee on Instagram
---
Pretty Rugged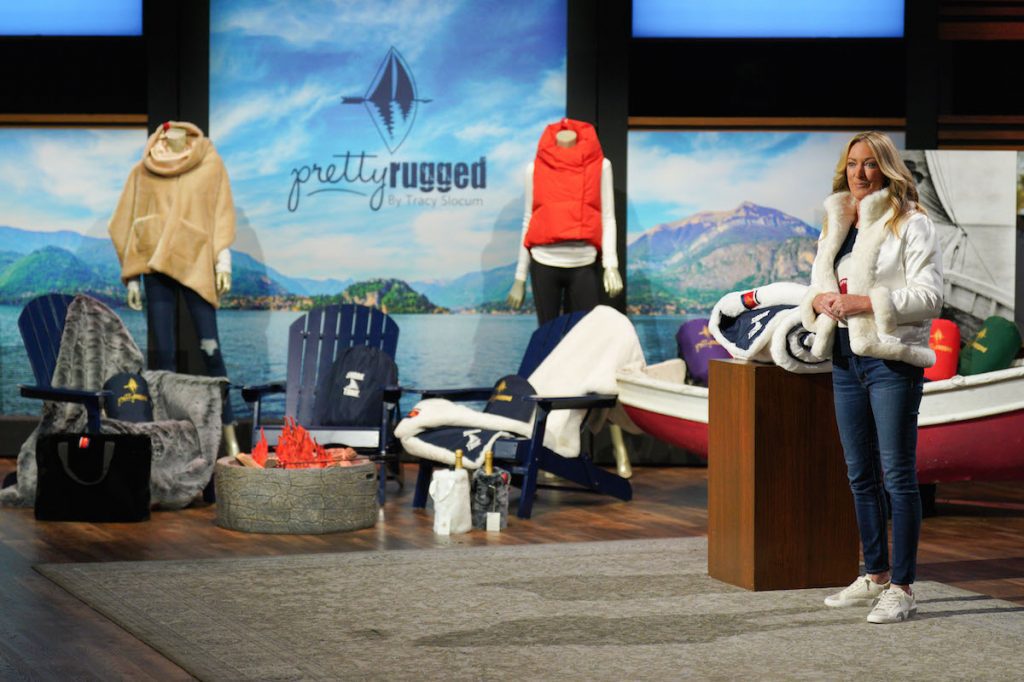 Tracy Slocum created Pretty Rugged after dealing with the water and cold weather while boating with her husband. The line of wind and waterproof faux fur blankets and outerwear are what she's selling. They're perfect for boating, camping, stargazing, tailgating, etc. and come in a variety of fun colors and cool patterns. From animal print bags to baby blankets, there's something for everyone to enjoy. You'll look stylish and feel comfortable. Not to mention you'll know you made a practical choice thanks to the RuggedTex backing which creates a complete waterproof barrier. Tracy's got big plans for this brand – can a shark help her get there?
Where to buy: prettyruggedshop.com and/or Amazon
Where to follow: @prettyruggedshop on Instagram
---
Plufl
Plufl was founded by Yuki Kinoshita and Noah Silverman. What started off as a "crazy college dorm idea" is now a fully-fledged product ready to debut on Shark Tank! It's basically a dog bed, but made for humans to give optimal comfort for naps or any kind of relaxing activity. With a thick pillow border, soft faux fur and orthopedic memory foam, it's designed to bring you stress-free relaxation and give you all the support you need. And yes, you can play with your dog – or cat, or any other animal friends! – too. Yuki and Noah raised over $290,000 via KickStarter, and that successful campaign is what led them to create their first round of products, in colors like tan and grey. Maybe if a shark jumps onboard, more colors can roll out soon!
Where to buy: weareplufl.com
Where to follow: @weareplufl on Instagram
---
Bridal Babes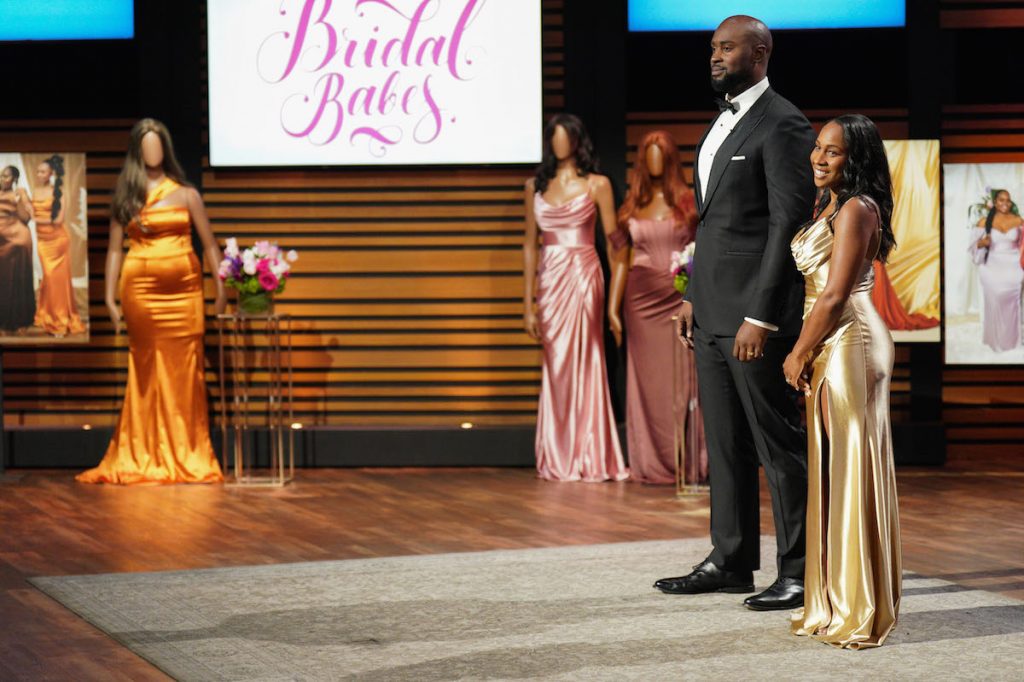 Charles & Ashley Young created Bridal Babes, a company that initially made bridesmaids dresses, but have since expanded into wedding dresses too. When Ashley was planning her own wedding, she couldn't find any dresses that made her or her friends feel amazing, so she decided to make her own. She wanted dresses for women of color that were bold and designed to accentuate curves. After her photos went viral, she and her husband Charles decided to make this a business. What's unique about their company is that your appointment is done via video call, unless you live in the greater Baltimore area. Brides and bridesmaids review designs online and talk to Ashley about what they want so she can create the perfect dress/dresses. She even sends fabric samples so clients can get a visual idea. Beautiful dresses and a modern business model – what more could the sharks want?
Where to buy: www.bridalbabes.co
Where to follow: @bridalbabes on Instagram
---
Find out if deals are made when the all-new episode of Shark Tank airs on Friday, October 21 at 8 PM ET on ABC. Episodes can be streamed the next day on Hulu or on demand.
---
MORE SHARK TANK NEWS
Who's on 'Shark Tank' This Week (Sept. 30)? Full Company List Inside!
Who's On Shark Tank Live Season 14 Premiere Show? (Updating in Real Time)
'Shark Tank' Airing Surprise Live Season 14 Premiere
Kari Highman is a Beauty and Fashion Blogger at Feeling the Vibe Magazine. Otterbein Alum (2017) – English & Psychology. Always learning & creating. Avid fan of mid 2000's TV & pop music. Comments or tips, email kari@feelingthevibe.com