Shark Tank is back with an all-new episode this week. On March 17, fans will see four new companies presented by their enthusiastic founders, all hoping for a deal from the sharks. Get to know more about Chubby Buttons, Crispy Cones, Autio and Tngnt Ski Bikes below before the episode airs on ABC.
---
Chubby Buttons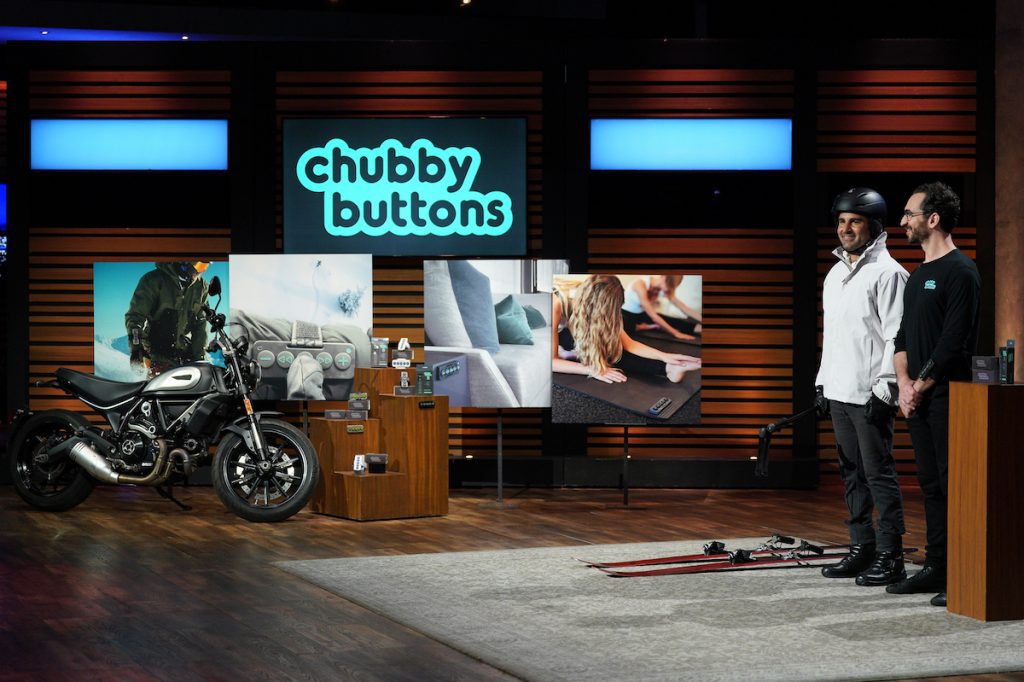 Chubby Buttons were founded by Mike Cherkezian and Justin Barad. It's a wearable bluetooth remote for your smartphone. Perfect for sports with gloves, busy hands, or going fast, the big, easy-press buttons allow the user to have control over their device. Basically, you won't have to fumble with your phone or struggle to press the tiny volume buttons on your headphones anymore if you use this product. Plus, the remote is water-resistant, washable, durable, and weatherproof. You can control your phone up to 200 feet away with an unobstructed line from the remote to your phone, and up to 75 feet in a crowded area. Currently, it's available online and comes in gray, green and blue.
Where to buy: https://www.chubbybuttons.io/
Where to follow: @chubbybuttons
---
Crispy Cones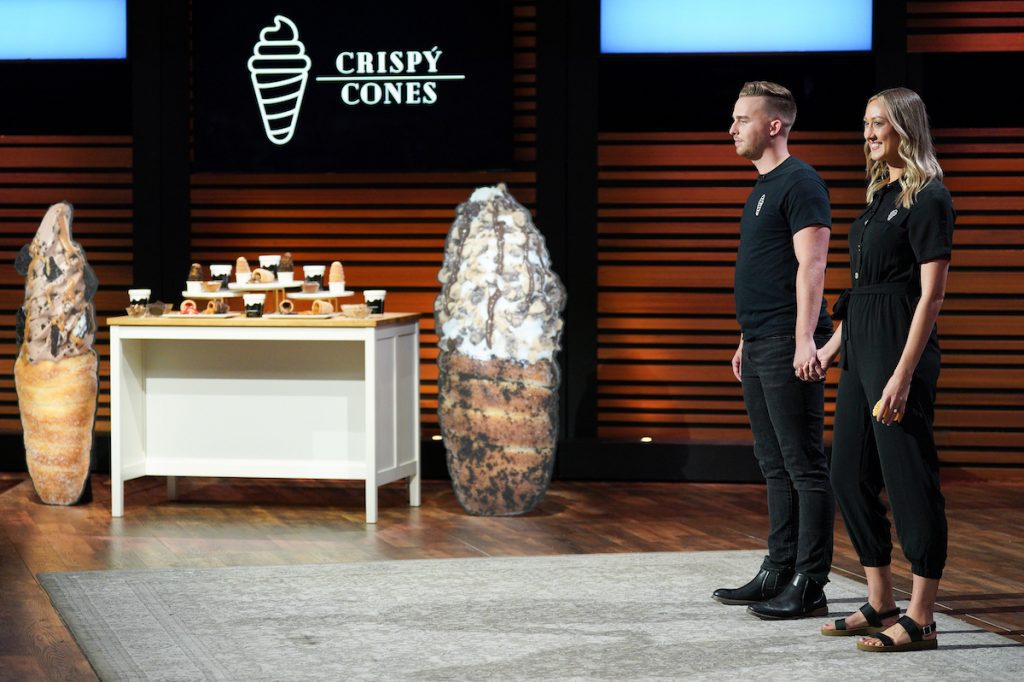 Jeremy and Kaitlyn Carlson created Crispy Cones. A unique twist on the classic cake cone, Crispy Cones are made of fresh pastry dough, grilled and covered in cinnamon sugar or crushed Oreos. Customers can then fill the cone with their choice of spread, soft-serve ice cream, fruit, and various toppings. Spreads include Nutella, cookie butter and peanut butter; toppings include Kit Kats, cookie dough, graham crackers, Heath Bar, Almond Joy, Biscoff cookies and strawberries. You can even top it off with syrups such as caramel or raspberry, not to mention pick a specialty soft serve flavor like French Toast. The company currently has two storefronts open (1 in Idaho, 1 in Utah) but they likely want to expand into the food product side of retail.
Where to buy: https://thecrispycones.com/
Where to follow: @crispycones_
---
Autio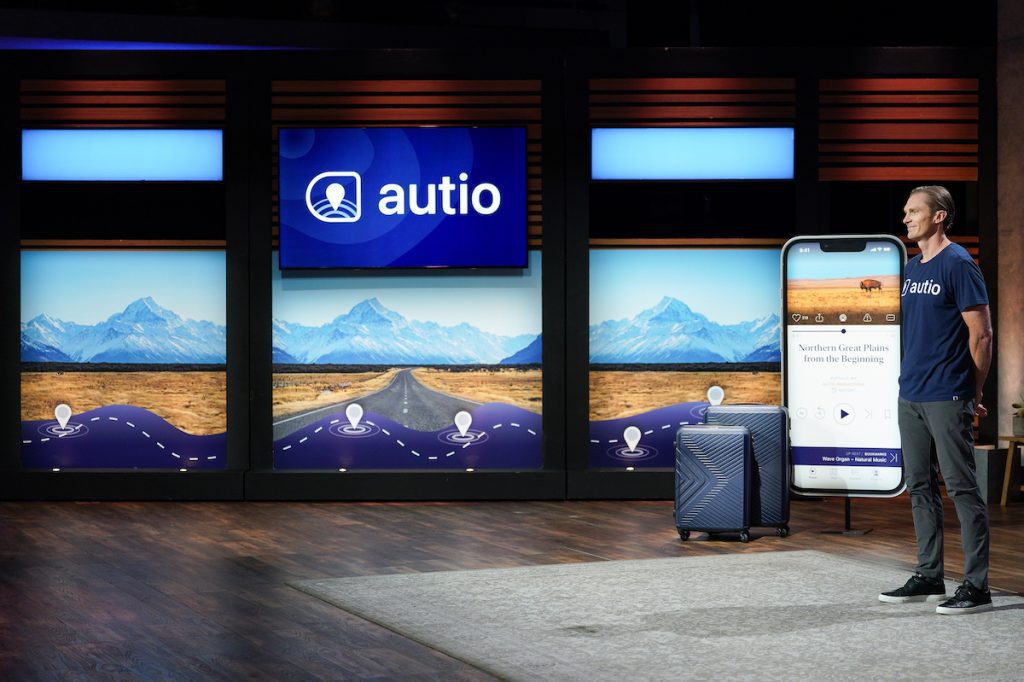 Woody Sears is one of the founders of Autio. Founded by him, along with Bill Werlin and actor Kevin Costner, the trio created an audio travel application, designed to tell you about the locations you're driving through. Originally beginning as HearHere in 2020, the app rebranded to Autio in 2022. It has about 9,000 stories in the library and they are narrated by Costner, John Lithgow, Phil Jackson, as well as famous historians and leaders. People can download the app and learn about history, geology, sports, culture, music and more. The company also partnered with nonprofit The Moth to tell stories of underrepresented groups, and $1 from each sale goes to The Moth. While the app is free to download, a $36 annual membership gives you access to the entire library.
Where to buy: https://autio.com/
Where to follow: @autioapp
---
Tngnt Ski Bikes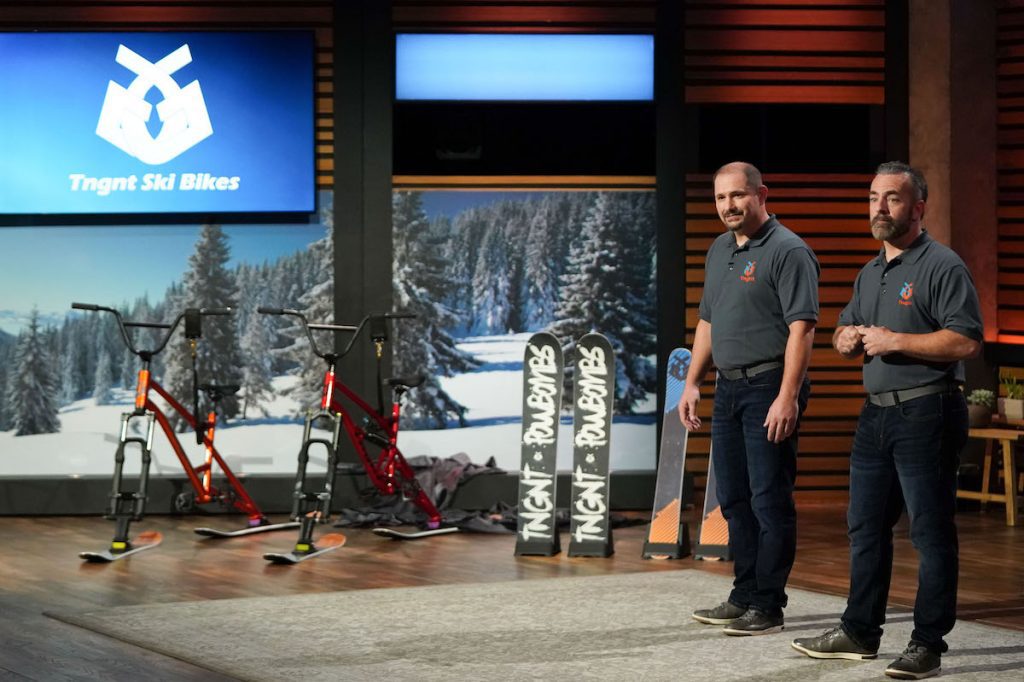 Co-founders Charles "Bill" Pierce and Scott Carr will present their product, Tngnt Ski Bikes to investors. They grew up during the revolution of mountain biking, and decided to create their own ski bike known as Tngnt (pronounced "tangent"). Bill has a background in design and aerospace tech, while Scott knows mountain and ski bikes. They put their talents together to create the ultimate ski bike, which is literally as it sounds: a bike, but instead of two wheels, there are two skis. Offering two different models known as the Carve and Drift, the former gives full suspension and a narrow frame, while the latter is lighter, fast and responsive. In addition to the bikes, you can also shop skis, spare parts and snow gear on their official website.
Where to buy: https://www.tngntskibikes.com/
Where to follow: @tngnt_skibikes
To see what happens for this new group of hopeful entrepreneurs and their businesses, tune in to Shark Tank on Friday, March 17 at 8 PM on ABC.
---
MORE SHARK TANK NEWS
Who's on Shark Tank Jan. 13, 2023 with Tony Xu? Companies & Products Inside!
Who's on Shark Tank Jan. 6, 2023 with Gwyneth Paltrow? See Companies Inside!
Who's on 'Shark Tank' This Week (Nov. 11)? See Companies Inside!
Kari Highman is a Beauty and Fashion Blogger at Feeling the Vibe Magazine. Otterbein Alum (2017) – English & Psychology. Always learning & creating. Avid fan of mid 2000's TV & pop music. Comments or tips, email kari@feelingthevibe.com