Shark Tank continues with all-new episodes this month. Their newest episode airs on January 13, 2023 and will feature 4 new companies with hopeful entrepreneurs taking their chance in the tank. Plus, guest shark Tony Xu makes his first appearance on the hit ABC series. Keep reading below for more information on Kinfield, Wild Wonder, Metric Mate and Cabinet before the episode debuts.
---
Kinfield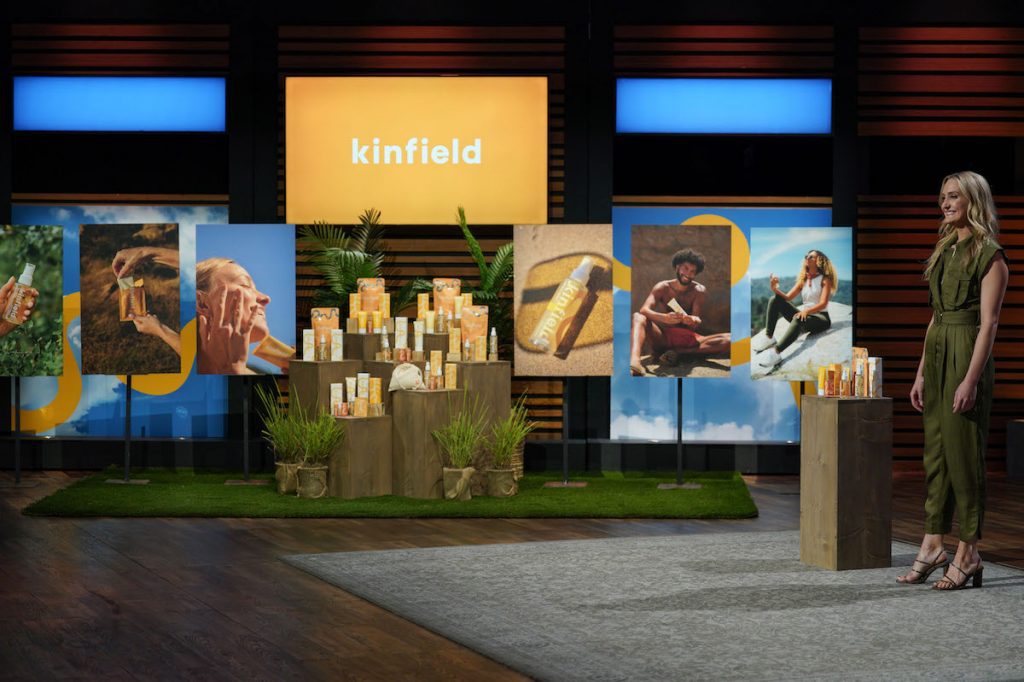 Kinfield is an outdoor living brand created by Nichole Powell in 2018. She was inspired to begin this company because the products she used in the past weren't sustainable. Essential outdoor supplies like sunscreen, bug repellent, lip balm, etc. are the types of products you will find on Nichole's website. In addition to their clean, chemical-free products, Kinfield goes green by packaging products in reusable bags. While they have bestselling products such as Sunglow SPF, Nichole is looking to further her brand's reach – could a shark help her get into stores?
Where to buy: kinfield.com and you can try the Sunday Spray Cooling After-Sun on Amazon!
Where to follow: @kinfield on Instagram
---
Wild Wonder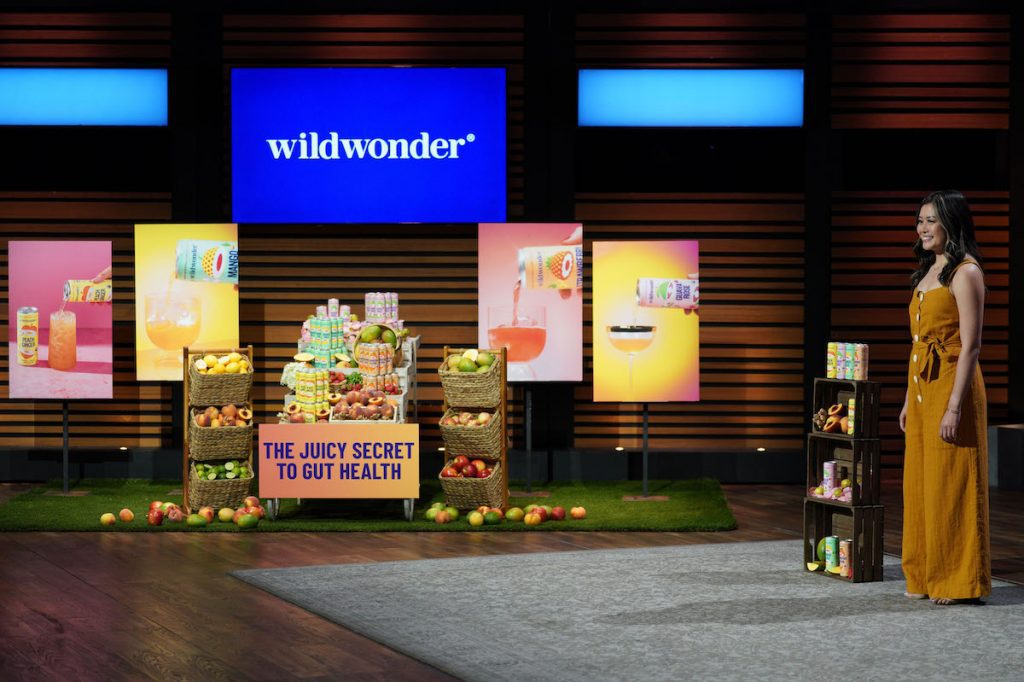 Founded by Rosa Li, Wild Wonder is a brand of healthful canned drinks designed to improve your gut. Inspired by her Chinese grandmother's tonics, Rosa used that influence to create modern, pre and probiotic sparkling drinks in a variety of fruit flavors. Full of vegan probiotics, prebiotic fiber, herbs and other botanicals, these cans come in strawberry, guava, mango, pear, as well as peach and lemon ginger. Available online and in specialty health food stores like Sprouts and Fresh Thyme, maybe Rosa is needing help with inventory, or just wants to make more influential connections. Either way, she's made a successful start in her business!
Get 5 Fun Facts on Wild Wonder!
Where to buy: drinkwildwonder.com
Where to follow: @drinkwildwonder on Instagram
---
Metric Mate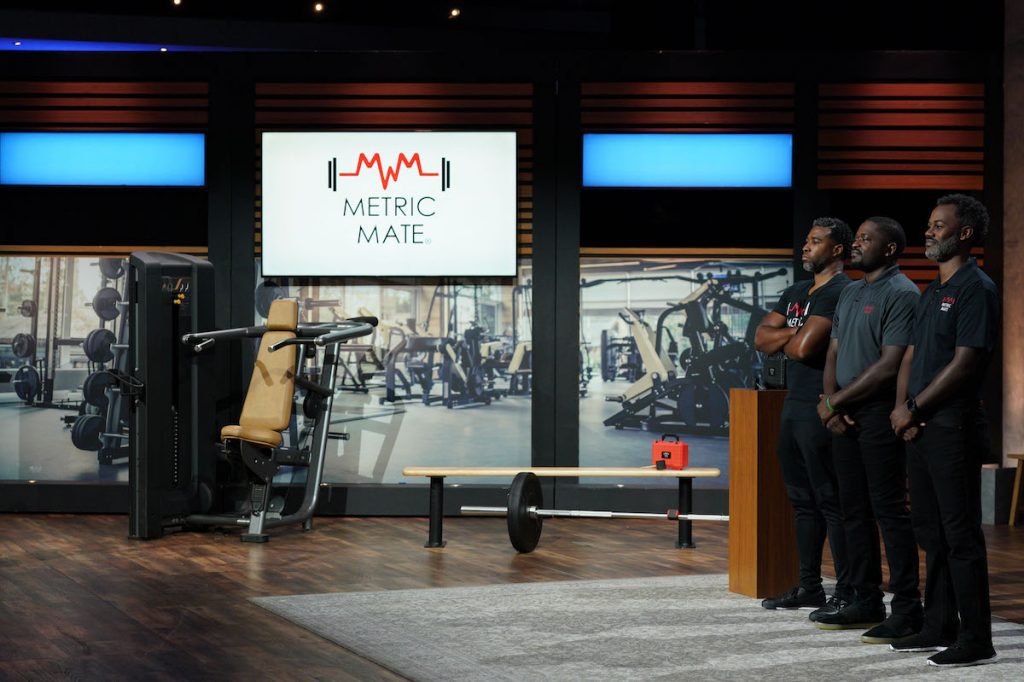 Metric Mate is a digital, data-based fitness company founded by MT Strickland, Braxton Davis, and Ecleamus Ricks. The three men possess a wide range of technology, legal and computer science skills that made creating this fitness product a breeze. Basically, it's a digital training partner which can turn exercise equipment into smart technology and track calories, what muscles are moving, appropriate machinery levels, and more. With a compelling social media presence, it's easy to see why people love this product. It makes workouts fun, and who doesn't want that? MT, Braxton and Ecleamus' pitch is sure to be entertaining, and hopefully they can leave the tank with a solid investment.
Get 5 Fun Facts on Metric Mate!
Where to buy: themetricmate.com
Where to follow: @metricmate on Instagram
---
Cabinet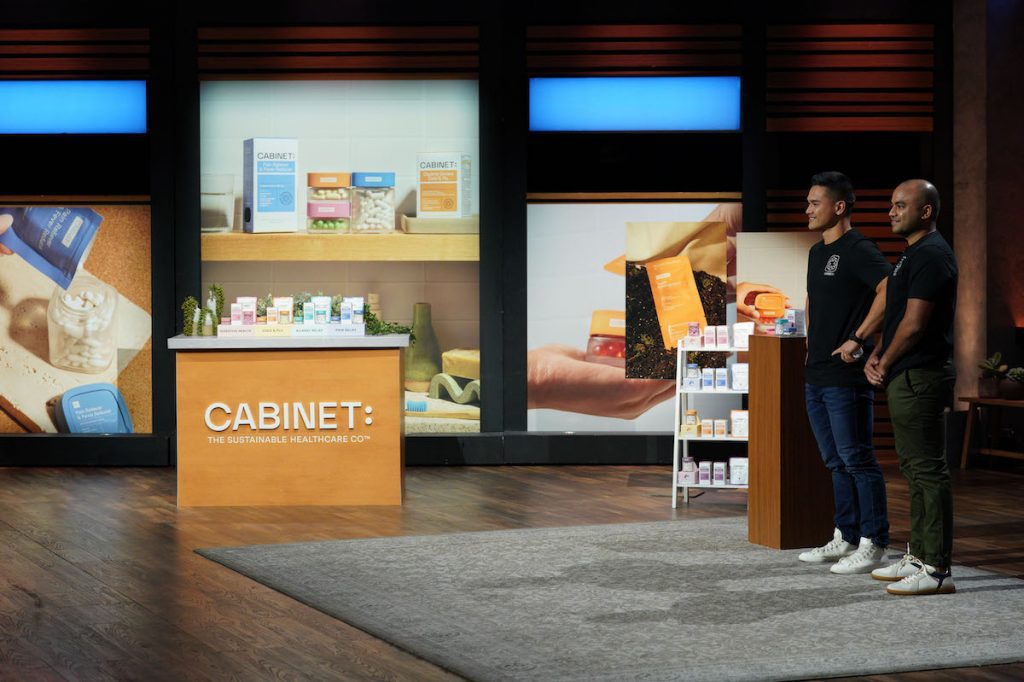 Created in 2020 by two friends named Achal Patel and Russ Gong, Cabinet is a company on a mission to make "getting better…better." Cabinet Health is an over-the-counter medication service that puts these medicines into stackable, reusable containers. Currently, you can purchase starter or personalized bundles for common ailments like allergies, pain, digestive issues, sleep and stress, as well as cold and flu. Right now, these medicines are filled at their partner pharmacy HealthHavenRx and are available in 49 out of 50 US states. Achal and Russ are clearly passionate about their goal of reducing plastics, so maybe that enthusiasm will make the sharks eager to take a chance on their business.
Get 5 Fun Facts on Cabinet from Shark Tank!
Where to buy: cabinethealth.com
Where to follow: @cabinet.health on Instagram
---
Who is Guest Shark, Tony Xu?
Find out all about the Door Dash founder here!
---
To find out if any of these companies and their founders secure deals with the sharks, be sure to tune in to Shark Tank, airing January 13 at 8 PM on ABC. Episodes can be streamed the next day on Hulu or on demand.
---
MORE SHARK TANK NEWS
Who's on Shark Tank Jan. 6, 2023 with Gwyneth Paltrow? See Companies Inside!
Who's on 'Shark Tank' This Week (Nov. 11)? See Companies Inside!
Who's on 'Shark Tank' This Week (Oct. 21)? See All Companies Inside!
Kari Highman is a Beauty and Fashion Blogger at Feeling the Vibe Magazine. Otterbein Alum (2017) – English & Psychology. Always learning & creating. Avid fan of mid 2000's TV & pop music. Comments or tips, email kari@feelingthevibe.com