ABC's Shark Tank is back with an all-new episode. This week, four new companies with determined entrepreneurs will dive into the tank. Those companies are: Cat Amazing, HairFin, Browndages, and Lil Advents. We have details on the businesses, and who founded them below. So, keep reading for all that information before the April 15 episode.
---
Cat Amazing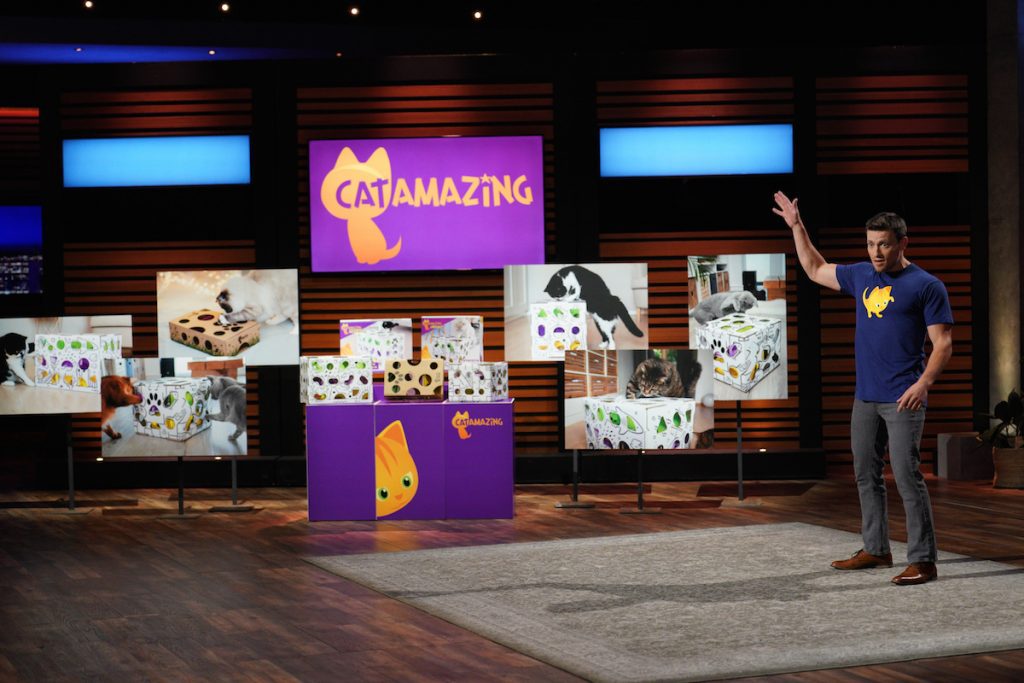 Andrey Grigoryev founded Cat Amazing, a line of interactive cat toys. The idea came about after one of his beloved cats, Mooky, wasn't interested in the usual toys. They weren't challenging enough, so Andrey decided to create dynamic, engaging pet toys. Basically, the toys are boxes that you can place treats or cat food inside of. The cats' challenge is to remove the food from the box, and they're entertained while doing so. Currently, there are 4 models available: classic, slider, epic, and mega. Each respective model is slightly bigger than the other, with prices ranging from $16-35. There are even stacks, aka: stackable cat condos. The products are not only available on Andrey's website, but on Amazon and Chewy too. But, will that success be enough to convince the sharks? Andrey probably wants help breaking into the retail space. Hopefully the purr-fect pitch can wow the sharks!
Where to buy: https://catamazing.com/ or Amazon
---
Browndages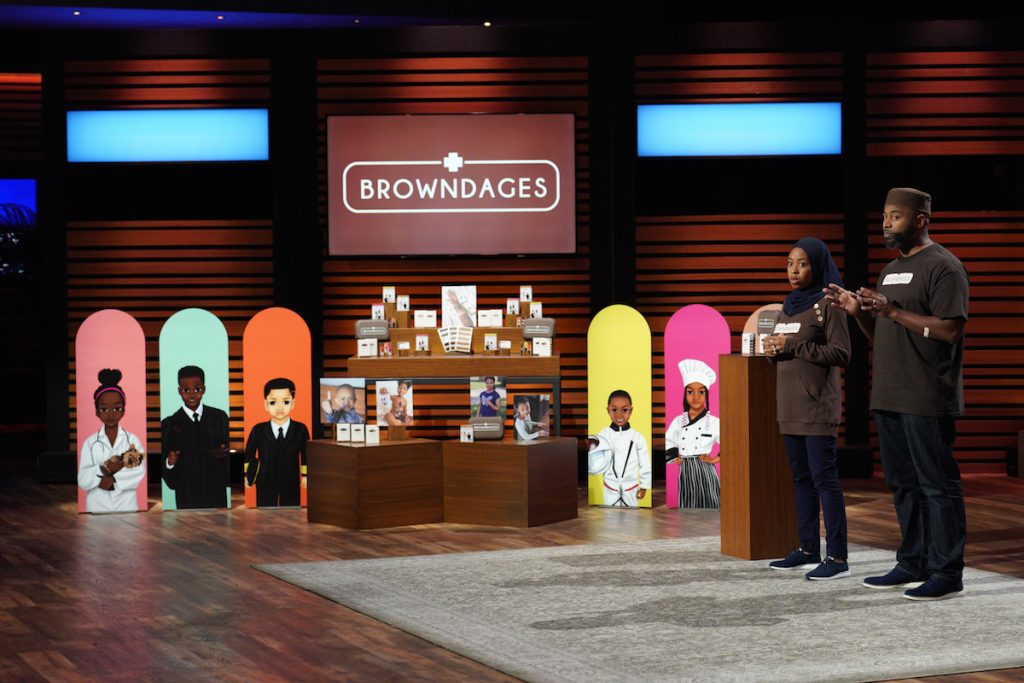 Browndages were created by husband and wife duo Intisar Bashir and Rashid Mahdi. The couple began their business in 2018 when they realized the bandages their kids were using did not match their skin color. So, they decided to make their own line of band-aids for people of color. After focusing on adult bandages first, they realized that kids could use some too. Intisar and Rashid used an artist to draw their kids as astronauts, ballerinas, etc., and now, customers can request the same for their own children. This way kids can see themselves in what they use. Browndages currently come in 5 shades: caramel, ebony, wheat, sand and mocha. You can purchase each shade individually, or in a variety pack on their website, or in some local shops around the USA. Affordable prices and inclusivity have really helped this brand grow quickly in a short amount of time. However, both Intisar and Rashid still work at their day jobs, so they may want a shark's help to take their business full-time.
Where to buy: https://browndages.com/
---
HairFin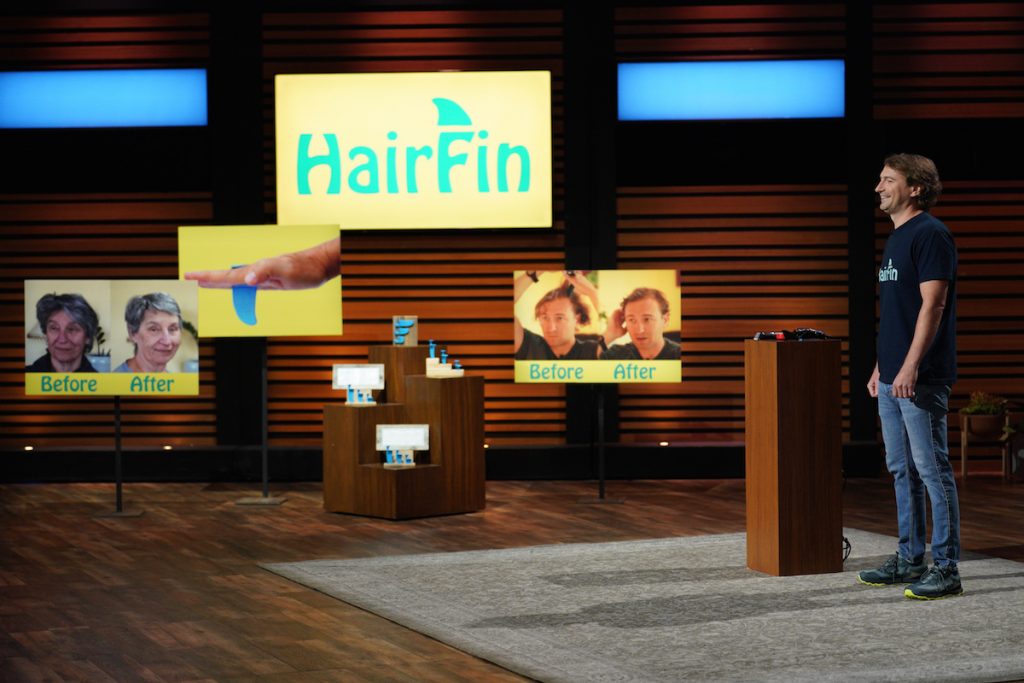 Founded by Tony Litwinowicz, HairFin is a haircut measuring tool. Tony's background is in engineering, and he grew up cutting his own hair with clips. But, the clips he would use were too short. So, Tony created his own longer clips with an easy-glide, fin-shaped base. This allows for the hair to be pulled straight and cut uniform. Currently, it's only available on Amazon and Etsy, a set of 3 HairFins costs $14.99, and that comes with a 2, 3, and 4-inch guide. But, Tony's in the midst of developing a 5 and 6 inch guide now. So, will his pitch make the cut and get a deal with the sharks?
Where to buy: https://www.hairfin.com/ or Amazon
---
Lil Advents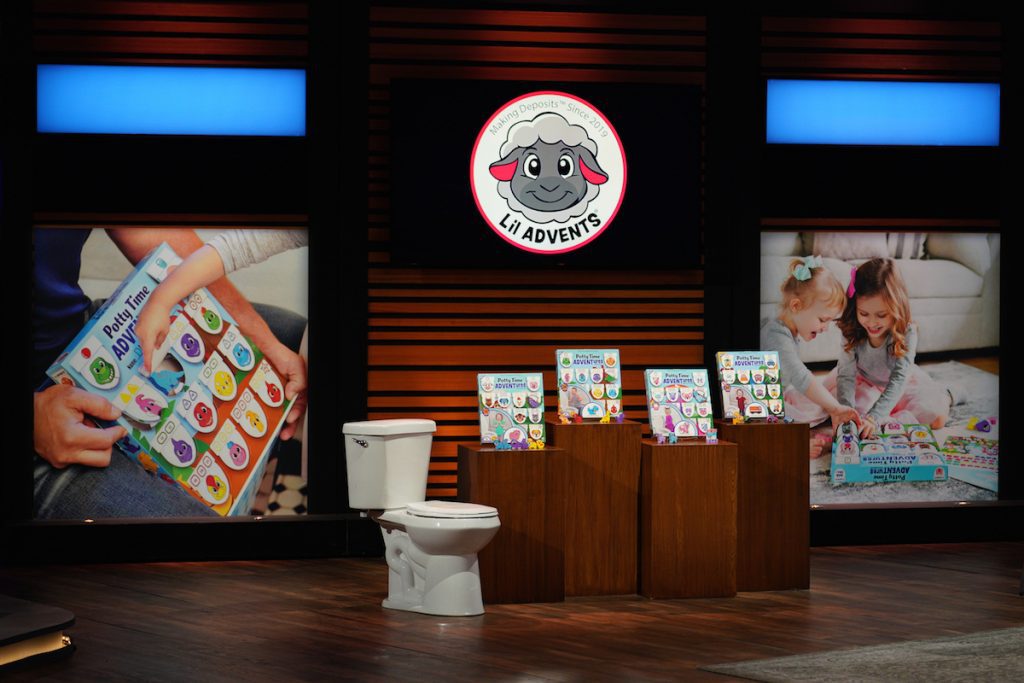 Designed by Mindy and Brandon Wright, Lil Advents is a potty training reward system they invented after their daughter was reluctant about the process. Brandon always liked advent calendars when he was a kid, so he decided to think of something along those same lines. Mindy created the first calendar, and from there, the business was born. They work similarly to an advent calendar: there are 14 punch-outs, numbered 1-30. Each time your child makes a "deposit" (or potty trains successfully), then a spot is punched out. Parents can also punch out a spot if their child sleeps through the night without an accident. After 30 punch-outs are complete, the kid gets a sticker, and the cycle starts over again. Brandon and Mindy say on average, it takes 60-90 deposits for a child to be fully potty trained. Currently, there are a variety of themed calendars available, like dinosaurs, farm animals, vehicles, and unicorns. Each calendar is $34.99 and you can even get "ba-ba-bucks" aka: fake currency for your kid to use as a reward too. With decent sales, the Wrights most likely want a shark who can take them to the next level.
Where to buy: https://liladvents.com/ or Amazon
To find out if any of these companies walk out of the tank with a deal, watch Shark Tank on Friday, April 15 at 8 PM on ABC. Episodes can also be streamed next-day on Hulu.
---
MORE SHARK TANK NEWS
Who's on 'Shark Tank' This Week (April 8)?
Find Out Who is on 'Shark Tank' This Week (April 1)
'Shark Tank' March 18 Episode; Sunflow, Prepdeck: See All Companies Inside!
Kari Highman is a Beauty and Fashion Blogger at Feeling the Vibe Magazine. Otterbein Alum (2017) – English & Psychology. Always learning & creating. Avid fan of mid 2000's TV & pop music. Comments or tips, email kari@feelingthevibe.com