If you haven't already heard the name Chiara Aurelia, after tonight, you'll definitely know who she is. She's one of the leads of Freeform's newest show Cruel Summer, and has been hailed as a breakout hit in the series. Ahead of tonight's two-episode premiere, we've got some facts on Chiara below, so keep reading to get to know more about her.
Get to Know Chiara Aurelia + Her New Role
Chiara Aurelia is 18 years old moved to Los Angeles to act full-time in 2014. While Cruel Summer is her first lead role in a network series, Chiara's resume is packed with plenty of impressive credits. She's acted alongside major Hollywood names like Kyra Sedgwick, and done guest spots on shows like Pretty Little Liars.
On her new Freeform show, Chiara portrays Jeanette Turner, a once nerdy girl who, after a classmate named Kate Wallis (Olivia Holt) disappears, is suddenly the most popular girl in school. With her new status, she gains different friends, and even catches the attention of longtime crush Jamie Henson (Froy Gutierrez). Now, Jeanette seems to have it all: perfect boyfriend, perfect clothes, perfect life. But, what about Kate? What really happened to her, and is Jeanette somehow involved?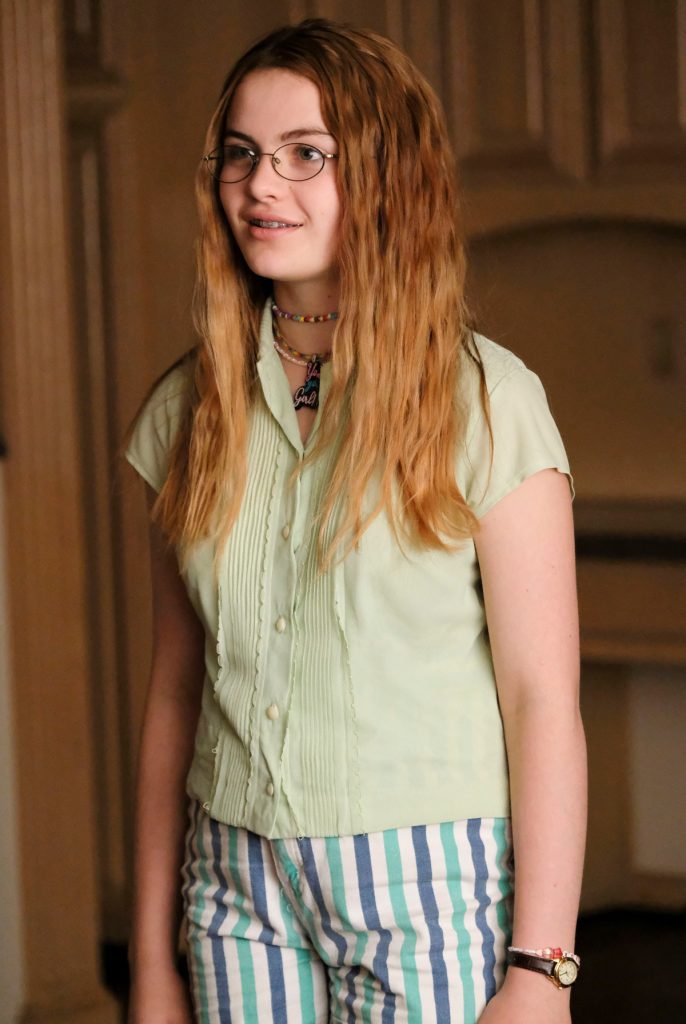 ---
While Aurelia is only 18, she has an affinity for all things 90s. According to MTV, she listened to artists like Alanis Morrisette on set to help hone her character's vibe. She appreciated how much work went into creating the nostalgic feel: even the mall they filmed in had to be rearranged to create a mid-90s aesthetic, as opposed to the more glamorous ones we see today.
Chiara decided to take on the role of Jeanette Turner because "it was such an incredibly unique opportunity" and she "helped define how her character's journey would render visually, working with the crew to realize what it was going to feel like off the page." See, as Jeanette's journey evolves, so does her style and behavior. It's all connected, the plot with the characters, the little intricacies and nuances work together to create something totally jaw dropping and freshly dramatic.
You'll see Jeanette Turner begin as somewhat of an outcast in 1993, but a year later, it's like she's taken Kate Wallis' place as the town's "it girl." By 1995, Jeanette's world is turned upside down once again when she's suspected of Kate's disappearance. The show will tell the story not only from Jeanette's perspective, but from Kate's too.
Aurelia told Entertainment Weekly that "there are more mysteries than you might expect, more characters involved than you might see at first" and that the series will keep you guessing because "it's a huge, twisty, adventurous ride."
Any other details on Chiara or Cruel Summer?
Prior to Cruel Summer, you may have seen Chiara Aurelia in her most recent series for Amazon Prime called Tell Me Your Secrets. When she's not working, you can find her, like most young adults today, on social media. Her Twitter account has close to 4,500 followers, and she's verified on Instagram with over 93,000.
Speaking of Instagram, the official Cruel Summer page posted a teaser video on Chiara's character, Jeanette. Check it out below:
You can catch Chiara Aurelia as Jeanette Turner in the premiere of Freeform's Cruel Summer, airing tonight (Tuesday, April 20) at 9 PM ET. New episodes will air Tuesdays on Freeform.
---
RELATED ENTERTAINMENT NEWS
28 Facts About the Cast of Cruel Summer
Kate Wallis: 5 Facts About Olivia Holt from Cruel Summer
40 Facts About Bravo's Summer House Cast
Kari Highman is a Beauty and Fashion Blogger at Feeling the Vibe Magazine. Otterbein Alum (2017) – English & Psychology. Always learning & creating. Avid fan of mid 2000's TV & pop music. Comments or tips, email kari@feelingthevibe.com