Freeform's newest series Cruel Summer promises to deliver a compelling tale from two girls' perspectives. There's the queen bee Kate Wallis (Olivia Holt), who seems to have it all – that is, until she goes missing one night. Then, there's Jeanette Turner (Chiara Aurelia), somewhat of a nerdy girl who may be connected to Kate's disappearance. So, who else is a part of this dramatic teen mystery? We've got 28 facts on the cast below.
Olivia Holt
Olivia Holt portrays the super-popular Kate Wallis, a high schooler who's MIA one summer night. While everyone wonders what happened to Kate, some question if she really was as perfect as she seemed.
1) If you're a fan of Freeform programming, then you'll recognize Olivia's face. She starred in two seasons of Marvel's Cloak & Dagger from 2018-2019, as well as the network film Turkey Drop.
2) Prior to that, she was a Disney girl. She starred in the Disney XD series Kickin' It and the Disney Channel show I Didn't Do It.
3) In addition to acting, Olivia's had a successful music career. Her debut EP, Olivia, cracked the Top 40 on the Billboard charts in 2016. Her most recent singles have included "Do You Miss Me" and "Love on You."
4) Olivia won the 2018 Teen Choice Award for "Choice Summer TV Star" for her role on Cloak & Dagger.
5) She's currently in a relationship with fellow musician Tony Ferrari.
---
Froy Gutierrez
Froy Gutierrez portrays Jamie Henson, Kate's former boyfriend, and eventually, Jeanette's current beau. He seems to struggle with missing the girl from his past, and focusing on the girl in his present.
6) His breakthrough role was on MTV's Teen Wolf as Nolan in season 6.
7) You may have seen Froy on his recurring roles of ABC's The Goldbergs or Hulu's Light as a Feather.
8) He has 1.7 million Instagram followers, and is verified on the social media platform.
9) While he's in LA now, he spent his childhood between Texas and Mexico, according to Freeform's official bio.
---
Chiara Aurelia
Chiara Aurelia portrays Jeanette Turner, the outsider who comes out of her shell after Kate's disappearance. As her popularity grows, some people are suspicious of whether or not she could've been involved in what happened to Kate.
10) Her most recent roles include Amazon Prime's Tell Me Your Secrets and Netflix's Fear Street 2.
11) She's acted alongside some big names in Hollywood, including Juliette Lewis and Alex Pettyfer.
12) She's close friends with Spencer List, who's the twin brother of actress Peyton List.
13) She's an activist, supporting organizations like Best Friends Animal Society and The Angel Food Project.
---
Sarah Drew
Sarah Drew portrays Cindy Turner, Jeanette's mother in 'Cruel Summer.'
14) Sarah's perhaps best known for her role as Dr. April Kepner in the ABC series Grey's Anatomy. She originated the role from 2009-2018; she came back as a guest star for a recent season 17 episode this year though. Her reunion photo with co-star Jesse Williams is one of her most popular yet!
15) Other shows/movies you may know her from include the WB series Everwood, or the Hallmark Channel film Christmas in Vienna.
16) Sarah has been married to Peter Lanfer since 2002. The couple have a son and daughter together.
17) She has amassed 3.7 million Instagram followers, and 948,000 on Twitter. Sarah's verified on both platforms.
18) Her net worth is estimated to be around $3 million.
Blake Lee
Blake Lee portrays Martin Harris, a high school teacher. He's friendly, but may be a tad too involved in his student's lives.
19) Recently, Blake starred in the Lifetime holiday film, The Christmas Setup.
20) He's been married to longtime partner (and fellow actor) Ben Lewis for 5 years. They have a dog together too.
21) You may have seen him on the short-lived CBS comedy Fam, alongside Nina Dobrev.
Allius Barnes
Allius Barnes portrays Vince Fuller, one of Jeanette's closest friends.
22) Allius has guested on episodes of Sam & Cat, Melissa & Joey, Rosewood, and Chicago PD.
23) He was born and raised in Los Angeles, California. His parents are Jamaican, and he has two brothers, according to his Freeform bio.
24) When he's not working, he enjoys hanging out with family, traveling, and photography.
Harley Quinn Smith
Harley Quinn Smith portrays former BFF Mallory Higgins, who feels left out after Jeanette's popularity skyrockets.
25) If her name sounds or looks familiar, it's because yes, she was named after the Batman character, Harley Quinn.
26) Her father is actor and filmmaker Kevin Smith, who's a major DC fan, hence his daughter's name.
27) Harley had a small role in Quentin Tarantino's blockbuster hit Once Upon a Time in Hollywood, as well as the indie film Student Body. The latter is actually how/where she met her boyfriend Austin Zajur, who she's been dating since 2019.
28) She's close friends with Johnny Depp's daughter Lily Rose. The duo have also co-starred in many projects together.
Any other details to share?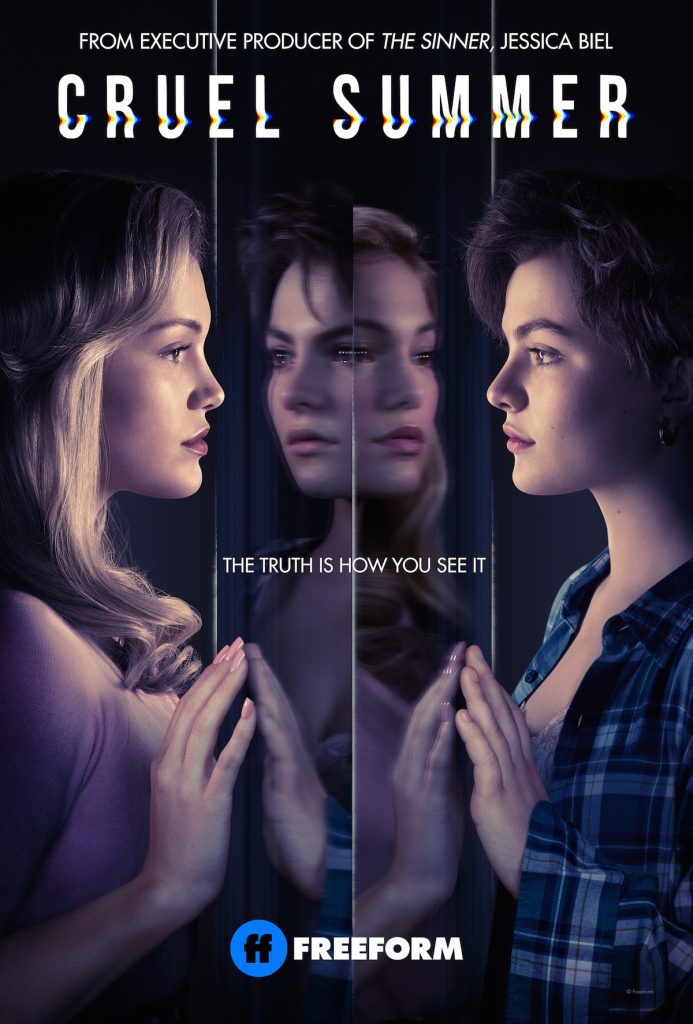 Set in the mid-90's, Cruel Summer follows each girl's life as their friends and family try to piece together what's right, and who's in the wrong. Or, who's doing the right thing by telling the truth and what went wrong that unfortunate night when everyone's life changed.
See, before Kate Wallis' disappearance, Jeanette Turner was a normal, yet somewhat of an outcast-type girl. With Kate gone, Jeanette seemingly takes her place and undergoes a complete transformation. Even Kate's boyfriend Jamie grows close to this new Jeanette.
But, what really happened to Kate? Did Jeanette have anything to do with it? As time goes on and the years tick by, viewers will see Jeanette go from nerd to Miss Popularity, only to morph into a nobody when everyone turns against her.
It's all about finding the truth, and more importantly: who to believe. Watch the trailer and see for yourself:
Catch the two-hour season premiere of Cruel Summer on Tuesday, April 20 at 9 PM ET, only on Freeform.
---
MORE TV CAST FACTS
40 Facts About Bravo's Summer House Cast
Meet the Cast of Netflix's The Circle Season 2
10 Facts About ABC's United We Fall Star Christina Vidal Mitchell
Kari Highman is a Beauty and Fashion Blogger at Feeling the Vibe Magazine. Otterbein Alum (2017) – English & Psychology. Always learning & creating. Avid fan of mid 2000's TV & pop music. Comments or tips, email kari@feelingthevibe.com