'Grand Hotel' only continues heating up week after week on ABC!
After an explosive episode last week, viewers are on the edge of their seats waiting to find out what's next for Javi, Ingrid, Danny, Mateo, and the gang at the Riviera Grand.
You've come to the right place. Feeling the Vibe has an advanced sneak peek of next week's episode entitled, "Love Thy Neighbor," airing on Monday, July 22nd.
A Quick Recap
In 'You've Got Blackmail' which aired on Monday July 15th, we all witnessed quite an awkward family dinner between Javi, his sister Alicia, parents Santiago, Gigi, and the maid turned mother of his child, Ingrid.
---
In case you haven't kept up with 'Grand Hotel,' (which you can do on Hulu) Javi isn't the real father of Ingrid's baby. When the hotel manager, Mateo (the real dad) didn't step up the way he should, Ingrid took matters into her own hands. She took full advantage of Javi's playboy ways, tricking him into thinking he is the dad-to-be.
When Javi's dad, Santiago requested Ingrid to take a paternity test during their family dinner, she made a scene and stormed off prompting Javi to run after her.
Sneak Peek for July 22nd – Are Javi and Ingrid a Couple?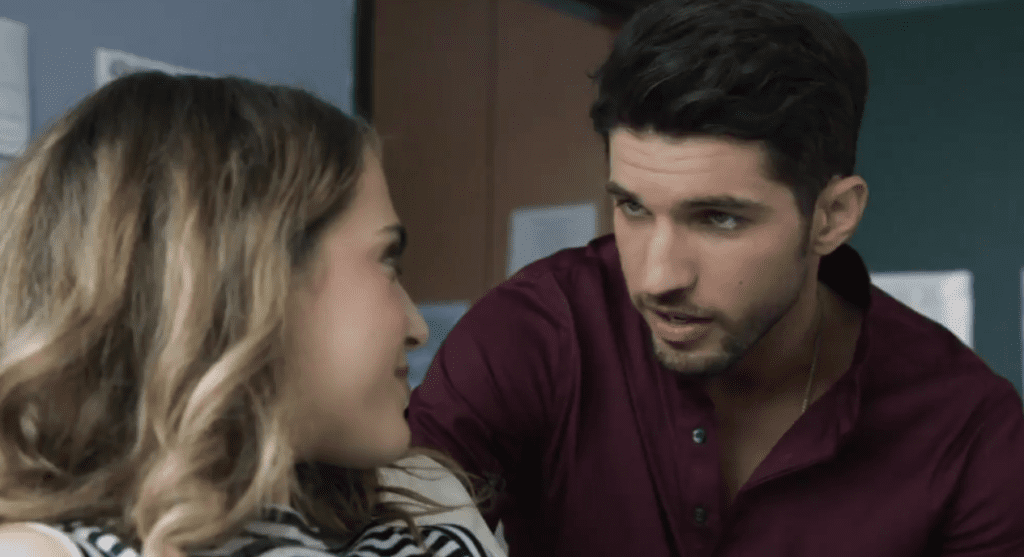 In "Love Thy Neighbor" airing on Monday, July 22nd – Ingrid is at her doctor's appointment. "Thank you Gigi for taking me here, this is way nicer than the clinic I've been going to," she says.
"Nothing but the best for my grandchild," Gigi replies.
As the nurse goes in to draw blood, Ingrid grimaces and exclaims "Is this over? I hate the sight of blood."
Javi holds her hand, reassuring her, "look into these baby blues, everything will be alright."
"What's going on here? Are you guys together now?" Gigi reacts to the sweet moment between the two.
Check out the video sneak peek below from Love Thy Neighbor: (Watch until the end to see what Gigi does..)
---
In other relationship news, Danny and Alicia's relationship is explored on the remaining 7 episodes. What about Danny's secret wife or girlfriend, Heather? Find out if we will get to see more of her not…
Check out photos from "Love Thy Neighbor" below:
"Grand Hotel" will air on Monday, July 22 at 10/9 c on ABC.
---
MORE ON GRAND HOTEL
Will We Get to See Danny's Girlfriend Heather in 'Grand Hotel?'
'Grand Hotel's' Anne Winters Beauty Routine: Skincare, Makeup, and Hair – Details Inside!
Danny Fights with Mateo in Brand New Spoiler from 'Grand Hotel.
10 Facts About Arielle Kebbel from Grand Hotel
Grand Hotel Spoiler: Danny Discovers New Info on His Sister, Sky Courtney Rose is an Entertainment Writer at Feeling the Vibe Magazine based in New York. Pop culture and rom-com obsessed. Studied Journalism and is up to date on all the latest entertainment news. For tips or comments, email me at Courtney@feelingthevibe.com