What's better than girl power? Nothing really, as far as Middle School Moguls creators (and sisters!) Gina and Jenae Heitkamp are concerned. The duo have turned their inspiring dolls into a 4 episode animated TV special, which will air on Nickelodeon in fall of 2019. Gina and Jenae will serve as executive producers on the project.
The series stars Olympic Gold Medalist Laurie Hernandez as Valeria; Knight Squad's Daniella Perkins as Winnie; School of Rock's Jade PettyJohn as Celeste; and Bella & The Bulldogs' Haley Tju as Yuna, who are four students determined to make their big business dreams a reality. Glee's Jane Lynch plays headmaster Victoria Steele, and Project Runway's Tim Gunn portrays Wren, a non-binary fashion teacher.
Keep reading below to find out about Middle School Moguls, empowerment, and what else we can expect from Gina and Jenae!
Gina Heitkamp, creator of 'Middle School Moguls.' Image Credit: Hope Diamond PR.

Jenae Heitkamp, creator of 'Middle School Moguls.' Image Credit: Hope Diamond PR.
---
EXCLUSIVE Q&A
How did the idea for Middle School Moguls come about?
Middle School Moguls actually started as a doll and book line. The idea for Middle School Moguls came when Jenae was working as a school counselor in inner-city Los Angeles and interacted with a lot of girls in every demographic. It was eye-opening to see what toys and media the girls were passionate about. When they liked something, they really liked something and they'd wear it on their clothes, backpacks, lunchboxes, etc. She saw that girls had this big connection to these characters.
Jenae decided that she wanted to make stories and toys with fun characters for young girls that we also inspirational. She pitched the idea to me while I was getting my MBA at University of California Irvine and was heavily involved in the world of entrepreneurship. We kind of had this light bulb moment. We had always loved making businesses together as kids. We decided that we could make fun, relatable characters who also inspired kids to become bosses.
We entered the idea into the UCI business plan competition and were the first female team in university history to win the grand- prize. With that money, we created the first Middle School Mogul doll. By 2016 the idea had blossomed into a book and doll line being sold in Target. With the success of the dolls, came an offer we couldn't refuse from Nickelodeon. We now pinch ourselves every day, seeing our vision turned into a cartoon that will have global reach.
We see you're all about empowering girls. Are there any plans for bringing the boys in as well?
Currently, we have a couple amazing and hilarious boy characters played by Ricardo Hurtado and Alex Wassabi. We'd love to explore these characters more in the future and add additional boy characters that help drive the story telling. Ultimately, the show takes place at a school for budding moguls so that really opens up the opportunity for introducing additional characters.
What would you say are three qualities young entrepreneurs should have?
We actually have four qualities that we think a young entrepreneur, or any entrepreneur, should have. These are grit, creativity and courage and compassion.
Entrepreneurship is like a roller coaster so one needs grit in order to have the resolve to persevere when things get a little scary. Creativity is what drives entrepreneurship, whether it is actually creating a business or invention, or using creativity to market and run the business. Courage is necessary to take the leap into being an entrepreneur and getting your message out to the masses. Finally, entrepreneurs need compassion. Compassion helps with leadership, team building and finding ways to change the world for the better. Each of the Middle School Moguls specials actually highlight one of these qualities.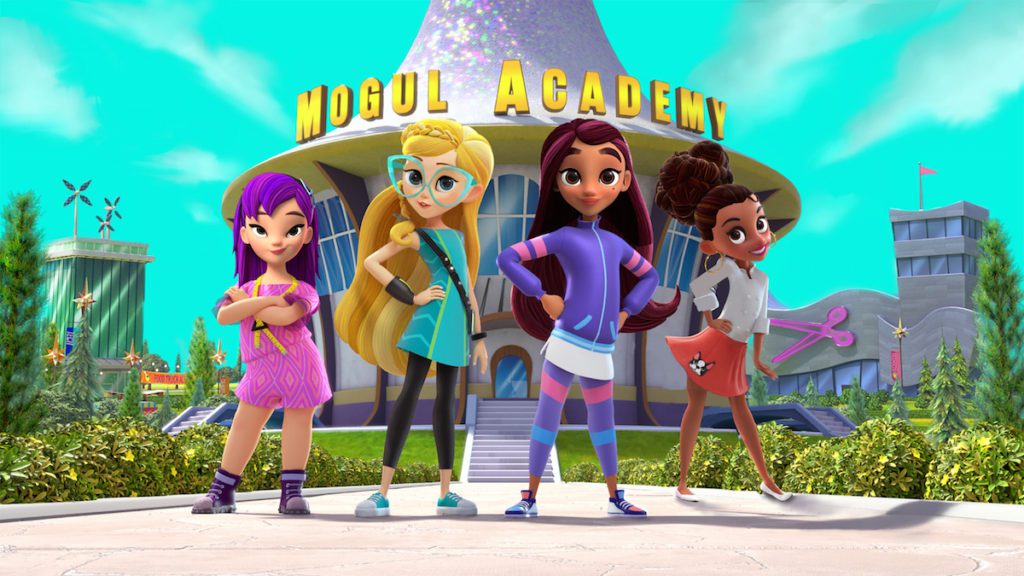 ---
What do you hope the audience takes away from the show Middle School Moguls?
We hope our viewers get a positive message about grit, perseverance and following your dreams. We'd love to have our characters connect with kids from across the globe and give them the confidence to start their own ventures.
Where can our readers find you on social media?
On socials they can be found at Instagram: @gengirlmedia, Facebook: @gengirlmediainc, LinkedIn: GengirlMedia, inc or at GenGirl Media.
---
Thank you so much to Gina and Jenae for chatting with us at Feeling the Vibe! We cannot wait to see Middle School Moguls when it airs on Nickelodeon this fall!
MORE EXCLUSIVES
What It Takes to Be a TV Reporter Featuring Rob Schmitt – Exclusive Q&A
The Side of Tyler Berta You Didn't Get to See on Paradise Hotel – Exclusive!
Exclusive Interview with Cosmo's Fuller House Dog Trainer
Exclusive Interview with Savannah Chrisley on Fiancée Nic, Growing Up Chrisley, and Getting Beach Body Ready
Kari Highman is a Beauty and Fashion Blogger at Feeling the Vibe Magazine. Otterbein Alum (2017) – English & Psychology. Always learning & creating. Avid fan of mid 2000's TV & pop music. Comments or tips, email kari@feelingthevibe.com