There's not a lot of holiday cheer going around on the latest Christmas-themed episode of Siesta Key. Since they filmed the second half of season 3 in the fall, of course MTV would cover any holiday parties the group had. This year's Christmas party was one to remember, unless you're Kelsey Owens, in which case, it's one to forget. See, Kelsey got into a major fight with her boyfriend, Garrett Miller, and we've got details about what went down on Tuesday's episode of Siesta Key. Keep reading to find out more!
Why did Kelsey & Garrett fight?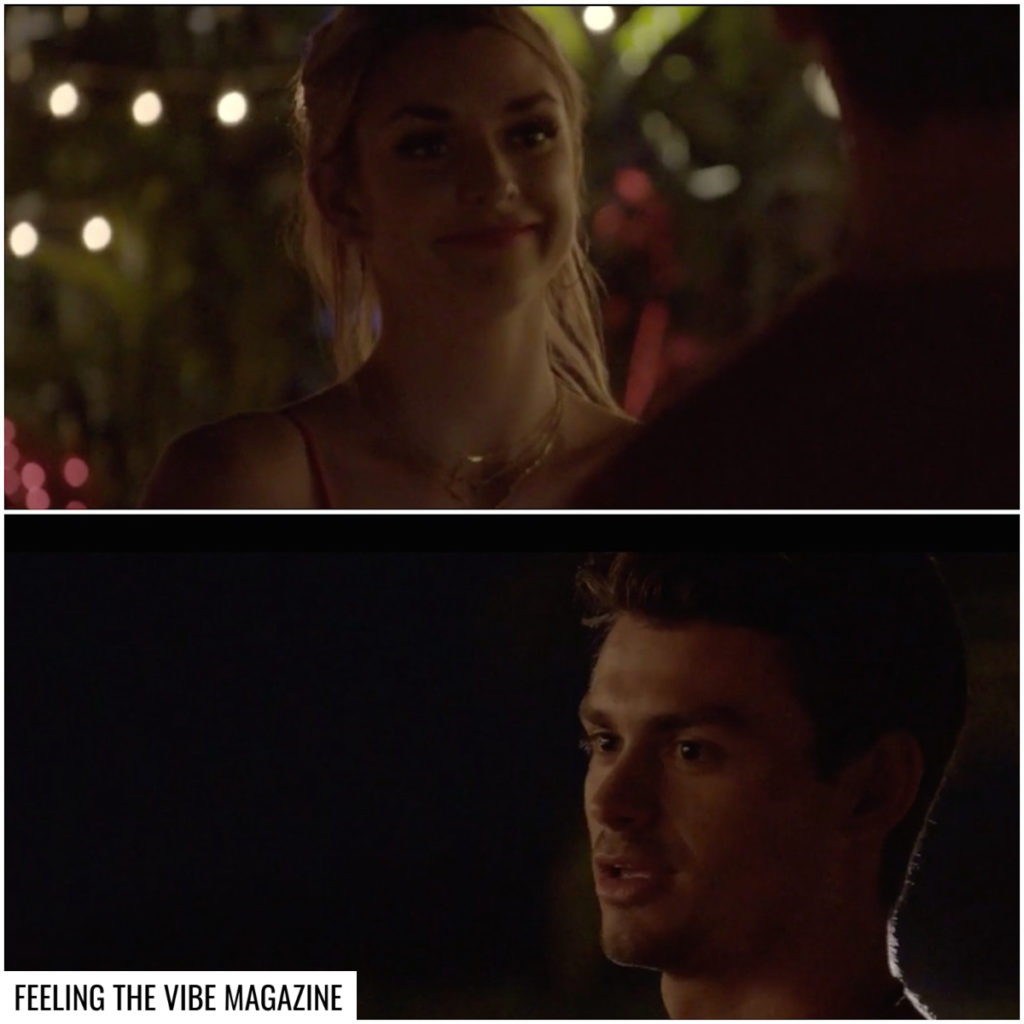 Kelsey and Garrett have been having some trust issues lately, especially when her ex, Jake Petersen came back into town. Couple that with the Halloween party debacle where Kelsey lashed out at one of Garrett's old clients he hooked up with, and it's a recipe for disaster.
That's how they got to the holiday party blowout. Garrett's been making Kelsey jump through an awful lot of hoops to regain his trust. She told him about seeing Jake on the yacht, so what more does he want?
It turned out, Kelsey wasn't the only one that kept something from her significant other. Garrett hid the fact that he was still training Carli aka: the girl from the Halloween party!
Yeah, mixing business with pleasure isn't a good look for Garrett, considering he hooked up with Carli and didn't tell Kelsey until that fateful Halloween night. Granted, Garrett and Carli hooked up before he and Kelsey began going out again, but still: it's the principle, at least in Kelsey's opinion.
Garrett had been distancing himself from her ever since Jake, and yet there he was keeping a secret of his "relationship" with Carli.
So, what does Carli have to do with Kelsey & Garrett's current relationship?
If you've had that question in the back of your mind, allow us to clear things up. Carli wouldn't have been a problem for Kelsey and Garrett's relationship if she hadn't: A) posted an Instagram photo with the caption: "After work drinks with the sexiest trainer" and B) already angered Kelsey at the Halloween party.
But, back to the Instagram photo. Carli posted a photo that showed her kissing Garrett's cheek, and that photo is what made Kelsey confront Garrett. It wasn't that the photo was old, no, that wasn't the issue; the issue was that Carli thought it was okay to post it knowing that Garrett has a girlfriend.
If you factor in that he also didn't tell Kelsey he was training Carli, then you can probably see why she's so upset. Even crazier? Carli still has the infamous Instagram photo up on her page! She's since changed the caption to feature a heart-eyes emoji, but she still left Garrett's IG username in it.
You can see the photo as it was on Siesta Key, and with the new caption, below:

Kelsey is obviously not happy, but does that really mean the end for she and Garrett? Tune in to Siesta Key Tuesdays at 8/7 c on MTV to find out where they stand.
---
MORE SIESTA KEY NEWS
Alex Warns Sam Logan to Stay Away from Juliette on Siesta Key
Kelsey Questions Her Relationship with Garrett After He Flirts with Another Girl on Siesta Key
Juliette Puts Together HAMEL Fashion Show on Siesta Key
Kari Highman is a Beauty and Fashion Blogger at Feeling the Vibe Magazine. Otterbein Alum (2017) – English & Psychology. Always learning & creating. Avid fan of mid 2000's TV & pop music. Comments or tips, email kari@feelingthevibe.com