Hallmark Channel is continuing its annual Countdown to Christmas event with an all-new holiday film, If I Only Had Christmas, starring Candace Cameron Bure and Warren Christie. If you need a feel-good movie, then this one is definitely worth checking out. Keep reading for more details, including the cast, the plot, and get a first look below.
If I Only Had Christmas Cast + Plot
If I Only Had Christmas stars Candace Cameron Bure who once again has a beautiful wardrobe and Warren Christie as Darcy and Glen, respectively. Darcy is a Kansas publicist who works alongside the VP of Emerald Educational Trust, Glen, and helps him plan a charity event. As they grow closer, a huge realization may prompt their newfound relationship to diminish before it even starts.
Fans of Full House and its sequel Fuller House will obviously know Candace Cameron Bure as DJ Tanner, the eldest of 3 sisters. She originated the role in 1987, and finished her run in 2020. Candace has also been with Hallmark Channel for years, portraying the titular character in the Aurora Teagarden series, as well as starring in many holiday films. She's even been dubbed "The Queen of Christmas!" Other credits include a stint on Dancing with the Stars and a hosting gig with The View.
Warren Christie was born in Ireland, but was raised in Canada, where he now resides with his wife. You may have seen him on the television series' October Road, Alphas, or True Justice. Warren's also had guest roles on series like Happy Town, Chicago Fire, and The Resident. His last main role was on the NBC series The Village, and Warren can now be seen in Batwoman portraying Bruce Wayne/Batman.
Full Cast List
Candace Cameron Bure (Darcy)
Warren Christie (Glen)
Jordana Largy (Jackie)
Brenda M. Crichlow (Winona)
Robert Markus (Cowan)

Lucia Walters (Bridget)
Frances Flanagan (Emma)
Serge Houde (Henry)
Matt Mazur (Zeke)
Neil Webb (Huck)
Steph Chin-Salvo (Jade)
Chelsea Gill (Clara)
Alison Araya (Miranda)
Lydia Campbell (Maggie)
Jaycie Dotin (Almira)
Christopher Gauthier (Bryan)
Craig Hass (Gary)
Kate Gajdosik (Reporter)
Did you know Candace Cameron Bure has her own Bible and devotional guide for sale? Get it from QVC by clicking the picture below!
Any other details?
Ahead of the premiere, Hallmark Channel has released a sneak peek preview of If I Only Had Christmas. You can check that out below:
Candace Cameron Bure also posted some behind the scenes shots on her Instagram, which you can see below:
Her co-star Warren Christie posted to his Instagram reminding his fans to check out the film this weekend. You can see his photo (which is also the movie's poster) below:
Like Warren's Instagram says, you can catch the premiere of If I Only Had Christmas on Sunday, Nov. 29 at 8/7c, only on Hallmark Channel.
---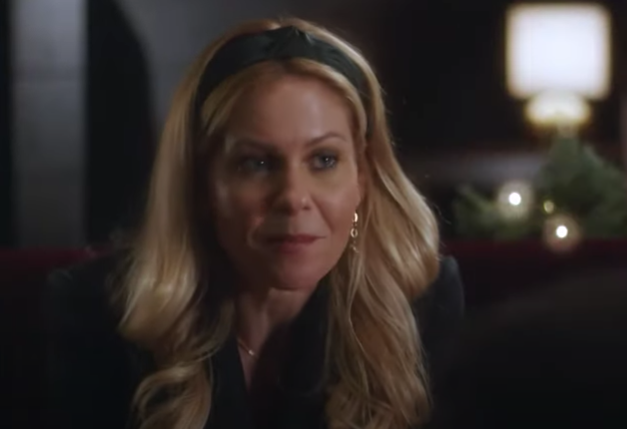 MORE HALLMARK CHANNEL NEWS
Candace Cameron Bure's Green Coat in Hallmark's 7 Night Thanksgiving Movie Event is Custom Made
Christmas by Starlight: Cast, Preview, Photos, & More on the 2020 Hallmark Holiday Movie
Good Morning Christmas: Details on the Cast, See Photos and a Preview of the 2020 Hallmark Film
Kari Highman is a Beauty and Fashion Blogger at Feeling the Vibe Magazine. Otterbein Alum (2017) – English & Psychology. Always learning & creating. Avid fan of mid 2000's TV & pop music. Comments or tips, email kari@feelingthevibe.com