Hallmark Channel continues its Countdown to Christmas event with another original holiday film. This weekend, it's the premiere of the all-new movie, If I Only Had Christmas, starring Candace Cameron Bure and Warren Christie. Aside from the heartwarming story that Hallmark fans love, there's tons of festive fashions to see too.
Feeling the Vibe spoke with Tina Fiorda, the fashion designer responsible for creating these fresh winter looks. Keep reading below to find out how you can get the looks – exact matches or super similar pieces – for yourself!
BUNDLED UP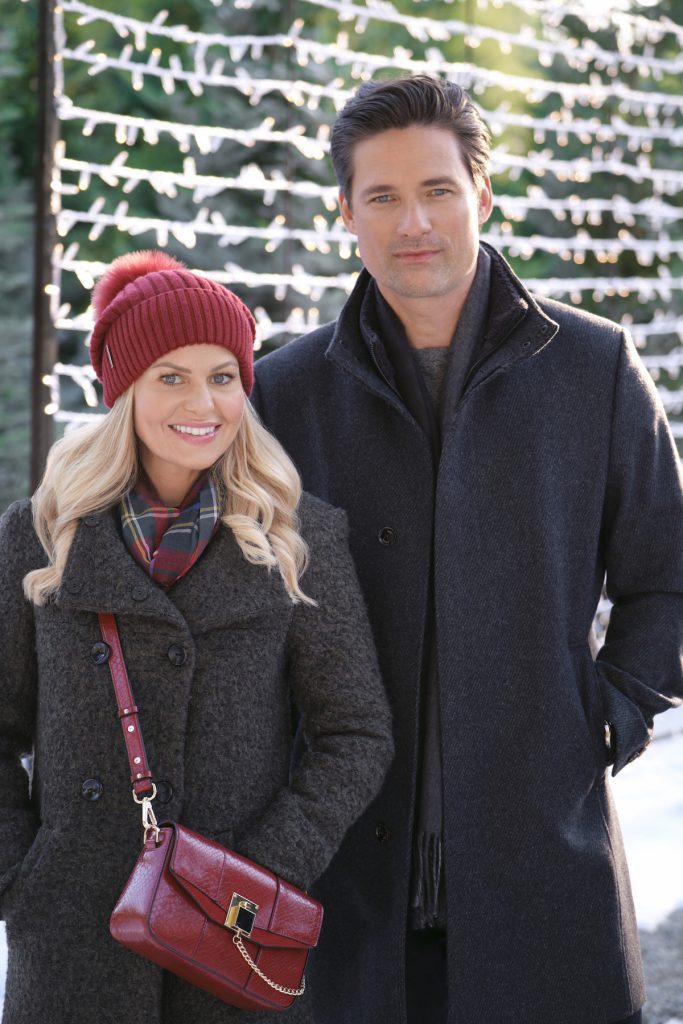 Candace Cameron Bure and Warren Christie are both bundled in winter coats, along with scarves. In Candace's case, she accessorized with a red beanie and matching purse too. To copy Candace's look, try these coats from Macy's or Nordstrom Rack. For her scarf, try these picks from Amazon or LL Bean. Add Candace's exact red beanie from Amazon and grab a similar bag from Nordstrom Rack, and you've covered Candace's look.
For Warren's, his coat appears to be charcoal gray. He is wearing the Ted Baker Wool Funnel Neck Coat. To get both, try these gray and navy options from Macy's. For his scarf, pick up either one of these options from Men's Wearhouse or JoS A. BANK.
WINTER BLUES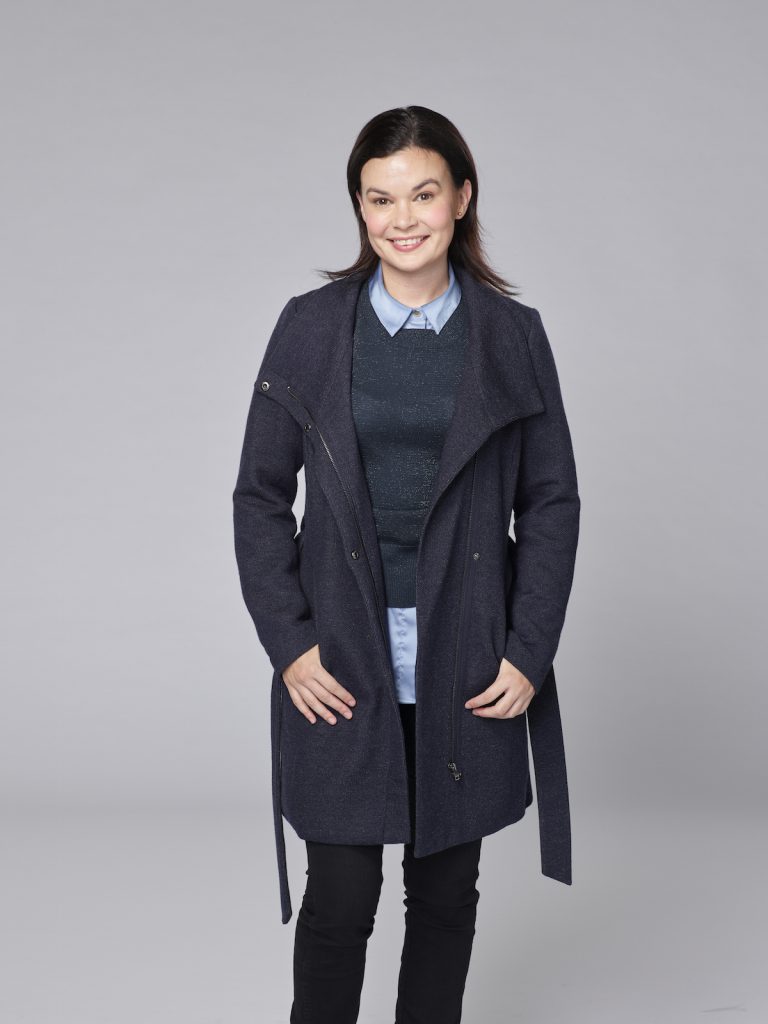 Jordana Largy wears a vivid array of blues in her ensemble, including a pale blue shirt, dark blue sweater, and navy coat. Get an almost-exact match to her satin shirt with this piece from Dillard's. Get a similar match to her shimmery sweater with this option from FatFace. For her coat, try this one from Nordstrom Rack.
WINTERGREEN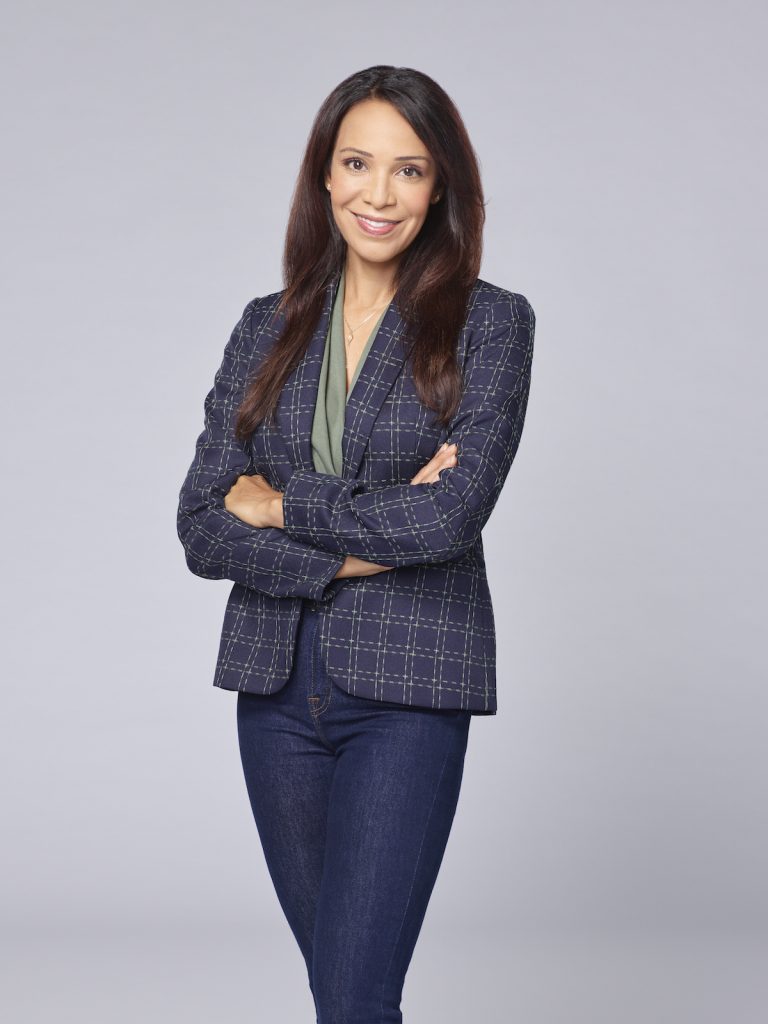 Brenda M. Crichlow wears a fun patterned blazer overtop a jade scarf, along with some dark wash jeans. The blazer is from Tommy Hilfiger. However, it appears to be sold out. Get a similar blazer from Macys or Saks 5th Avenue, scarf from Gobi, and a pair of jeans from Old Navy.
RUBY RED & BLACK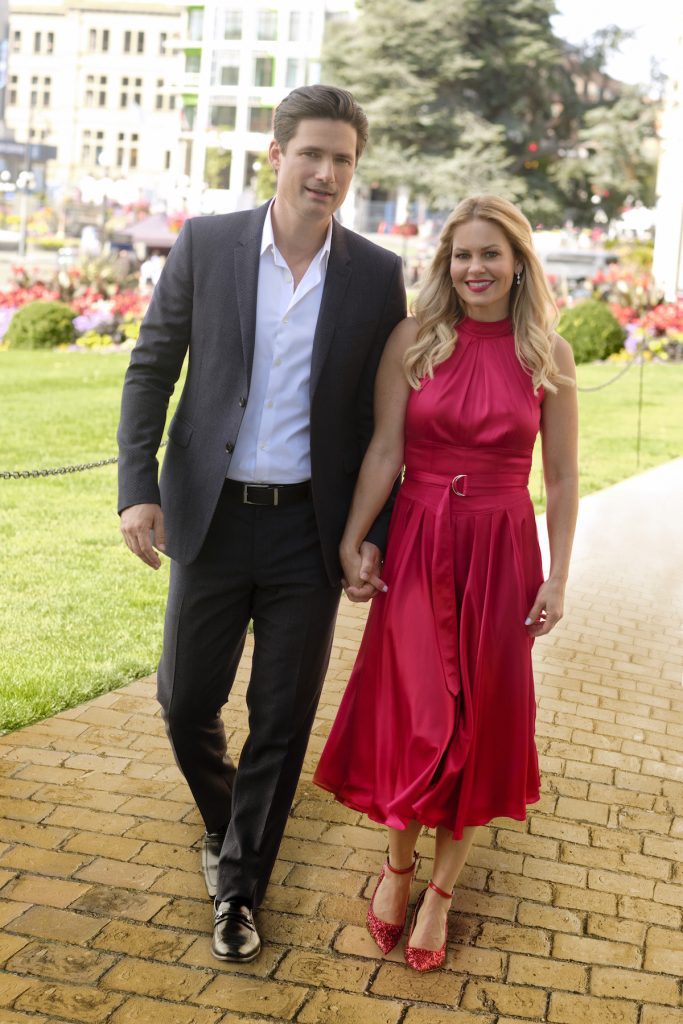 Candace wears not one but two different red dresses in the film. This first one is a tank top style with a halter neckline. This dress from Nordstrom gets you a close match. For her glittery heels, try this pair from Amazon. Next to her is Warren, who is wearing a classic two-button black suit. To get his look, try this suit jacket and pant from Macy's or this option from Banana Republic.
GREEN & BEIGE MIX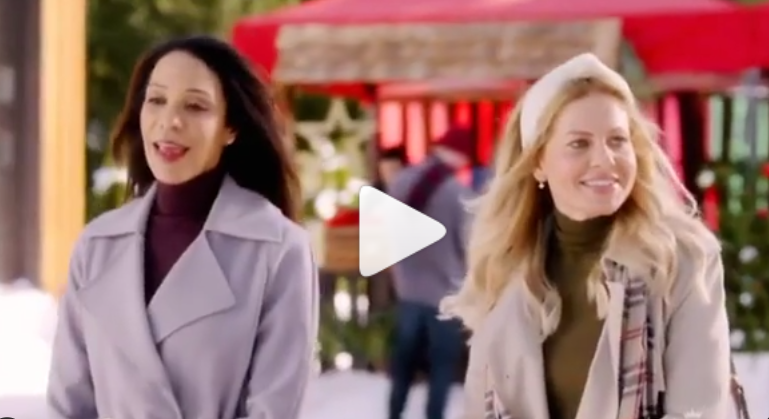 Candace is seen in this beautiful taupe coat, soft green turtleneck and a cute headband to top off her winter look. You can copy her look with this Saks Fifth Avenue Green Cashmere Turtleneck from Saks Fifth Avenue. She is a big fan of Lele Sadoughi headbands. You can get her look with the Lele Sadoughi Velvet Knot Headband or the Lele Sadoughi Shimmer Knot Headband. Candace is wearing a trench coat by London Fog. Get a similar style to Candace's coat with the Ted Baker Wool Wrap Coat (she wore in previous Hallmark movies).
MERRY MEN'S FASHION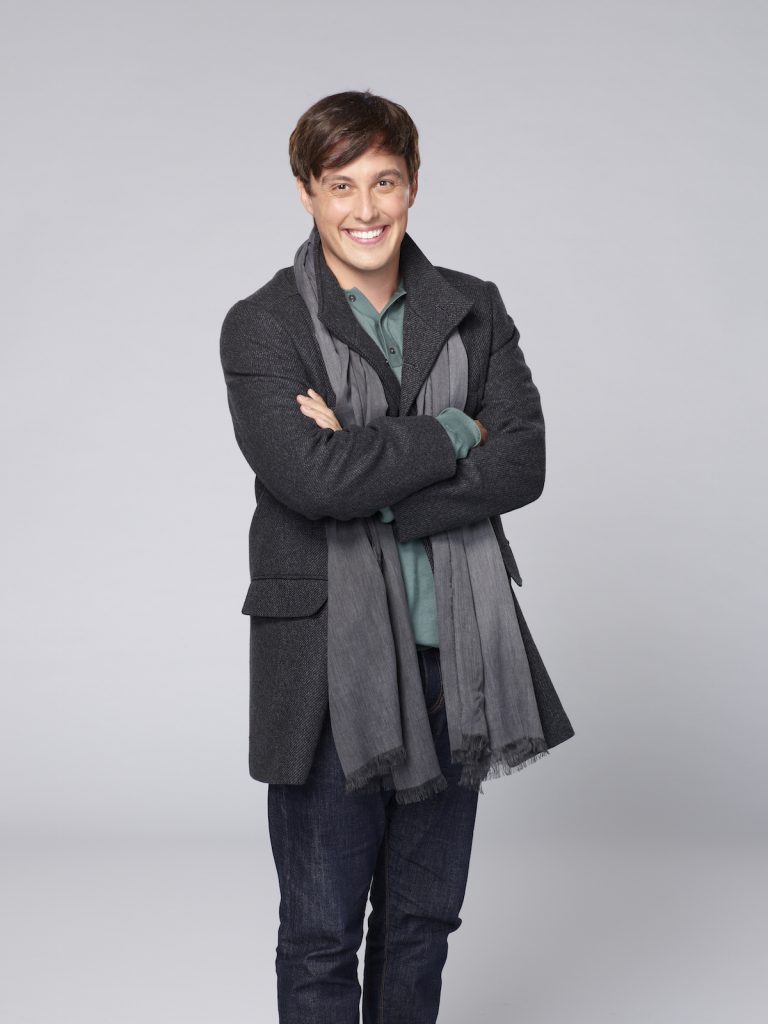 Robert Markus wears a jade green henley style shirt alongside a pair of dark wash jeans. Overtop is a gray fringed scarf and matching coat. Get a similar shirt from Buckman's or Amazon; jeans from Levi's; an almost exact scarf from Pistil; a coat from either Banana Republic or Nordstrom completes the look.
THE TRENCHES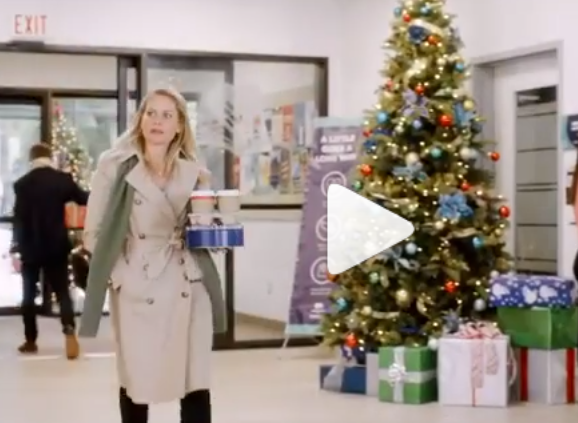 Candace wears this knee length trenchcoat paired with an olive green scarf. You can copy her look with this beautiful trench coat from Amazon and this soft cashmere olive green scarf from Theloft.com.
HOLIDAY RED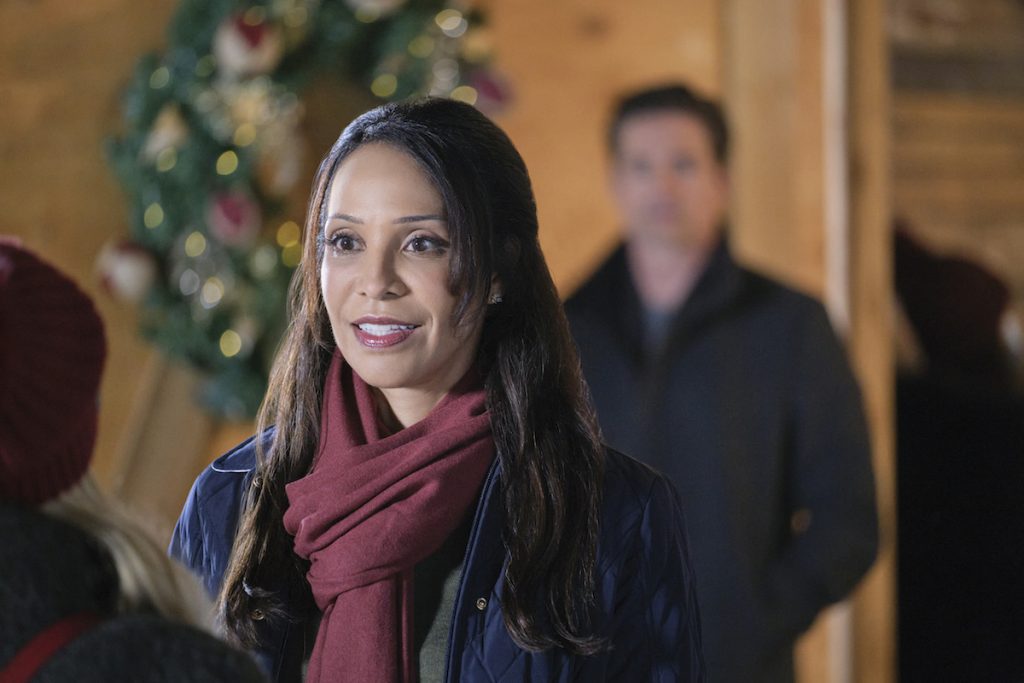 Brenda wears a pretty burgundy scarf along with a navy blue quilted coat. To copy her look, try either of these scarves from Amazon or Dalle Piane. Grab a coat from JCPenney to complete the look.
BELLE OF THE BALL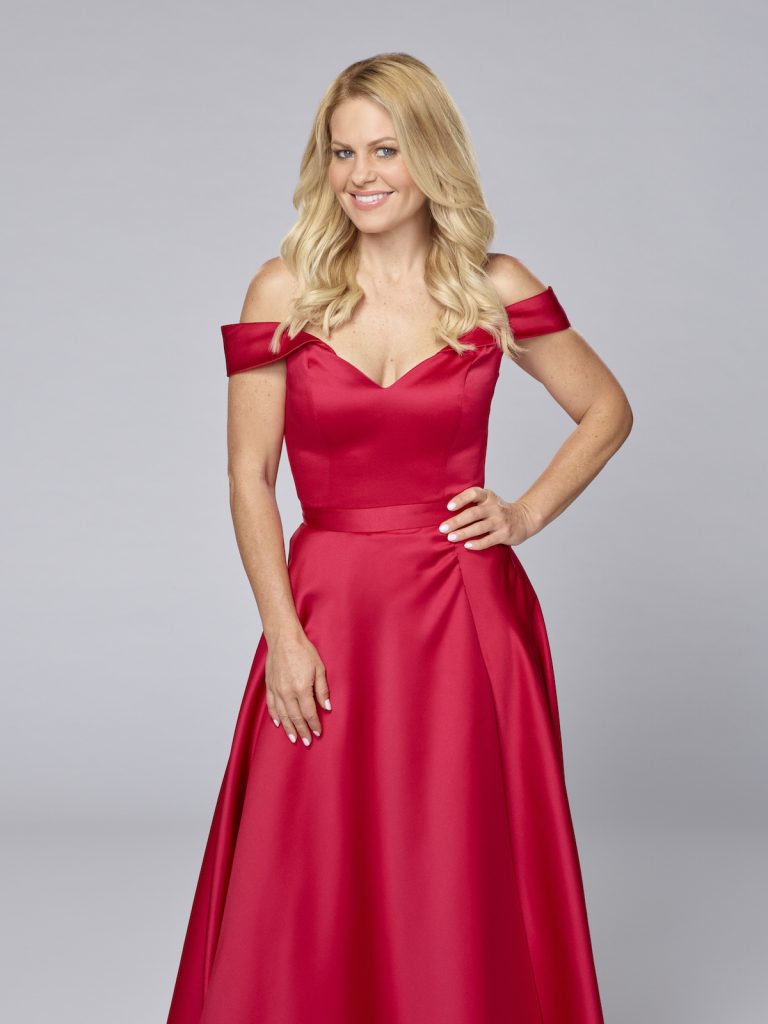 Candace's second dress is equally as stunning as the first; this one is an off-the-shoulder gown. She is wearing the XCAPE Off the Shoulder Gown. The closest match is this red gown from Neiman Marcus, but David's Bridal also has one that's a bit more affordable. Either option will make you feel glamorous!
Did you know Candace Cameron Bure has her own Bible and devotional guide for sale? You can get it at QVC.com – great gift ideas! Click the picture below.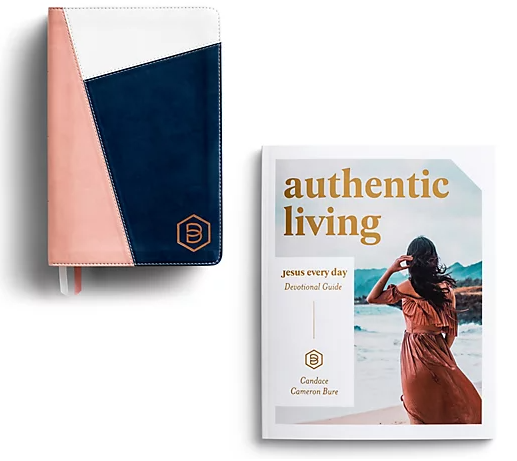 DUSTY PINK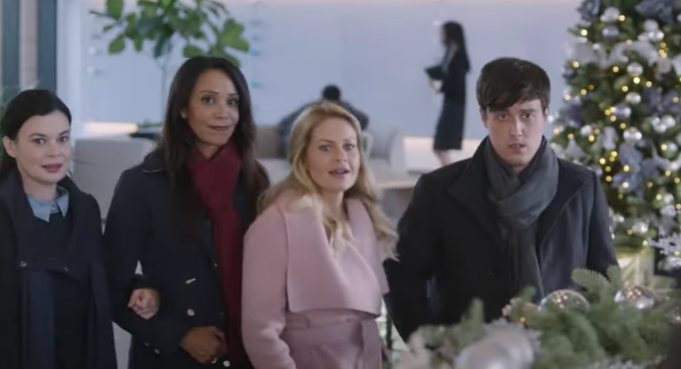 Candace is sporting this beautiful dusty pink belted wrap coat in If I Only Had Christmas. It's the Cole Haan Slick Wool Blend Wrap Coat. It's available on Macys.com and Amazon.com.
SPARKLY RED HEELS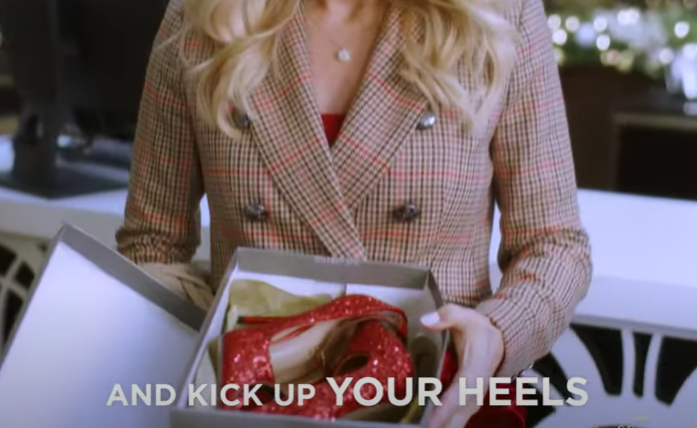 Candace wears these sparkly red Dorothy-like shoes in her newest Christmas movie. The ones seen on Candace are the BigTree Glitter Pumps from Amazon.com. You can also get a similar pair to get your Wizard of Oz vibe going! They are available at Amazon.com.
FANCY HAIR PIECE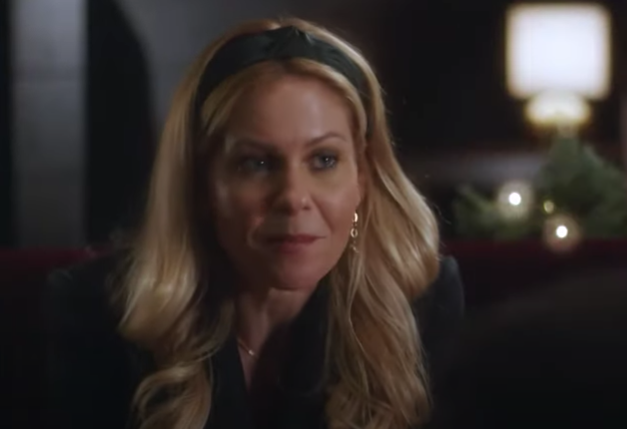 Candace dresses up her outfit with this pretty headband from one of her favorite designers, Lele Sadoughi. You can get the Black Faux Leather Headband, available on Amazon.com.
To see these styles on the small screen, but sure to catch the premiere of If I Only Had Christmas, with Candace Cameron Bure and Warren Christie, airing Sunday, Nov. 29 at 8/7 c, only on Hallmark Channel.
---
MORE HALLMARK CHANNEL NEWS
If I Only Had Christmas Starring Candace Cameron Bure: Cast, Plot, Preview, and More
Candace Cameron Bure's Green Coat in Hallmark's 7 Night Thanksgiving Movie Event is Custom Made
A Christmas Tree Grows in Colorado: Cast, Preview, Photos, & More on the 2020 Hallmark Movie
Kari Highman is a Beauty and Fashion Blogger at Feeling the Vibe Magazine. Otterbein Alum (2017) – English & Psychology. Always learning & creating. Avid fan of mid 2000's TV & pop music. Comments or tips, email kari@feelingthevibe.com