Five Star Christmas is next up during Hallmark Channel's Countdown to Christmas movie event. The movie stars Bethany Joy Lenz and Victor Webster. Get more details below on the original film, including who's who in the cast, what it's about, when it will air, and even see a promo video.
Five Star Christmas Plot + Cast
Five Star Christmas follows Lucy Ralston and her siblings as they learn their father converted the family home to a Bed & Breakfast. To their surprise and shock, travel critic, Bea Turner decides to check in to the B&B. The whole family pretends to be guests at the struggling inn to make it look more successful in front of Bea.
Jake (Webster) is another guest of the Inn where sparks fly between he and Lucy. As the two get closer, Lucy is burdened with this feeling of deceiving him, but it may turn out that Jake is holding a secret of his very own as well.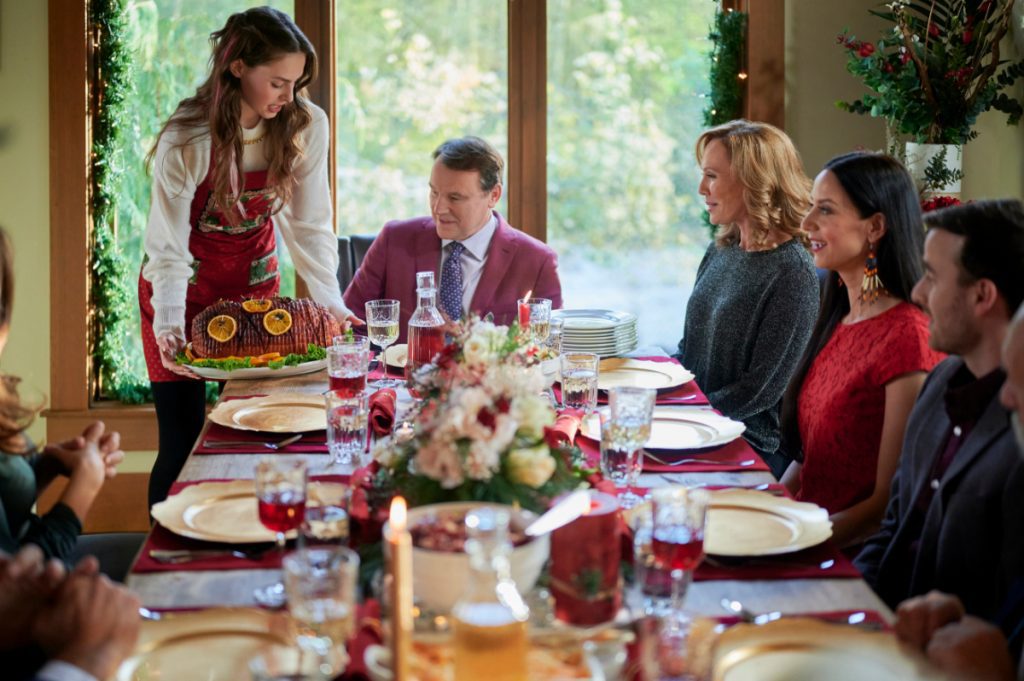 See Full Cast
Bethany Joy Lenz (Lucy Ralston)
Victor Webster (Jake)
Robert Wisden (Ted)
Laura Soltis (Beth)
Jay Brazeau (Walter Ralston)
Grace Beedie (Amber Ralston)
Blair Penner (Will Ralston)
Barbara Patrick (Suzanne Ralston)
Paula Shaw (Margo)
Sarah Edmondson (Annie Ralston)
Tom Pickett (Mr. Donahue)
Any other details?
Bethany Joy Lenz, who stars in the film announced her newest project on Instagram today, encouraging her over 1.3 million followers to watch. "TONIGHT at 8/7c on @hallmarkchannel!! #FiveStarChristmas for the whole family! (Led in by my friend Erin Cahill's #ATimelessChristmas!) Please join us for this one," she said.
Peppermint Pop Quiz!
Bethany and her co-star Victor Webster teamed up for a quite Peppermint Pop Quiz. "What is your favorite thing about Christmas," Victor asked Bethany. "I like that everything is sparkly and people are generally happy," she replied. Check out the full Pop Quiz below.
Hallmark Channel released a trailer for their next original movie, Five Star Christmas, which will be premiering on Friday, December 27th. Check it out below!
See Photos from 'Five Star Christmas' on the Hallmark Channel
Catch the premiere of Five Star Christmas on Friday, Nov. 27 at 8/7 c, only on Hallmark Channel.
MORE HALLMARK CHANNEL NEWS
Top 10 Perfect Winter Coats from Hallmark Channel Holiday Movies!
'Heart of the Holidays': Cast, Preview, & More on the New 2020 Hallmark Movie
Candace Cameron Bure's Green Coat in Hallmark's 7 Night Thanksgiving Movie Event is Custom Made Courtney Rose is an Entertainment Writer at Feeling the Vibe Magazine based in New York. Pop culture and rom-com obsessed. Studied Journalism and is up to date on all the latest entertainment news. For tips or comments, email me at Courtney@feelingthevibe.com