Before high school drama shows like Euphoria or Pretty Little Liars, there was Canadian teen drama series Degrassi. The franchise, which began in the late 70s with The Kids of Degrassi Street, eventually put stars like Aubrey Graham (aka: Drake) and The Vampire Diaries Nina Dobrev on the map. Now, it's getting the revival treatment on HBO Max. Keep reading below for everything we know so far about the reboot series, including the plot, release date, social media reactions from the OG cast, and more.
---
What's the new Degrassi series about?
The official announcement from HBO did include a premise. "A reprise of the original teen drama, Degrassi is a character-driven series about the high school experience and the thrilling, often painful journey of self-discovery. Set in Toronto, the new series explores a group of teenagers and school faculty living in the shadow of events that both bind them together and tear them apart. The show travels deep into the hearts and homes of diverse, complicated characters, as they struggle to find their new normal, reaching for hope, redemption and love."
The revival series will simply be titled Degrassi, and will be produced by WildBrain Studios. At the helm are showrunners Lara Azzopardi and Julia Cohen, whose resumes include The Bold Type and Riverdale, respectively. The duo will also serve as executive producers.
---
Any cast announcements?
While there haven't been any official casting announcements yet, filming is set to begin in Toronto during summer 2022. Some of the original cast members expressed their excitement over the reboot news, including Degrassi: The Next Generation stars Miriam McDonald, Lauren Collins, Mike Lobel, and Raymond Ablack. They portrayed Emma Nelson, Paige Michalchuk, Jay Hogart, and Sav Bhandari in the long-running series.
McDonald and Ablack commented their congrats via Instagram on the show's official page. Miriam wrote: "Incredible news! 🙌👏🙌👏" and Raymond wrote a reference to his Degrassi: TNG band: "Studz rules! This is awesome." Meanwhile, their co-stars Lauren and Mike took to Twitter to share their feelings.
Collins tweeted: "If any streamers are interested in the pilot I wrote about this exact moment in my life, it's available!!"
If any streamers are interested in the pilot I wrote about this exact moment in my life, it's available!! 🤪🤪🤪 https://t.co/WMa75Gsujd

— Lauren Collins (@Lauren_Collins) January 13, 2022
Lobel's tweet sounded a lot like fans all over the world: "Whaaat!? I'm here for this."
Whaaat!? I'm here for this. https://t.co/fvp6EbFRXZ

— Mike Lobel (@MikeRyanLobel) January 13, 2022
Also tweeting her excitement was Ana Golja, who played Zoe Rivas in Netflix's Degrassi: Next Class. She even came up with a way to reintroduce Zoe to the world: "Soooo….Zoe Rivas is going to be the Drama class TA? The new students def want a cute teacher that greets them with 'Bonjour Bitches.'"
Soooo….Zoe Rivas is going to be the Drama class TA? 😇 The new students def want a cute teacher that greets them with "Bonjour Bitches". 💁🏻‍♀️ https://t.co/iQlgO9emYb

— Ana Golja (@TheAnaGolja) January 13, 2022
It's also worth noting that a day later, Ana quote tweeted an article that read: "Are the OGs returning?" with the shifting eyes emoji. So, you can definitely count her in whenever casting calls do come around!
January 14, 2022
If the series followed in the footsteps of previous generations, then technically, it would be Emma's turn to have kids of her own that would be going into school by now. For those that aren't familiar, Degrassi: The Next Generation actually stemmed from the original 80s/90s series Degrassi Junior High and Degrassi High, when Spike got pregnant and had her baby, a daughter named Emma. By 2001, Emma was canonically old enough to begin middle school, which set up the premise for a "whole new generation" of kids.
All in all, the Degrassi franchise has been on the air for 6 consecutive decades: 70s, 80s, 90s, 2000s, 2010s, and now, with the new reboot, 2020s. In its 40+ years, there have been 6 series, over 500 episodes, and 4 TV movies. It's won 2 International Emmy Awards, 2 Teen Choice Awards and a Peabody. The Gemini Awards in Canada, analogous with the US' Emmy Awards, awarded the Canadian franchise 28 out of 38 nominations.
When the newest iteration of Degrassi premieres on HBO, apparently sometime in 2023, it'll mark the *SIXTH* consecutive decade of Degrassi on the air. 70s, 80s, 90s, 2000s, 2010s, and now 2020s.

Don't tell me there's a more iconic teen TV show franchise. Because there isn't.

— James Alexander👨🏾‍💻 (@ScriptsByJames) January 14, 2022
HBO's announcement provided insight as to how much of an impact the series has had, saying: "Degrassi has been a rite of passage for teenagers everywhere, providing a mirror into their passions, struggles and triumphs as they navigate the road to selfhood. Always at the vanguard of inspiration, education and entertainment, Degrassi is one of the most iconic brands in youth culture, unafraid to tackle even the most challenging stories. No issue has been too controversial or too real for Degrassi to explore, often breaking new ground on such subjects as teen pregnancy, racism, AIDS, eating disorders, child abuse, learning disabilities, gender identity, violence and more."
It's "not afraid to go there" mentality really helped kids and teens of all generations see themselves in the characters. That theme made the series relatable, and timeless as this news of a reboot has proven: there's always room for more of the thought-provoking and innovative Degrassi.
---
Any other details to know?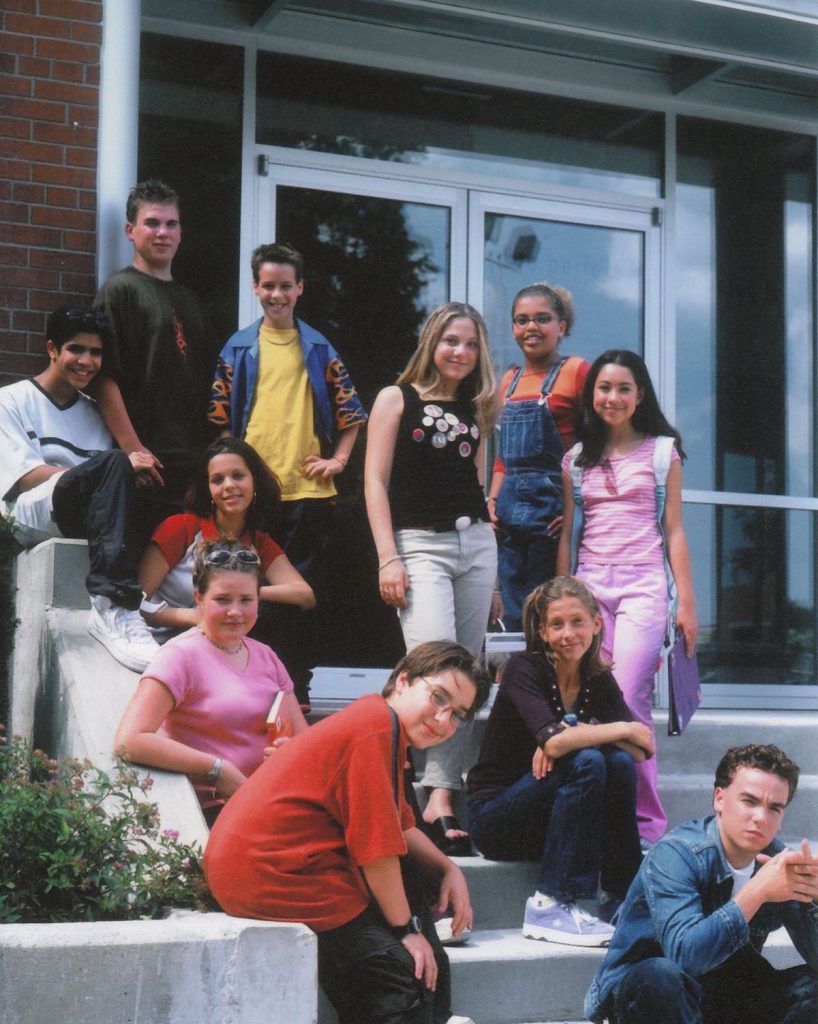 The new Degrassi reboot will have "10 hour-long episodes and is expected to launch in the US exclusively on HBO Max in 2023. Additionally, HBO Max has picked up the U.S. rights for the entire 14-season library of the franchise's longest running and most popular installment, Degrassi: The Next Generation which will become available on the platform this spring," the press release read.
The original show covered tons of groundbreaking topics, but since this new installment is greenlit at Warner Media Kids & Family, there may be more of a family-friendly tone. But, given the popularity of teen dramas like Euphoria on HBO Max, it's also possible that they will push the envelope a bit to stand by that signature Degrassi style.
In the meantime, be sure you're following the official Degrassi Instagram and Twitter accounts to keep with any other show announcements. For now, the original series', including Degrassi Junior High, Degrassi High, and Degrassi: The Next Generation can be viewed on their official YouTube Channel, or on IMDB TV.
---
RELATED ENTERTAINMENT NEWS
'Too Hot to Handle' Season 3 on Netflix – Cast, Trailer, Photos & Everything Else to Know
Everything to Know About E!'s 'Relatively Famous: Ranch Rules'
Everything You Need to Know Joe Millionaire: For Richer or Poorer on FOX
If you purchase an independently reviewed product or service through a link on our website, Feeling the Vibe may receive an affiliate commission.
Kari Highman is a Beauty and Fashion Blogger at Feeling the Vibe Magazine. Otterbein Alum (2017) – English & Psychology. Always learning & creating. Avid fan of mid 2000's TV & pop music. Comments or tips, email [email protected]