Netflix's Too Hot to Handle is back with an all-new season 3. This time around, it's double the prize money…and double the temptation as a new batch of singles attempt to obey the island's no intimacy rule. Find out what you can expect from season 3, plus meet the 10 new cast members, watch the trailer, get the premiere date, and see some photos below.
---
What can fans expect from Too Hot to Handle season 3?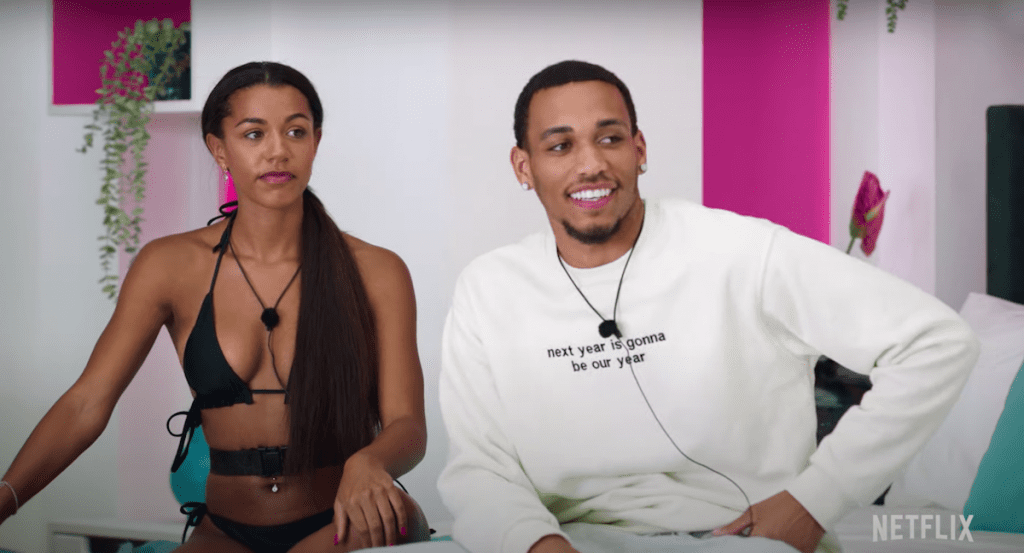 In season 3 of Netflix's Too Hot to Handle, this new group is "the wildest ever batch of singles." The official trailer asks the question: can they be tamed? Or, will contestants keep breaking the rules as things heat up? Season 3 was actually filmed right after season 2 wrapped (both were filmed in Turks & Caicos), so fans have been excitedly awaiting its premiere.
Upping the stakes even further this season is the doubling of the prize money. Instead of $100,000 like seasons 1 and 2 had, season 3 will have $200,000. That's a lot of incentive…unless the cast can't keep to themselves, then it's a lot of money going to waste. Only time will tell. But in the meantime, check out the season 3 trailer to see what chaos the cast gets up to this time around:
Meet the Cast of Too Hot to Handle Season 3
View this post on Instagram

Beaux Raymond is from the London, UK, and works as a legal secretary. The blonde beauty loves fashion, being in the sun, and speaking her mind. She has no filter and is looking for a guy that has the personality to go with his good looks. She told the show: "I'm not romantic at all, I'm happy with a date at KFC to be fair." Follow her @_beauxraymond_.

Harry Johnson is from Middlesbrough, England, and is a tree surgeon. As he says in his intro video, he "chops wood for a living." He's been told he looks like Tarzan and Harry Styles, but the spontaneous guy doesn't take life too seriously. "That's the way to be, laugh your way through life," he told cameras. Follow him @harryjohnson92.

Georgia Hassarati is from Queensland, Australia, and is the quintessential Aussie girl – she loves the sun and surfing. Once ready to settle down, she now doesn't want to be tied down, and loves the freedom that comes with doing whatever she wants. She likes guys that are confident and can make her laugh. Other favorites of hers include: pickles, plants and piñatas. Follow her @georgiahassarati.

Nathan Soan hails from Cape Town, South Africa. The self-proclaimed "picky boy," is not shy about letting ladies know what being with him would be like. It's "like spending a night in Paris," he revealed in his introduction video. Nathan's been a model since he was 19, and he's a little cheeky, but a "very, very nice guy." He's also a party boy, but an "international lover" who wants to check more countries off his list in the future. Follow him @nathsoan.

Holly Scarfone is from Colorado, and likes to call the shots. She's excited to have fun on the show, telling cameras she's "a little bit of a wild child." Holly also loves a good accent; they kind of make her heart melt. She doesn't like feeling tied-down, so she wants to be with "an open minded guy, for sure." Follow her @hollyscarfone.

Patrick Mullen is from Honolulu, Hawaii, and is a model and actor. Aside from his profession, he's talented in music and athletics too. He plays four instruments, including guitar, and lettered in five different sports in high school. Patrick's always down for a good time, throwing epic parties, and is a really good bartender, so he's got the hookup. Is there anything he can't do? Follow him @thepatmullen.

Izzy Fairthorne is from Cheltenham, UK and works as a personal trainer. Get this: she's also a hockey player! Izzy's dated a lot of guys, but never had a boyfriend because "the right one hasn't come" along. She's been called a player and a heartbreaker, and certainly lives up to the names, since she likes giving boys a taste of their own medicine. Follow her @izfairr.

Stevan Ditter is from Los Angeles, California and works as a model and DJ. DJs get a lot of girls, and Stevan's gotten his fair share since he's frequented the music scene. But, he's not one to be tied down. He loves a British accent, and dislikes "the good girls." For him, it's all about fun, and he's not a fan of any rules. Follow him @stevanditter.

Jazlyn Holloway is from Virginia Beach and loves a good bad boy. Describing herself as a "super fun party girl" she says her friends would say she's funny, maybe a little bossy, or bratty. But, they love her, and she loves making connections with people. Jazlyn's big on energy, and has a bubbly personality that draws people in. Follow her @jazkills.

Truth Christian is from Texas and loves "basketball, [his] family, and women." Basketball was his first true love, and he's still in love with it to this day – if he could marry basketball, he would! He's not ready to settle down, and before you ask: no, Truth is not his real name (that would be Robert), but it's what he goes by. Follow him @truthsworld.

When does Too Hot to Handle season 3 premiere?

Photo Credit: YouTube.

Season 3 of Too Hot to Handle is available for streaming beginning Wednesday, January 19 only on Netflix.

---

MORE TOO HOT TO HANDLE NEWS

'Too Hot to Handle' Season 2: 5 Fun Facts You Need to Know

5 Facts About Harry Jowsey from 'Too Hot to Handle'

Too Hot to Handle's Francesca Farago & Harry Jowsey Break Up – Video Inside!

Kari Highman is a Beauty and Fashion Blogger at Feeling the Vibe Magazine. Otterbein Alum (2017) – English & Psychology. Always learning & creating. Avid fan of mid 2000's TV & pop music. Comments or tips, email kari@feelingthevibe.com