Christmas in Evergreen: Bells are Ringing is next up during the 2020 Hallmark Channel Countdown to Christmas movie event. This one stars Holly Robinson Peete, Rukiya Bernard, and Antonio Cayonne. Get more details below on the Hallmark Channel original film, including who's who in the cast, what it's all about, when it will air, and even see a sneak peek video!
Christmas in Evergreen Plot + Cast
Christmas in Evergreen is returning to the beloved town for the fourth installment. This time wedding preparations are in motion for Mayor Michelle (Peete) and her fiance Thomas (Lawrence). There is a lot on Michelle's plate. Thomas is out of town on the job and is unable to be present for the wedding preparations – only can from afar.
That's when Michelle decides to hire her friend and sister-in-law-to-be, Hannah (Bernard) to manage Evergreen's upcoming launch of Christmas Museum. Hannah is thrilled to take on the responsibility but the project isn't without its challenges. When things don't go all as planned, Evergreen really comes together and is there for each other at Christmas.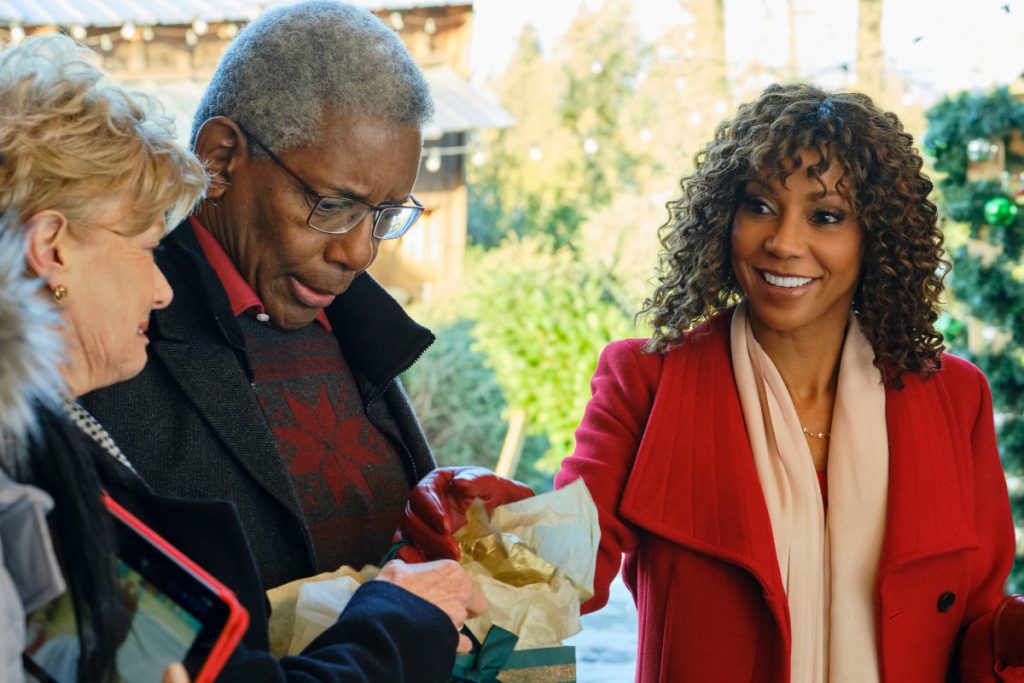 The Full Cast
Holly Robinson Peete (Michelle)
Rukiya Bernard (Hannah)
Antonio Cayonne (Elliot Lee)
Barbara Niven (Carol)
Marci T. House (Sonya)
Malcolm Stewart (Joe)
Marlon Kazadi (David)
Chris Cope (Ezra)
Jacqueline Robbins (Josie)
Joyce Robbins (Jenny)

Keith Martin Gordey (Nick)
Jerry Wasserman (Jeb)
Colin Lawrence (Thomas)
Jaeda Lily Miller (Zoe)
Ashley Williams (Allie)
Daryl Shuttleworth (Henry Miller)
Michelle Martin (Megan)
Tom Pickett (Gordon)
Colleen Winton (Bea)
Any other details?
Ahead of the premiere, Hallmark released a sneak peek video you can see below!See Photos from 'Christmas Waltz' on the Hallmark Channel
The star of Christmas in Evergreen: The Bells are Ringing, Holly Robinson Peete announced her newest Hallmark movie on Instagram. "As Mayor of Evergreen, I hereby request your presence on Saturday night!! 8pm on @hallmarkchannel! 👩🏽‍🦱"
See Photos from 'Christmas in Evergreen: Bells are Ringing' on the Hallmark Channel
Catch the premiere of Christmas in Evergreen: Bells are Ringing on Saturday, December 5 at 8/7 c, only on Hallmark Channel.
MORE HALLMARK CHANNEL NEWS
Top 10 Perfect Winter Coats from Hallmark Channel Holiday Movies!
Get the Looks 'If I Only Had Christmas' Starring Candace Cameron Bure on Hallmark
Candace Cameron Bure's Green Coat in Hallmark's 7 Night Thanksgiving Movie Event is Custom Made Courtney Rose is an Entertainment Writer at Feeling the Vibe Magazine based in New York. Pop culture and rom-com obsessed. Studied Journalism and is up to date on all the latest entertainment news. For tips or comments, email me at Courtney@feelingthevibe.com