If you have been watching 'Very Cavallari' season 3 on E! you know that Brittainy Taylor and her ex-boyfriend of 4 years, Jon Stone have gone their separate ways.
Brittainy has been posting photos of a new man in her life on social media for the past couple of weeks. In the newest episode of 'Very Cavallari,' we see how this all came about!
It's always hard to jump back into the dating pool when you've been away from it for so long but that's what good friends are there to help you do. Brittainy called on her male friend, Nick for some advice. No, there aren't any romantic sparks between these two as Brittainy explains he is "friend zoned," but he's there to help her laugh and get her mind off everything.
"I have someone I want you to meet," Nick said. A skeptical Brittainy finally agreed to it. Who is it? PJ Kellogg – as in the mystery man that has been featured on her Instagram.
How Brittainy and PJ First Met
Where did they first meet? Well it all happened when Brittainy got together at a cool Nashville hotspot to hang out with some of her "close girl friends and close guy friends."
We see Brit's friend Nick again who she starts talking to right away. "Where's your boy?" she asks. "That man right down there, PJ." Brit is putting out all the flirty vibes as she looks down the table at PJ. "You guys have to meet!" Nick exclaims.
---
"Alright, maybe Nick was onto something with this PJ guy because physically he's checking off all of my boxes," Brittainy confesses to the cameras.
One of Brit's best girlfriends tries to get things started as she suggests PJ take a body shot off Brittainy. As a gentleman he looks on and tells her he wants to take her on a date first. Aww!
He may not have taken a body shot off of his new love interest, but he did show off his strength as he picks her up and flings her over his shoulder!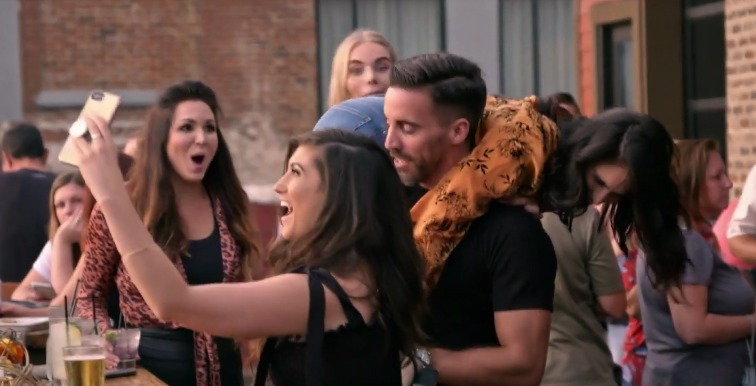 ---
What does Britt thing about all this? Well we can definitely tell she's on Team PJ! "He's this chiseled ungodly hot specimen of a human being," she confesses. "You should let me come work out some time," she tells PJ.
He wastes no time. Eyes zoned in on his girl. "When do you want to come workout?" Brit coyly says, "you text me, you tell me."
There are definite sparks flying as they both stare into each others eyes! What's to come next? Tune into 'Very Cavallari' Thursdays at 9pm EST on E!
MORE ON VERY CAVALLARI
Kristin Cavallari Takes Trip Down Memory Lane in All-New 'Very Cavallari' – See Photos!
Very Cavallari's Brittainy Taylor May Be Pregnant — Video Inside!
15 Facts about Brittainy Taylor from 'Very Cavallari' Courtney Rose is an Entertainment Writer at Feeling the Vibe Magazine based in New York. Pop culture and rom-com obsessed. Studied Journalism and is up to date on all the latest entertainment news. For tips or comments, email me at Courtney@feelingthevibe.com