The last time we talked to Sabrina Bryan of The Cheetah Girls and Dancing with the Stars fame, the newlywed had been on Cloud 9 over her Say Yes to the Dress episode. But now? She's got something else to celebrate: she's expecting a baby with her husband Jordan Lundberg! Keep reading below for all those details, plus more on Sabrina's life now in our exclusive interview!
Q&A with Sabrina Bryan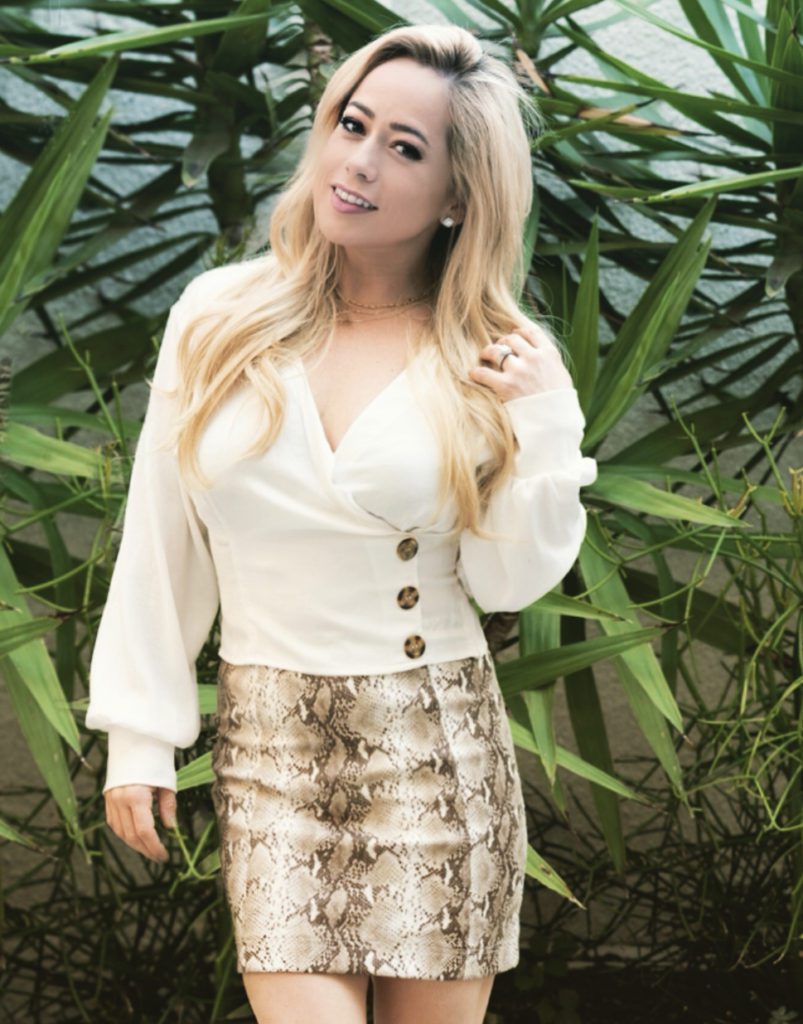 Congratulations on your pregnancy! We're so happy for you and Jordan! What was it like finding out the news? Any special way you told Jordan the good news?
We were shocked, we were definitely ready to take that new step. You're never really ready for that pregnancy [test] to turn positive. Both of us knew we'd be blessed with a baby when the time was right. I was at home by myself…I instantly started tearing up. I wanted to call him, but I had already planned something special. I had already gotten onesies made for him…the extra little fun stuff, bought my first pacifier, little shoes, etc.
Have you started shopping for all things baby related yet? Clothes, accessories, etc.?
Not really…I've definitely done a lot of online shopping, just browsing. We weren't sure of the gender until last Sunday. One of my friends is also pregnant, so that's gotten me onto it. But no major purchases yet. [I've been] tagging, tagging, tagging all the stuff I'm looking at. Especially with a girl…the girl baby shower is all about the clothes!
Any nursery ideas in mind: decor, colors, things like that?
Oh yeah, I follow several nursery/creative people. I love it because it sort of ties into our wedding scheme: navy, royal blues. I knew I wanted to implement it whether it was a boy or a girl. Navy, rose gold, a bit of pink and neutrals of course. But lots of rose gold!
How are you doing with the pregnancy? Have you had to make many lifestyle adjustments yet? If so, how do you feel about those changes?
My husband and I are major sushi lovers, and that's off the board when you're pregnant! We're also stashing change away for when I want to go to this high end sushi restaurant in Orange County. As soon as I can, I'm going there!
I was really lucky I haven't had any morning sickness. I'm in my second trimester now; but my first was easier than I expected. I did hit a wall towards the end of my first trimester, the last 4 weeks, I was zapped. I was so tired; that I wasn't ready for. I was so so tired. Luckily, in the second trimester that's gone away. My energy's back. I had so much fun last weekend at our gender reveal! I'm short, so I'm looking at that last trimester with a lot of anxiety…I'm not sure where all that baby is going to go, but if it's anything like that first trimester, I'll be just fine.
You went from fiancé, to a wife, and now you're going to be a mom! Is it exciting to be going into that next chapter, or is it a mix of emotions?
We dated for so many years, it's been just the two of us for so long. We had a long engagement, a year a half. I loved being engaged, I loved knowing we had the big day ahead of us…the ring on your finger, that you're taking that major step together. I also love being married and living in our home together. We waited a year to do our honeymoon, that was so fun for us to travel together, just the two of us. It's been us for a long time, so we're ready for our house to start filling up. Having the giggles, when they're developing and growing…having our house shift is exciting.
I'm so grateful for Jordan, he's been so romantic, and he appreciates the romantic, intimate times. He'll be an awesome husband keeping those date nights alive, he'll still make me feel so special. Now he's going to have another little princess, so I'll have to share that limelight! But I'm so excited to see him be a girl dad.
Switching gears a little bit, because aside from your pregnancy, you've still been keeping up with coaching your athletes and dance students. Your team just took home 1st place not that long ago in the Poms competition, correct? How exciting was that for you?
One of the reasons I'm so excited to be a mom to a girl, is how much I already work with young girls, teaching and mentoring them. My coaching is such a huge passion of mine. We really developed such a strong program over the years. Especially with that competition, getting first place. We've come in first place with Jazz, but we came close for Poms before. My seniors have been with me for 4 years, so being able to take home that first place was great. Their senior year, taking home that trophy was so exciting for them. It was a magical moment.
You and Jordan took a honeymoon cruise, and you recently posted about not only Greece but Barcelona, where the second Cheetah Girls movie was set. Was that fun to kind of experience your past memories in the present moment, or to take that trip down memory lane?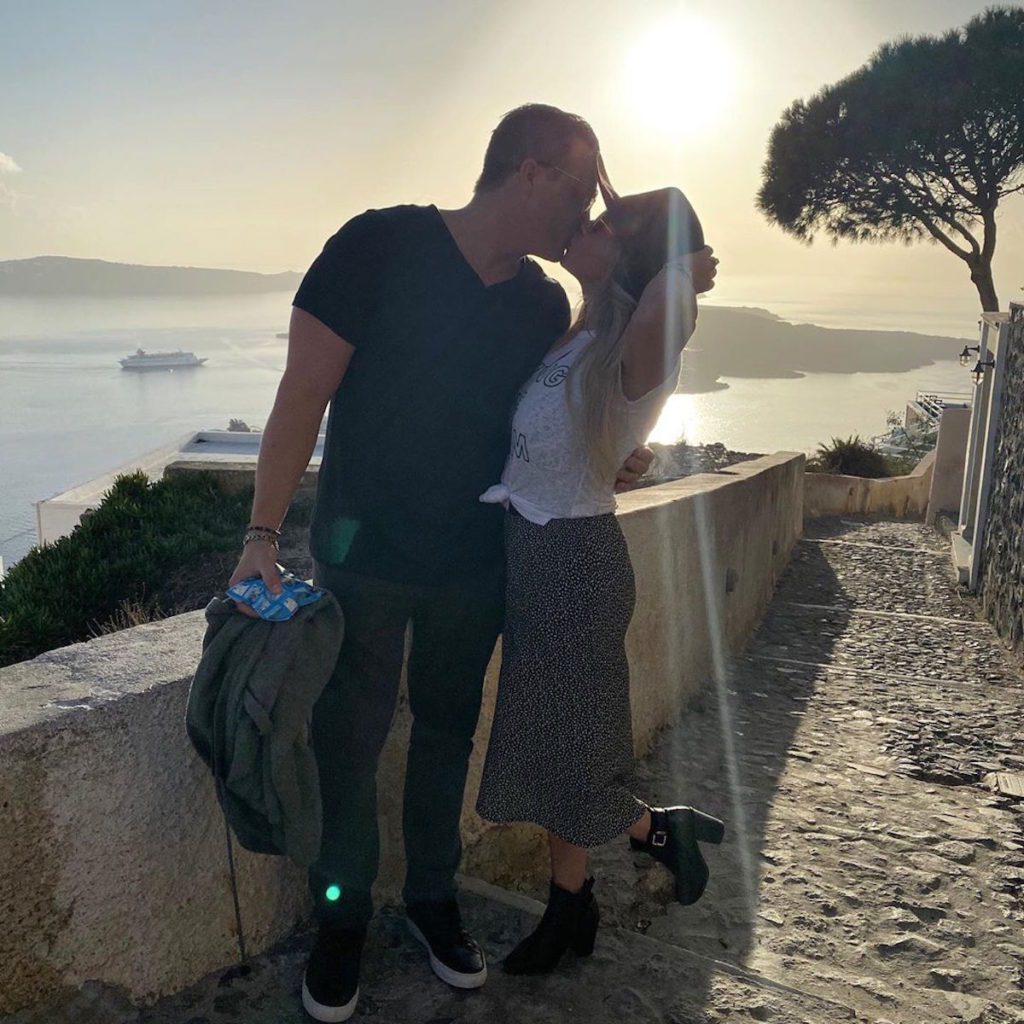 I look at Jordan and I'm like "how did I score this amazing man?" because that's what our honeymoon was based around, that's why I wanted to go to Barcelona. The whole honeymoon was built around that memory lane I wanted to go down. I was explaining it…and he'd seen the movie, so it was so fun to experience that. He was so down for everything.
I was telling him all these stories that happened off camera, you know, like "Oh I tripped here, or Kiely [Williams] was dying laughing." We stayed in the same hotel we stayed in when we were actually filming; he had already told them that I had stayed there for 3 months. We had the penthouse…he just wanted to make sure we had everything! He's so proud of everything that The Cheetah Girls have accomplished, the message, so it was amazing.
I know you did that TV movie last year: A Deadly Dance. Would you want to pursue more endeavors relating to your dance background, even if it's not necessarily an acting gig?
Oh yeah definitely. I would love for someone to eventually do a reality [show]…coming and following along with what it's like in my coaching role. The incredible moments I get to have with my dancers…they're so inspirational. Anything with dance. I feel so lucky that I've been able to be a part of the Dancing with the Stars world. The cruise, the live show in Vegas….I'd never done Latin or ballroom dancing; I have a new respect for them. My passion for dance grew since then. Anything with dancing I would love to do.
Any other upcoming or current projects you'd like to share?
I'm looking into possibly getting into podcasting. I feel like especially now the transition with fiancé, to wife, to motherhood…there's so many questions and emotions. I'd love to build a platform for people to ask questions, have experiences. All my mom friends are like: "You learn, you do the best you can." I'd love to have something like that.
Is there anything you've learned so far with being pregnant that you could share with other expectant moms?
The biggest thing is: "Wow it goes by fast." I blinked and the first trimester was over. I found some journaling activities to do that kind of help to cherish the process. Creating a space [for you] to journal is awesome. Most importantly, embrace the women around you. It doesn't just mean the women who've raised you, but the friendships who have gone through it or are going through it. Be sure to reach out to them…we as women are always ready to embrace other women. Don't be afraid to reach out, there's so many arms waiting to embrace you.
---
Keep up with Sabrina by following her on Instagram and Twitter for more updates on her everyday life.
MORE EXCLUSIVE CELEBRITY INTERVIEWS
Exclusive Interview with The Cheetah Girls' Sabrina Bryan on Confidence, Favorite Things, & More!
Cory Oliver on Beverly Hills Balm, Her Favorite Products, & More in Exclusive Interview
Exclusive Interview with Sabrina Bryan on Her Wedding Day, Say Yes to the Dress, & More!
Kari Highman is a Beauty and Fashion Blogger at Feeling the Vibe Magazine. Otterbein Alum (2017) – English & Psychology. Always learning & creating. Avid fan of mid 2000's TV & pop music. Comments or tips, email kari@feelingthevibe.com