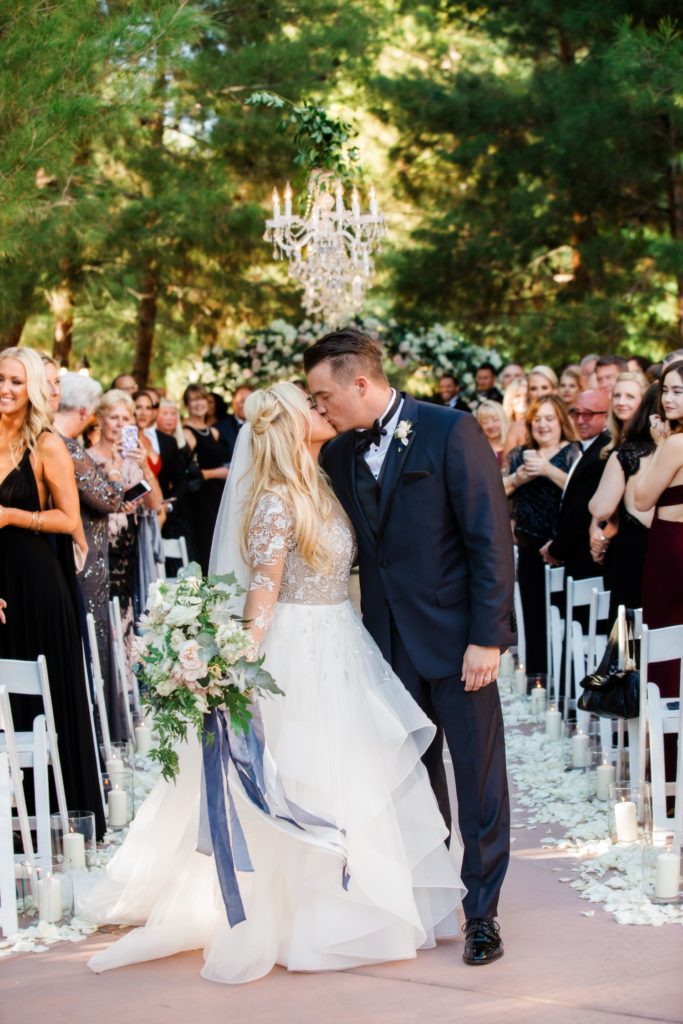 We recently spoke with Sabrina Bryan for an exclusive interview about her exciting upcoming "Say Yes to the Dress" episode. The actress, singer, and cheer coach discussed her beautiful wedding, how married life is treating her, as well as some of her go-to clothes and upcoming projects! Keep reading below to find out more from our Q&A with Sabrina!
Congratulations on getting married! You're a newlywed now! How is married life treating you so far?
It's been so exciting! Of course, every bride thinks, "Oh, I've planned it all so perfectly" but having our wedding in October…you kind of come off this high, and once that happened we were amping up for Halloween. We celebrated with my baby nephews who turned 1 so it was their first Halloween. Then we went straight into Thanksgiving and Christmas. We've done a lot of holidays together as a combined family, but this one as a married couple just felt so special. It was amazing to just look around and realize this is where we would raise our kids; it's such an exciting time. My husband Jordan got me so excited for this first Valentine's Day as a married couple. He always surprises me with romantic anniversaries, and I just completely fell head over heels. I'm so excited to see what he has planned out!
And your husband, Jordan? How has he been since the wedding? Is it a big change for either him or you to call each other 'husband' and 'wife' versus 'fiancé' or even 'boyfriend' and 'girlfriend?'
When you ask multiple married couples, it's a toss-up. Jordan and I have lived together for a while, and we were asking our friends that have had the same kind of journey. Some would say "Oh no there's no difference" and others would say "Yeah, there is a difference." When I woke up the first day though I felt different because of the commitment level, that forever feeling. It went from feeling like a distant thought to the moment right now.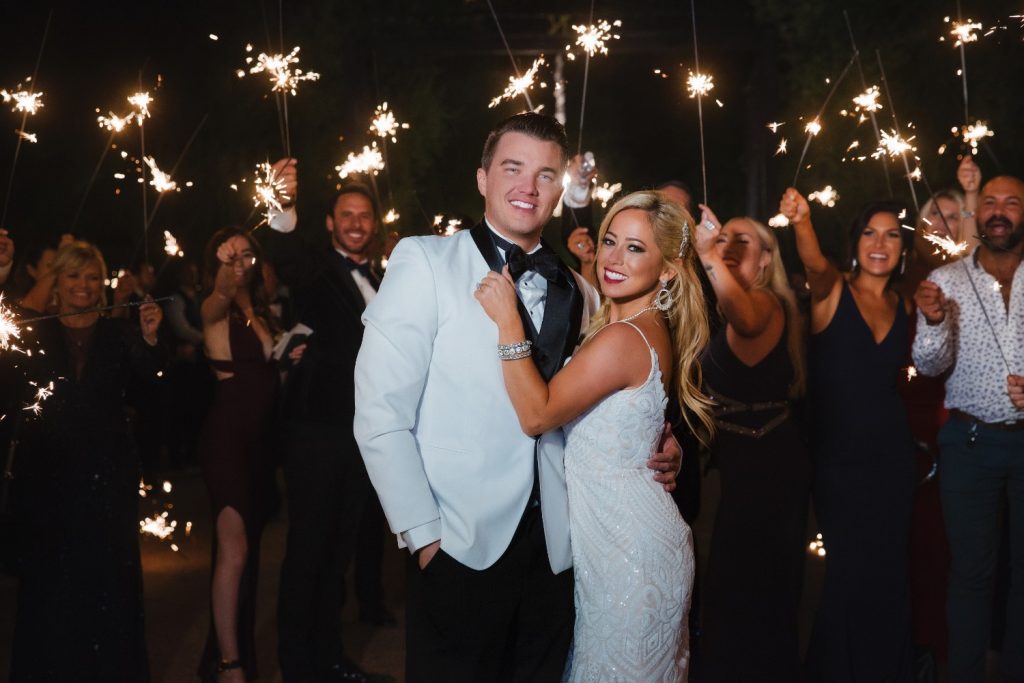 It felt like a dream at first when we would talk about kids but now after being married, it's a reality. Jordan and I want to build this foundation for our future kids and families. We have 401Ks and all those real life adult conversations seem to happen a lot more. There's no walking away…no arguments resulting in, "This is the end of this" – everything feels so vibrant right now. It feels so secure, I've never felt more safe in my life. Marriage cements everything. But yes, on a surface level, I absolutely love calling him my husband! I try to sneak it in whenever possible. "My husband…" that has been an extra sparkle to add in.
The photos you posted on Instagram of your wedding were amazing! What was the day like for you?
The funny part is, everyone slept in, which was horrible, so we got up in a little bit of a panic. Once we got on our way, we got over to Wayne's Ranch (in Las Vegas). It was such an amazing, positive vibe. I had the closest women in my life with me that day. That feeling of happiness that they were giving to me….my view on life and love had changed, and they were so supportive and loving. Any type of blip that happened, they did not allow to be on my radar at all.
I was trying so hard, everyone tells you to "take in everything" ­– which is so hard! I was trying to take in all the moments, and be excited about everything that was happening. As everyone tells you, it goes by so fast. The getting ready part went by slower. I was anxious to see Jordan! My uncle actually drove our entrance and exit car. That was really fun, because he kept my dad and I calm. It felt like I was in that car for half an hour! I just wanted to see Jordan so bad!
From the second I got out of the car, everything flew by. My cousin was the Maid of Honor, and her husband was the officiant. He said, between Jordan and Sabrina's parents, there's almost 100 years of wedded bliss. It hits 100 when you include the dating years. My parents have been together 48 years, and Jordan's parents have 43 or 44 years of marriage.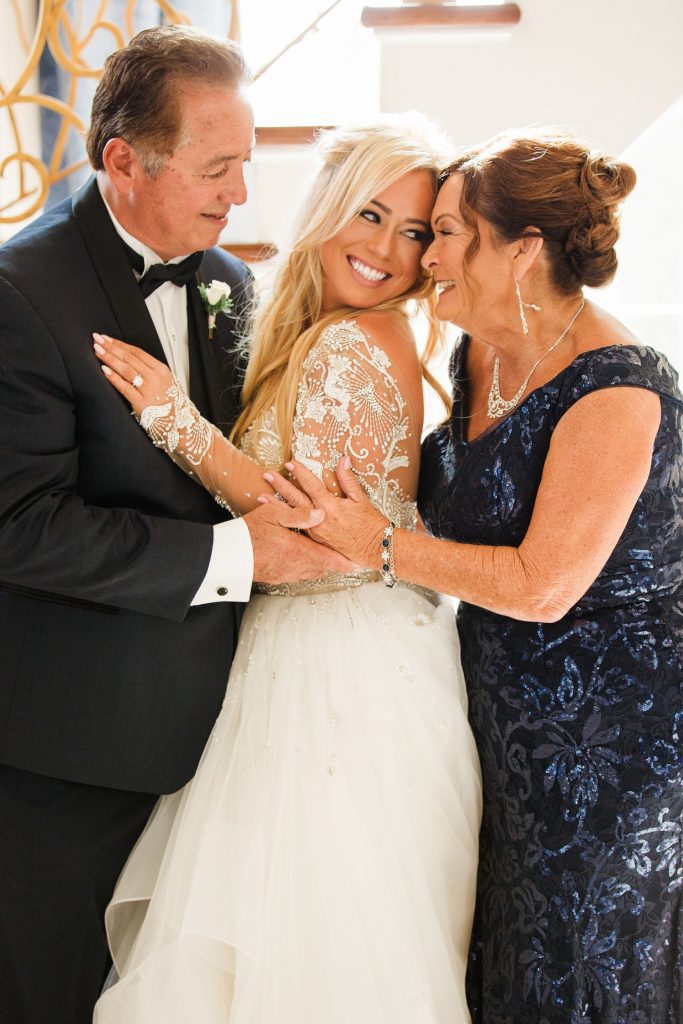 My nephew was a ring bearer. We had the twins, that are 9 months old, were driven down in a motorized Mercedes. It was a family affair, it was perfect. We extended the reception an hour, we were nowhere near being done yet! Boom, we're married, and the rest of the day was so fun!
Hair and makeup can often play a big part for the bride on their wedding day. Did you have ideas in mind for your special day? What kind of vibe did you want to go for – was it something new or did you stick with what you know?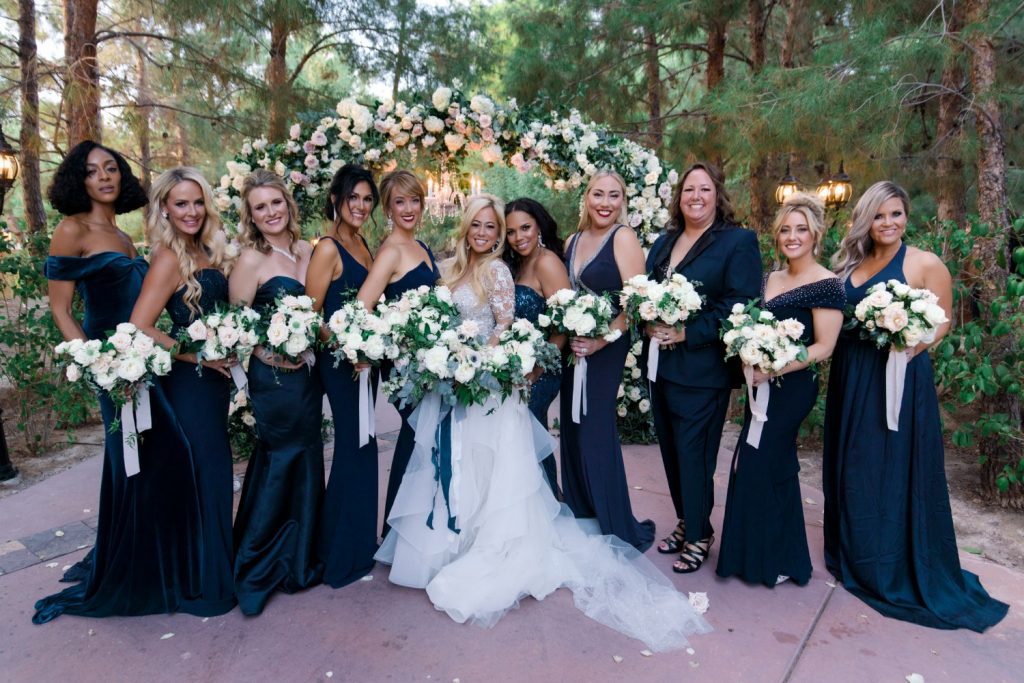 My hair and makeup artist, Ricardo Ferrise was with me, who had traveled all over with us for The Cheetah Girls. He was there for all 8 years of the TCG. He came on the tours with us, we're like family. So, I called him and asked him and he said he would be honored. That was really special to me. We kind of swapped Instagram pictures, and then the day of I was said, "You do your thing" and so I put all my faith in him and felt absolutely gorgeous. I hired another woman who I worked in Vegas with, and I trusted her to take care of my girls. Everyone looked phenomenal! You have to put trust into your hair and makeup person, so I feel really blessed that it wasn't one of those big things I had to worry about!
We know you ultimately decided on a custom Hayley Paige wedding dress. What was the process like in creating a custom dress? And how did it feel to put it on for your special day?
I actually was able to wear Hayley's dress, she brought me out to go to her October 17th bridal fashion show. I was in the midst of booking SYTTD, and I told her I was looking to do a Hayley dress. She said, "they have my dresses at Kleinfeld's!" and so it all worked out for Say Yes to the Dress! I loved how the show was able to put me in a bunch of different dresses and see the end result. That whole evolution and journey to get to that dress is full of so many emotions. It was amazing, I felt amazing.
Behind the scenes of Sabrina Bryan's "Say Yes to the Dress" Episode

Sabrina Bryan in Custom Hayley Paige Wedding Dress | Credit: Stephen Salazar
And of course, your fans will get to see the whole process on Say Yes to the Dress. Are you excited that it's finally airing?
I'm really excited for Saturday night! I've been in bridal shops all over Orange County, but Kleinfeld's is everything you see on TV and more! You guys will just have to tune into find out what happens!
Speaking of dresses, you've always been big into fashion. Do you have a go-to outfit for daytime or nighttime? Or perhaps a favorite piece of clothing or brand you like to wear?
For the majority of the day, I am coaching, so the majority of my outfit is workout gear. I love Fabletics. I love how I can go from working out to my job and you know working with HS kids, you want to look cute. I like how I can go grab lunch and not feel like I'm in frumpy workout clothes. A place I've been shopping is ViciDolls. You can dress it up or dress it down, it's so chic. I hate going to multiple places, I love one stop shops! It's been my go-to for my 'normal people' wear. Those are the two places I'm hitting up all the time! I tag and post their stuff a lot on Instagram. They have decent prices and the return policy is great. I actually found them on Instagram. You always walk out with a full outfit. I've been doing a lot of influence work…so if they follow Sabrina.Bryan they'll be able to see more of it.
Last time we talked, you were balancing your web series, wedding planning, and cheer coaching. With the planning off the table, did that give you free time, or not?
Yeah, I basically was gearing up for my season, and traveling a lot choreographing for other teams, which made it hard leading up to the wedding. It was either October or March…and you never know with venues. I had to decide, because the weather in Vegas is particular. October is right before, March is right after [the season] – my high season is December-February. We had an amazing season, my girls are State Champs. I was lucky enough to be named Coach of the Year, it was such a huge honor! Out of 50 teams we were ranked 3rd in the nation – it was a huge whirlwind! We have already had such a great year….so I am crazy busy! I've been just trying to get everything together! It's great though, I'm loving it!
Do you have any upcoming projects or announcements that you would like to share?
In March, I'm working with an investment banker and mortgage company to create a new app for millennials to buy houses. I'm going to be the new spokesperson for that! I'm excited to start that project.
I'm also going to be launching a new brand, The Newlywed Plan. There's such a huge space between getting married and then having a family…this site will hit both demos. Are you wanting to start right away? Are you wanting to get into home owning or traveling? It's going to be a one-stop-shop…date night ideas, books to read, professionals on there. To create your space, there will be boards where you can ask questions.
I'd eventually like to write a book as well on this demo. There's nothing about the time [you want to share with your significant other]. That transition into a married couple is huge! Those questions need to be answered…the millennials need to look it up on the Internet! So, I want to create this whole brand that caters to that.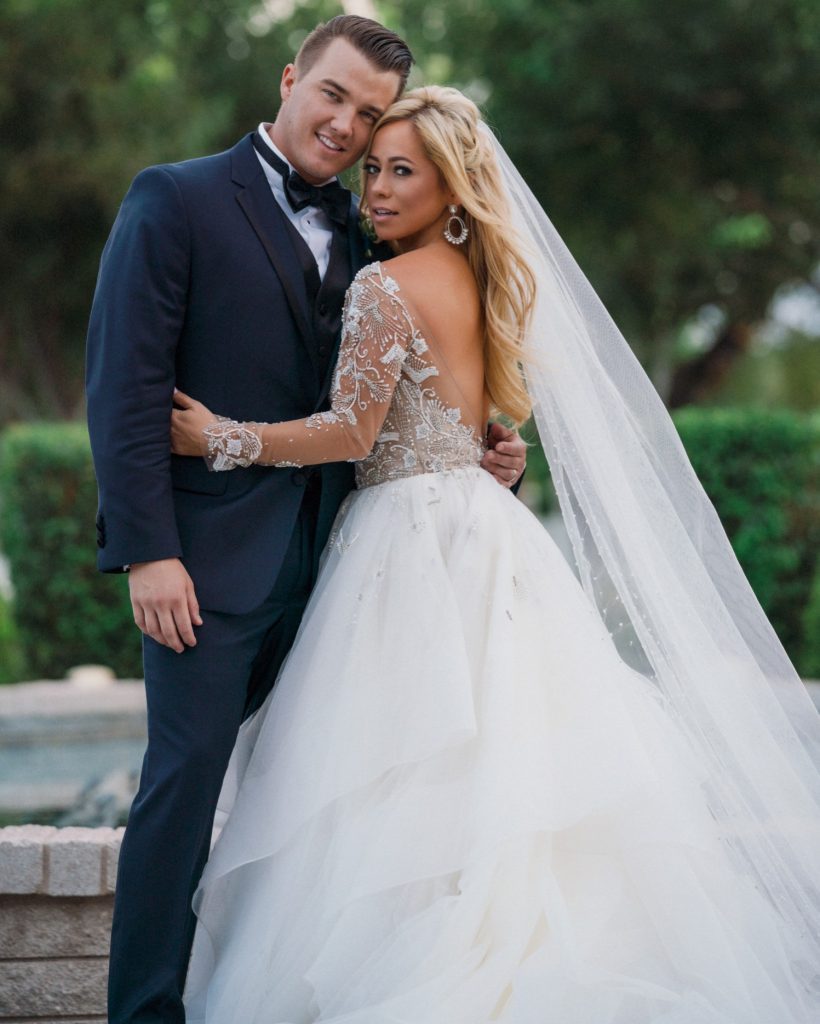 Do you have any advice for newlyweds?
I think what would be great for newlyweds would be to have that notion where it'll go by fast. I would say to always take yourself back to communication and all those promises you just recently made. Sometimes that's easy, and sometimes it's not. Things in everyday life can start getting to you. Yesterday I was with my high school girls all day, and there's at least 14 of them…dealing with the ups and downs of competition…I was just so tired. I was frustrated, and Jordan didn't get the dogs. I had to take a step back and just be like "Baby, I'm just tired." You need to step back and take a breath, realizing you're stressed out. You have to keep yourself in check. A lot of the pressure comes from wanting to prove yourself as a wife or as a husband. It's okay to feel that pressure. It's hard, but it's all because you want them to be happy. As long as you keep that line of communication open…as long as you talk yourself down and not let yourself get overwhelmed, everything will be fine.
---
Catch Sabrina Bryan as she searches for her perfect wedding dress in an all new episode of TLC's "Say Yes to the Dress" on Saturday, February 16th at 8pm EST.
Make sure to follow Sabrina on Instagram @sabrina.bryan !
Kari Highman is a Beauty and Fashion Blogger at Feeling the Vibe Magazine. Otterbein Alum (2017) – English & Psychology. Always learning & creating. Avid fan of mid 2000's TV & pop music. Comments or tips, email kari@feelingthevibe.com