Candace Cameron Bure and John Brotherton were co-stars on the hit Netflix revival series Fuller House. Recently, the duo reunited onscreen for Hallmark Channel's The Christmas Contest. They also sat down with US Weekly to play a friendly game of trivia, where they tested their TV show knowledge, including iconic lines from the original Full House. Keep reading below for more fun facts they revealed, plus whether or not they'd do another movie together!
---
Candace Cameron Bure vs. John Brotherton
Ironically, Candace Cameron Bure and John Brotherton's latest Hallmark film had them face off in a Christmas contest, so they're not strangers to a little competition. This time around, the co-stars played a game of TV trivia with US Weekly, which included questions about both Full and Fuller House.
When asked about which musician sang the Fuller House theme song, Candace chimed in with the correct answer of Carly Rae Jepsen. John answered "Donna Jo" in regards to what the initials DJ stood for. He knew that because their executive producer Steve Baldikoski called Candace that "all the time" on set.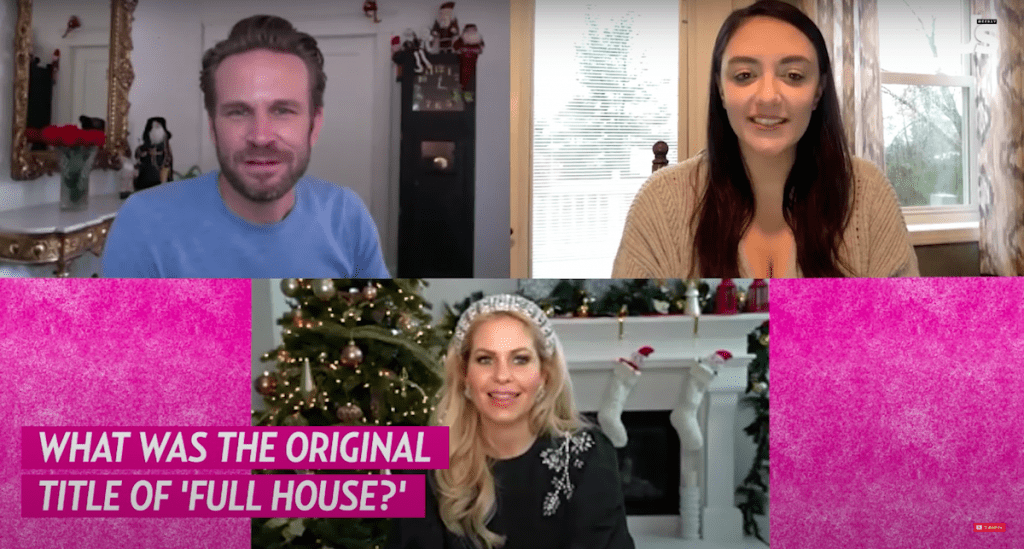 Other questions that were asked included:
What was the name of Danny Tanner's talk show?
What was the original title of Full House?
Do you know the address of the Full House house?
Can you name three Full House catchphrases?
Candace and John spoke fondly of their time working together on the set of their original Hallmark holiday movie The Christmas Contest. It was actually that experience reconnecting that made them not only want to do another Christmas film together, but bring more of their Fuller House cast mates along for the ride.
"Our next movie together, [we're] bringing in all the friends," Candace told the magazine. John replied: "Oh, my gosh, we'd have so much fun!"
Watch the full video of their trivia game below to see what other answers they came up with!
Be sure to follow Candace Cameron Bure and John Brotherton on Instagram to keep up with their everyday lives. You can also stream Fuller House on Netflix.
---
RELATED ENTERTAINMENT NEWS
See Clothing from 'The Christmas Contest' Starring Candace Cameron Bure on Hallmark Channel
Everything to Know About Candace Cameron Bure's Hallmark Movie 'The Christmas Contest'
Candace Cameron Bure Launches Clothing Line to Build Confidence in Women + It's Selling Out!
Kari Highman is a Beauty and Fashion Blogger at Feeling the Vibe Magazine. Otterbein Alum (2017) – English & Psychology. Always learning & creating. Avid fan of mid 2000's TV & pop music. Comments or tips, email kari@feelingthevibe.com