Candace Cameron Bure's newest Hallmark Channel movie The Christmas Contest is premiering on November 28th. In the meantime, we've got details on the fun, festive fashions from the film. From similar styles to exact matches, keep reading for info on what she and her co-stars John Brotherton and Barbara Niven are wearing. See the clothing and get the looks below before the movie premieres.
Girl Power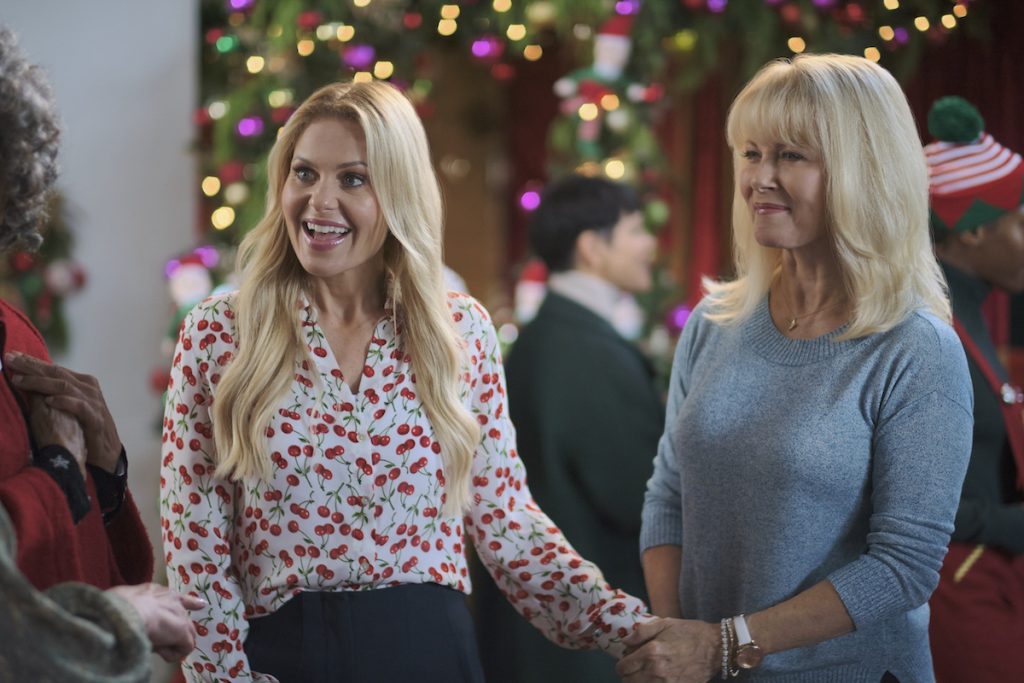 Candace Cameron Bure wears a cherry printed top with some dark slightly pleated pants. Barbara Niven wears a pale blue sweater in the photo above. Copy Candace's look with this top from Nordstrom and pants from Banana Republic. Copy Barbara's look with this knit, also from Banana Republic.
Party Dress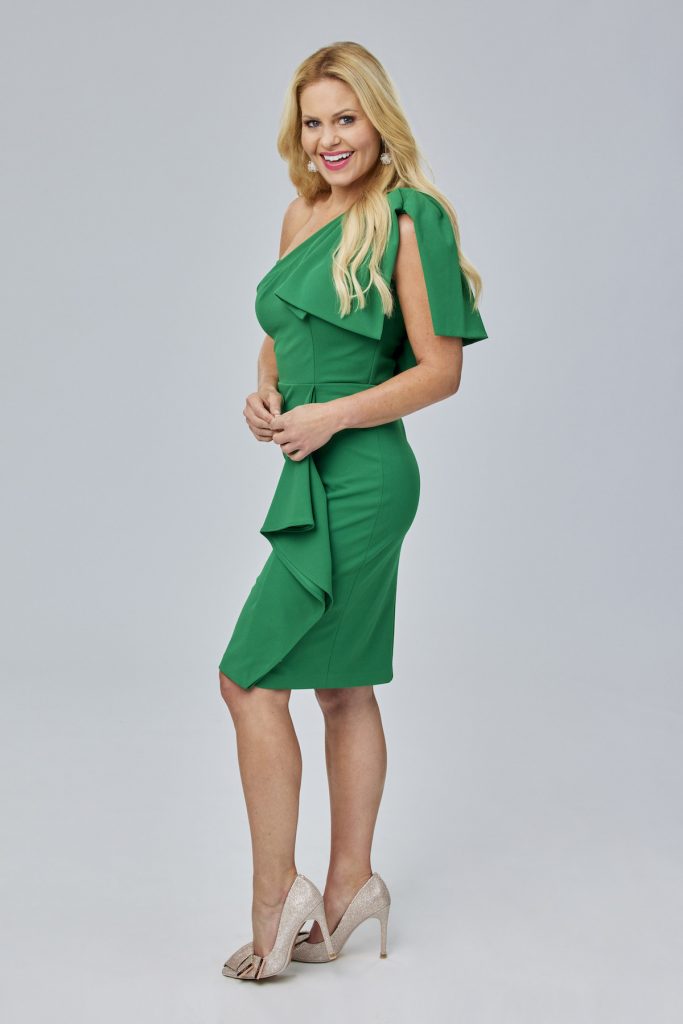 Candace rocks a beautiful green dress with some sparkly heels and gold earrings in the photo above. Get her look with a similar dress options from Amazon or SHEIN, super-similar shoes from Macy's, and similar earrings from Etsy.
Let's Get Baking!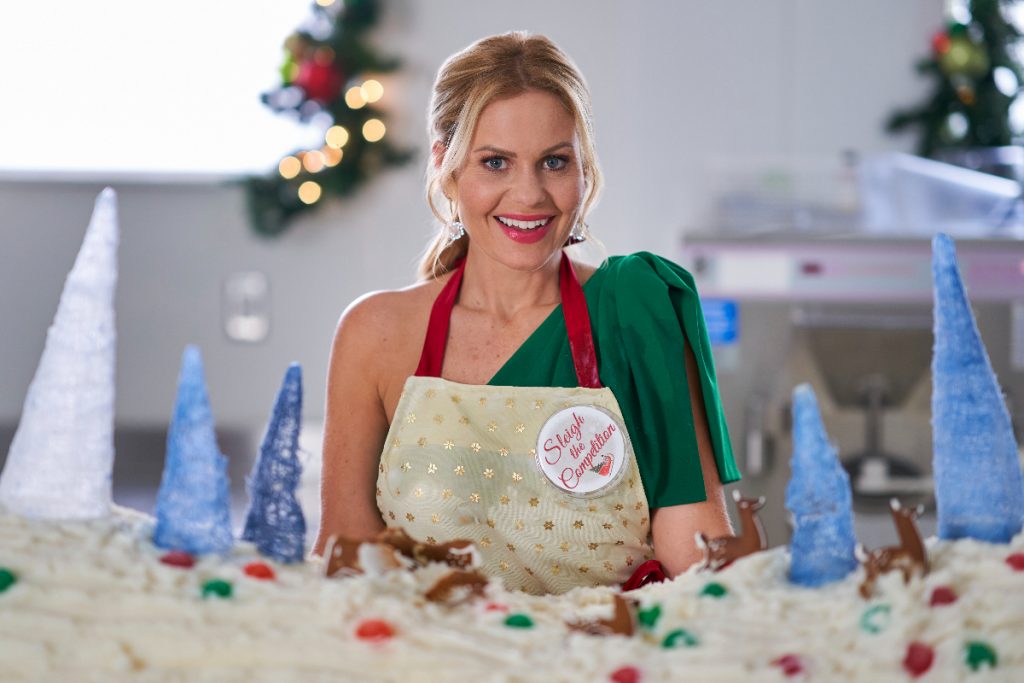 Candace wears this festive and cute apron from her own line in The Christmas Contest! You can purchase one for yourself and look just as cute doing all that delicious holiday baking! Get the Candace Cameron Bure – Comfort + Joy – Christmas Apron from Dayspring.com.
Taupe Babe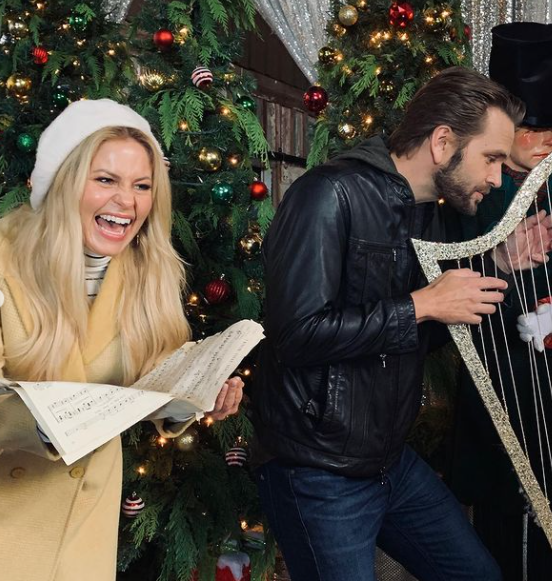 Candace wears this beautiful taupe winter coat paired with a snow white beanie. You are in luck! You can copy Candace's look because she is selling this exact coat in a few different colors on QVC.com.
Peace on Earth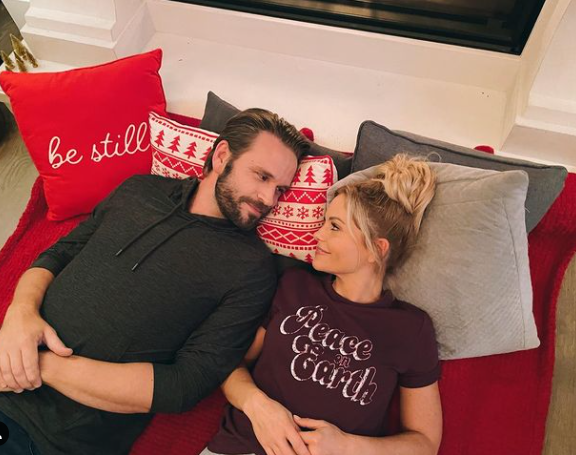 Candace is cute and comfy in this dark plum Peace on Earth tee. It is part of the Candace Cameron Clothing Collection. Pick yours up for yourself and a friend on QVC.com. Get the Candace Cameron Bure Short-Sleeve Holiday Graphic Tee.
Bonus! Candace is also seen wearing the Candace Cameron Bure Short-Sleeve Holiday Graphic tee with the writing "Joyful" on her Instagram page. It is also available on QVC.com.
Comfy Blue Pajamas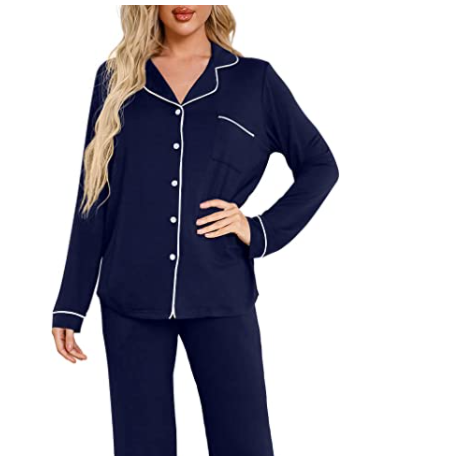 Candace rocked these soft and cute dark blue pajamas in The Christmas Contest. You can get a pair of these right on Amazon.
Red Holiday Cheer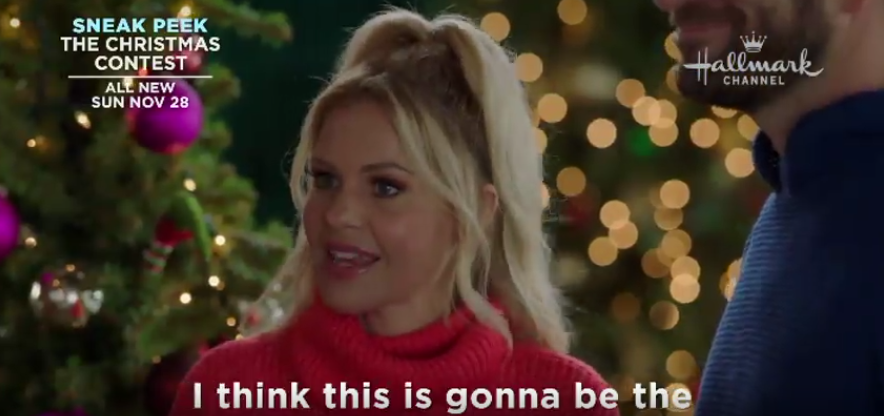 We love this comfy and cozy red sweater Candace wears in the newest Hallmark movie. It is straight from her Candace Cameron Bure Clothing line! Get the Relaxed Turtleneck Sweater featured in Cherry here.
---
Gold Scrunchie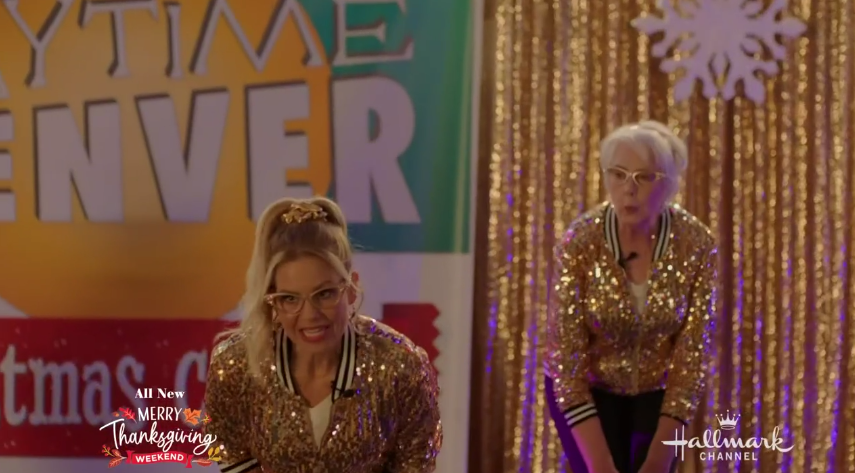 Candace donned a beautiful gold scrunchie paired with her gold coat. It looked beautiful. Get this simple piece right on Amazon.com.
---
Holiday Blues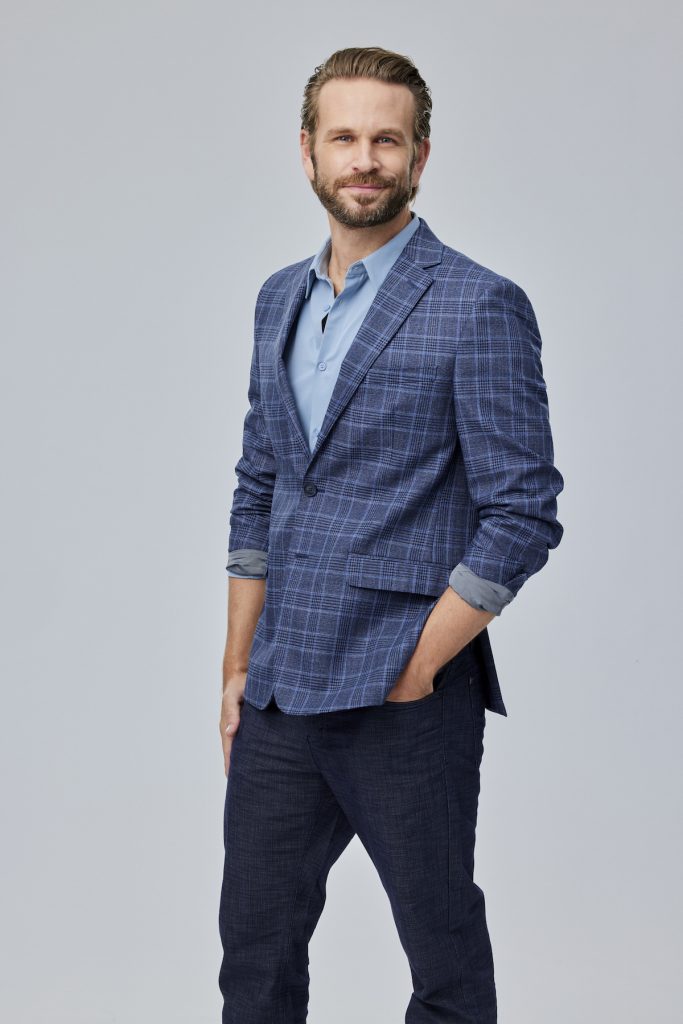 John Brotherton wears a blue checkered jacket, blue jeans, and light blue dress shirt. Get his look with this very similar jacket from JcPenney, jeans from Banana Republic, and shirt from Kohl's.
Evergreen & Blue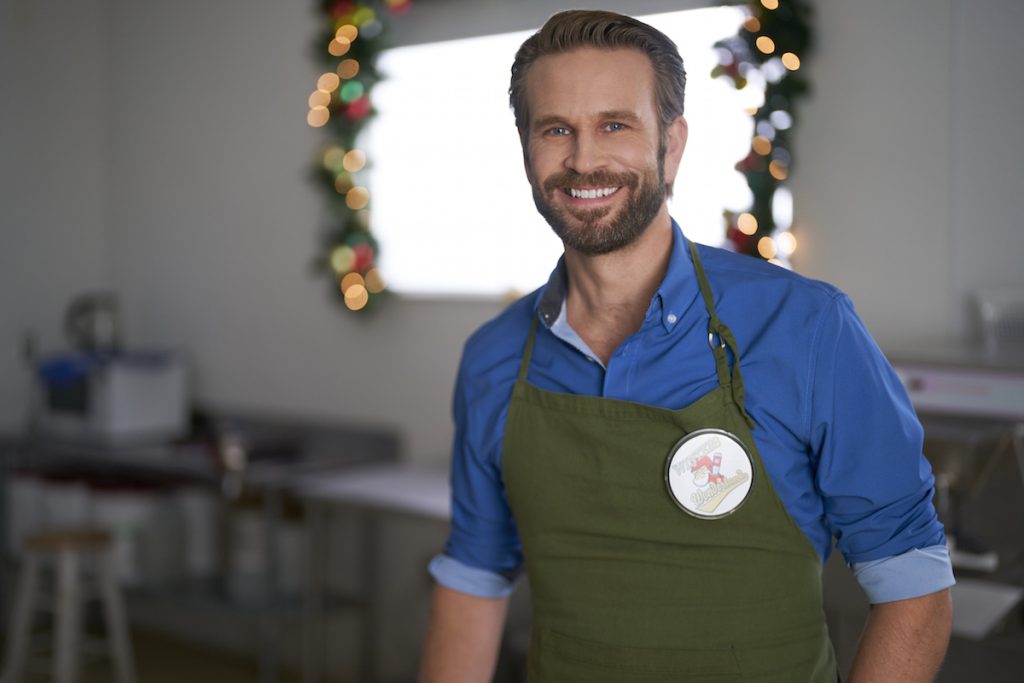 John wears a green apron overtop a bright blue button down shirt. Copy his look with this apron from Zazzle and shirt from Kohl's.
Snow White Wardrobe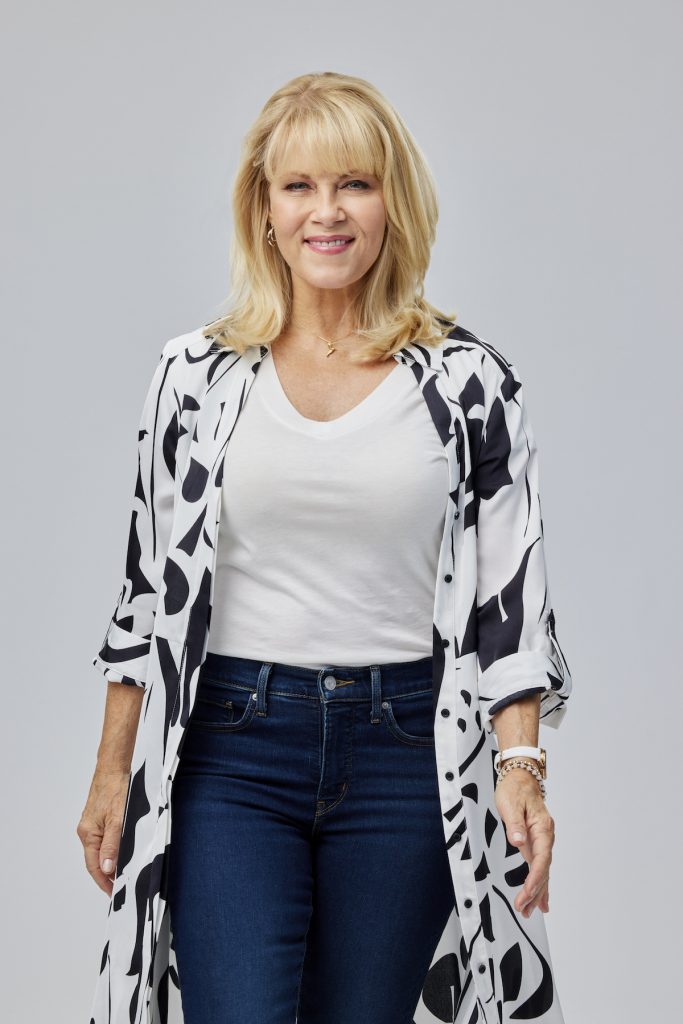 Barbara Niven wears a white top and blue jeans along with a patterned shawl. Copy her look with this almost-exact top from Banana Republic, jeans from Kohl's, and a similar duster from VICI (the exact one from Lily is sold out).
Glitter & Gold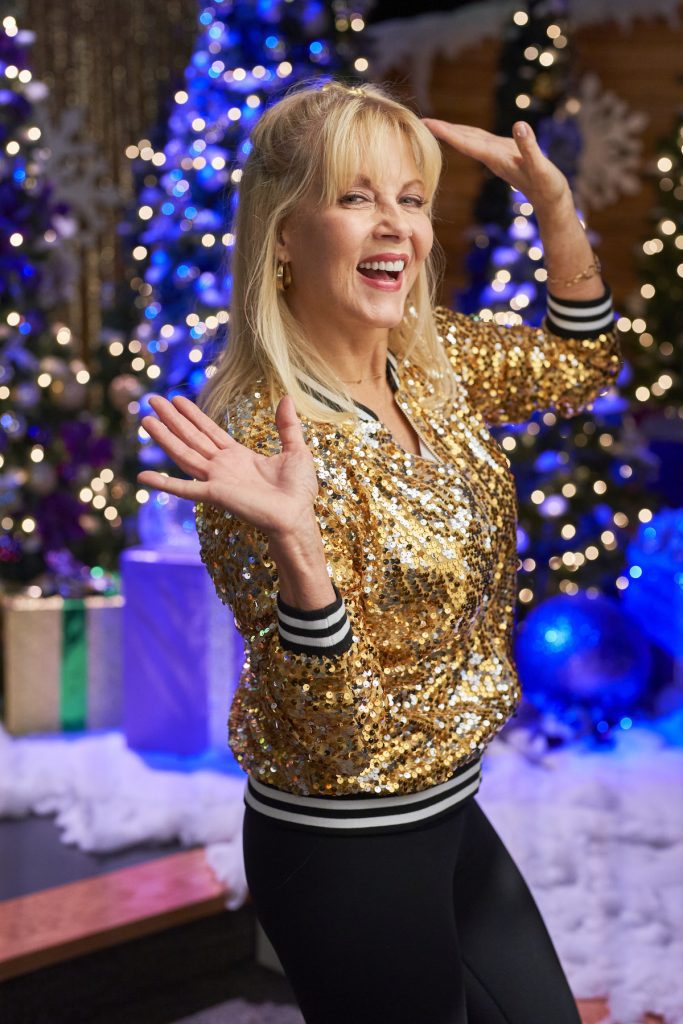 Barbara rocks a glittery gold jacket with some black leggings. Small gold hoop earrings complete the look. Copy her look with the exact jacket from Amazon, leggings from Kohl's, and similar earrings from Shopbop.
---
Red Leather
Candace Cameron Bure looks beautiful in a red leather dress, perfect for the holidays! She made her rounds doing press for The Christmas Contest in the Amanda Uprichard Kiki Dress, available online. Candace is wearing the Ellsie 100 Stuart Weitzman Sandals in black. Her earrings are from Bauble Bar.
---
Off the Shoulder Holiday Dress
Candace Cameron Bure was styled in this beautiful off the shoulder sweater dress for Hallmark Channel press day. Her exact dress is currently sold out, however you can pick up a similar dress created by the same designer. Get the Jenai Knit Dress by Nicholas the Label.
---
Festive Holiday Pillows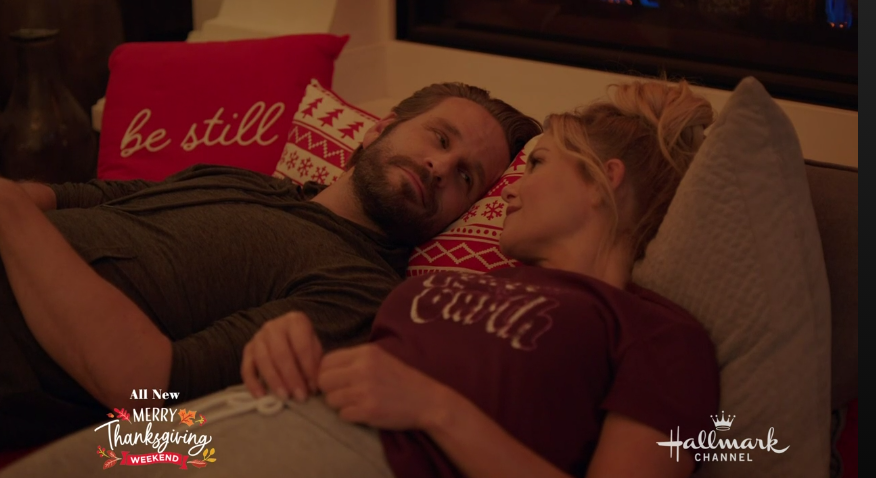 Candace and her co-star John Brotherton were laying out by a cozy fire with some festive holiday pillows. You can get these same ones from the Candace Cameron Bure line at Dayspring.com.
See these styles onscreen when The Christmas Contest premieres on Sunday November 28 8/7 c, only on Hallmark Channel.
---
MORE HALLMARK MOVIE CLOTHING ARTICLES
Get the Looks from Hallmark Channel's New Film My Christmas Family Tree
Hallmark's Open By Christmas: Get the Looks + See Clothing from New Movie
A Mrs. Miracle Christmas: See Clothing + Get the Looks from Hallmark Movie
---
Want More Hallmark Movie Clothing Matches? Click the image below!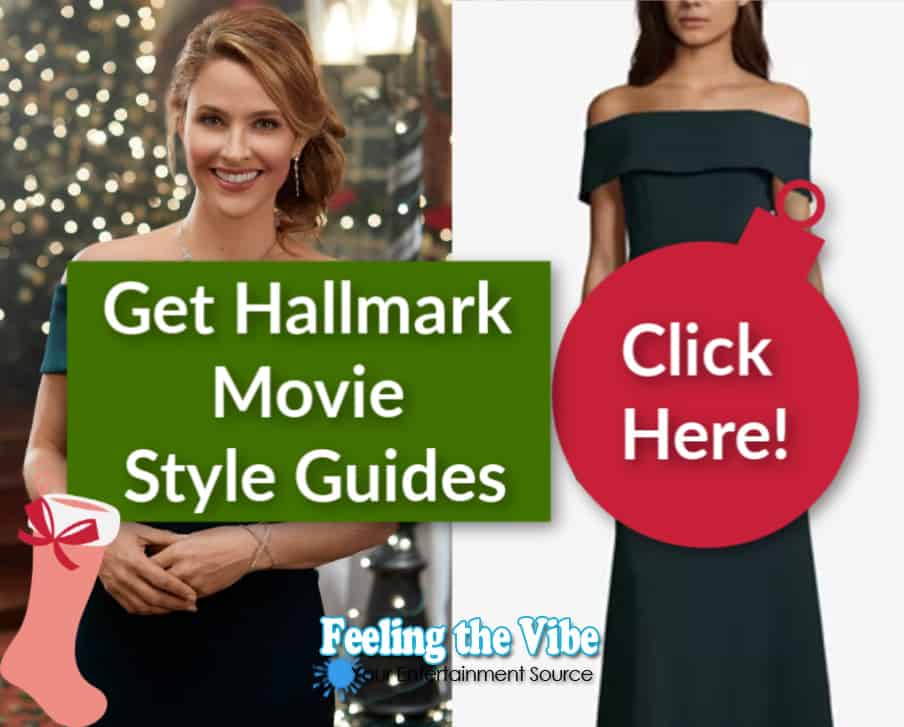 Kari Highman is a Beauty and Fashion Blogger at Feeling the Vibe Magazine. Otterbein Alum (2017) – English & Psychology. Always learning & creating. Avid fan of mid 2000's TV & pop music. Comments or tips, email kari@feelingthevibe.com