You may know their motto: "get the max for the minimum" but what else to do you know about TJ Maxx? The department store company has been in business for 44 years now, and has already become one of the largest retail chains in the country. Get even more information about the well-known company, including more about the people behind it, as well as what you should buy – or not buy! – while shopping.
Background on TJ Maxx: How did it come to be?
TJ Maxx was founded in 1976 by Bernard (Ben) Cammarata. Ben was asked by the Zayre Corporation to help launch a new line of stores offering everything from apparel to home decor. That new off-price chain would be known as TJ Maxx. In 1987-1989, Zayre regrouped and relaunched as the TJX Companies, which includes its sister store Marshall's. Ben Cammarata served as CEO during that time, but retired in 2015. The current CEO of TJX is Ernie Herrman.
In addition to Marshall's, TJX created HomeGoods, HomeSense, and TK Maxx, the UK-version of TJ Maxx. HomeSense is essentially the Canadian version of HomeGoods; the former celebrated its 15th anniversary in 2016, while the latter turned 25 in 2017.
TJ Maxx opened its 1,000 store in 2012, and Marshall's opened its 1,000 store in 2015. TJ Maxx launched its e-commerce site in 2013, and Marshall's released theirs just last year. Sometimes they are referred to at the same time under the moniker Marmaxx.
Shopping Tips for TJ Maxx: What You Should (or Shouldn't) Buy
In case you didn't know, TJ Maxx even has their own credit card. The TJX Rewards Credit Card can be used at TJ Maxx and some affiliate stores; the TJX Rewards Platinum MasterCard can be used anywhere MasterCard is accepted. Below are some shopping tips to consider when going to TJ Maxx:
You should consider shopping on Wednesdays, as that's when most stores restock their products. TJ Maxx's sales have actually grown during the pandemic, according to Business Insider.
There have been throngs of people inside and outside the stores, anticipating the excitement of discovery. You go into TJ Maxx looking for one thing, you can come out with a bunch of new things you never even thought of. There's a reason why a bunch of memes exist on Twitter about TJ Maxx!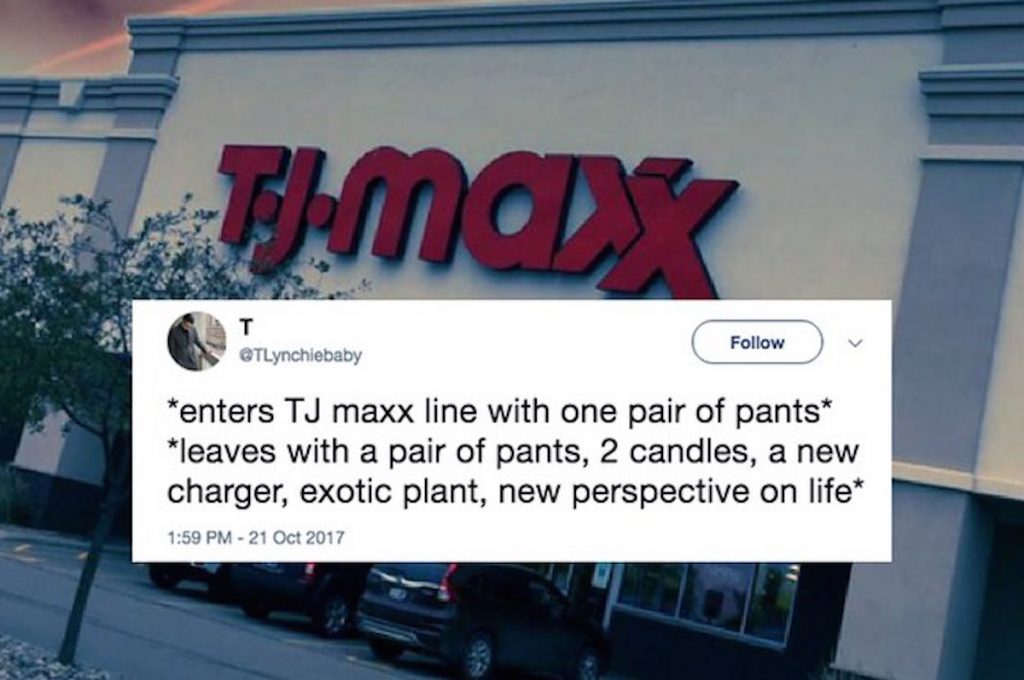 WHAT TO BUY
Gourmet food and Coffee
Sunglasses and Jewelry
Phone cases
Makeup, Designer Jeans, and Athletic Wear
Pillows, Dishware, Towels, and Storage Containers
Bonus Tip: Shop the "track" or perimeter of the store to see what TJ Maxx has to offer, without getting lost in all the mayhem!
WHAT YOU MAYBE SHOULDN'T BUY
Furniture
Hair Products
Electronics
Cookware
Shoes
To further your shopping experience, TJ Maxx and Marshall's have their online stores, which offer a wide range of products at their same remarkable prices. Happy shopping!
---
MORE SHOPPING IDEAS
10 Back to School Outfits to Shop For
Gifts Inspired by New Kids on the Block
What to Buy the Blue Bloods Fan in Your Life
Kari Highman is a Beauty and Fashion Blogger at Feeling the Vibe Magazine. Otterbein Alum (2017) – English & Psychology. Always learning & creating. Avid fan of mid 2000's TV & pop music. Comments or tips, email kari@feelingthevibe.com