The last couple weeks of summer are wrapping up, which means that school will start before we know it. While going back to school can sometimes be stressful, one part that shouldn't be is what you'll wear to your classes. We have 10 great looks for you below that are perfect for back to school. The best part? They are all easy to wear, fun, and affordable! Keep reading for all the details!
LOOK 1: T-SHIRT DRESS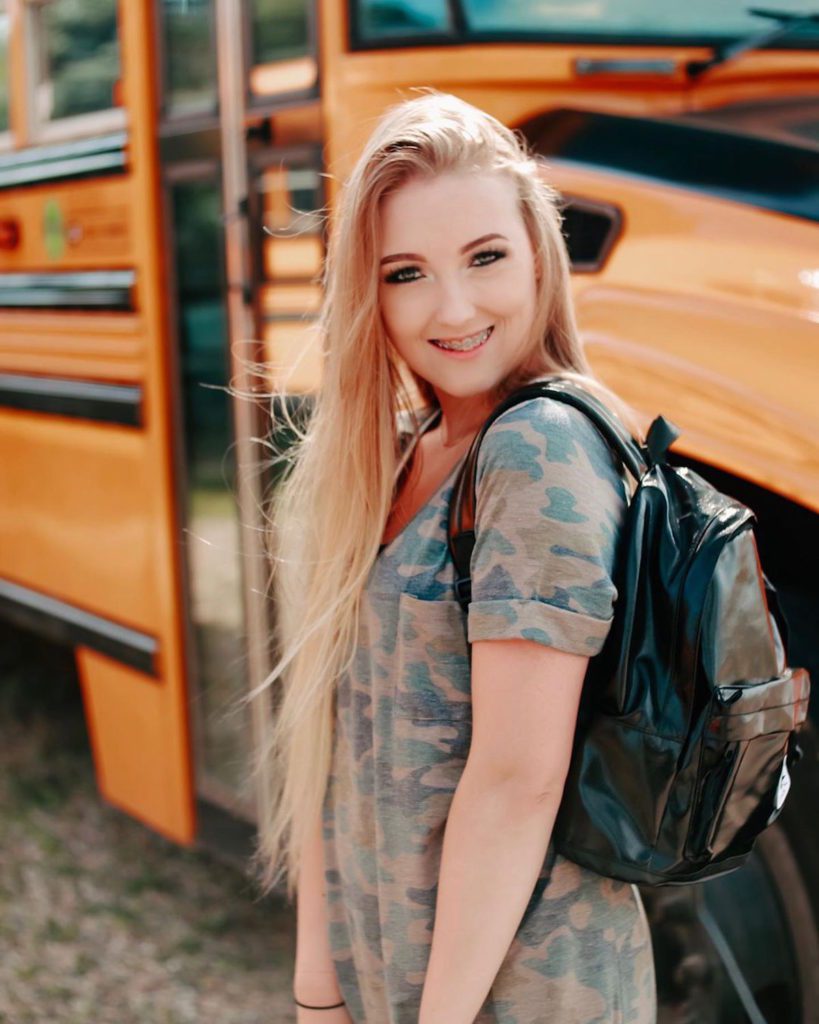 ---
If you thought t-shirts were the easiest thing in the world to wear, just wait until you try a tee shirt dress. Yes, you read that right: t-shirt dresses exist and they are one of the most comfortable pieces of clothing you can own. The top half is styled like your basic tee, usually with a crew or scoop neckline, but then it's loose fitting around the waist and kind of drops off into a skirt like edge. T-shirt dresses also come in loads of colors and styles – anything from basic black to camouflage. Check out this solid color option from Amazon or this camo look for ones both affordable and comfortable.
LOOK 2: BLUE JEANS & DRESSY TOP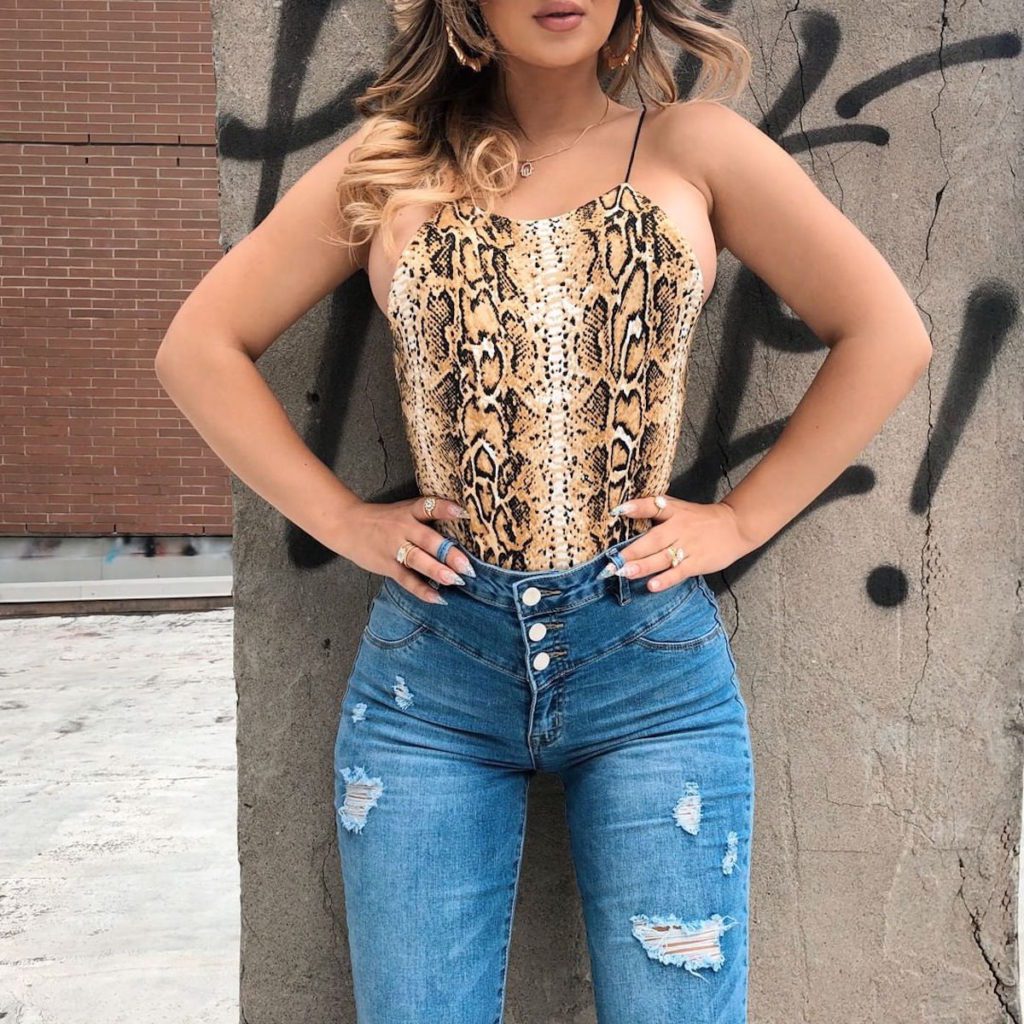 ---
Jeans are every girl's best friend when it comes to fashion, so why not rock a pair for back to school? Go with a more distressed style, that way you can dress it up with a nicer top or blouse. These high rise jeans from Charlotte Russe are affordable and edgy; and this printed blouse adds the right amount of chicness to your look.
LOOK 3: TRENDSETTER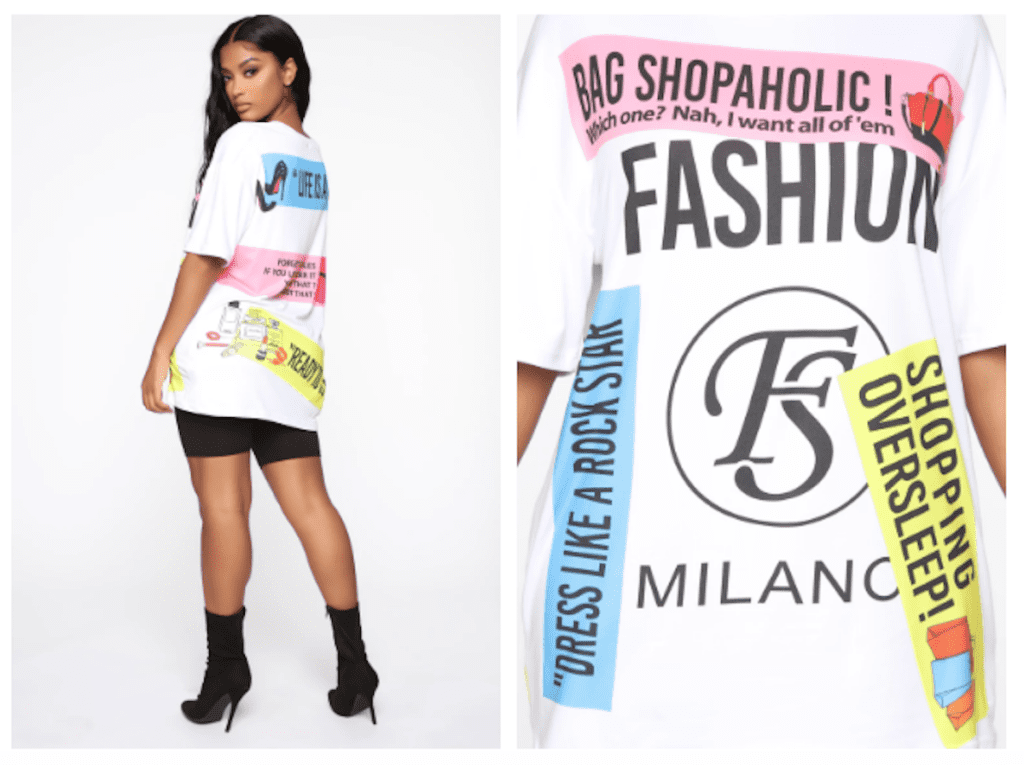 ---
Be ahead of the fashion curve with Fashion Nova's latest arrivals. This white 'shopaholic' graphic tee is right on trend, and definitely makes a statement. Paired with these black biker shorts, you'll have an effortless vibe going on that's sure to make an impact. You could rock some heeled boots like the model is doing in the photo above; but if you need something a bit more practical, bright colored sneakers will do the trick. Try these pink ones (also from Fashion Nova) on for size.
LOOK 4: EDGY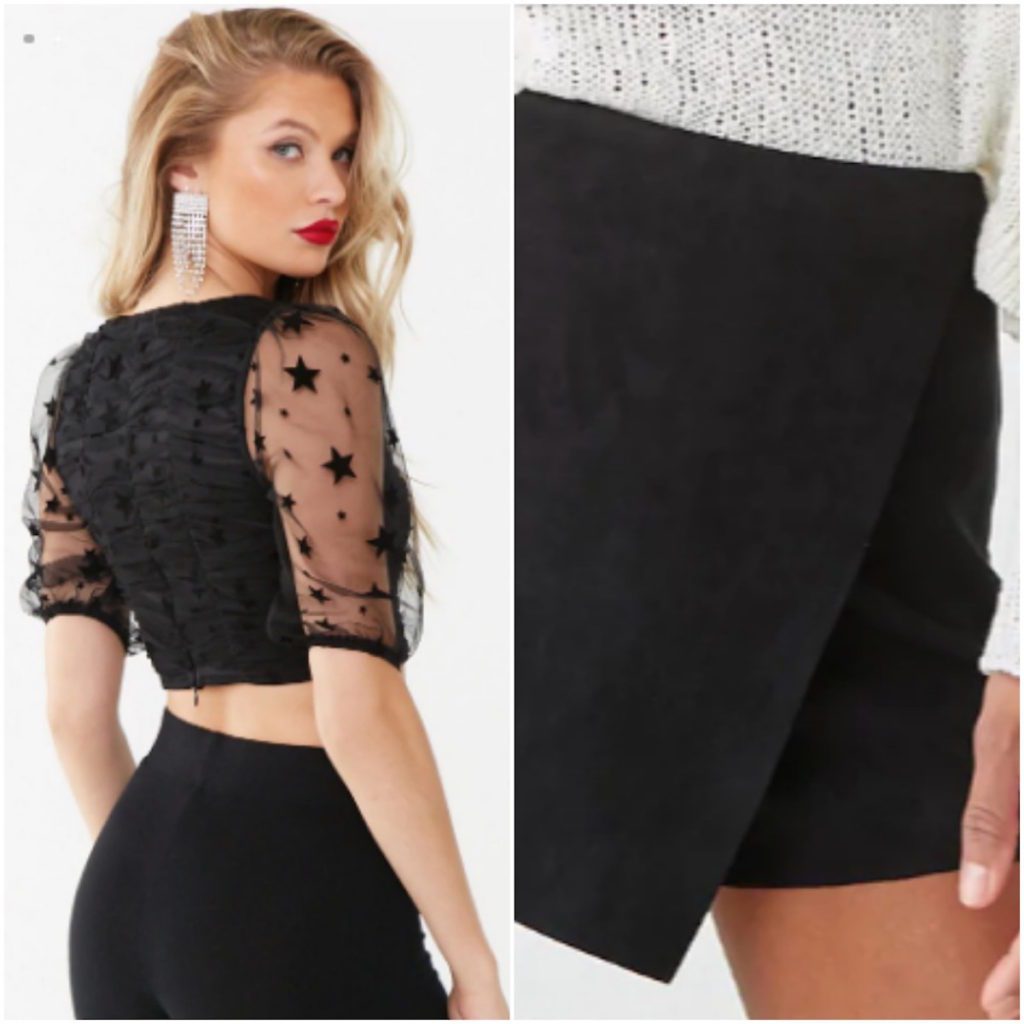 ---
If you want to feel like a rockstar this year, why not dress the part? This velvet cropped top with star-studded sleeves from Forever 21 gives you an edgy fashionista vibe. Wear it with black leggings, or if you want to earn a little more style credit, try a skort – yes, the skirt-shorts hybrid is officially "in" again! This faux suede one (also from Forever 21) plays up that slightly textured effect. Side note: this look might be more appropriate for after school!
LOOK 5: PRETTY IN PASTEL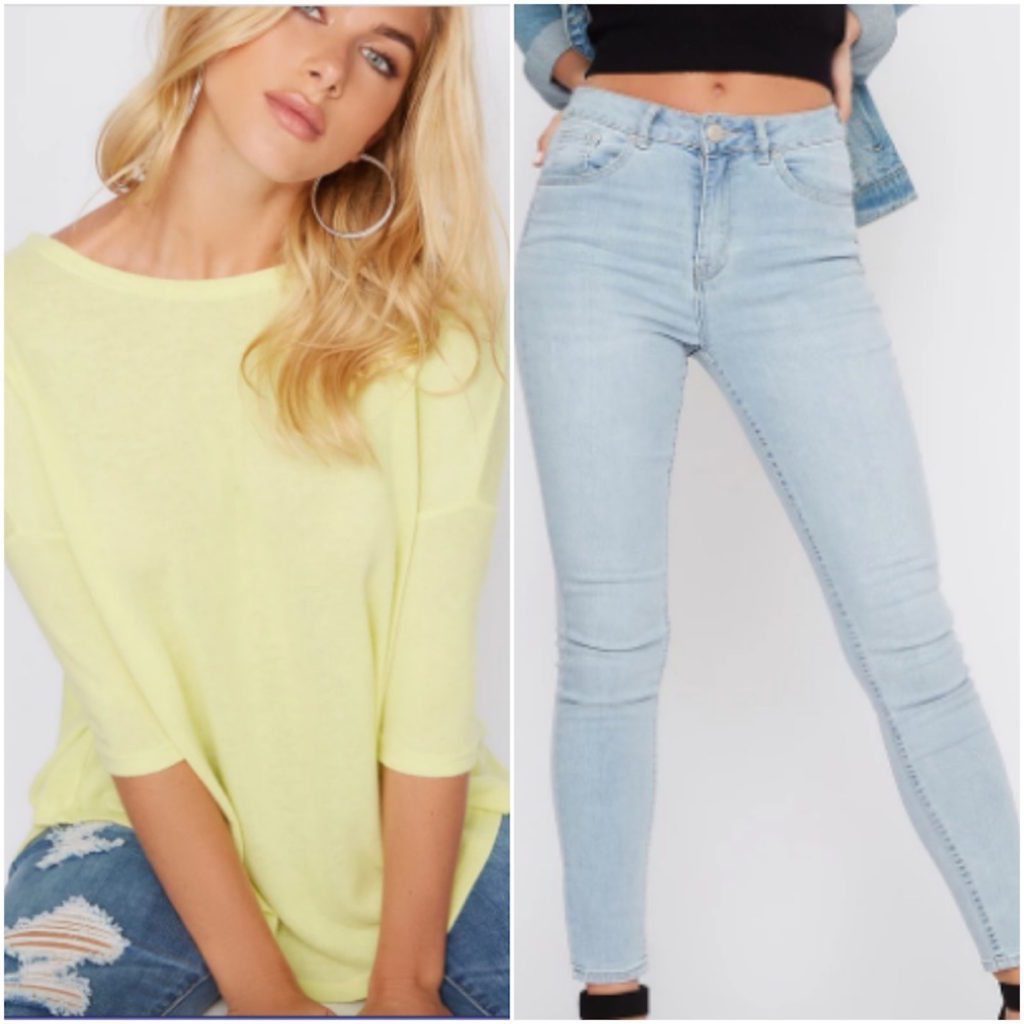 ---
Maybe it's the Taylor Swift effect (her Lover album brought pastels back into the limelight), or maybe the current fashion world has simply fallen back in love with this girly staple – either way, pastels are here to stay. To easily wear this trend, switch up your usual tee shirt for a light colored shirt, like this lemon-lime sweater from Charlotte Russe. If you want to go all-out, pair a pastel top with some light denim, like this pair (from Amazon). You'll have an easy outfit to wear, and you'll feel super pretty for school!
LOOK 6: CASUALLY CHIC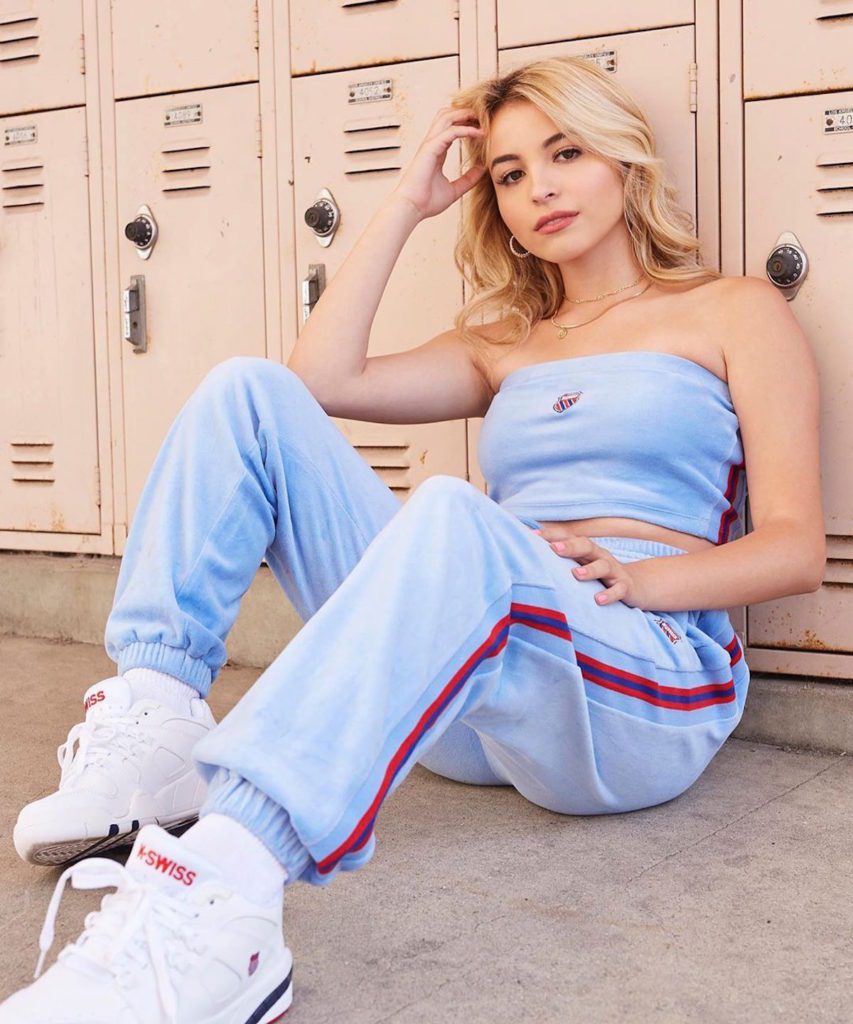 ---
Sometimes, you just need to chill out – but that doesn't mean you have to sacrifice style to do it! Joggers (aka: more fitted sweatpants) are in season and on trend, making them the perfect piece to anchor your look around. Wear these sweats from Forever 21, and you'll get an A+ if you pair it with a nice camisole top!
LOOK 7: DRESS IT UP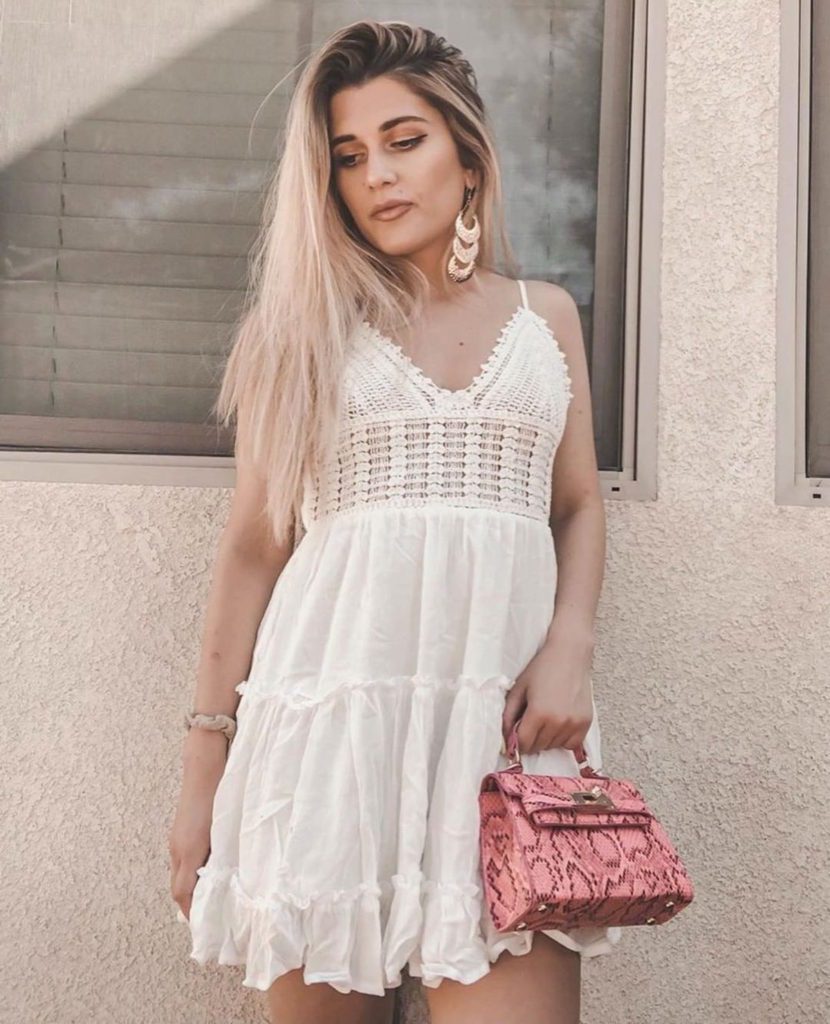 There's a reason why dresses are a go-to: they are easy to throw on, and you'll make a statement. What more could you want from your clothes? Plus, it's very easy to dress it up or dress it down (i.e: toss on a jeans jacket for class, or wear heels for a get together after). White and floral are having a moment, so either one of these will standout amongst a sea of LBDs. ROMWE has a ton of affordable, fun dresses to choose from, like these floral printed ones, or this stunning white embroidered dress.
LOOK 8: CLASSIC JEANS & A TEE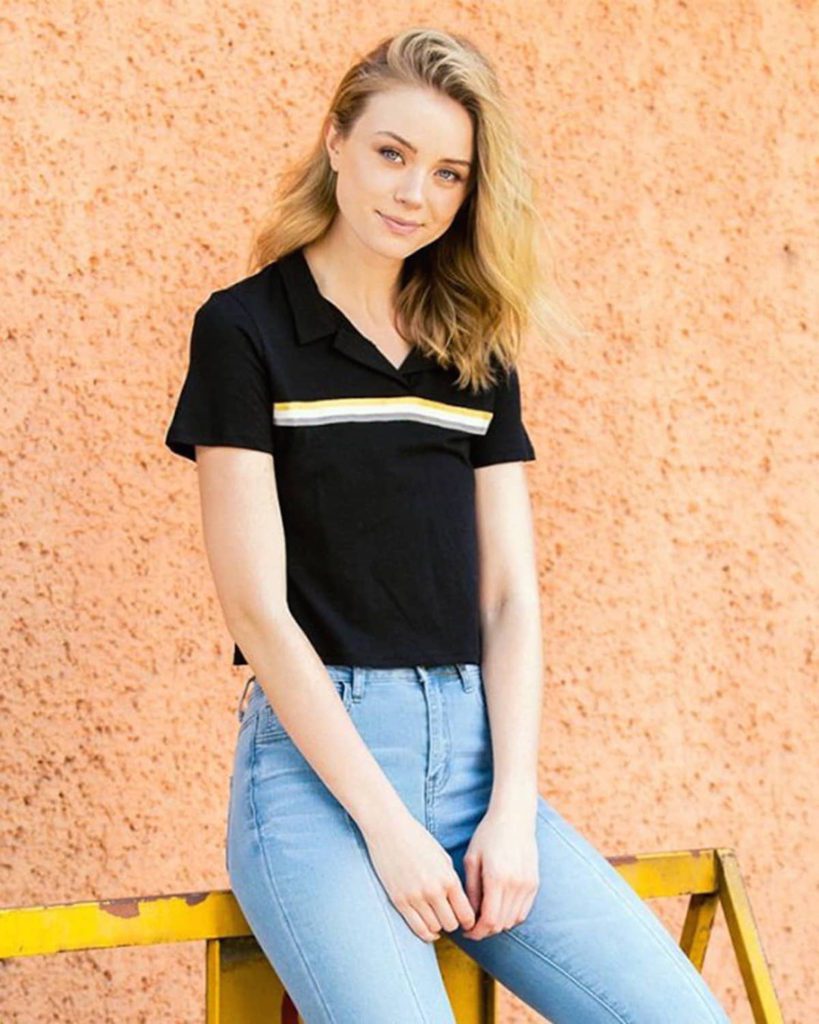 ---
Jeans and a tee shirt are a staple in everyone's wardrobe, and for good reason: they just work. Whenever you need an outfit that you know you'll like and know makes you feel good, it'll make all the difference when you go back to class. Wet Seal has this classic pair of mid-rise skinny jeans that are polished and pair well with a bold graphic tee, like these.
LOOK 9: FIERCE & FEMME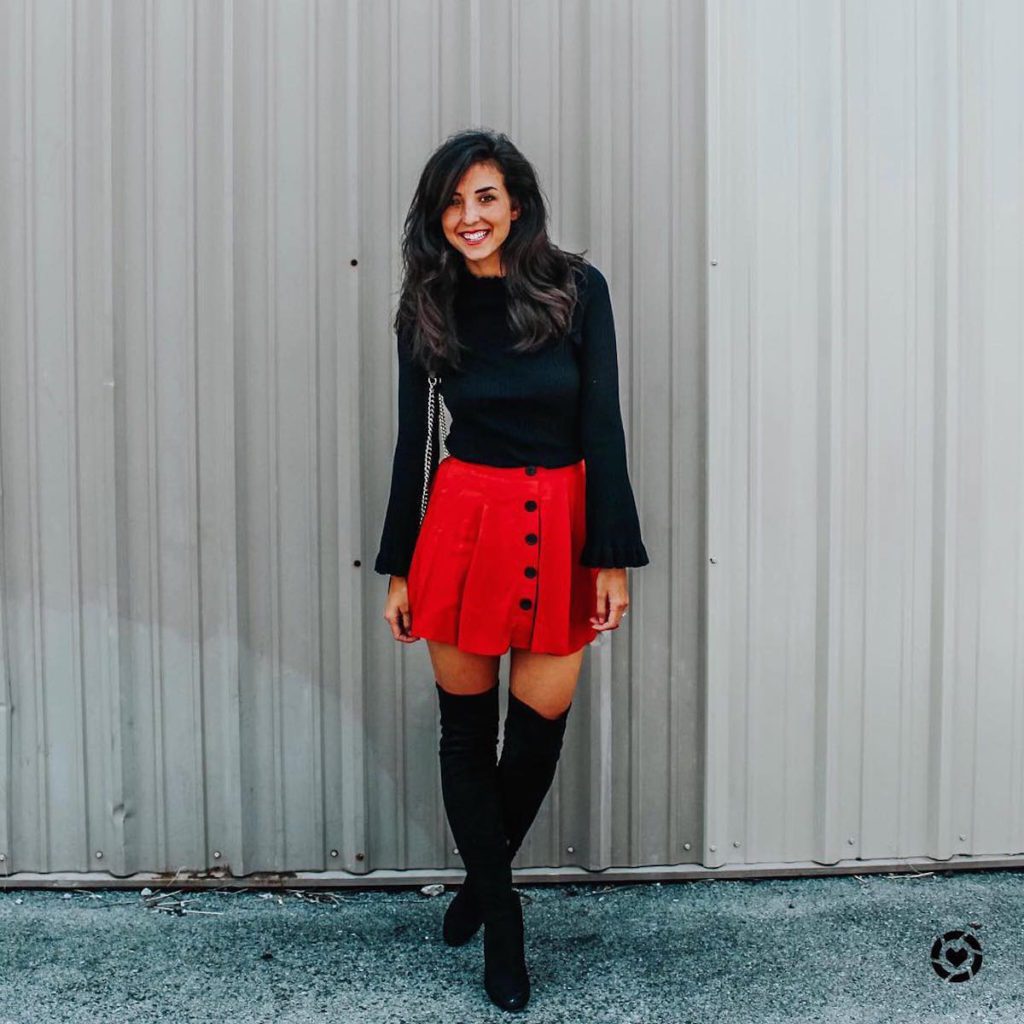 ---
If you're not into jeans, then maybe try a skirt. Whether it's A-line or ruffled, they are comfortable and scream "sophistication." Amazon has a ton of options, from animal print to neon; so check those out to find the best one for you. Rock a nice blouse with the skirt for an extra dose of glamour to your everyday outfit. A couple ways to do it are: an A-line skirt with a tucked in blouse; or a miniskirt and a peplum top. Off the shoulder tops are also making a comeback, so if you're a little more daring (and if your school allows you to show some skin), go for it!
LOOK 10: THE NEW "UNIFORM"
---
Even though a lot of schools don't have their students wear uniforms, that hasn't stopped the resurgence of traditional plaid skirts and matchy-matchy shirts for a new twist on the button down and sweater that's often seen in actual uniforms. This one from Shein (handpicked by Riverdale star Madelaine Petsch!) is super cute and bold; plus it goes great with the SLOGAN shirt Madelaine has on with it. Shein's site has a ton of different plaids and tees though, so feel free to pick your favorites!
No matter if you're in high school or going into university, back to school fashion should be fun; not stressful. Hopefully these looks will inspire you to shake up your closet this season – just in time to hit the halls looking great! Happy shopping!
---
MORE BACK TO SCHOOL ARTICLES
5 Awesome Back to School Looks Inspired by Your Favorite YouTubers!
Top 5 Must Have Makeup Products for Those Early School Mornings!
Stay Stress Free This Year with These Tips!
Kari Highman is a Beauty and Fashion Blogger at Feeling the Vibe Magazine. Otterbein Alum (2017) – English & Psychology. Always learning & creating. Avid fan of mid 2000's TV & pop music. Comments or tips, email kari@feelingthevibe.com