Val Chmerkovskiy from Dancing with the Stars just produced a nod to the John Travolta classic, Saturday Night Fever which he starred in with his DWTS partner, Olivia Jade.
The DWTS pro and his season 30 partner, Olivia Jade put on those 70's signature bell bottomed pants and got their groove on in their newest released video.
Even though Val and Olivia were emotional getting voted off Dancing with the Stars right before the semi-finals, that did not keep them down for long at all. They were back in the studio the next day dancing and hanging out.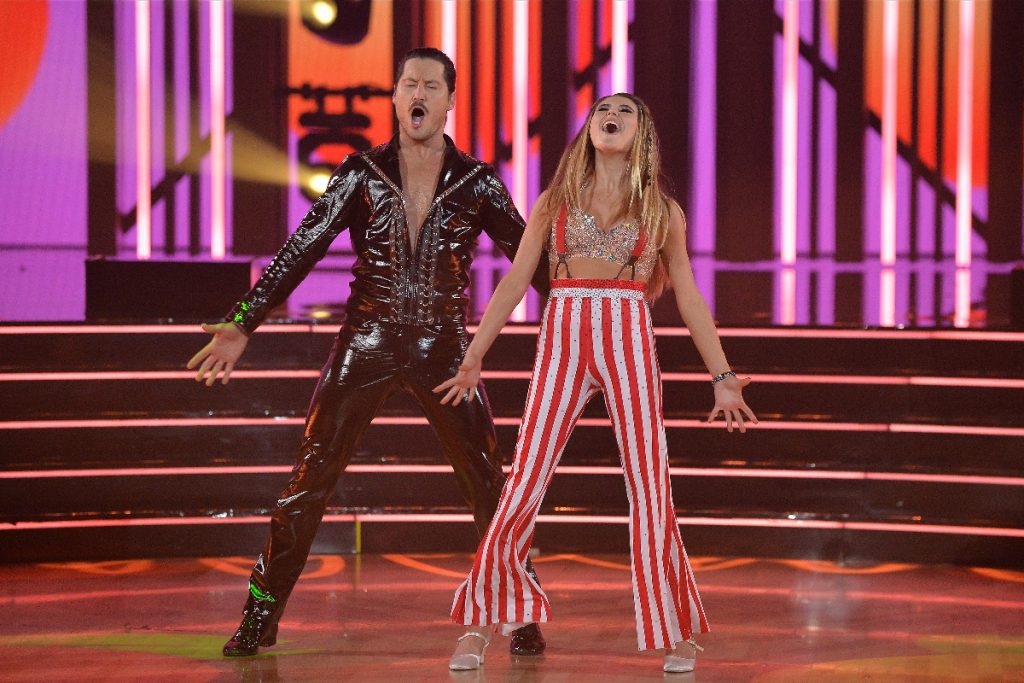 Val announced that season 30 would be the last one for the 35-year old pro dancer who is married to fellow pro dancer, Jenna Johnson.
Olivia Jade, who is Lori Loughlin's daughter also happens to be a YouTube star in her own right. The 22-year old has over 1.8 million subscribers currently. After DWTS ended, Olivia looked back at all the footage she took while on the ABC show and put together a montage of clips from her DWTS journey to share with her YouTube subscribers.
At the conclusion of the video, she urged her subscribers to just wait because there was something she had in the works. "I'll just say, if you like watching Val and I dance…" she teased.
Val and Olivia performed flawlessly week after week to songs like "Hold it Against Me" by Britney Spears and "Juice" by Lizzo.
The pair were voted off during Janet Jackson week after their performances to "Any Time, Any Place" and "That's the Way Love Goes."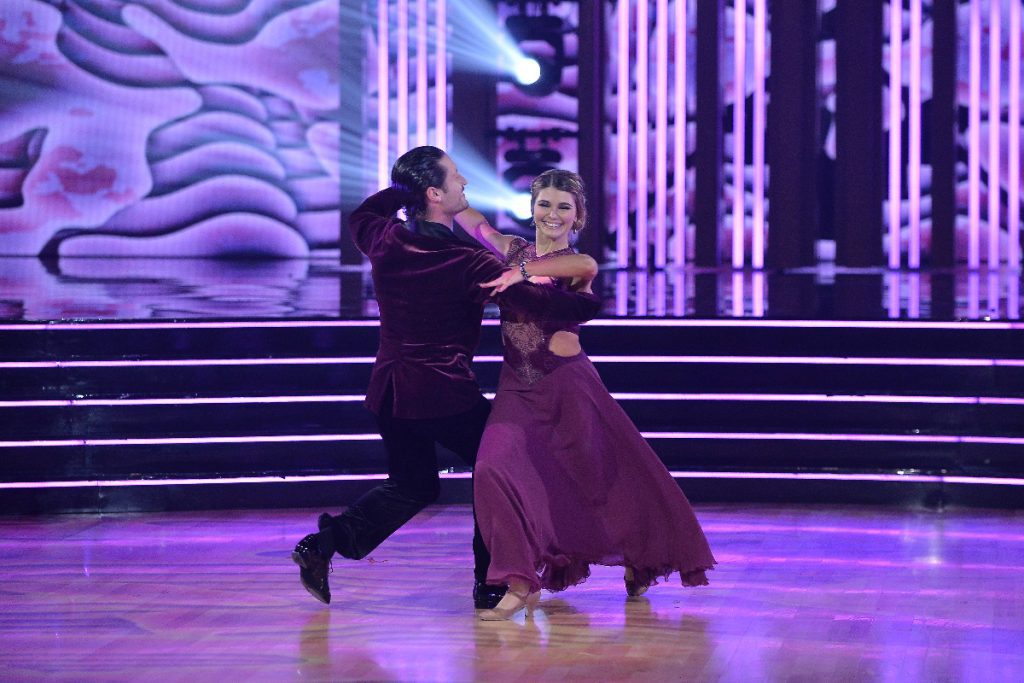 Val and Olivia took it back to the 1970's with an announcement on each of their Instagram profiles. They had promised in weeks prior that they were working on something cool together. This did not disappoint.
"Got a chance to direct a little something with the help of my friends. Go check it out," Val wrote alongside photos of the dance couple in stills from their Saturday Night Fever short remake.
---
How Long Has Olivia Jade Been Dancing?
Olivia admitted that she did not have any real dance experience before her time on Dancing with the Stars. The only dance talent proof was seen on an Instagram story where she was dancing with her family Mossimo a few years back to a Jackson 5 hit.
The 22-year old Influencer credits her "bad case of dance fever" to her 35-year old partner, Val. She wrote, "Val gave me a bad case of dance fever & now I can't stop. Love these bts pics @bryant thank you for capturing. 💝💝💝💝 & super proud and in love with this dance video we made that's now on my YouTube channel‼️‼️‼️‼️‼️‼️a big thank you to all the dancers that came through and made this night so much fun. & of course big thanks to my partnaaa @valentin u r incredibly fun to work and create with and I'm glad the universe forced us to hang out. love u long time."
---
Olivia Jade Saturday Night Fever Makeup
Olivia's 70's makeup was done by the makeup artist for "Will & Grace" and "Fuller House," Farah Bunch. She says she used, "Neapolitan ice cream theme" to achieve the perfect 70's look.
---
Related: Jenna Johnson from Dancing With The Stars Shares Text Message Exchange with Val's Dance Partner Olivia Jade
---
Olivia & Val's Saturday Night Fever Credit List
Who was in the Val produced "Saturday Night Fever" short with Olivia? Get the full list right below.
Starring:
Olivia Jade
Valentin Chmerkovskiy
Produced & Directed by:
Valentin Chmerkovskiy
Choreographed by:
Jessica "JJ" Rabone
Valentin Chmerkovskiy
Associate Producer:
Alex Samusevich
Styled by:
Olivia Jade
Dancers:
Emily Crouch
Rebekah Denegal
Kat Fedosova
Stephani Sosa
Brianna Milner
Jessie Hollie
Stefen Yeritsyan
Brandon Perry
Judges:
Masaki
Kaya
Shai
DJ:
Peta Murgatroyd
MC:
Lori L
Party patrons:
Daniel Zaltsman
Danielle Brock
Erick Szentmiklosy
Chloe Harder
Mathew Thomas
Cassie King
Dakota Dray
Cinematography:
Cooper Shine
Editor:
Erin Knaul
Colorist:
Cooper Shine
Camera Operators:
Noble Gray
Erin Knaul
Alex Samusevich
Watch the under 5 minute dance video below. It will certainly take you back!
A fellow DWTS celeb, Amanda Kloots commented, "Guys! This is amazing and the cutest thing I've ever seen! @valentin @oliviajade."
Val commented on Olivia's post, "We crushed it 🙌🏼🔥"
Olivia's sister, Bella said, "yes ma'am"
Val's wife and DWTS pro, Jenna Johnson wrote, "SO GOOD!!!!! 🔥🔥🔥🔥"
---
Related
Val and Maks Can't Remember Leah Remini's Birthday on GSN's "People Puzzler" in a Special "Dancing with the Stars" Edition Episode
Will this Be the Last Season for Val Chmerkovskiy on 'Dancing with the Stars?' He Weighs In!
Every Olivia Jade and Val Dance from 'DWTS' + If Olivia is Close to Val's Wife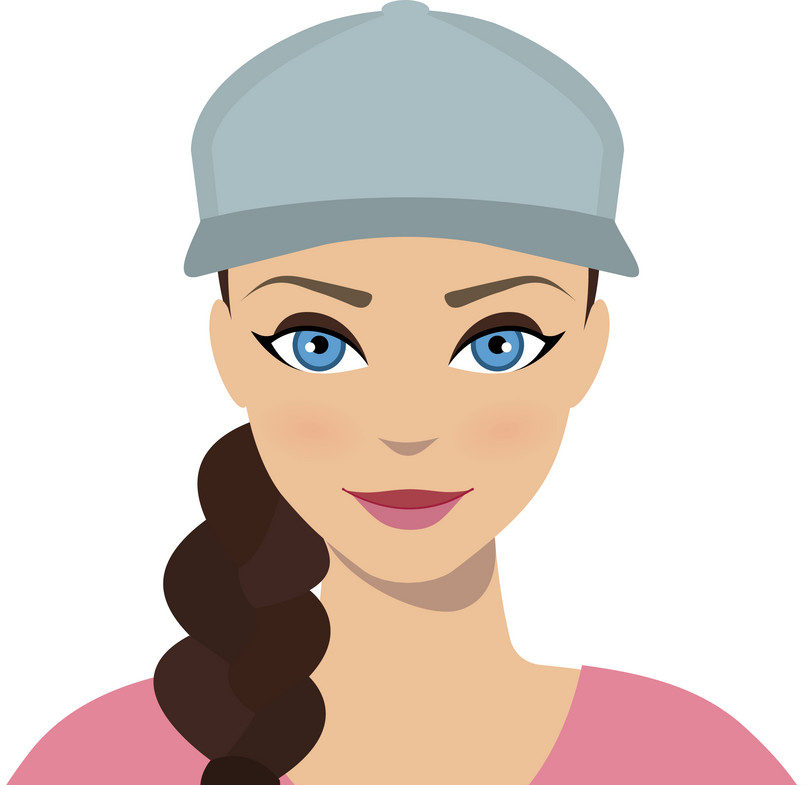 I'm Madison. I live, breathe, and sleep pop culture. You'll either find me at festivals, concerts, or catching up on the newest Netflix shows. For tips or comments, email madison@feelingthevibe.com.