"Dancing with the Stars" season 30 may officially be over, but friendships are long lasting. Two dance pros, Jenna Johnson and her husband Val competed against each other for that coveted mirror ball trophy this past season. Val and his partner, Olivia Jade were cut right before the semi-finals while his wife Jenna made it to the finals with her partner, JoJo Siwa.
In an Instagram story posted to Jenna Johnson's profile, she shared a private text message exchange between herself and DWTS celeb contestant, Olivia Jade.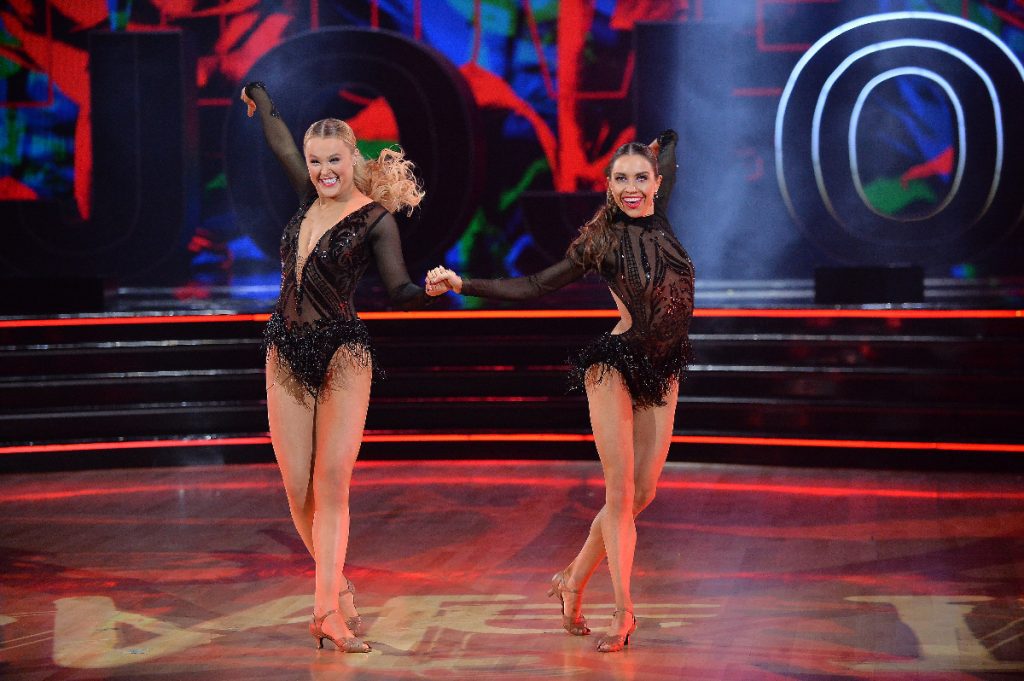 We may see a lot of beautifully crafted dances taking the stage at Dancing with the Stars, but what we don't see is what is happening beneath the surface.
One of those being how beat up their bodies get with such a rigorous dance schedule. One part that takes a huge hit is, you guessed it, the feet!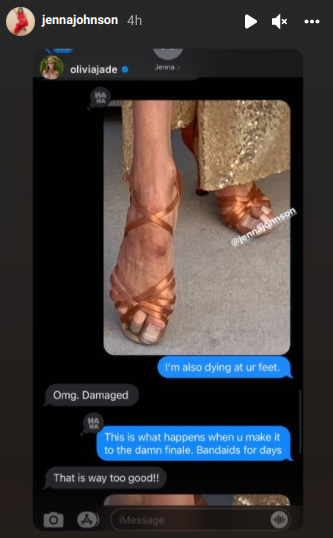 Jenna shared the above image of her tired feet, covered by many bandaids. "Omg. Damaged," Olivia responded.
Jenna continued, "This is what happens when u make it to the damn finale. Bandaids for days."
Olivia was cracking up, "That is way too good!!"
That is not where it stopped! Think it's all glamour to be a dancer? Think again!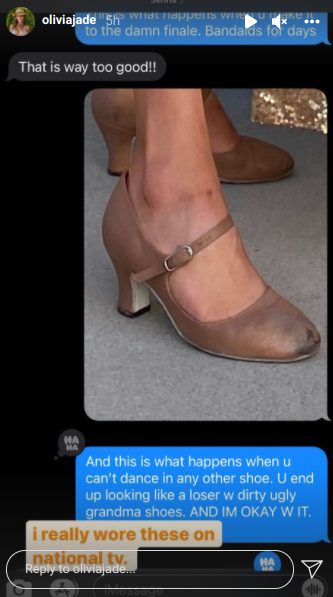 Jenna confessed that she wore "dirty shoes" on national television because she couldn't dance in any other shoe due to her feet being so banged up!
---
Jenna Johnson and Her Husband Val Celebrate Thanksgiving
Jenna Johnson is all finished with Dancing with the Stars for the season and Val has officially hung up his DWTS shoes, as he revealed this month.
Now, it was time to celebrate Thanksgiving with the family! The cute couple took a mirror selfie while holding their two cute pups.
"So much to be grateful for this year but especially grateful for this little family of mine!" Jenna wrote.
And there's nothing like grandma's baking! JoJo Siwa's grandmother sent Jenna off with some of her special banana muffins. The handwritten note on the snack bag read, "To Jenna & Val – Love Grandma Joanie"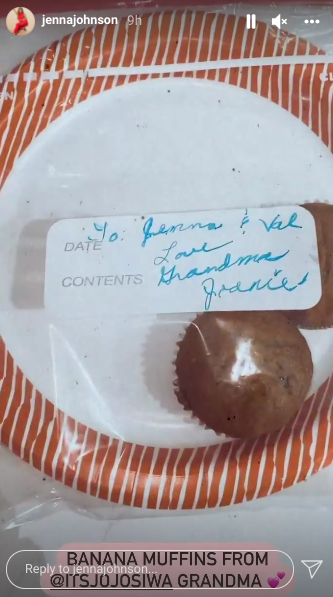 ---
Val is Disco Dancing!
Val may have said goodbye to his pro dancing days on "Dancing with the Stars," but that doesn't mean he's going to stop dancing – far from it! The day after he was eliminated from the ABC competition show, he was back in the studio with Olivia Jade.
They posted this short video to their combined TikTok page!
Over the Thanksgiving Day weekend, he and Olivia made a fun announcement to all of their fans.
They released their own short video of a Saturday Night Fever remake. If you haven't already, check out these awesome 70's styles and fantastic dance moves!
Are the rumors true? Is Lori Loughlin part of the short video Olivia and Val filmed? Find out here.
Oh and Val's nephew makes a special appearance as one of the kid judges in the video too.
Watch Val spend time with his brother Maks's son, teaching him how to do "pull ups" on the jungle gym. His wife Jenna commented, confessing "Marry me all over again!" The couple started dating in 2015 and married on April 13, 2019.
---
Maks Loves Being a Dad!
Val's brother, Maks is loving daddy life. He posted a collection of photos of he and his son to Instagram. He wrote, "My son is my biggest pride and joy! He split my life into BEFORE and AFTER, and he made me the happiest father on earth!"
He thanked his wife Peta for "the greatest gift a man can can ask for 🙏🏼"
Maks may have also hung up his Dancing with the Stars shoes, but he was recently a contestant on the Leah Remini hosted game show, People Puzzler. His brother, Val joined as well as fellow pro dancer Cheryl Burke.
---
Related
Val from Dancing with the Stars Produces a 'Saturday Night Fever' Inspired Short with DWTS Partner, and Lori Loughlin's Daughter, Olivia Jade
Val and Maks Can't Remember Leah Remini's Birthday on GSN's "People Puzzler" in a Special "Dancing with the Stars" Edition Episode
Will this Be the Last Season for Val Chmerkovskiy on 'Dancing with the Stars?' He Weighs In! Courtney Rose is an Entertainment Writer at Feeling the Vibe Magazine based in New York. Pop culture and rom-com obsessed. Studied Journalism and is up to date on all the latest entertainment news. For tips or comments, email me at Courtney@feelingthevibe.com