Andrea Barber aka Kimmy Gibbler has been loving the guys of New Kids on the Block for the last 30 years! Now that is dedication.
Andrea isn't alone in her devotion to the guys. Her 'Fuller House' co-stars Candace Cameron Bure and Jodie Sweetin are also huge fans of the boys from Boston. They are currently on their Mixtape Tour, and recently stopped at the Mohegan Sun and Hershey Park to sold out crowds.
Let's dive into the 5 times Andrea Barber fangirled over NKOTB!
1 – Birthday Surprise On Stage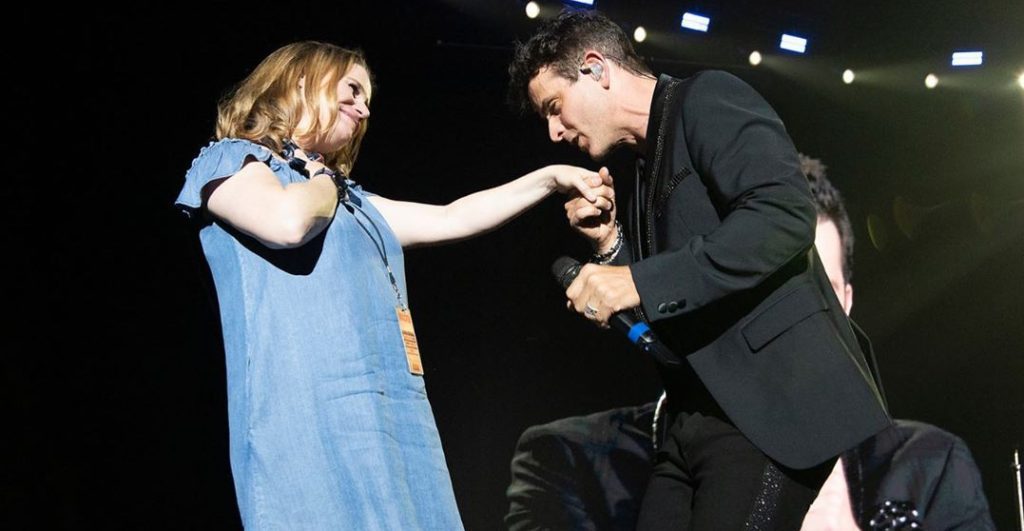 ---
She has awesome friends! Her boyfriend Michael and FH co-star Candace Cameron Bure coordinated a special birthday surprise. While attending the NKOTB concert on July 3rd at the Mohegan Sun, Andrea got pulled up on stage by the 'Please Don't Go Girl' lead, Joey McIntyre. When she appeared on the jumbotron, the crowd cheered! Andrea couldn't be more excited or surprised as she squealed with him kissing her hand.
2 – Joey on Broadway in NYC
Distance doesn't keep her away from her favorite band. When Joey McIntyre starred in the 'Waitress the Musical' in New York City, guess who attended? "That time I flew to NYC to see @joeymcintyre as Dr. Pomatter in @waitressmusical on Broadway," Andrea said. Look at the cute pictures she got with Joey and Jonathan Knight.
3 – A Selfie 30 Years in the Making
When Andrea spotted Donnie Wahlberg out and about on the NKOTB cruise, she got something she has been waiting 30 years for. The 'Fuller House' star snapped a selfie with Donnie from NKOTB! We love how relatable Andrea is. She said, "I've been waiting 30 years to get a picture with @donniewahlberg and it finally happened unexpectedly when I was wearing sweats, no make-up, and no bra. #winning Thank you, Donnie! You are one of a kind!"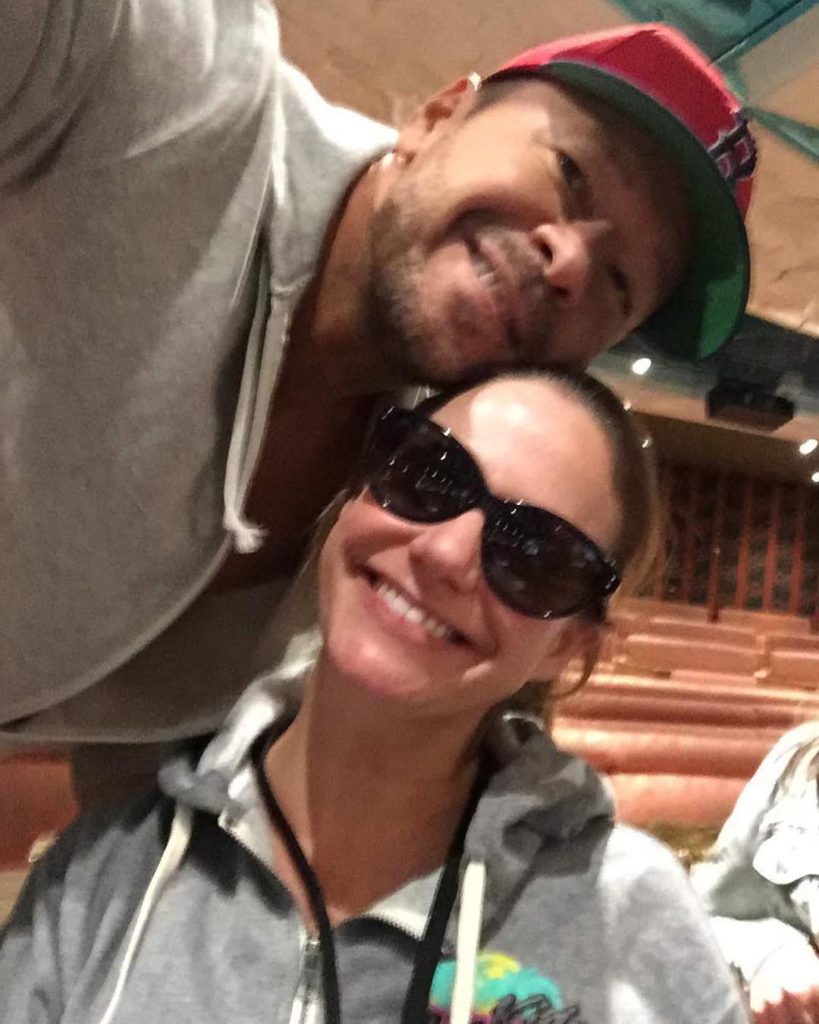 4 – The Best Week of Her Life
Andrea event went sailing with the New Kids from Miami calling it, "the best week of her life." Thousands of NKOTB fans gathered for a fun filled Carnival Victory cruise with their favorite guys. What's better than pools, sunshine, drinks, and oh hot guys?
5 – The New Kids Come to Fuller House
How cool would it be to have your favorite band come to your workplace? That's what Andrea and the rest of the cast experienced when the NKOTB joined them on the set to shoot a special episode of 'Fuller House.' Who remembers when DJ was pulled up on stage for her birthday on the show?
Andrea shared this cool group shot from the set from the 'Fuller House' taping. "Happy #NKOTBDay, Blockheads!" she said calling out to their huge fandom.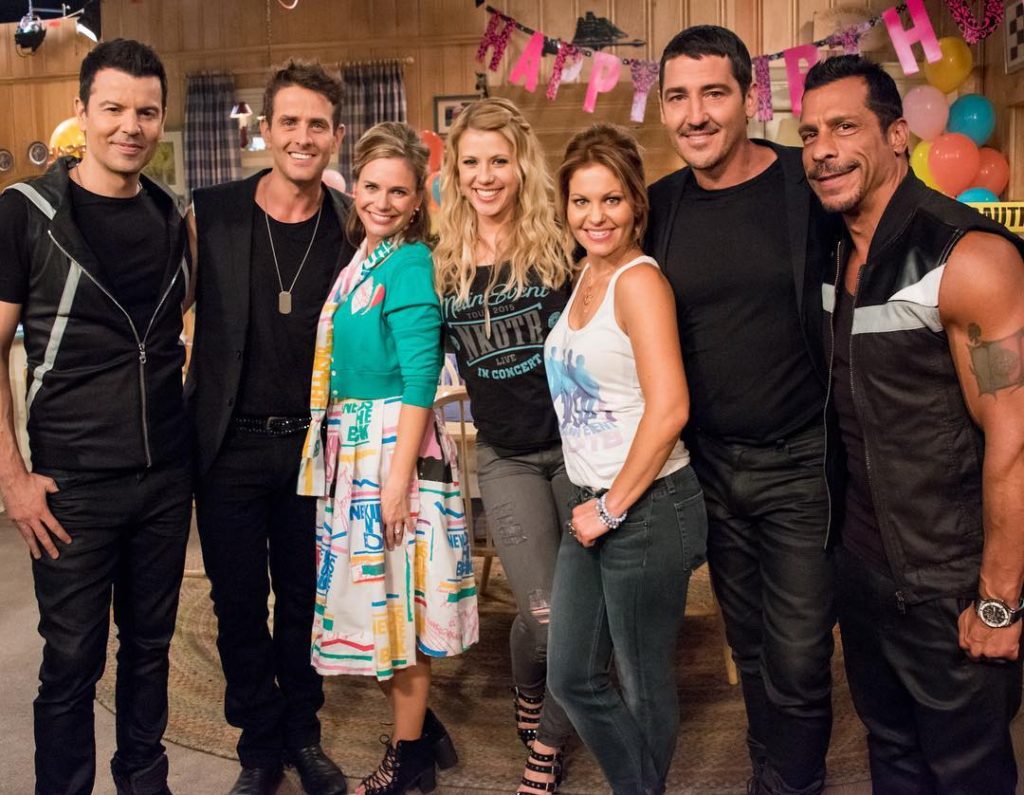 We hope you enjoyed a little trip down memory lane with Andrea and the New Kids on the Block!
MORE ON ANDREA BARBER
Andrea Barber Gets 'NKOTB' Birthday Surprise from 'Fuller House' Co-Star Candace Cameron Bure
'Fuller House' Stars Candace Cameron Bure, Andrea Barber, and Soni Nicole Attend New Kids on the Block Concert
Andrea Barber Shares "Bittersweet" Table Read of 'Fuller House' Season 5 Courtney Rose is an Entertainment Writer at Feeling the Vibe Magazine based in New York. Pop culture and rom-com obsessed. Studied Journalism and is up to date on all the latest entertainment news. For tips or comments, email me at Courtney@feelingthevibe.com